48 hours – New York Festive Guide
New York is the greatest city on earth for inspiring that warm, feeling festive. As my daughter now lives in Manhattan, I'm open to any excuse for a visit, so a pre-Christmas shopping trip is just the ticket. Here are a few of my favourite yuletide sights along the way.  My 48 hours – New York Festive Guide:
Rockefeller Centre Christmas Tree
The festive season officially starts in New York once the lights are on the famous Rockefeller Centre Christmas Tree. Lit-up the week after Thanksgiving, thousands line the surrounding sidewalks for the big switch-on and millions more watch the event broadcast live. This year the huge Norway Spruce will sparkle with 30,000 LED lights. It's topped with a Swarovski crystal star. And it's estimated that more than half a million people will pass the tree every day between 29 November 2017 and 7 January 2018.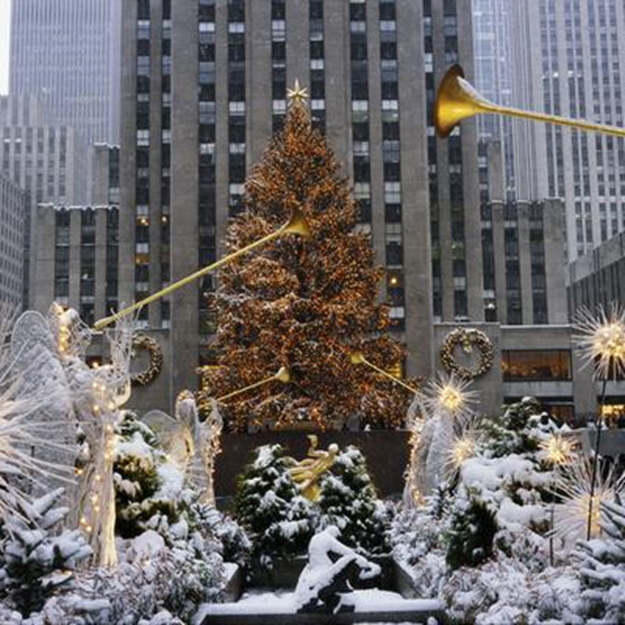 Rockettes Radio City Christmas Spectacular
The Rockettes are to New York what pantomime is to Britain. The extravagant musical show, held annually at the Radio City Music Hall. It has been an essential part of New York's Christmas tradition since 1933. Boarding a full-size double-decker bus, the Rockettes take the audience on a whirlwind tour of a magical Manhattan. It offers beautifully choreographed tap-dancing, signature eye-high kicks, ice-skating, jumping Santas, and domino soldiers wearing three-feet tall hats. Shows run from 10 November 2017 to 1 January 2018, with up to four shows a day on weekends.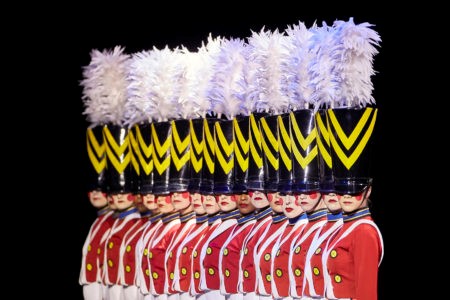 Ice skating in Central Park
Few things feel more festive or romantic than ice-skating in Central Park.  Gliding along peacefully while looking out to the bustling city background. If you don't have skates you can rent some in the park. There are two rinks to choose from.  The Wollman Rink on the east side, close to Central Park Zoo.  Or, the Lasker Rink, in the middle of the park which transforms from a swimming pool in summer to an ice rink during winter months. Both rinks are family friendly, suitable for all ages and abilities. And for the proficient skater private figure skating or ice dancing lessons are available.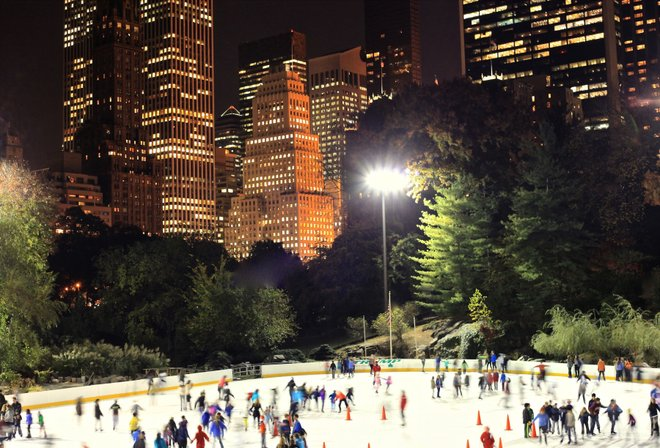 Related Content: World's Most Spectacular Christmas Trees
Bloomingdale's window
At Christmas, New York's shopping streets become a magical festive show.  You can spend hours watching without it costing a dime. All the big department stores have themed window displays attracting thousands every year. This year my favourite is Bloomingdale's on 1000 Third Avenue, 59th Street and Lexington Avenue. This year's theme is The Greatest Showman, a circus treat of fire-jugglers, aerialists and fortune-tellers taking us on a journey through the life of P.T Barnum and linked to the new Hugh Jackson movie of the same name, out on 20 December 2017.
Video of the festive window unveiling!
Patsy's Italian Restaurant
Exploring New York City is invigorating, but if you don't take time out to recharge it can also be exhausting. After pounding the pavements, dining in Patsy's Italian Restaurant feels like a comforting home from home. Famous for being Frank Sinatra's favorite restaurant in Manhattan, the family-owned venue is still popular celebrity haunt with guests including George Clooney, Madonna, Michael Buble, and Tom Hanks. And if you want a starry tale to return home with, Chef Sal Scognamillo is always happy to share stories of the restaurant's legendary guests and serve-up some of Old Blue Eye's favoruite dishes.
Hope you enjoyed my New York Festive Guide….I am off to book my flight to The Big Apple….