Make the most of a sunny afternoon with these time saving party tips.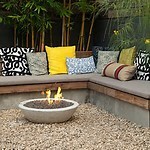 When the sun is shining there is nothing better than relaxing with friends outdoors. However, when it comes to hosting a garden party it can be easy to get so caught up making sure everything goes smoothly that you miss out on the fun. Whatever your open space – be it a rolling lawn, a paved patio or a roof terrace – planning is key to taking a lot of stress out of any event. And while you can't control the weather, there are plenty of other aspects of your al fresco party that you can prepare for.
Over the summer months I'm going to be sharing tips to help you get the best of outdoor entertaining, from décor, to drinks, lighting to lounging. As all seasoned party planners know, when it comes to entertaining it is not about how much money you spend, but how you spend it. Similarly, it's not always how much effort you put into the organisation, but knowing how to use your energy to best effect. Below are a few simple things to think about during preparations, so that when the time comes to party, you can enjoy it.
Use self service bars:
Depending on the size of your gathering, you may or may not have a separate bar. But as host a lot of time and energy can be spent making sure that everyone has a drink and running backwards and forwards to the kitchen. An easy solution is to have a drink station where people can help themselves. This can simply be a shallow box, galvanised tub or an enamel bucket, filled with ice to keep the drinks cool.
Don't stress over seating:
Don't panic if you've not got seating for all your guests. Research has shown that for a great party atmosphere its optimal to only have seats for about 40% of people, because when people are standing it creates more energy for your event and also encourages people to mix more and talk to new people. Depending on your space you might want to use some high tables which provide a focus and give people something to lean on. And you can add to formal chair seating with more casual cushions and pouffes.
Look after your guests:
It's not your job to make sure that everyone has a good time, but sometimes the things that spoil someone's enjoyment of an outdoor event is easily remedied. Sunscreen can be bulky to carry around, so often guests don't bring any along. It can be helpful to put together a small box where guests can help themselves to sunscreen, insect repellent, cream for insect bites, antiseptic wipes and hand sanitiser, should they need it.
Double up where you can:
Why do something twice if you don't need to? It is easy to waste a lot of time, energy and money on favours that guests probably won't use and might not even appreciate. If you want to give your guests something to take home with them, takeaway bouquets of fresh flowers are a fantastic option. Use them to decorate the tables for the party, then hand them to guests to take home with them after the celebrations.
Enjoy yourself rain or shine:
No matter how much you spend you can't guarantee to get the weather you hope for on the day. Most people have a plan to provide umbrellas or some kind of shelter if it rains – even if it means retreating indoors. Bright sunshine, however, can also be a problem that is often overlooked. If your garden doesn't have ample shading from trees, think about ways in which you could introduce shaded areas for those who might need it, such as parasols, gazebos, a marquee, or some other outdoor structure.