National Vegetarian Week is an annual celebration challenging the people of the UK to give up meat for one week in May and nominate a couple of friends to do the same. As more people turn to meat free diets, we're frequently asked to cater for vegetarians at our events. More often than not, with a fully vegetarian menu rather than one or two dishes. So why not go with the trend? With restrictions easing further this month and good weather on the way, now's a great time to start planning the vegetarian menu for your party or business event.  Here are TLC's best vegetarian catering ideas to get you started.
VEGETARIAN FOOD – THE FACTS
There are now thought to be three million vegetarians in the UK, with more people every day switching on to the benefits of a meat-free diet.
There are so many reasons to cut down your meat intake. And they're not just health-related. Vegetarianism is good for the planet. According to the vegetarian society, the whole food production process of farm-to-plate totals 30% of all global greenhouse gas emissions. Eating a veggie diet means you're responsible for two and a half times less carbon emissions than a meat diet.
Health-wise, cutting out red and processed meat can lower cholesterol, and reduce risk of serious conditions such as cancer and heart disease.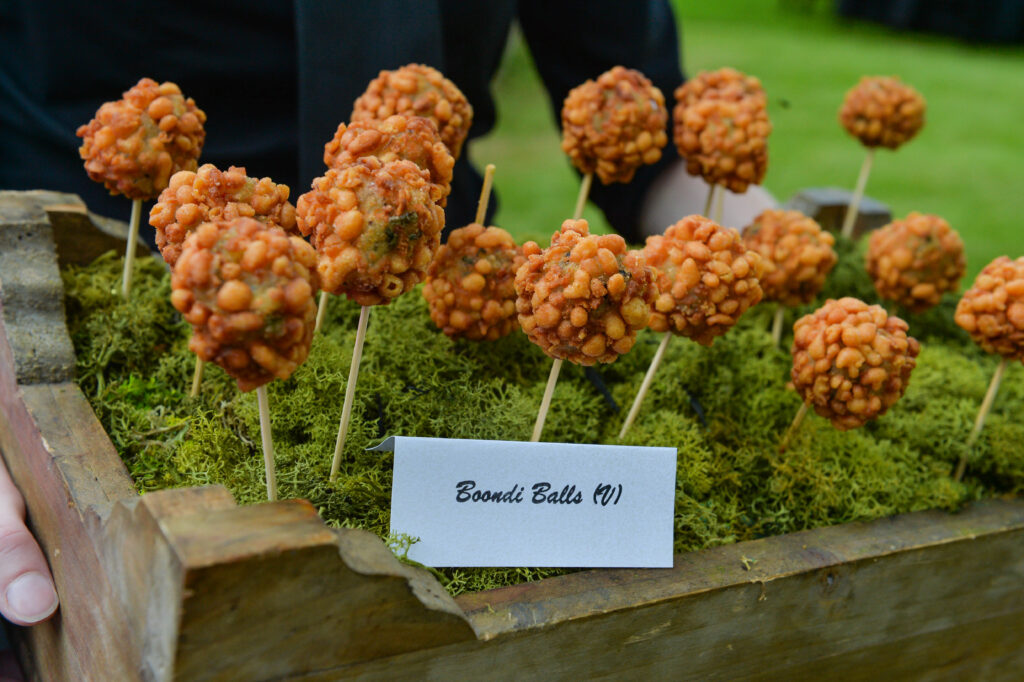 IS VEGETARIAN FOOD TASTY?
Absolutely it is! Vegetarian food is some of the tastiest around.  But you have to go further than just substituting the meat in your favourite recipe with tofu or any old vegetable. Think about flavours, textures and how you can offset vegetables with other ingredients such as herbs, spices and dairy (check out our vegan catering ideas if your guests are fully plant-based).
So, what are our best vegetarian catering ideas?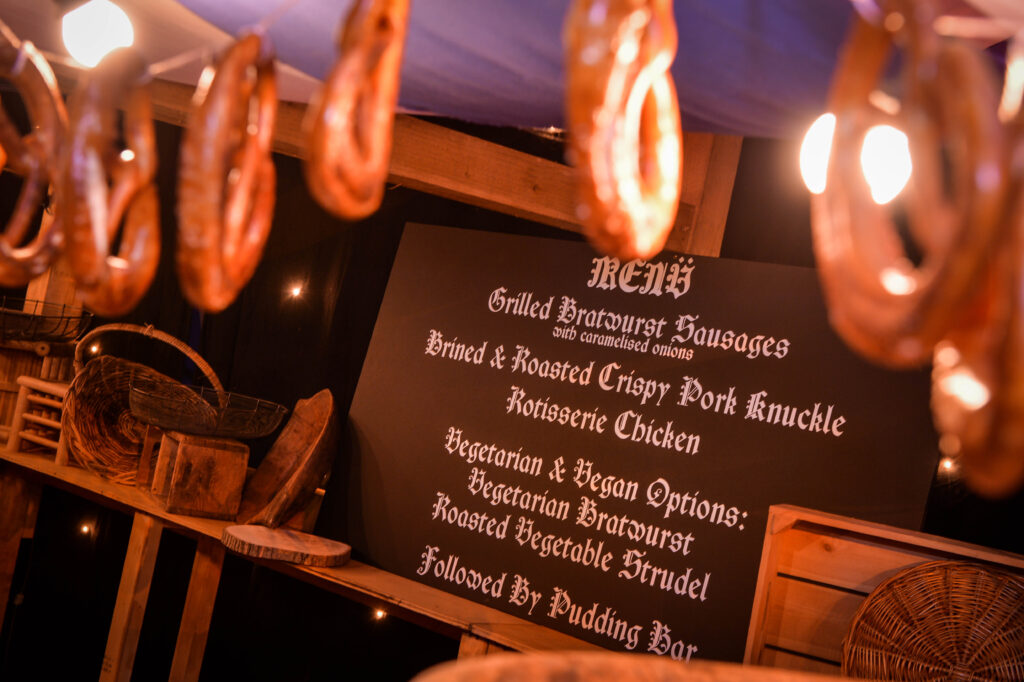 GET GRILLING
The BBQ may be famed for its meat dishes, but you can cook up some pretty delicious vegetarian options on the barbie too. Vegetarian barbequing is certainly not a second-class choice.  With a dash of imagination and a sprinkle of finesse to the presentation, you're sure to have even the none veggie guests queueing up for more.
Try something special like these stacked up falafel and halloumi burgers as a centre piece. Just forgo the halloumi if you're catering for any vegans. https://www.deliciousmagazine.co.uk/recipes/falafel-burgers-fennel-halloumi/
People often think it's what's on the grill that steals the show, but BBQing is also about the side dishes. And we're not just talking a few curly lettuce leaves in a bowl. Salads are a must, but you need to bring in different tastes, textures and flavours. Don't be afraid to throw in some cooked ingredients and nuts, even fruits, to mix up the effect on the palette. We love this goat's cheese and peach salad from the Hairy Bikers to start you off: https://www.bbc.co.uk/food/recipes/goats_cheese_peach_and_25629
COOK IT UP LOW AND SLOW
A stew or slow cooker meal has double benefits for those in search of mouth-watering-ly tasty vegetarian catering ideas. On one hand they have supreme taste thanks to being cooked for a long time on a low heat. But also all the prep can be done in advance leaving you stress-free and with time on hand to enjoy being with your guests.
A tagine with eastern influences such as this slow cooker vegetable tagine would make a great centre piece. Serve up with flatbreads and cous cous and you're on to a winner.
https://www.goodhousekeeping.com/uk/food/recipes/a35820463/slow-cooker-vegetable-tagine/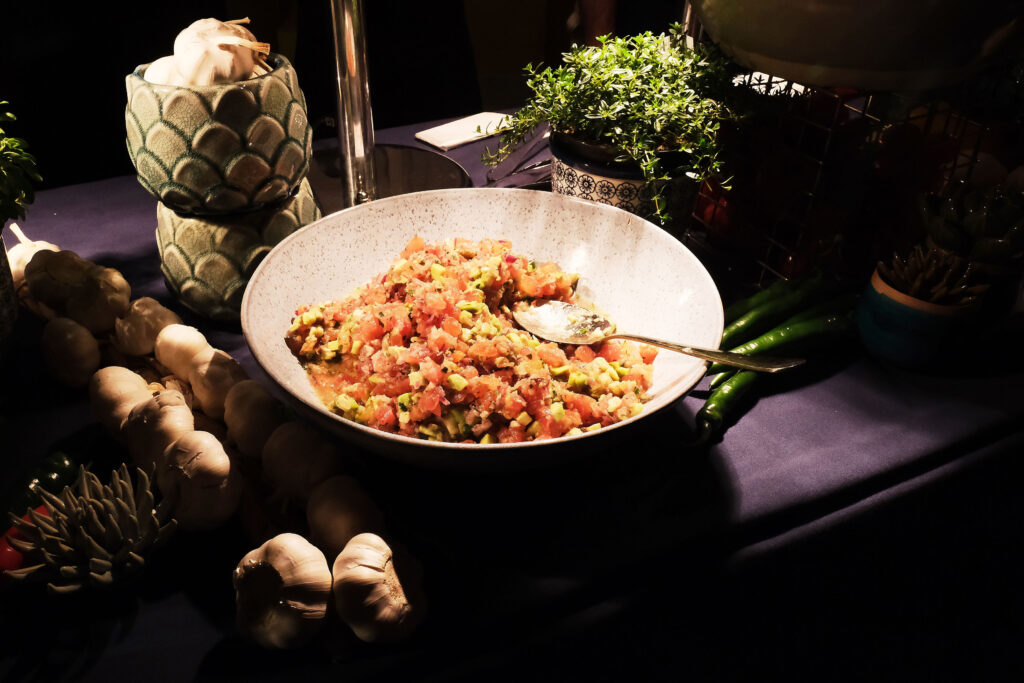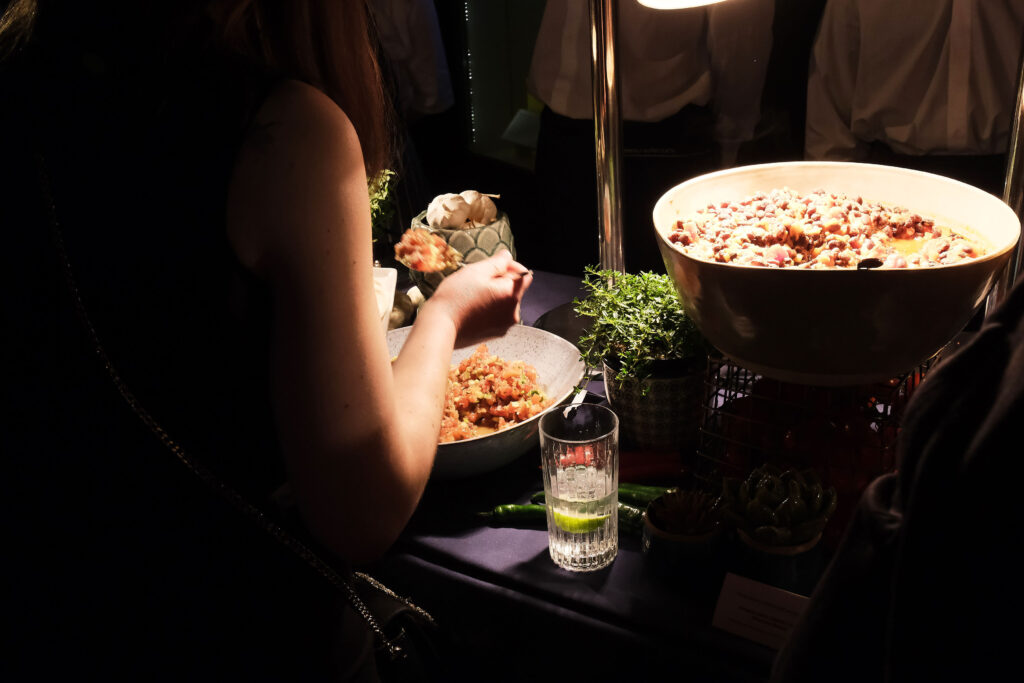 VEGETARIAN STREET FOOD
If you really want to wow the crowds then look no further than vegetarian street food. Tasty, light, simple, unique and the best thing – thanks to its heritage of being prepared by street vendors in front of the customer – quick and easy to prepare! TLC's best vegetarian catering ideas draw inspiration from India, particularly Mumbai. The region has a rich heritage of street food. Here there are so many tempting vegetarian street food delicacies to try.
We'd recommend preparing five or six dishes for guests to choose from, each complementing the next. Try any of the vegetarian options at the following link.  Then perhaps add in one or two slower cooked curry dishes to add taste variation.
https://food.allwomenstalk.com/how-to-make-indian-street-food-in-your-own-kitchen/
Accompany your dishes with one of our favourite VEGAN COCKTAILS!

DID YOU KNOW?
Vegetarianism is very closely linked to ancient India and even today Indians make up around 70 per cent of the world's vegetarian population. Vegetarianism has also been linked to intelligence, some research suggests that the smarter the person, the more likely they are to give up meat.
You can find out more vegetarian facts here: https://www.news24.com/health24/Diet-and-nutrition/Healthy-diets/10-interesting-vegetarian-facts-20120721
TO WATCH: THE GAME CHANGERS
This Netflix documentary delves into the ex-UFC fighter and martial arts expert James Wilks who travels the world on a quest for the truth about meat, protein, and strength. A must-watch for anyone considering a plant-based diet.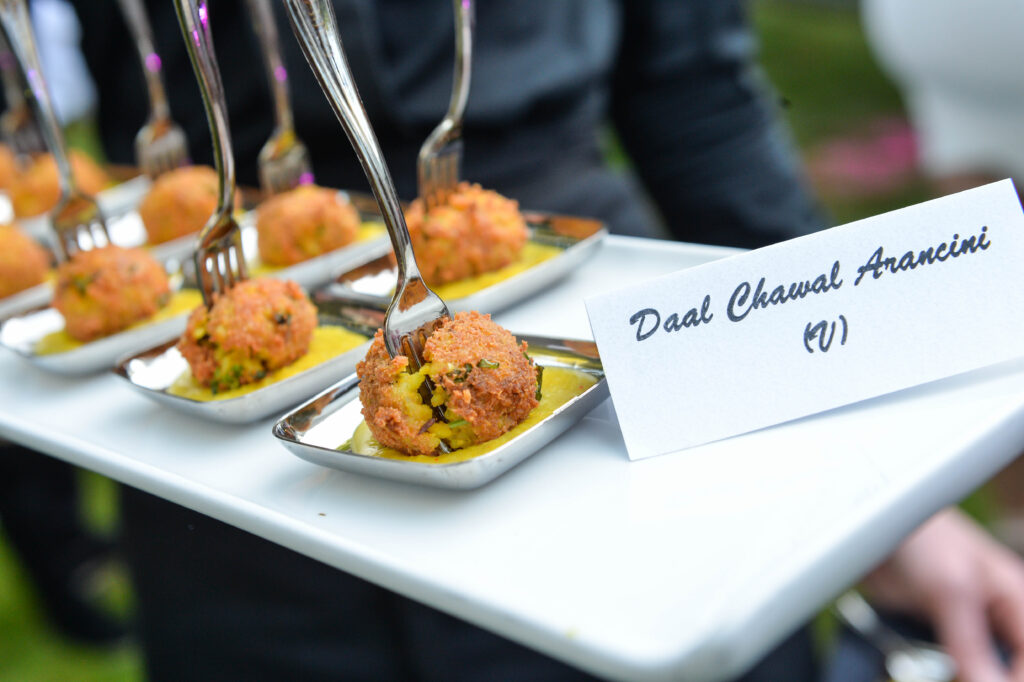 Thanks for sharing our Best Vegetarian Catering Ideas with your hungry friends!