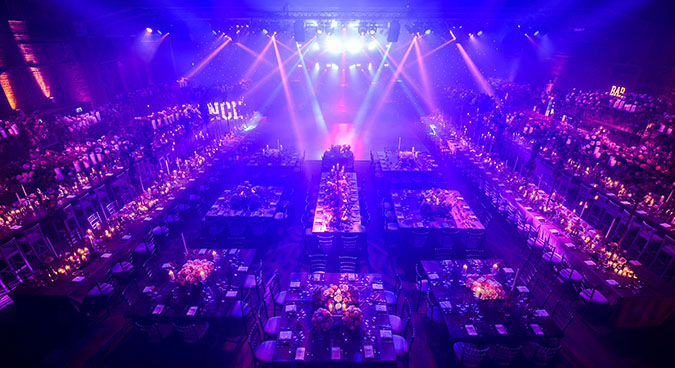 If you're searching for corporate event organisers and planners based in Manchester, look no further than TLCs corporate events team. In a highly competitive sector, TLC recognises the vital ingredients that make innovative and memorable occasions. When it comes to well-thought out, meticulously planned corporate events that meet truly your business objectives, we have the creativity and expertise to deliver.
When you engage TLC as your corporate events organisers and planners, you gain a wealth of experience. Working from our HQ in Manchester for over 30 years, our team knows the North West events scene, inside out. We're a link to the best venues, caterers, audio visual teams, trainers and entertainers.
Acting as an extension of your team, we'll ensure your brand, vision and values translate into a spectacular event that's memorable for all the right reasons. All delivered on time and in budget. The TLC team certainly adds the icing on the cake, but that's just part of the story when organising corporate events.
We'll help you get to the bottom of what you're trying to achieve, set measurable goals and deliver against those objectives with all the imagination and that touch of finesse that TLC is famous for. Post event, we'll implement a robust evaluation programme that measures against those all-important KPIs.
From launches, recognition events, conventions and conferences to team days or gala dinners, TLC tailor makes each corporate event to the client's vision and can translate even the most diverse of briefs. It's this understanding of what our clients need that means they return time and time again, and has engendered long-standing associations with Blue Chip companies.
If you're searching for corporate events planners and organisers based in Manchester, please get in touch to discuss your specific requirements.
Contact the corporate events organiser to discuss your specific requirements.
---
Get in touch now:
Manchester Tel: 0161 876 6266
London Tel: 0207 723 5833
Fax: 0161 877 9217
Email: taylor.lynn@tlc-ltd.co.uk
Connect With Us

---
---
TLC is a specialist in corporate events entertainment. No matter the type of event you're planning, whether it's a conference or convention, recognition or team-building event or a launch or gala dinner, entertainment is an integral element of any corporate event. It's the cherry on the cake that elevates your event from ordinary to the most memorable and inspirational.
And not only this, choosing the right corporate events entertainment can help you achieve your objectives. We'll work with you to hone down what you really want to get from your event and come up with the right ideas for corporate events entertainment that will help you achieve it.
Speakers, musicians, artists, comedians and performers – when it comes to corporate events entertainment, TLC works with the very best. We source exclusive artists from across the globe to bring fun and energy to your corporate event.
With a client's brief in mind, we'll bring corporate events entertainment that inspires, educates, motivates, hat delegates or guests will not only enjoy, but take something away with them.
TLC's corporate events team will recommend entertainers to suit specific requirements. To discuss the entertainment for your next corporate occasion please get in touch now 0161 876 6266.
---
If you're in search of an event management company to oversee your corporate events catering here's some food for thought!
At TLC we understand that catering at a corporate event is about so much more than just feeding the guests. Good food can set the scene, create theatre or ambience, carry through an event's theme and fuel your audience for the rest of the day. Getting it right will make your day memorable for all the right reasons, and a catering disaster will stay with your guests long after the event is over.
Healthy menus to boost delegate energy levels and concentration, lavish dinners to tempt the taste buds, stylish buffets or delicate handmade canapes. From street food to fine dining, at TLC we've got your corporate events catering covered – no matter how many covers there are.
TLC works with world recognised chefs and only the best caterers to produce delicious, authentic cuisine of your choice. Using the finest, fresh ingredients, our experts create dishes and design a menu to complement your event. Our extensive network of caterers can provide you with tasting menus or detailed presentations to ensure that everything is suited to your exact requirements.
Whether it's an intimate dinner for a handful of guests or you're feeding the five thousand, a working lunch or mixing business with pleasure, TLC will stop at nothing to ensure what's on the menu is nothing short of perfection. We'll deliver your corporate events catering on time, in budget and with a menu that will exceed all expectations.
TLC will help you choose the finest corporate event catering available to meet your specific and exacting requirements.
So, call us now to discuss your next corporate event catering needs on 0161 876 6266.
Click here for more information
---
TLC is the corporate events planner to shine a light onto the best corporate events in Manchester, the North West and beyond. Our technical team will set the stage and create a spectacular backdrop to any conference, convention, awards or recognition event or gala dinner.
Lighting is one of the most essential ingredients to any corporate event but it's often overlooked. Whether your event requires drama and excitement or an altogether more relaxed vibe, we've got the imagination and the technical know-how to make it happen. From overhead installations to a subtle infusion of ambience, up-lighting, downlighting, lasers, fireworks, even pyrotechnics – let our professionally trained technicians bring your corporate event's lighting to life!
Our team of lighting specialists are expertly trained to ensure every aspect of lighting at your corporate event runs smoothly. Using state of the art, bespoke lighting solutions we'll create your desired effects and be on hand to make sure the event runs without even a hint of a technical glitch.
If you've sourced a guest speaker or celebrity for your corporate event don't have them hide away in the shadows, TLC will throw the spotlight on your guest of honour and allow their talents to shine through.
Want to make a dramatic impression with the lighting at your next corporate event? We will transform your venue and your guests' experience with high quality lighting solutions. To discuss creating a lighting production tailored to your brand, contact TLCs corporate event planners in Manchester or London.
Click here for more information
---
Finding the right venue for your corporate event is not just first step in organising your corporate event; it's the make or break step, informing every decision that follows it. At TLC, our corporate event planners understand that it takes time to research, review and source the perfect event venue, so why not let us do the hard work for you?
With over thirty years in the industry TLC's corporate event planners know a thing or two about venues. We're a link to the best event venues in the UK and across the world and your ticket to the getting the best deal, with favourable rates and priority booking through our established relationships.
TLC is a corporate events planner with an in-depth knowledge of what makes a brilliant corporate event venue, we'll help you hone down your list and find a venue that fits your criteria and falls within budget.
From purpose-built conference centres, to stately homes, elegant hotels and even the Moroccan desert, for business events large and small TLC sources only the best venues. Our corporate events planners have toured, inspected, trialled and rated all the best corporate event venues so you don't have to – saving you valuable time and resources. We also know the landscape is constantly changing, with new events venue opening all the time, we make it our business to learn all about the latest exclusive event venues.
Quality in service, quality in style and with locations across the world, we have relationships with the best of the established venues and those little gems that are new to the market, our corporate event planners bring you venues that can host your next event in unique style.
For help in choosing the right venue for your next corporate event, call us now to discuss our recommendations.
Click here for more information
---
If you're looking for a corporate event planner that knows its décor then look no further than TLC. Décor at a corporate event is often viewed as a 'nice to have', the icing on the cake, rather than an essential part of the format. But what if we told you that corporate events décor can be a key driver in the success of your next event – helping you reinforce key messages and inform the audience's opinion about your brand.
At TLC we take a wholistic approach to corporate event planning. Our experienced team has over thirty years of experience in organising corporate events, so we know that everything from the invitation to the décor should help to inform your audience's opinions about your event and your brand.
Your company takes centre stage with a corporate event designed by TLC to specifically help you to achieve your business goals. Events small or large; a business lunch, a gala dinner or a conference spanning multiple days and venues, décor always has a part to play. And TLC is the corporate event planner to turn your ideas into reality.
TLC's creative interpretation and innovative approach has resulted in some of the most memorable corporate events in Manchester, the North West and beyond. Companies return to us year after year, because they know that our experienced team goes above and beyond for our corporate events clients, with an abundance of ideas and an eye for detail like no other.
Our team of professional corporate event managers, technicians, artists, set designers, florists and much more, combine to deliver a truly bespoke design for your event. Whatever your message, whatever your brand values, we'll help to translate them into an inspirational backdrop for your corporate event.
Take a look at our extensive corporate events gallery to see just some of our recent successes. If you want advice on the décor for your next event, get in touch with TLC's corporate event planner team now.
Click here for more information
---
Get in touch now:
Manchester Tel: 0161 876 6266
London Tel: 0207 723 5833
Fax: 0161 877 9217
Email: taylor.lynn@tlc-ltd.co.uk