March 25, 2020
Event Company Launches a Positivity Initiative 'TLC – The Life Challenge'
The Covid-19 pandemic is having a devastating effect on many businesses and the lives of individuals across the world.  The UK hospitality and events sector has been one of those hugely impacted. This has inspired Manchester-based event management company, the Taylor Lynn Corporation (TLC), to undertake an initiative which shares daily optimism to industry colleagues during the difficult weeks ahead, but which the company also hopes will support a post-virus recovery for the industry.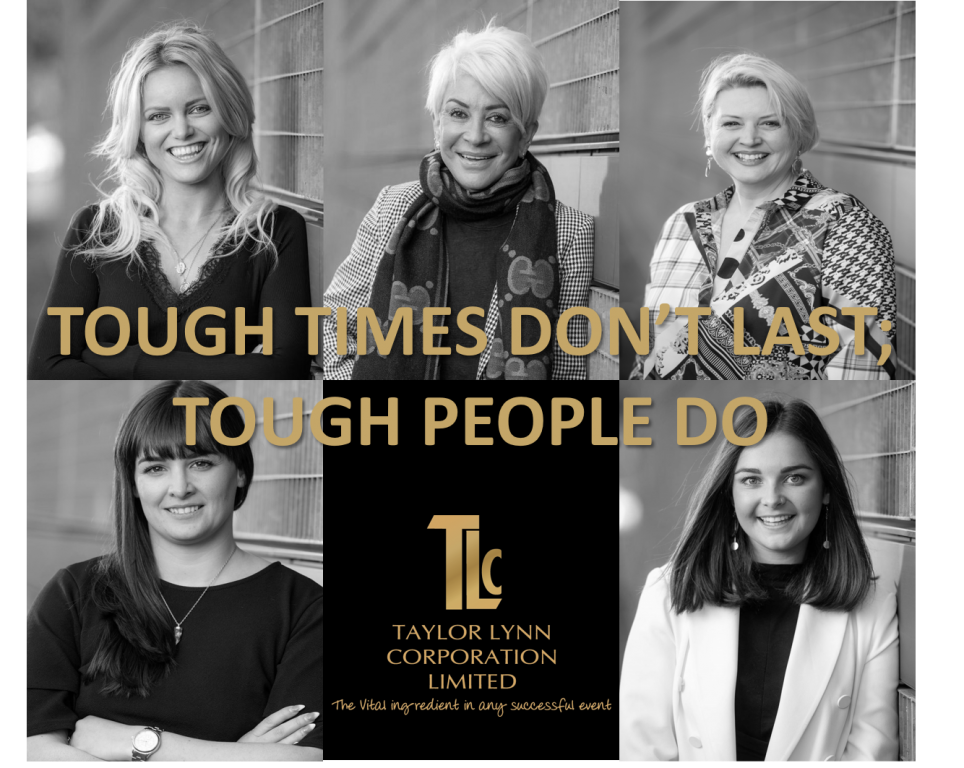 Collectively, the team at TLC is gathering quotes that inspire, reassure and motivate them through these challenging times, and daily the company shares one of these messages across its Facebook, Twitter, LinkedIn and Instagram platforms.  The aim is that each post will not only help followers now, but importantly the messages are being curated into a book of amazingly motivational quotations, titled 'TLC- The Life Challenge'.  TLC has plans to publish the book for colleagues in the hospitality, events and hotel sector in the autumn, with proceeds donated to the NHS.
The company is now asking clients, industry colleagues and its social media followers to send-in their own words of wisdom and the advice that is helping to keep them positive.  People wishing to contribute a quotation for the book, can comment on any of the posts on Twitter: @taylorlynncorp, Facebook: @taylorlynncorporation or Instagram: @taylorlynncorp, Taylor Lynn Corporation on LinkedIn or email taylor.lynn@tlc-ltd.co.uk
CEO of Taylor Lynn Corporation, Liz Taylor, said: "Events that we have been planning for many months, years in some cases, suddenly began to cancel or rebook for the autumn.  This pattern was not exclusive to TLC; all event companies, hotels and venues are in the same situation.  It was devastating.  My company marks its 25th anniversary this year, and by far this pandemic is its greatest challenge. It would be easy to become overwhelmed by the road ahead, but that's just not what we are about.  My team is channelling its inner optimism for the future, into being creative.  When things get tough … we get busy!
"The hope is that in the post-virus recovery stage, our industry colleagues can use the book as a reminder of how far they have come, what has been achieved and what is possible for the future.  A motivational guide created by friends, colleagues and even business competitors, who, have come together to rebuild our industry."
TLC has worked with some of the biggest names in corporate life and showbusiness, to produce events across the UK and Europe.  Founded in 1995 by event entrepreneur Liz Taylor and her industry partner Dianne Lynne, the company went from strength to strength with a successful team that was to last until 2008, when Liz managed an amicable partnership buy-out.  That same year TLC bucked the recession by topping the £4M turnover mark.  With its headquarters in Manchester, the event company works with some of the country's most well-known brands, blue-chip giants, SMEs, private clients and celebrities to create business and celebration events.  For details about TLC, visit www.tlc-ltd.co.uk
-ends-
For further details contact:
Sarah Lewis – M: 0781 792 8132, E: slewiscomms@msn.com