'Events That Made Me', the exciting new podcast from award-winning event planner, Liz Taylor, launches on June 3, 2020 with a double edition release of interviews. The first two podcasts feature actress and star of Strictly Come Dancing, Catherine Tyldesley, and the inspiring and flamboyant royal florist, Simon Lycett.
As founder and CEO of corporate and private event planners, the Taylor Lynn Corporation (TLC), Liz has worked closely with a wide variety of celebrities, business leaders, entrepreneurs and inspirational community leaders over her 36-year career.  Many now feature in the 12-part podcast which will be available on Apple Podcasts, Spotify, Google Podcasts and more. With every show there will be a bonus episode called 'Air Extension', where Liz explores key themes uncovered in her interviews and how you can use the advice given to benefit business or life goals.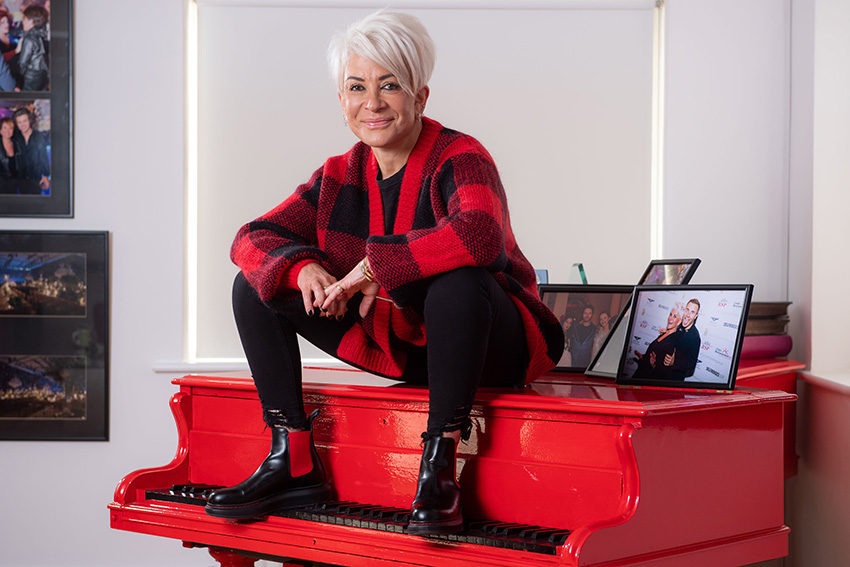 In her own uniquely engaging and direct style, Liz encourages guests to talk about the events that have guided their lives, those big decision moments and events that changed the course of their careers.  In the process, often uncovering the insecurities, people and inspirations that have shaped who they are today.  For a taste of what is to come, listen to this trailer of forthcoming shows: https://podfollow.com/etmm-liz-taylor
In the first podcast, actress Catherine Tyldesley talks of her passion for becoming an actress and how it felt to secure her famous role on Coronation Street: "As a child I was always talking and singing.  I then fell in love with drama and I can't imagine doing anything else."  She adds: "I'd grown up watching Corrie and was a huge fan.  Landing that job was a dream come true." 
Liz also asked Catherine about how she secured her role on BBC1's Strictly Come Dancing in 2019, and why it took producers two years to get Catherine to agree to put on her dance shoes: "I had a huge fear of dancing.  When the opportunity for Strictly came up I thought, this scares me, so I should do it.  I think you should face your fears head on."
Commenting on the podcasts Liz said: "I believe throughout all of our lives there's one specific event that we can say affected the course of our journey. There certainly has been for me. Coupled with the fact that I spend a great deal of time getting to know the people that I work with and finding out what makes them tick, I felt there was a great way to share some of these events and experiences to help others.  And so, my Events That Made Me podcast was born."
"I'm talking to a whole host of really fascinating people about events shaping their lives, and there's an interesting mix of answers. Cath Tyldesley talking about the positive effect that competing on Strictly Come Dancing has had on her confidence. Mr Daytime TV himself Eamonn Holmes explaining why you shouldn't 'hide your light under a bushel and how meeting me was the most expensive lunch of his life! To the incorrigible raconteur Christopher Biggins, on why meeting Sinatra changed the direction of his early life, and how I'm A Celebrity then transformed his later career."
Liz adds: "The podcast is a light-hearted look at my guests, which makes this an ideal listen. A mix of fun, humour and anecdotes, but I am also not afraid to ask questions that make them shrink back in their seats – well, just a little!"
Liz Taylor is a successful award-winning event manager (www.tlc-ltd.co.uk) and businesswoman, a media commentator, motivational speaker and consultant for hospitality brands (www.liz-taylor-consulting.co.uk). She plans events for a range of blue-chip corporate clients right across the UK and Europe, in addition to a large private and celebrity clientele. This includes the likes of Michelle Keegan and Mark Wright, Eamonn Holmes and Ruth Langsford. Take That's Gary Barlow and Howard Donald, football stars, actors, Prime Ministers, global business leaders….a royal guest or two.  Most recently, Liz has been sharing the benefit of her knowledge on a number of topics for the hospitality industry, including how to react to the current COVID-19 situation in terms of business planning, how the meeting and events landscape will look in 2021, and of course, what it is like to be a female pioneer in her industry. Never giving up. Overcoming life and business challenges.