>>>Click here to read the full article on County Wedding Magazine
We caught up with celebrity event planner Liz Taylor, founder and CEO of the Taylor Lynn Corporation, who shares her top advice for an alcohol-free wedding…
January is traditionally a time for good intentions and new, healthier beginnings. Be that swapping out meat for plant-based Veganuary, dusting off the running shoes, or cutting out alcohol for Dry January. With more than 20 per cent of the UK population now describing themselves as teetotal, the idea of a dry wedding may be more popular than you think. And what could be better than waking up hangover free on your first day as a married couple? For others, living and marrying without alcohol has a religious or cultural meaning. So, if you're planning a wedding in January, or indeed any month of the year, it makes sense to give guests some alcohol-free options. Yet simply offering glasses of fruit juice or lemonade isn't going to cut it.
For a masterclass in mocktails, I've been to weddings where I've been the designated driver and felt like a second-class citizen. Because the 'dry' options have quite frankly been unimaginative and uninspiring. For me, alcohol free drinks and indeed alcohol-free weddings, should look, feel, taste and be so amazing that nobody is bothered if there is booze in their glass. My top tips. Serve up mocktails with fun, flair, personality and presentation and be sure to upgrade your entertainment – take the spirit out of the glass – but not out of the wedding.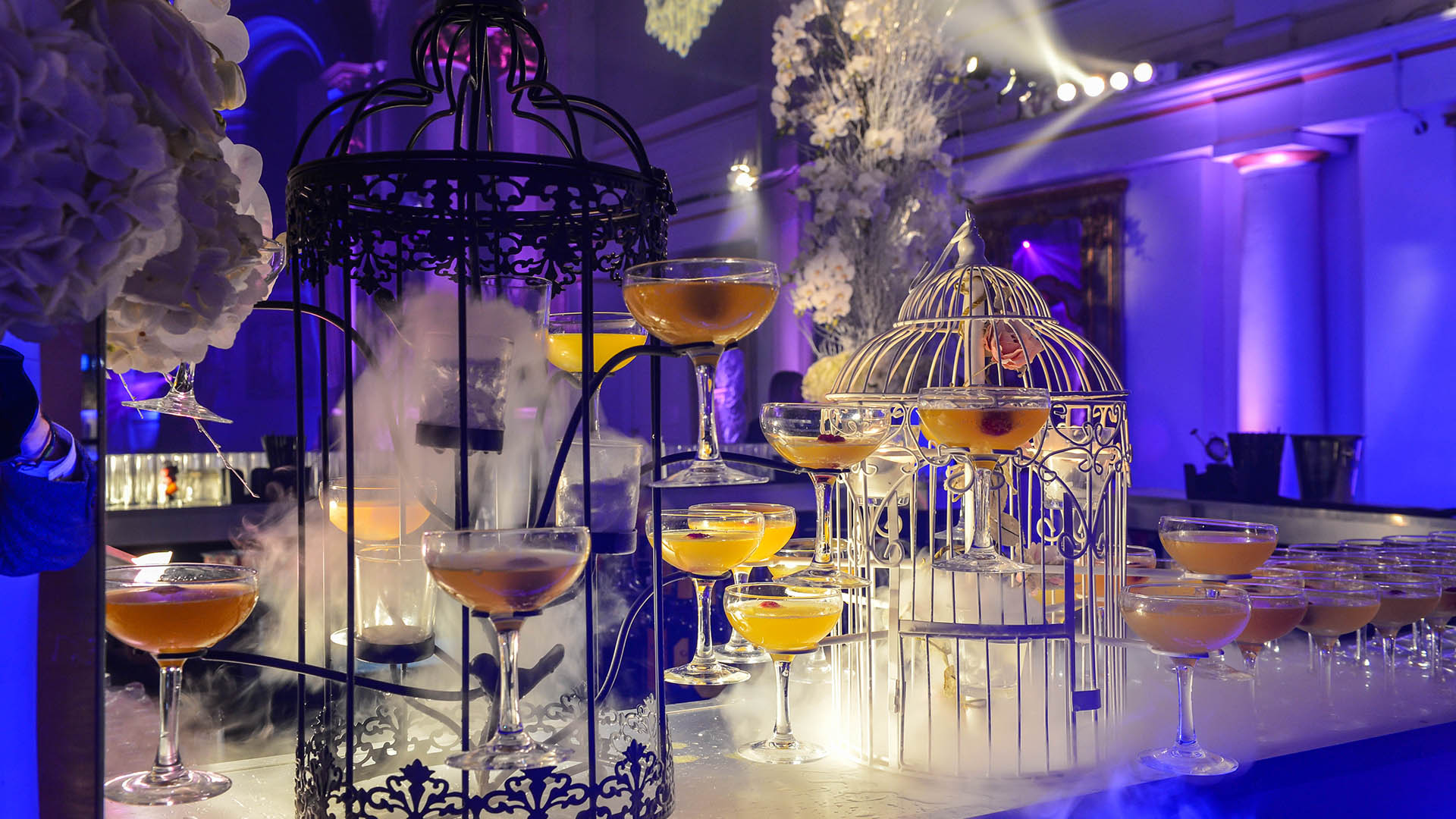 It's All About Presentation
Isn't it true with everything in life, it's not about what you do, but how you do it. Well, mocktails are no different. We eat and drink with our eyes. We remember experiences that are enticing and surprising. Add a little 'flair' into proceedings with a professional mixologist. Deliver drama with dry ice or indoor fireworks. Get fancy with edible florals, in my view the most elegant way to dress mocktails for the occasion. They're not just decoratively divine. Each has their own delicate flavour: calendula, for instance, is slightly citrus, nasturtium sweet and peppery, where pansies have a slightly salty taste.
Think about colour and texture – both the drink, what you serve it on and in. Bespoke backlit Perspex, vintage birdcages, blocks of ice, cinema trays, tin cans, miniature bathtubs, vintage thermos flasks, I have used them all.
Finally, is there a way to tie it in with theme/ambience of your party? Can you make the bar itself more spectacular – integrating into the theatre of your event? Having once served 'Fairground' mocktails in plastic bags complete with faux fish, from a rotating 'carousel' bar with suspended vintage horses, I'm proof that if there's a will (and a creative mind in the driving seat), there's a way.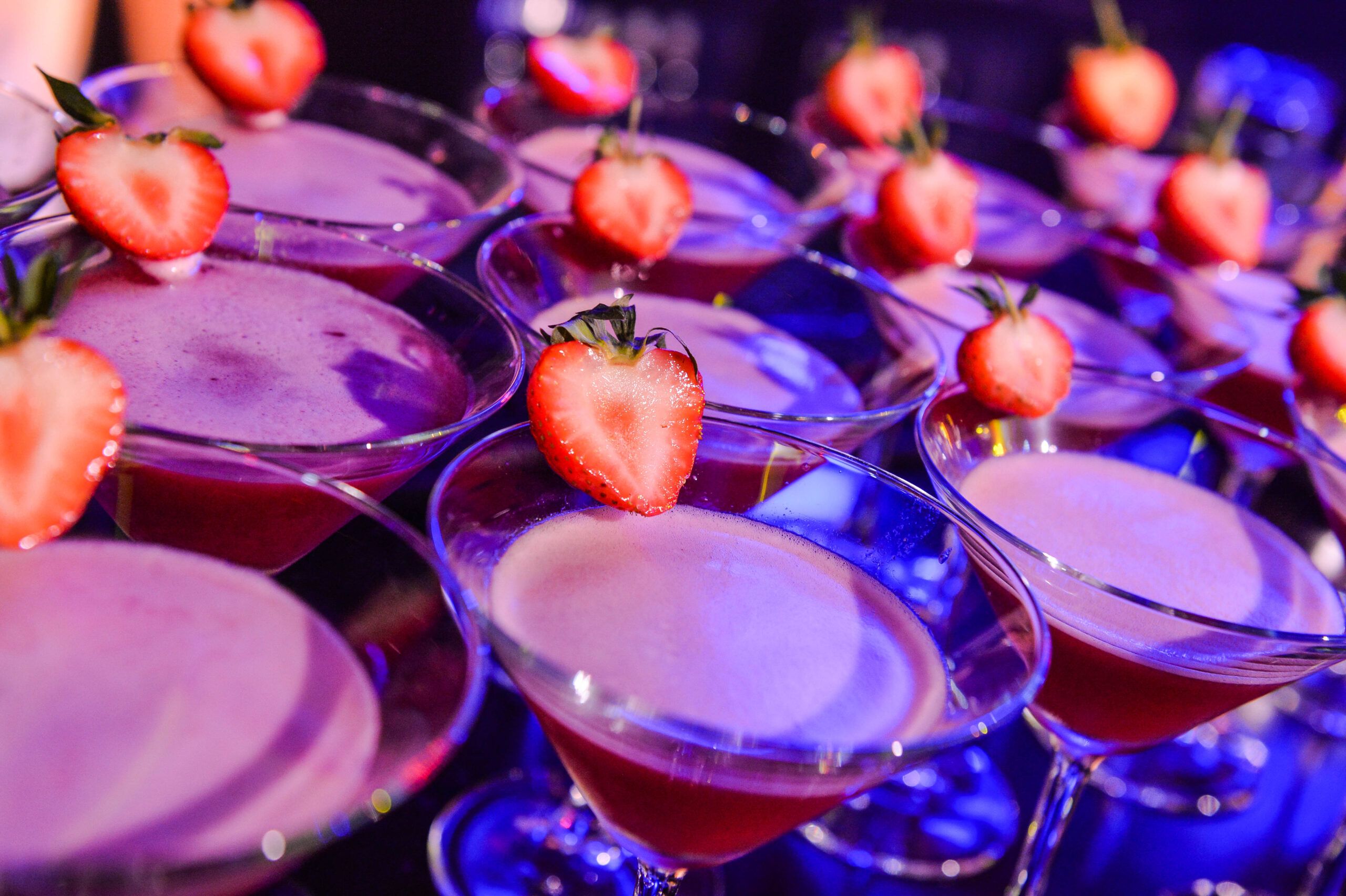 Taste Match
Great catering is about providing an all-around dining experience, so plan your mocktails to match exactly to your canapes in a similar way you'd match wine to dinner. Mock mojitos are crying out for a Mexican influence. Complement fish or sushi with something light and refreshing like a Peach Cooler. Balance heat with sweet and fruity – sugar will temper the spice. And if you opt for an indulgent cream based mocktail then go all out and create mini baked cookies to go alongside. More is more when it comes to the sweet course.
Experiment with Flavour
Sweet, salt, savoury, spice – umami. All can be used to create a drinks menu with interest and intrigue.You may be used to the idea of cinnamon or cloves in mulled wine or spiced apple cider – both of which can easily be made alcohol free. For added sugar and spice sprinkle sweet garam masala into a latte or aromatic nutmeg and orange as a sin-free swap. Add a kick with fresh chilli or ginger, or lemongrass for a Southeast Asian inspiration. Traditionally 'savoury' herbs like rosemary and sage offset sweet flavours, infusing drinks with enticing aromas. And the flavour revolution doesn't stop there, bell peppers, quails' eggs, and of course olives, are all having a moment in umami mixology.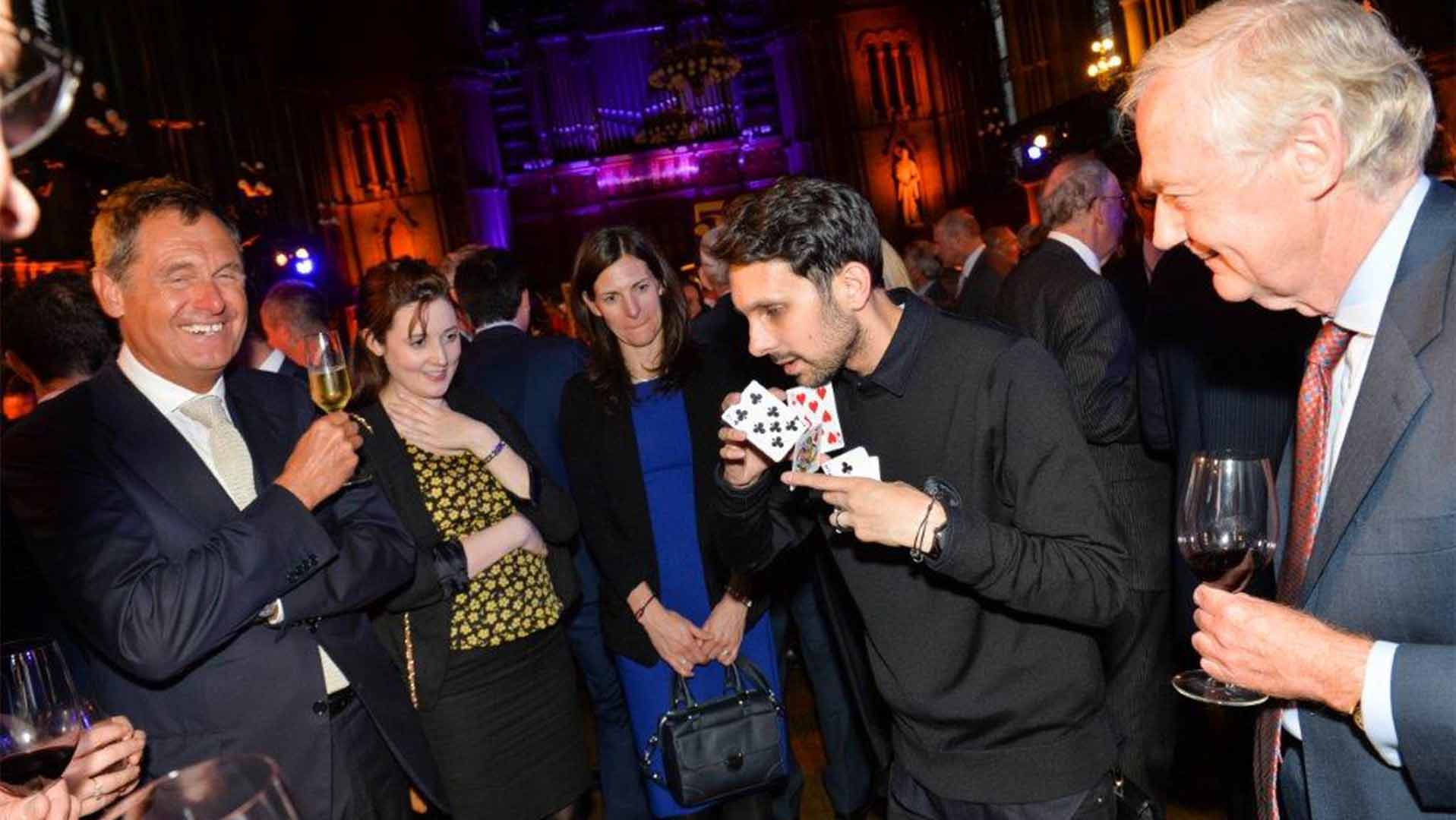 Upgrade Your Entertainment
Some people feel like they need a drink to have a good time, but as event planners we know that's not the case. What is important is to make guests feel relaxed and at ease. You can do this with lots of different elements of the party. Big comfy seats, throws and furs in the winter. Create ambience with soft lighting and of course music to set the tone. Dine them (without the wine of course) then it's time to get more upbeat. Wow guests with slight of hand magicians, dancers or acrobats and fire-artists as they mingle post-dinner; then when it's time for dancing, live music is always king.
Liz Taylor is founder and CEO of the Taylor Lynn Corporation, and has been at the forefront of the UK event scene for over thirty years. During this time, she has planned a wealth of private and celebrity weddings including that of Eamonn Holmes and Ruth Langsford, Michelle Keegan and Mark Wright, Take That's Howard Donald, Queen of the Jungle Jaqueline Jossa and football legend Gary Neville. Check out www.tlc-ltd.co.uk | Twitter: @taylorlynncorp | Instagram: @taylorlynncorp | Facebook: @taylorlynncorporation