The Taylor Lynn Corporation (TLC) has strengthened its events management operation this month with the addition of a new events administrator to the team, and a move to new central Manchester offices. This comes as the company continues its recovery from lockdown restrictions, by breaking the three-million-pound barrier for new bookings secured this year.
Having already announced reaching the two-million-pound sales mark in early March, 2021, TLC has continued to see significant demand for both corporate and private events. This has seen sales grow to three-million-pound in confirmed bookings this month and the appointment of former TLC intern, Laura Callaghan, to the team.
In addition, TLC has secured a new headquarters in the heart of Manchester, from which the team will design and produce both corporate and private events across the UK and Europe.
26-year-old Laura takes on the role of events administrator but is already a familiar face to TLC clients. Whilst she studied for her BSc (Hons) Events Management at University of Plymouth, Laura joined TLC as an intern. Following graduation, she gained three years' experience with Q Hotels as an events and group sales executive. Her role at TLC will see Laura support the events team, as they return from furlough, in the planning of their events, in addition to the day-to-day office management.
TLC CEO, Liz Taylor, said: "Laura proved to be a valuable member of the team as an intern. Enthusiastic, meticulous and keen to learn, and I could see great potential in her from the outset. Having gained three years of hands-on experience at a venue, she returns to us more confident and skilled and will prove a huge asset to the business as we move forwards."
Liz added: "Having had the worst year our industry has ever faced; the Taylor Lynn Corporation has certainly bounced back in terms of bookings this year. Business is strong with clients looking to resume, restructure and reschedule their live event calendars.
Liz added: "As with many companies, TLC moved to a home-working model last year, but we are now ready to return to a new office space in the heart of the city. I am excited! The atmosphere and busy vibe of central Manchester will certainly add to the team's creative energy and allow us to build those important relationships with other Manchester businesses that make our events so successful."
The Taylor Lynn Corporation has its headquarters in Manchester and works right across the UK and Europe designing and producing corporate and private events. Their portfolio ranges from global leaders to high profile celebrities, sports stars, blue-chip giants, SME's and entrepreneurs, to international brands and media companies.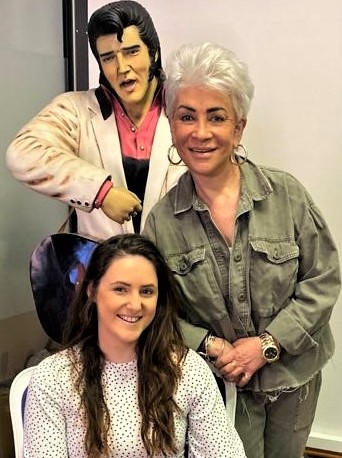 Laura Callaghan with Liz Taylor in the new Manchester Central Offices.