Wedding Tips for 2017
If you got engaged this Christmas or New Year, it is never too soon to start planning for that big day, and with Liz's wedding tips for 2017, you will be right on trend too.
Published in her column, Taylor Talks in The Cheshire Magazine, Liz's wedding tips for 2017 explains the colours, styles, catering, drinks and trends that will feature in the best dressed weddings of the coming year.
Happy reading!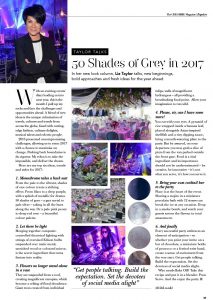 If you enjoyed reading about Liz's wedding tips for 2017, check out our galleries of wedding images for further inspiration: https://www.tlc-ltd.co.uk/weddings/