UK's 5 Best Picnic Experiences
National Picnic Week (16-25 June) may have been a washout but don't dismay.  There is still plenty of summer left for relaxed al fresco dining and some more sunshine is promised. We've picked the UK's 5 Best Picnic Experiences to enjoy, which aren't wholly reliant on the weather!
Opera at Glyndebourn
We couldn't share our 'UK's 5 Best Picnic Experiences' without including this one!  Do you want to mix music, luxury and the romance of a summer evening? Then it is hard to beat a trip to Glyndebourne Festival in East Sussex. Indeed the festival itself sprung from a love story in 1934 between founder, John Christie and soprano Audrey Mildmay. The rest is history. Glyndebourne is now one of the finest and most celebrated opera houses in the world.
The 1,200-seat auditorium is indoors but it's tradition to dine outdoors. A chance to enjoy the beautiful gardens and the view across the hills of the South Downs. Although there is no dress code most guests dress-up for the occasion, many arriving in black tie.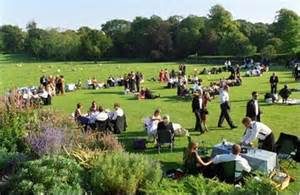 The Glynbourne Opera Festival runs until 28 August. Operas this year include Rossini's Il barbiere di Siviglia and Britten's A Midsummer Night's Dream.
Picnic Butler at Ardgartan Argyll, Scotland
Let's face it; if you're heading over the border for the summer, sun probably isn't top of your priorities but perhaps natural beauty is. If you're looking for a secluded setting that still has a luxurious edge then a trip to Argyll could be for you. Forest Holidays is offering the services of its knowledgeable Forest Ranger as your guide to the Loch and picnic butler for the day. The Ranger, wearing Scottish traditional dress, shares the secrets of the surrounding woodland and its inhabitants.  Then, he lays out your picnic in an enchanting spot overlooking the Loch. The locally sourced lunch includes, Scottish smoked salmon, Arran cheese and Arran oaties biscuits and Irn-Bru. And of course, there are alcoholic bubbles too with a choice of Prosecco or Champagne.
Prices for the picnic butler start at £75 for two people. Contact Forest Holidays for details.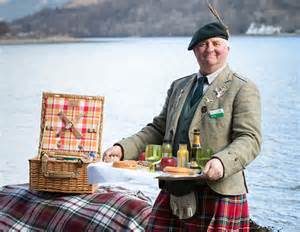 Picnic Proms by the Lake at Tatton Park
Tatton Park is one of our favourite venues at TLC.  On a summer day the Park's spacious grounds are particularly inviting. The venue's Concert by the Lake festival attracts thousands every year. This year the event runs between 28 and 30 July with music from the likes of Tom Jones and Wet, Wet, Wet. However, for picnic fans the Halle orchestra's Saturday night finale is not to be missed. Picnic Proms has become an elaborate tradition for the country park. Picnics and picnic furniture are only allowed on the Saturday evening of the festival and guests go all out to make the most of it with many setting up gazebos, tables, china – the full works. If you don't want the fuss of bringing your own you can order freshly prepared picnics on site. See concertbythelake.co.uk for details.
Related topic: TLC's Top Picnic Party Tips
Champagne picnic cruise on Steam Yacht Gondola
Just the thought of a summer afternoon spent relaxing on a Victorian steam-powered yacht has started me dreaming. This delightful trip on Coniston Water organised by The National Trust is quintessentially British taking in spectacular scenery of the Coniston Fells.
The boat has been rebuilt from the original and is a charming sailing experience rain or shine, with its covered saloons and open-air decks.  As well as the history of the yacht, the crew also provide a commentary on the area's connections past and present.
In the yacht's heyday only the very wealthy would've been able to enjoy a leisurely cruise on the lake. In keeping with the splendour of its time picnics, including hot smoked salmon sandwiches and homemade fruit scones and cream, are served in traditional picnic baskets with cloth napkins, crockery and glasses.
Gondola is on the water from 25 March until 31 October. The champagne picnic is offered on selected full lake cruises Monday – Friday departing Coniston pier at 2.30pm returning at 4.15pm, or Saturday – Sunday departing at 11am returning at 12:45pm. A cruise picnic for two people costs: £75 or you can upgrade to include half a bottle of Canard Duchene Brut Champagne for an extra £20. See The National Trust website for details.
Or…..create your own!
Bespoke Picnic Party
One of the UK's 5 Best Picnic Experiences can be of your own making! Take a large garden and transform it. Splash some cash, drop into Sofa and Stuff in Manchester and treat yourself to some oversized, quirky floor cushions and use them on top of brightly coloured blankets!  And what better to compliment your picnic with, than a traditional English Tea complete stuffed into individual picnic hampers.  Then, think mouth-watering bite-sized smoked salmon or cucumber sandwiches, mini scones with good strawberry jam and clotted cream and grandma's fruit cake! If you are not driving then pack a very chilled bottle of sparkling wine, drop in blue Curacao and a strawberry and hey presto – Red, White and Blue cocktail!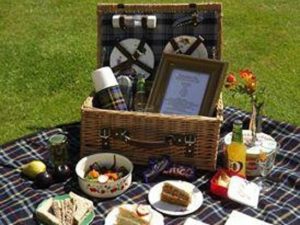 On a larger scale, and not weather dependent, I love bringing the fete to the festivities.  A combination of side stalls and games, funfairs and carousels, food carts and drink stalls.  You should serve everything to guests at painted benches and long tables. Preferably all happening outside of course, but in true British tradition, if the heavens open this can all be served inside too! Entertainment is also key.  From a one-man band to a folk band, from May Pole demonstrations to pop festivals. Whilst music tastes might vary there is something for everyone and under the summer sun all sorts of things can appeal!
Hope our UK's 5 Best Picnic Experiences have inspired you to pack the thermos and head into the countryside!