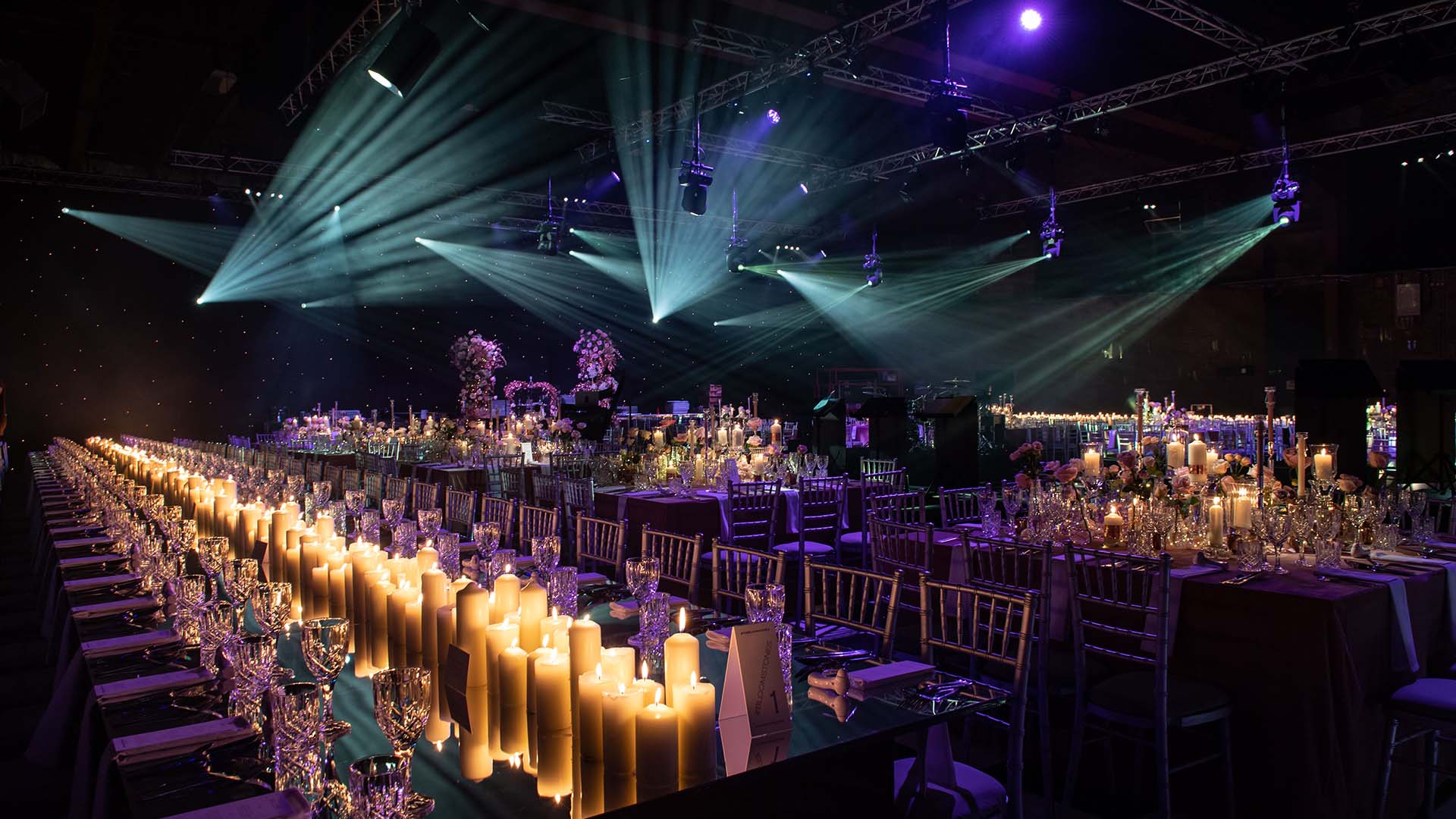 Uplifting. Precise. Energising.
Top party planner the Taylor Lynn Corporation (TLC) have transformed thousands of dreams into breathtaking realities during Liz Taylor's stellar 35-year career at the pinnacle of the hospitality and events sectors.
Her impeccable craftsmanship is at the beating heart of this transformative experience, like a masterful conductor orchestrating every element with unwavering meticulousness. This includes an intrinsic understanding of the paramount importance of getting the lighting and sound just right.
After all, unforgettable occasions are more than merely visual spectacles. A top party planner of TLC's calibre knows that people will forever cherish how they felt at your event, whether you're looking for:
The ethereal ambiance of an exotic destination wedding
The heartfelt emotions evoked at a charitable fundraiser
The sophisticated elegance of a high-level corporate dinner
Event sound and lighting production take centre stage in this symphony of celebration, with the potency to elevate the atmosphere, set the mood, and transport guests into enchanting realms.
TLC understands a harmonious fusion of these elements is key to bringing your dreams to life; a delicate dance where every note and every beam must work in perfect harmony.
For these reasons, collaboration with a seasoned party planner like the Taylor Lynn Corporation (TLC) and CEO Liz Taylor, who has earned her stripes through tireless dedication and an unwavering commitment to excellence, unlocks extraordinary benefits for your event. She has an innate ability to steer the creative direction, seamlessly blending cutting-edge technology with timeless artistry. With her discerning eye and meticulous attention to detail, Team TLC curate an audiovisual symphony that unfolds with flawless precision.
Imagine the glow of perfectly placed lighting, caressing every corner of the venue, casting ethereal shadows that captivate the senses.
Picture a soundscape that transcends mere music, weaving a tapestry of melodies and rhythms that resonate with the emotions of your guests.
Or the bold, dynamic edge of a New York night club, with its thumping tempo and a feast of neon spotlights to set the dance floor alight.
So, when your event demands nothing short of perfection, entrust it to top party planner the Taylor Lynn Corporation (TLC) for peerless understanding of the transformative magic of lighting and sound. With our expertise, you can sit back and witness a living masterpiece, a testament to the artistry of celebration, and the profound impact it has on those fortunate enough to be present. Contact TLC's event sound and lighting production team today.
---
Inspirational and aspirational. Not a follower of trend; a leader of it. Join our social community below for a glimpse into TLC's exclusive style, ideas and creativity. Elements that elevate our events with a unique sense of excitement.