Gone are the days when a simple table vase was the only option to bring a touch of nature to your event. Today fresh flowers not only brighten a room, they can transform it. Here are some of my favourite ideas from recent TLC events.
Create a dramatic entrance.
Your guests are on a journey from the moment they arrive at any venue. For large events decorating the walkway to the main function area is an opportunity to whet guests' appetites and get them in the mood to party. Sunflowers are wonderful for adding a tropical feel and when displayed in tall clear plinths and grouped together to line a corridor, as we did here, they are both dramatic and vibrant, providing a bold and uplifting image that no-one will forget in a hurry.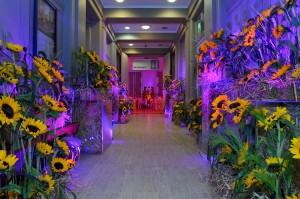 Make a statement.
Table floral displays can be as subtle as a single stem flower in a bud vase or as bold as this stunning display of orange we used to decorate an event held in an old gothic church. We decorated huge candelabras and created tumbling centre pieces to create an eye-catching explosion of colour to match the grandeur of the setting.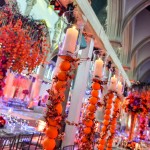 Flower power.
Flowers are often thought as a traditional way to decorate a room, but when used creatively they can inspire the funkiest of room designs. Many trendy events now use mannequins with a large waist tray as food stations on which to serve canapés. Here we've added a beach theme and kept the colours vibrant by dressing the mannequin in a bikini made of gorgeous fresh blooms.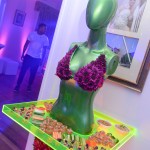 Luxurious elegance.
For events where plated food is served on long tables, you can add luxury and colour by filling the space in the centre of the table with a decadent runner of fresh flowers. Here we combined a variety of blooms including delicate roses in soft pastel shades intertwined with large hydrangea heads in cool blues and lilacs, which trailed the full-length of the table and sweeping over the edge to create floral puddles on the floor.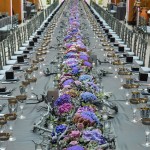 An air of romance.
There is nothing as romantic as a handful of rose petals, but having individual petals scattered on a table isn't the most practical of ideas. To get this we arranged the petals, along with some full head blooms and vibrant green foliage on a glass table, on which we placed another layer of glass. The pressed flowers turned a simple glass table into a wonderful artistic centre-piece that immediately created a romantic, delicate, pretty in pink atmosphere.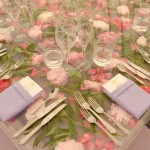 Delicate radiance.
Add a touch of feminitity and beauty to a sparkling backdrop curtain by adding individual rose heads. The curtains can be used as room separaters, for extravagant backdrops, or to add extra twinkle to a dance floor.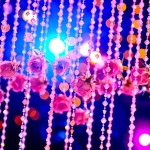 A wall of colour.
Many of the hottest celebrity events are now using dramatic flower walls as part of the décor. Not only do they add a burst of colour to any room, but they can also provide a spectacular backdrop for photographs.