7 strawberry summer drinks
**UPDATED JUL 2019**  When I first started out in events management 30 years ago, British strawberries were a once a year treat, enjoyed for a very short season of only six weeks. Now, thanks to climate-controlled greenhouses, strawberries are available between March and December with a boom in the summer months. Consequently, strawberry production in the UK has grown by more than one third in the past few years. A spell of warm British sunshine has made this the ideal time to browse our updated collection of our favourite 7 strawberry summer drinks!
It seems a shame not to make the most of this fabulous summer fruit grown on our doorstep. Yet when it comes to party drinks strawberries are often overlooked. Whether you want a sophisticated cocktail or long summer thirst quencher, there are so many delicious ways to give traditional favourites a berry twist. Here are 7 strawberry summer drinks to get you started.
Frozen strawberry daiquiri
The daiquiri, made with a base of rum, is perhaps the most well-known of all the cocktails which has a variation putting strawberries centre stage. Served in a chilled flute glass, it is a delicious and refreshing choice and it looks fabulous too. The BBC food page has a simple recipe that can be shaken up in no time. (Cuban or literary themed parties)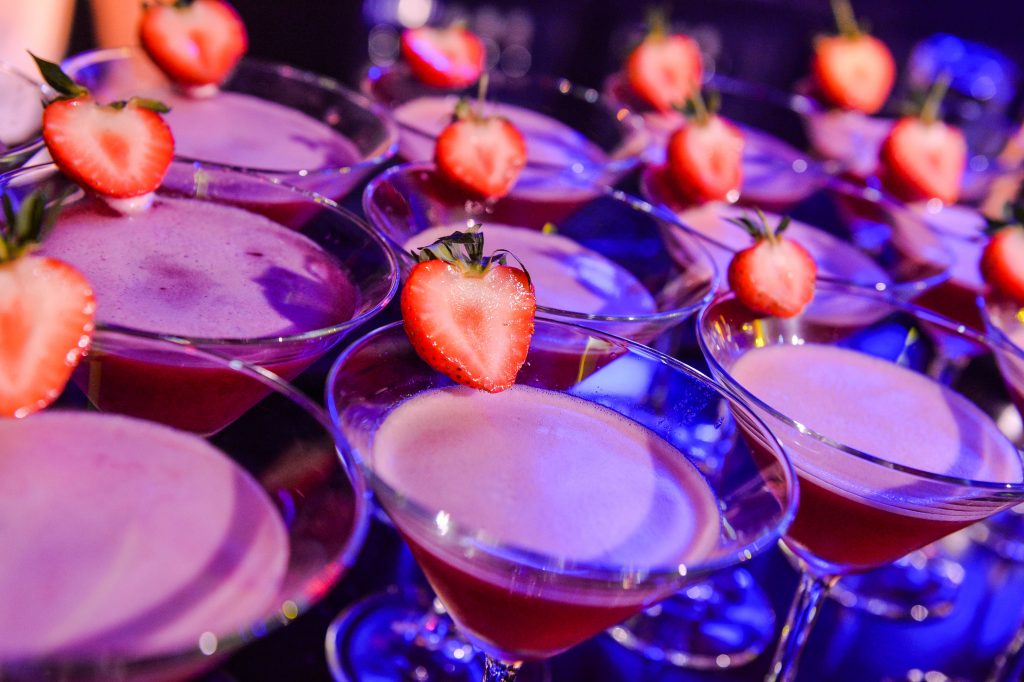 Strawberry Prosecco cocktail
There are no prizes for guessing what is in this cocktail. It's a simple recipe that includes just what it says on the tin, with a sprig of mint. The Prosecco Club has a no fuss recipe that can be made with either a base of Prosecco or for a big celebration, Champagne.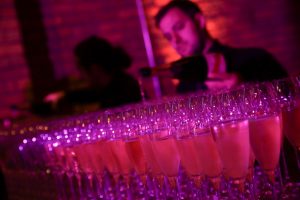 Union Square
The Union Square is one of the cocktails from New Amsterdam Gin. It celebrates the spirit's namesake by honouring landmarks of modern-day New York City. It's a perfect summertime cocktail that lets you enjoy an impressive and affordable gin.
A very garden-fresh recipe, the drink pairs fresh strawberries with basil and agave nectar for a very lively taste. It's a unique blend of flavours for a gin cocktail and it's very fun and interesting. Serve it at a summer barbecue or enjoy it after a long day of working in the garden—if the berries and basil come out of that garden, it's even better!
Strawberry Martini
As the favourite drink of James Bond, a martini bar is always popular at parties. It is also one of Jamie Oliver's summer favourites and his recipe is so delicious that it comes with a warning about how easy it is with this cocktail to over-indulge. Serve in a cocktail glass with a split strawberry on the side and a twist of lemon.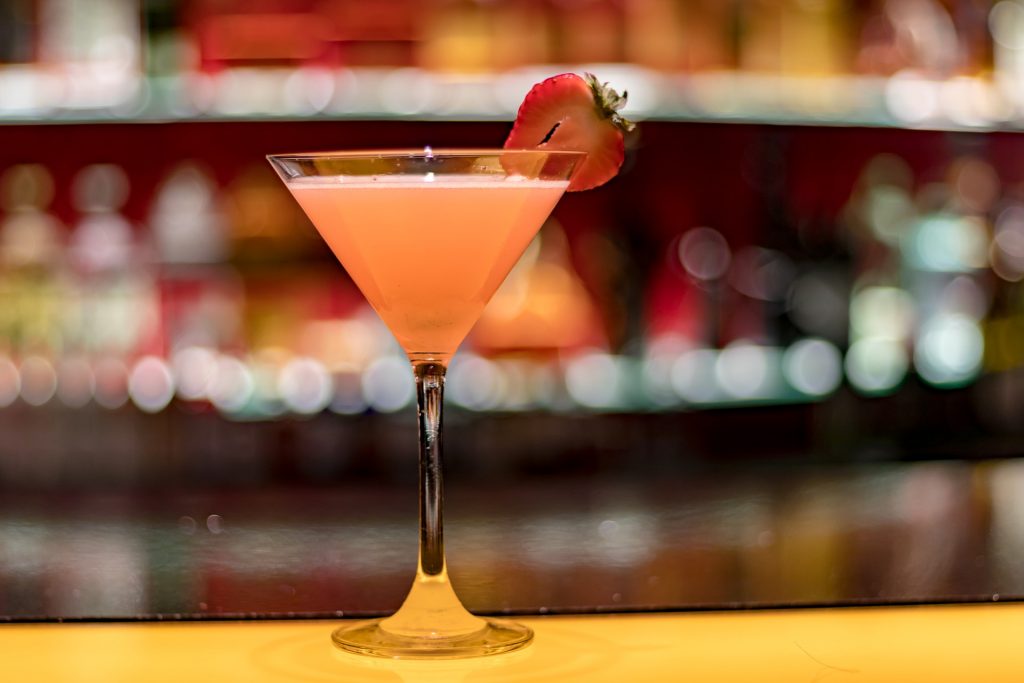 Strawberry lemonade
Lemonade is an ever-popular non-alcoholic choice for parties. This summer variety turns a run of the mill option into a seemingly extravagant choice. Food Blogger, Jenna Webber has a recipe that cuts down on the sugar without losing any of the taste. I also like her idea for serving in mason jars with lids. This not only looks great, but it also has a practical purpose of keeping out unwanted flies and wasps attracted to the sweetness of the strawberries.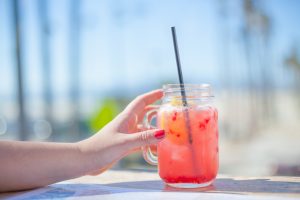 Strawberry and basil soda
I chose to source the recipe for this tall drink from Ashmita Sengupta's blog, The Heavenly Hearth, because as a summer choice it is simply divine. Its zing and fizz, coupled with the brightness of the pink strawberry colour, liven up any drinks tray. And being non-alcoholic means that you can indulge in the taste as much as you like without worrying about who is going to drive home.
Strawberry Pomegranate Mojitos
This refreshing cocktail takes the classic mojito as a jumping-off point and adds a sweet fruitiness that makes these mojitos dangerously drinkable. A Mojito is a cocktail that consists of mint, lime juice, rum, soda water, and a stack of ice. A STRAWBERRY POM MOJITO includes all of those ingredients plus strawberries and pomegranate juice. It's AMAZING.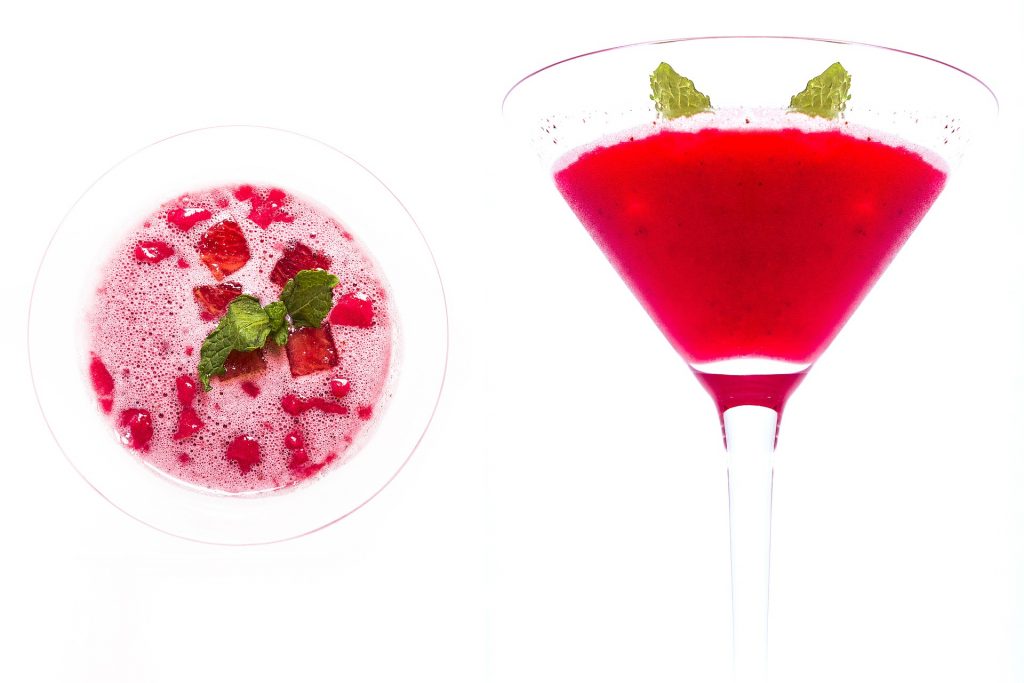 Enjoyed reading our list of 7 strawberry summer drinks? Try this list of our favourite  Summer Cocktails