Dubai's Best Luxury Venues
Dubai's central geographical location, where East meets West, makes it an excellent choice for international corporate events.  It is also home to this year's Planners Xtraordinaire congress, where I am delighted to be a guest speaker in October.  The city is home to some of the world's most luxury events, and even more luxurious venues.  This is why it's been so hard to select just five for 'Our Pick of Dubai's Best Luxury Venues'!!
This vibrant, modern city has become a popular luxury weekend destination for UK travellers. The three-hour time difference means the adjustment is easy on the body clock.  The short escape into the desert makes it a perfect destination for mixing business and pleasure.
When it comes to choosing a venue for your event, Dubai offers a tempting selection. Boiling it down to our top 5 was a tough choice. On exploring the city you'll find many exciting venues to choose from. Here are some of our favourites, in our 'Our Pick of Dubai's Best Luxury Venues':
First of all think the glamour of Las Vegas and the fun of Disney.  Add a Middle Eastern twist, and you're somewhere to imaging the innovative concept that is Atlantis The Palm. It is billed as Dubai's first truly integrated entertainment resort. Hotel's designers have thought of almost everything you could want, and provided it under one roof.  Inside there are 17 restaurants from quick bites to treble Michelin starred venues. In addition, there's a shopping arcade, massive indoor aquarium with sharks, and a dolphin education and conservation centre.  Add to this, kids and teens clubs, several bars and a nightclub.  Furthermore, for those in search of an adrenaline rush it's also home to the Aquaventure water park.  This is a dare-devil's paradise with a 2.3km river ride with tidal waves and pools, water rapids, white water chargers and a heart-stopping 27.5m near-vertical water slide.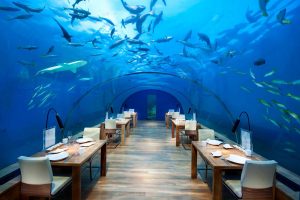 Burj Al Arab Jumeirah
The striking architecture of the Burj Al Arab has made it not only an iconic landmark of Dubai, but instantly recognisable around the world. Located on the beach it is designed to resemble a breaking wave – and one you can land your helicopter on the top. If you opt for this hotel, once inside you'll realise this is just the start of your event menu. The venue's two-tiered, Al Falak Ballroom, styled like an 18th century Viennese Opera House, offers an opulent and charming location for speakers with the adjacent Tameen Majlis breakout room for networking. Or for a more modern feel book the Burj Arab Terrace, a favourite for product launches with its spectacular sea views, restaurant, pool and beach space for up to 800 guests.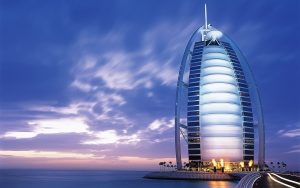 The Ritz-Carlton Dubai International Financial Centre
The name, Ritz-Carlton has become synonymous with gold standard treatment. Amid the city's sky-scrapers the 14-storey, Art Deco designed, Ritz-Carlton Dubai may appear small in comparison, but don't let that fool you. It is still home to seven restaurants and lounges, several outdoor terraces, indoor and outdoor pools, in addition to a sparkling 1400 square meter ballroom, decorated with more than 1000 antique mirrors and a ceiling which twinkles with 10,000 crystals.
Most of all, it's an elegant choice if you a looking for a stylish, cultural experience, combining top class service with a central location.
Related Topic:  Ten UK Cities Most Popular With Event Organisers
One and Only Royal Mirage, Dubai
If you're going to call yourself the One and Only then you'd better have something special to offer. And, in a city that seems to have just about everything, the One and Only has managed to pull off the seemingly impossible task.  It has created something unique. This is largely due to the fabulous location. It is set on a kilometer of private beach and within 65 acres of beautifully, landscaped gardens. This traditional Arabic-styled hotel has been designed with rest and relaxation in mind.  It is such is a perfect venue to take clients for a celebratory event.
Last year's winner of the World's Most Luxurious Hotel, Dubai's Armani Hotel is an impressive choice for any event. It's stunning location, inside the world's tallest building, the Burj Kalifa is visible for miles around and offers unrivalled views of the city. One of only two hotels designed by fashion designer, Giorgio Armani (the other being in Milan). The décor and design is marked by the understated style and elegance you'd expect. Armani's Italian influence is striking in the hotel's contemporary, black marble ballroom. This holds up to 450 guests for a gala dinner or stylish product launch. In addition to looking fabulous, the hotel's commitment to sustainability and Green Globe certification scores it highly for clients looking for greener events.
If you are booking an event in Dubai, 'Our Pick of Dubai's Best Luxury Venues' should give you a head start on the best venues available!