April 29, 2015
TAYLOR LYNN CORPORATION JOINS ADVISORY BOARD OF MANCHESTER METROPOLITAN UNIVERSITY BUSINESS SCHOOL
Liz Taylor, who heads up award-winning event planning company the Taylor Lynn Corporation (TLC), has joined the advisory board for Management Programmes at Manchester Metropolitan University Business School this month, as the University moves forward plans to develop its courses for the 2015/16 academic year with more input from business leaders.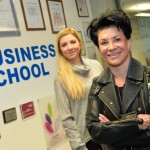 The prestigious role will see Taylor contribute to the content of the programme and recommend which areas of the day to day business world should be incorporated into the course, to ensure that students are ready for the workplace when they graduate.  She will also work closely with undergraduates to impart her knowledge of launching and maintaining a highly successful company, recruiting new business and how to stay ahead of the competition in the market place.
TLC is celebrating its 20th year anniversary in 2015, and Liz Taylor's 30th in the industry, during which time she has become one of the North West's most renowned female entrepreneurs.  The company is based in Manchester but operates across the UK and Europe and boasts a client list of top celebrities and blue chip corporates.  Liz started her first business after a chance meeting at Manchester's Midland Hotel led to her organising a flagship corporate event. A huge success, it provided the bedrock Liz needed to capitalise on the emerging events management market and launch her company. She later joined forces with industry colleague Dianne Lynn to form the Taylor Lynn Corporation in 1995 creating a successful team that was to last until 2008, when Liz managed an amicable partnership buy-out.  That same year TLC bucked the recession by topping the £4M turnover mark.
Commenting on the appointment, Liz Taylor said: 'I am thrilled to be working with Manchester Metropolitan University's Business School.  It's a real honour for me as Manchester is my home town, and my business is based here.  I am a firm believer that we have to nurture and develop the next generation of entrepreneurs and it's hugely important that today's business leaders help shape and develop the content of the course, and give students the benefit of their practical knowledge so that academic courses are relevant to the modern business world.'
She added: 'Manchester has always been a real hot bed of entrepreneurial talent, and I'm really looking forward to working with the course leaders and fellow members of the board and to meeting the students.  You're never too old to learn and I'm also looking forward to picking up some new advice from everybody involved!'
Dr Marilena Antoniadou, senior lecturer in Management at Manchester Metropolitan University Business School added: 'Liz has certainly paved the way for entrepreneurs from the North West to make their mark in business.  We are delighted that she has agreed to be part of the advisory board and that the students will benefit from her extensive experience and knowledge of running her own leading events company.'
-ENDS-
For further details contact:
Sarah Lewis – M: 0781 792 8132, E:

slewiscomms@msn.com

 Notes to Editors:

IMAGES: L to R: Dr Marilena Antoniadou of Manchester Metropolitan University Business School, and Liz Taylor of TLC 
The Taylor Lynn Corporation (TLC) has its UK headquarters in Manchester and organises corporate and private events right across Europe.  From blue chip businesses to sports personalities and television celebrities, TLC is the first choice for high profile parties, celebrations, conferences and corporate occasions.
Biography & images of Liz Taylor available at –

www.tlc-ltd.co.uk/tlc_ltd_press_room

Hi Res event images and more information is available at

www.tlc-ltd.co.uk