4 Christmas Party Planning Shortcuts
As experienced event planners, the TLC team know a few tricks of the trade when it comes to creating a fabulous but stress-free Christmas party. And when it comes to organising your Christmas party at home, our team of experts is on hand to help you this year with 4 Christmas Party Planning Shortcuts that a big on style, and low on stress! You know, those little Christmas party planning secrets that will elevate your party so that it looks like it was lifted straight out of the pages of a glossy magazine, with minimal effort. All the glamour – no stress!
Limited budget? Short on time? Tired, stressed and trying to squeeze your party planning in amongst the growing list of festive tasks? No problem. Follow our 4 Christmas Party Planning Shortcuts below and we're sure you'll be hosting a party to remember for all the right reasons. But shhhhhh, don't tell everybody…
Events director Jess Randall shares décor ideas to delight your guests.
"I'd always recommend sticking to one colour palette when decorating your room and the festive table. Decorations don't have to be expensive, but if you stick to the same colour palette throughout – you'll create a look that's far more elegant than the price tag suggests! Introduce tones of a rich deep red and use a colour fade effect to take it through to the palest pink. Navy blue, through sky blue to lightest turquoise works brilliantly with a touch of silver for a contemporary look. Or opt for a modern white and silver scheme – perhaps adding a deep grey or natural green accent.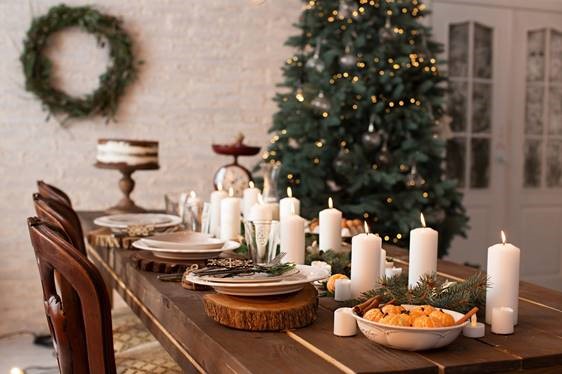 "I'm also a huge fan of DIY, especially if you're quite artistic. You can achieve some really high end looks at a fraction of the price and with minimal effort.
"One idea is to create a stylish festive table topper by measuring your dining table and getting a piece of clear Perspex cut to fit. Arrange winter foliage, flowers and inexpensive decorations (they need to be flat) on top of your table, then simply place the Perspex over it all. Weight this down for a few hours, so that the table top is flat. It provides a gorgeous setting upon which to dine – and a real talking point! I have also done this with old newspapers, magazines and Christmas artwork created by a client's children too, to create a unique festive table-top!"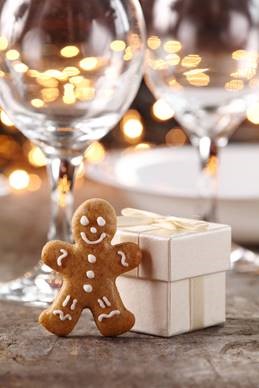 "Our 4 Christmas Party Planning Shortcuts is about saving time, without losing style.  So I look for lovely shortcuts that do double duty as décor and dessert. For example, with a rustic design (popular this year) have small bowls of satsumas, apples and nuts lining a table which can be eaten with dessert or a cheese course, and add in simple candles for light.  Have iced gingerbread as place markers and a sweet treat with coffee (you can buy these of course and just ice the names on!). Or have a lazy Susan in the centre of the table – dress with mini desserts, tealights, fruits and goodies to give a stunning focal point and sharing dessert.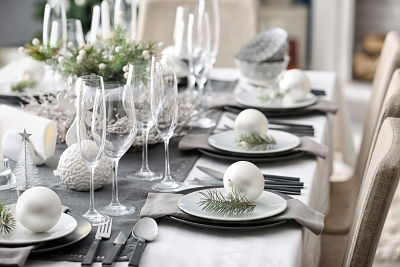 Feeling inspired by Elsa and Ana in Frozen 2 or simply looking to create a frost-covered winter wonderland for your party. Well our very own ice queen Jess, shares some of her coolest ideas in our 4 Christmas Party Planning Shortcuts; including a show-stopping centre-piece.
"A simple and easy icy tip is to buy lemons and limes in advance. Cut into slices. Lay flat on a tray and freeze. Once frozen, place into a bag and keep in the freezer. Then, simply add to drinks as you need at the party. They help to keep the G&T chilled and add little citrus hit too! Similarly, you can place cranberries, raspberries or blackberries and a little water into ice cube trays and freeze. They make for fun festive ice cubes!
"One of my all-time favourite party hacks that looks sensational is to create the most amazing seasonal table centre with a frozen vodka or tequila bottle. Here's how you do it: cut the top off a 1 litre plastic bottle and place a 770ml bottle of vodka, tequila or whatever sprit you fancy inside. Gin is still very much having a moment, as is flavoured or premium vodka. Fill between the plastic bottle and bottle of booze with distilled water and place leaves, berries, sprigs of herbs, holly, seasonal berries and sliced oranges around the side. Stand this carefully in your freezer and leave for at least three hours or until everything freezes. When your party is in full swing and you want to serve, simply run the plastic bottle sleeve quickly under a tap. It will slide it off to reveal a festive ice-wrap around the bottle."
Create a feast of festive fayre with these insider tips from TLC's answer to Mary Berry, festive foodie Frankie Lyons.
Let's face it, we don't all have the time to be cooking and freezing endless mince pies weeks in advance of a festive get together. There's absolutely nothing wrong with buying from a good local bakery and piling them high on a cake stand in the centre of your table. Sprinkle your haul with icing sugar (make a template in the shape of a star out of cereal box cardboard, and sprinkle icing sugar through this to give the pies a professional finish). Dress the plate with festive garden greenery, satsumas, nuts, chocolates and some sprayed pinecones to create a festive table decoration and dessert in one!
If you are happy to bake – the easiest trick is to simply bake dessert in festive shaped moulds. Christmas trees, Santa, Rudolph….all available as small metal baking cutters or cake tins in discount stores. Use as a mold for chocolate orange brownies or festive flavoured cheesecakes – we love rum and raisin! Simple.
And for the children, a hot chocolate station is included in our 4 Christmas Party Planning Shortcuts.  The difference – you simply make the hot chocolate in a slow cooker to save time slaving over a hob, and leave on low to keep warm.  Minimal management needed.  Have an array of toppings for kids to help themselves to; cream, marshmallows, sprinkles and perhaps Brandy for the parents!  Serve in inexpensive Christmas cups (which they can use as a take-home present) with a candy cane on the side. Delicious and fun.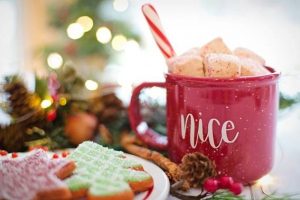 Party like an A-lister and ramp up the glamour, without the big budget price tag, with these simple switches from our CEO and creative director Liz Taylor.
Forget expensive champagne. Switch it up using sparkling wines such as Cava or Prosecco or one of the 'own brands' that always do well in blind taste tests. Mix with Pomegranate juice and dress with a sprig of Rosemary to create a 'Poinsettia' cocktail – gorgeous – or satsuma juice for a pimped-up Bucks Fizz. Any good celebrity party focuses on presentation though, so look for interesting glasses to serve them in. Vintage champagne goblets are always a favourite with my clients – you can scour car boot sales for them. An uber stylish way to serve up cocktails.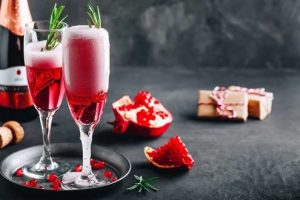 "Souper Canapes. Canapes may be featured at many celebrity parties, but they can be expensive to buy and time consuming to make. Try this. Buy inexpensive vintage tea pots and china cups (e-bay, jumble sales) and then make a quick homemade veggie soup (or buy a good chilled soup if you prefer). Pour the hot soup from the tea pots and serve as 'canape's in the china tea cups. Very stylish.
"A huge trend at celebrity parties is to personalise the guest's party experience. This can be done simply. Buy individual baking pots with lids from discount shops (similar in style to Le Creuset, but far less expensive). Make one homemade casserole, but decant and serve in the individual dishes. A rustic treat! Place individual gravy jugs and salt and pepper pots at every place setting. Looks so much more stylish. Buy chocolate plaques and have them iced with guest's names (Thornton's chocolate stores can help here!). They are great as a place marker and chocolate treats with coffee! "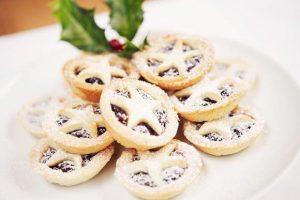 If you enjoyed our 4 Christmas Party Planning Shortcuts, check this out too: Festive Brunch