Looking with optimism to the hospitality sector re-opening in April 21, in part anyway, restaurants have been busy creating as much outside dining as possible.  For one such company the international chain San Carlo, they had the appetite to develop a larger outdoor dining room at their Hale site.  Creating an Amalfi Coast Garden Dining Experience And for some was not a simple as they first thought though. This is when they turned to TLC.
FOUR DAYS IN HALE
With supplier issues holding up the planned outdoor transformation of the San Carlo Fiorentina in Hale, managing director Marcello Distefano called in TLC to help them convert their al fresco dining offering into something special.  With just four days to opening and with the snow falling outside, the TLC operation burst into action.
"I started trying to organise it," explains CEO Marcello Distefano, "and after about six days, I said, 'This is not my area of expertise'. So, I got Liz Taylor's event management company to come and get it all sorted for us."
THE INSPIRATION
The Amalfi Coast, in particular the tranquil garden restaurants the area is renowned for, was the inspiration for the 'il gardiano di Aprile' (Garden of April) which features a 14-foot Magnolia tree taking centre stage amid an abundance of forsythia.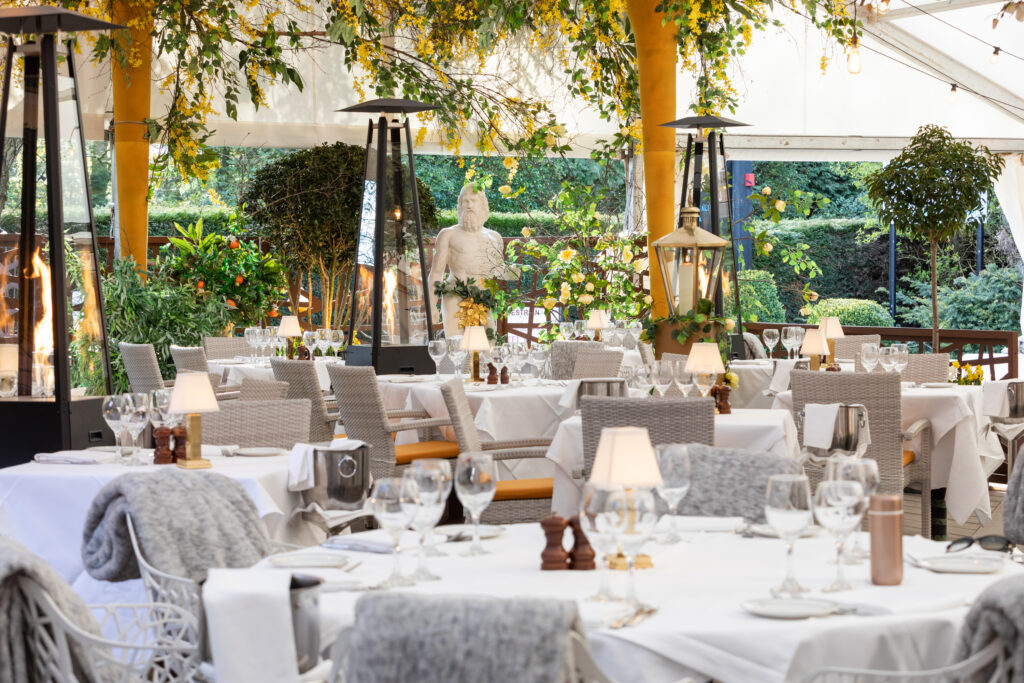 THE DESIGN
Using this as their guide in Creating an Amalfi Coast Garden Dining Experience. TLC's team of 30 people erected a giant marquee and completely transformed the small dining terrace into a summery Italian garden with space for over 100 covers.  Important in the design. To extend the original patio area by nine metres, to allow additional space for socially spaced tables and to maximise the potential ROI for the client.
The build and completed garden needed to comply with Covid-19 guidelines. Yet the TLC team was determined not to allow the regulations to impinge on the quality of finished styling or reduce the diner's luxury experience.
In the centre a stunning 14-foot blossom tree was erected.  Whilst other areas were dressed using 14-foot-high vases of yellow forsythia, an abundance of lush greenery and a combination of coloured terracotta urns. Theatrical lighting was installed by way of festoons with decorative bulbs.  These were also dropped into the trees. Practical patio heaters were added.  Guests were also given the opportunity to purchase cosy pashminas, which in accordance with the Covid-rules they take home with them.
"We are having a bit of fun with it and trying to recreate a real restaurant experience outside. The result is a drop-dead gorgeous space that is a world away from the chaotic energy of the Northern Quarter" added Marcello Distefano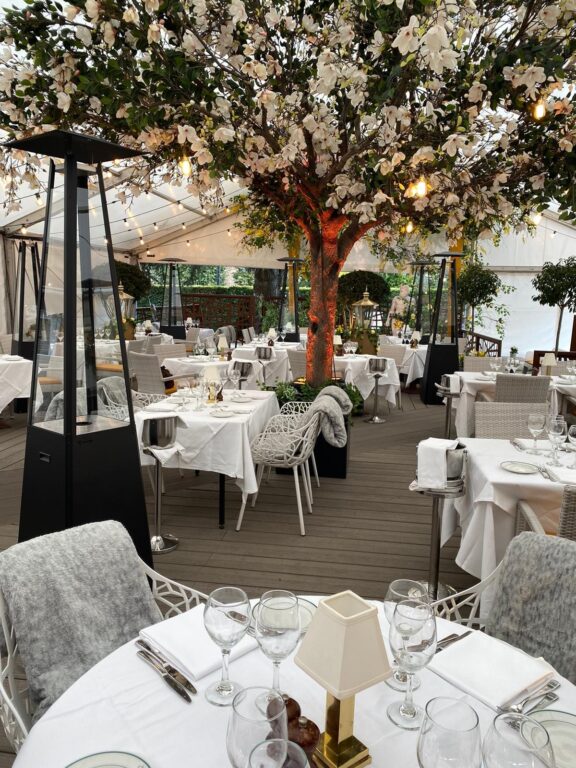 Liz Taylor, CEO, of the Taylor Lynn Corporation continued: "It's been essential to San Carlo, as with many hospitality businesses, to reopen and welcome diners once again.  The ability to offer outdoor dining is a welcome starting point to a full re-opening for the sector. But hugely important to the San Carlo restauranteurs, is that how they offer outdoor dining should still reflect the quality of their international brand.
"Temporary outdoor dining space doesn't have to feel second best.  My team has delivered miracles in transforming a simple patio area into an elegant dining room, which echoes the Italian heritage and brand quality of the restaurant owners. A team of thirty have spent four days constructing the space. Adding lighting, heating and of course, unveiling a floral design that is elegant and stylish.
TO ENJOY
So impressed are owners, that they are looking to keep the Italian Garden for bookings as far ahead as Christmas.  Visit: www.sancarlo.co.uk/restaurants/fiorentina-hale for menus details and online bookings.
The Taylor Lynn Corporation (TLC) is well known for creating unmissable live events for leading corporate, private and celebrity clients across the UK.  For the past five years it has also provided services to the restaurant and hospitality sector for Christmas and special occasion décor and room dressing.  It is now expanding these services to offer unique decor designs for restaurants and hotels year-round.  To see more of TLC's work, visit: FESTIVE RESTAURANT DECOR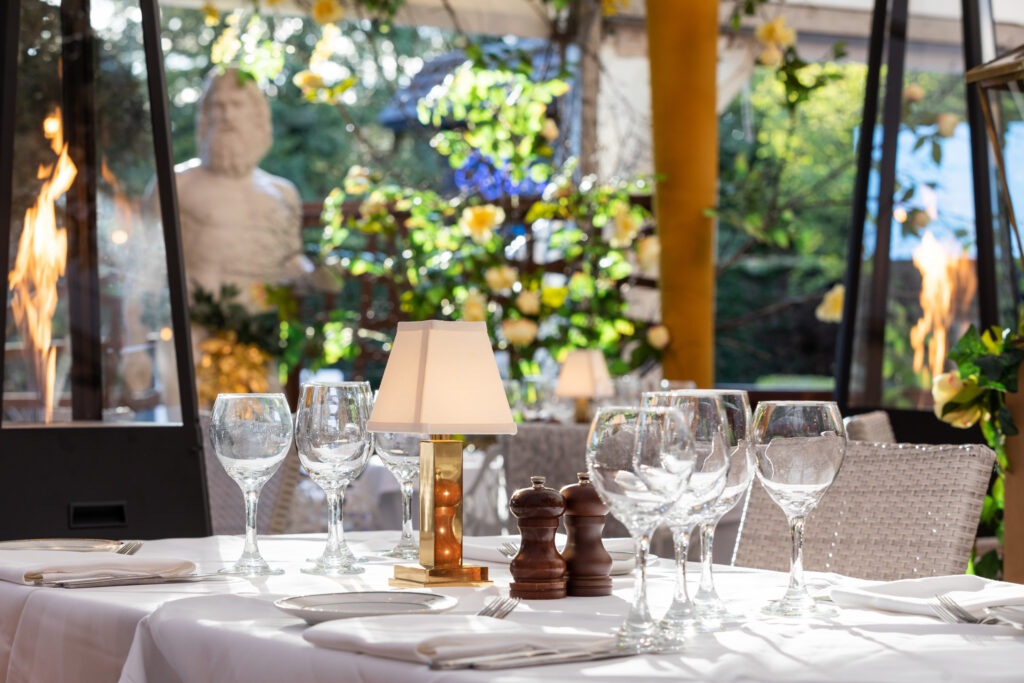 DID YOU KNOW?
The Amalfi Coast was designated a World Heritage Site in 1997.
Limoncello liqueur comes from the Amalfi Coast. Although it has been around for at least a century and its precise origins are a little unclear, Limoncello is produced primarily in the Amalfi Coast.  It is often made from the zest of Sorrento lemons which are otherwise known as Femminello St. Teresa lemons.
Loggerhead Sea turtles surround the Gulf of Sorrento. Although the waters of the Gulf of Sorrento are full of interesting marine life and some more infrequent species such as dolphins, sharks and barracudas can be spotted, the best-known animal is the sea is the Loggerhead Sea Turtle.
READ:
Find our more here: 12 Amazing Facts about The Amalfi Coast – Fact City
Creating an Amalfi Coast Garden Dining Experience can start at home.  And for some Italian cooking inspiration, check out these from the chefs at San Carlo: Italian Recipes by Professional Chefs | San Carlo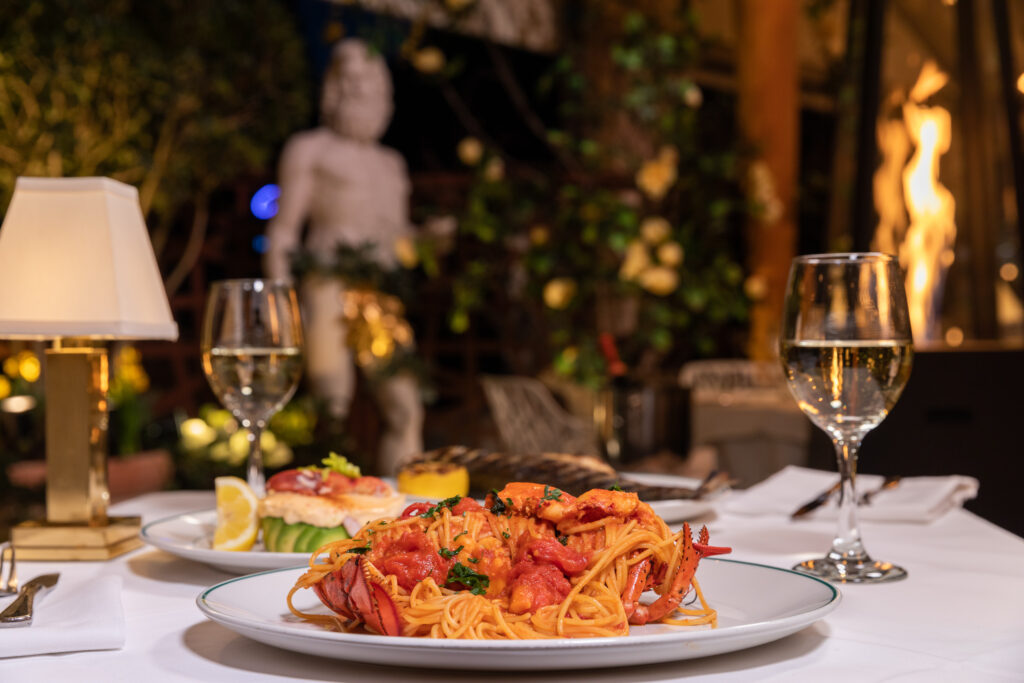 Thanks for sharing our blog on Creating an Amalfi Coast Garden Dining Experience!