Linda Plant
6 July 2020: Linda Plant: Working on A Market Stall Taught Me Everything I Needed to Know About Business
She may be known as the Queen of Mean, but when it comes to business Linda Plant certainly knows how to succeed.  In a new interview on the July 8, 2020 edition of the Events That Made Me podcast, hosted by Manchester's entrepreneur event planner Liz Taylor, The Apprentice star has revealed that it was her humble beginnings working on a market stall in Dewsbury market that has been her 'best lesson in life'.
Self-made, multi-millionaire, Linda, built her wholesale clothing empire Honeysuckle from nothing after leaving school at 15.  She was one of the first women to float her business on the stock exchange and believes her market trader roots to be the main driver behind her success.
She said: "Here's me, you know, uneducated, unpolished," said Linda. "When I met all these velvet collared city men and they said Linda, 'how did you get this, what was your turning moment?' I said, 'you know what taught me the most about business? I stood on a market stall and that gives you everything you need to know in life. You can't learn it at a university but stand on a market stall. It's the best lesson in life.'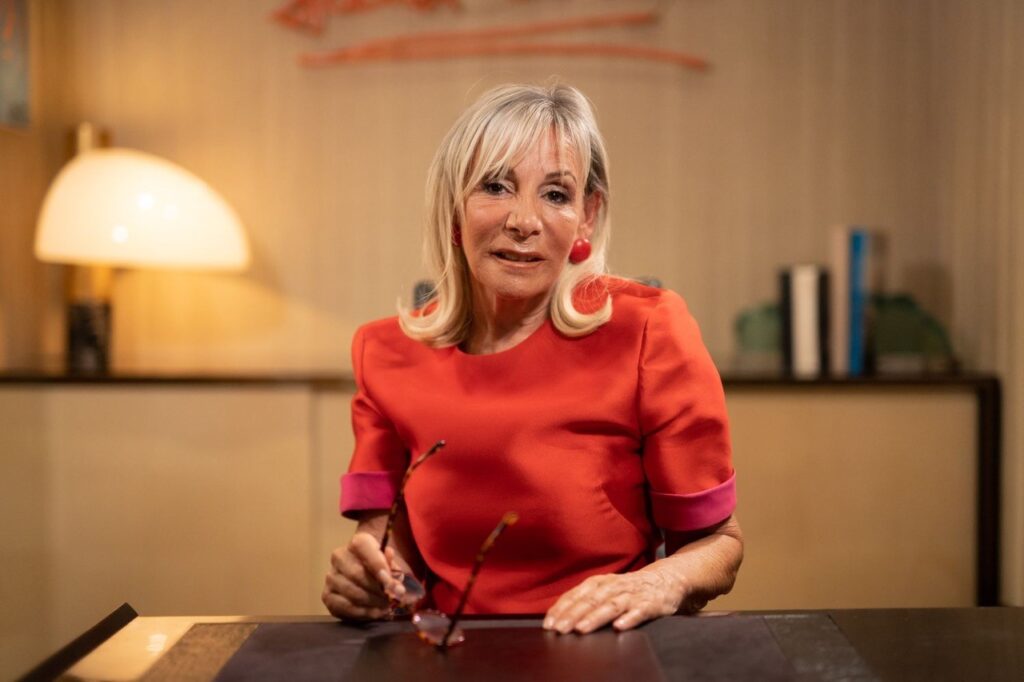 As a teenager Linda was driving force behind her family branching out from running one market stall, to overseeing 14, which eventually led to a multi-million-pound wholesale business. Talking of her experiences growing up, she said: "The truth is, it was a long time before I ever looked back and thought, my God, how did I do that? Was I afraid? Was I scared? When I think back, I was a kid. I just wasn't like a kid. Listen Here
"By the time I left school at 15 we had one stall in Sheffield market that was very successful, and I just couldn't wait to leave school. So, I said to mum that I wanted to leave school and she never dreamt to say get an education, get GCSEs, she said alright, yes, leave."  Listen Here
It was this foundation that instilled her business sense and eagerness, she concluded: I came from very, very, poor beginnings we had a lodger to help pay the rent… but that drive, that motivation it's in you and it doesn't go away. It just doesn't"
Linda believes that it her willingness to take a risk coupled with a fierce drive to achieve that has allowed her to oversee numerous successful enterprises with unrivalled success and grow her multi-million-pound empire. And her advice to others looking to follow in her footsteps?
"I never ever believing in refusing an opportunity, seize an opportunity. Always say yes, until you've got to say no."
Events That Made Me with Linda Plant airs July 8, 2020 at https://podfollow.com/etmm-liz-taylor
—————————————————————————————————————————————————————————–
Sally Lindsay
June 25, 2020: Sally Lindsay: Star Almost Missed Big Break Because She Didn't 'Look Like an Actor'
In the next installment of the Events That Made Me podcast, Mount Pleasant star Sally Lindsay revealed that she never considered acting as a career, because she didn't 'look the part'. In an in-depth chat Sally talked of the pressure for budding actors to look a certain way, admitting that it took a university lecturer to flag up her talent. She said:
"I had a tutor called Neil Sinyard who was a theatre critic for The Times, he said to me, "if you could write your essays like you act you would be getting a double first, you really need to think about this as a career."
"Now this is [me] someone who is size 14, I had blonde hair with black roots down to here, acne and I just thought actors don't look like me. They're little and dark (hair) and posh and pretty – they don't look like me. But I took his words to heart, I couldn't stop thinking about it."
Sally went on to attend the North Cheshire Theatre school, other graduates of which include Antony Cotton, Sarah Lancashire and Scott and Bailey co-star Suranne Jones. Although, in her own words, a 'late starter', she would go on to star in some of the UK's best loved dramas and comedies and has enjoyed over 20 years of success on stage and screen.
"I was 22 when I went there," continued Sally. "It sounds so young now, but it was comparatively ancient to start an acting career."
When asked by Liz if she has ever been invited to feature on hit show, I'm a Celeb, Sally replied: "Oh yes, most years, but, oh God no! If one of the kids needed life-saving surgery, then maybe I would go. Not that I don't think it's brilliant. I love watching it! But I can't even eat prawns because they look like insects. I could do all the other things, but it's the eating I couldn't do, They'd all be starving." Listen Here
Rumors about this year's line-up for the hit show have already begun, with Manchester United legend Eric Cantona and Netflix sensation Carol Baskin thought to be among the contenders.
Sally's latest project was set to start filming in Malta this springtime but has been pushed back until Autumn due to the coronavirus pandemic.
The Events That Made Me podcast with Sally Lindsay airs July 1, 2020. For the full interview, listen to 'Events That Made Me' podcast at https://podfollow.com/etmm-liz-taylor
====================================================================
Events That Made Me Podcast
Eamonn Holmes
16 June 2020: In the Events That Made Me podcast, airing on June 17, 2020, TV Presenter Eamonn Holmes OBE has spoken of the pressure he has felt being in the spotlight for so many years, as well as fears over keeping his job as one of the UK's best-know TV presenters. The This Morning frontman admitted to host, to celebrity event planner Liz Taylor, that the need to 'stay relevant' and 'continuously reinvent' himself has been a challenge.
The 'Events That Made Me' interview examines events that have shaped the lives of a series of well-known celebrities. 60-year-old Eamonn discussed the pressures to stay in the public eye: "As good as you do, staying in employment, people like me have got to stay relevant. To stay relevant, you have to know your market …. you've got to see the trends coming and you have to reinvent yourself. "What I would say about my job is that getting on the conveyor belt is very, very tough, very hard, but – staying on the conveyor belt is harder." Listen to Clip
During the 30 minute chat, Liz and Eamonn delve deep into his 40 year career in broadcasting, including how his peers would 'laugh' at his insistence that he wanted to be a TV reporter when he trained in journalism. Eamonn says: "My journalism lecturer would go round the class and say, right, 'what do you want to do when you qualify' and people in my journalism class would say, 'I want to write for the Irish Times', 'I want to write for the Guardian' or I want to write for the Independent' and when it got to me I would say, 'I want to be on TV, I want to be a TV reporter'. And the class would laugh. I suppose their point was you shouldn't really express ambition like that, but to me it was direction, it was the area of journalism I wanted to be in." Listen to Clip
It was this clarity on his future that eventually led to Eamonn's big break, and a career that would see him become the face of Morning Television first at GMTV and then later as the anchor of Sky Sunrise, positions he held for a combined 26 years. Eamonn continued: "A year later the journalism lecturer called me and she said: 'You always said you wanted to work in television didn't you, well there are auditions being held at Ulster Television for farming reporters, do you fancy that?' I didn't know the first thing about farming, and I told her that, so she said: 'rule number one of journalism Eamonn – find out!'
"I did find out, I did get the job, against very stiff and more experienced competition and I got it on the basis, I suppose, of style over substance, because I knew how to behave on TV. It was absolutely incredible because that changed my life."
For the full interview, listen to 'Events That Made Me' at https://podfollow.com/etmm-liz-taylor
=======================================================================================================================
5 June, 2020: A labour of lockdown love for our CEO, Liz Taylor. The Events That Made Me podcast is finally here, and has been well received by listeners.  Already featuring in Apple's top business shows, the podcast combines fun, fearlessness and life lessons.  Liz discussed the events that have shaped her guests' lives, both personally and professionally.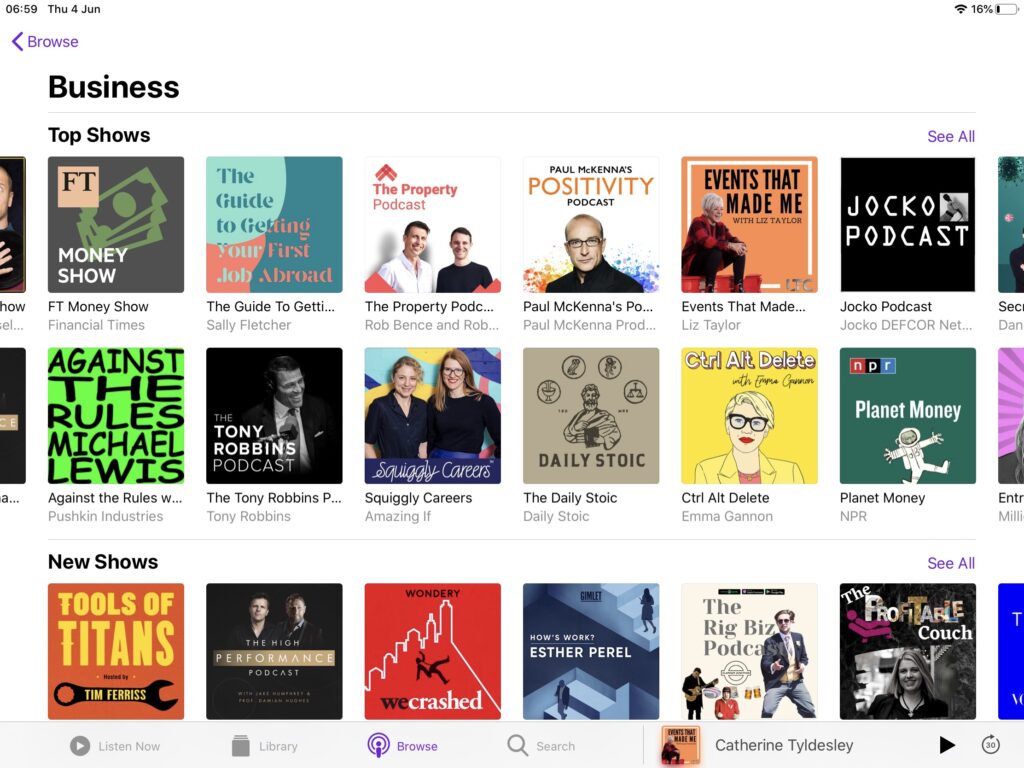 Commenting on the podcasts Liz said:
"I believe throughout all of our lives there's one specific event that we can say affected the course of our journey. There certainly has been for me. Coupled with the fact that I spend a great deal of time getting to know the people that I work with and finding out what makes them tick, I felt there was a great way to share some of these events and experiences to help others. And so, my Events That Made Me podcast was born."
Catherine Tyldesley
In the first podcast, actress Catherine Tyldesley talks of how she secured her role on BBC1's Strictly Come Dancing in 2019. Importantly, why it took producers two years to get Catherine to agree to put on her dance shoes. "I had a huge fear of dancing. When the opportunity for Strictly came up I thought, this scares me, so I should do it. I think you should face your fears head on." Click for audio clip.
And how it felt to secure her famous role on Coronation Street: "As a child I was always talking and singing. I then fell in love with drama and I can't imagine doing anything else." She adds: "I'd grown up watching Corrie and was a huge fan. Landing that job was a dream come true." Click for audio clip.
Simon Lycett
Simon Lycett explains why his challenging public-school upbringing led him through times of bullying to a place of greater strength. The chance meetings led him to create flowers for Muppet creator Jim Henson. And later for the film Four Weddings and a Funeral. Any why pride has been one of the important, but sometimes unspoken, emotions in his life Click for audio clip.
Now a celebrated florist to members of the Royal household, Simon explores the series of events that, as Liz quotes: took you from the Muppets to the Royal family". Simon says: "I have been fortunate enough to work on the wedding of Prince Charles to the Duchess of Cornwall. I created the flowers for the dinner that the Queen held the night before William and Kate married….and the flowers for Princess Eugenie's wedding to Jack." Click for audio clip.
"I'd like to do flowers for the next Coronation. Wouldn't it be an amazing, iconic thing."
Liz adds:
"I'm talking to a whole host of really fascinating people about events shaping their lives, and there's an interesting mix of answers. Cath Tyldesley talking about the positive effect that competing on Strictly Come Dancing has had on her confidence. Mr Daytime TV himself Eamonn Holmes explaining why you shouldn't 'hide your light under a bushel and how meeting me was the most expensive lunch of his life! To the incorrigible raconteur Christopher Biggins, on why meeting Sinatra changed the direction of his early life, and how I'm A Celebrity then transformed his later career."
To listen to the podcast, click here: Events That Made Me and please leave your feedback on the show. Our next guest will be announced shortly and feature on June 17, 2020