Spring is just around the corner and it's the perfect time of year to say, 'I do'. Fresh mornings, bright skies and colourful buds pushing through the ground give the perfect colour and style inspiration for wedding flowers and décor. Blue skies and warmer weather provide the opportunity to plan outdoor celebrations, al fresco dining, and drinks receptions too. So, with our top five spring wedding trends, we've got you covered for new, contemporary wedding ideas. Spring wedding cakes, dresses, décor, colours, and catering.  It's your go to guide for a spring wedding in 2022.
SPRING WEDDING CAKES
Floral fancies – wedding cakes transform as we enter spring/summer reflecting the changing season outside. Perhaps unsurprisingly flowers feature heavily within spring wedding cake style in 2022, but not in the rigid sugar-modelled style of the past.
We're seeing lots of pressed petals on naked cakes which are lightly iced to allow the cake to shine through. Make sure you use edible flowers to ensure the entire cake can be enjoyed.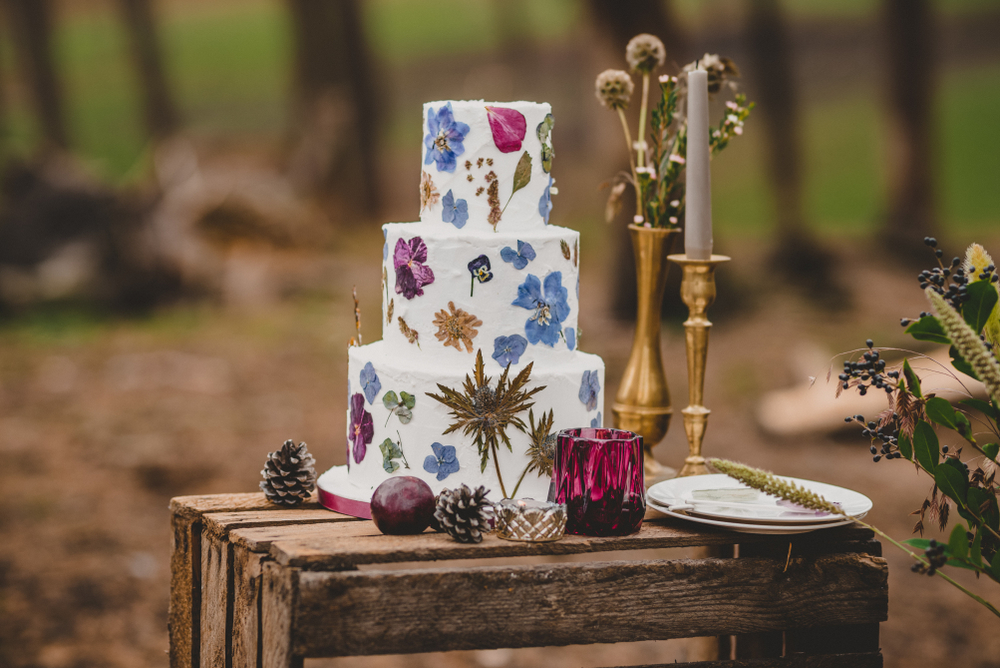 Sugar work will still be on trend but it's bolder featuring bright hues and exotic blooms. Watercolour florals 'painted' onto traditional icing is another way to interpret the trend. Vivid coral and fuchsia colourways bringing a riot of colour and a chaotic, joyous feel.
Another trend is to combine fruit and florals cascading down the side of the cake providing a feast for the eyes and the taste buds.
Candy colours – Wedding cakes will also bring more colour to your wedding day. Pretty pastels, pinks, coral, and powder blue are all on trend – either full colour blocked icing or as an Ombre effect transitioning from base to topper. Colourful buttercream icing is more prominent than its traditional counterpart, bringing a softer more inviting feel to cakes.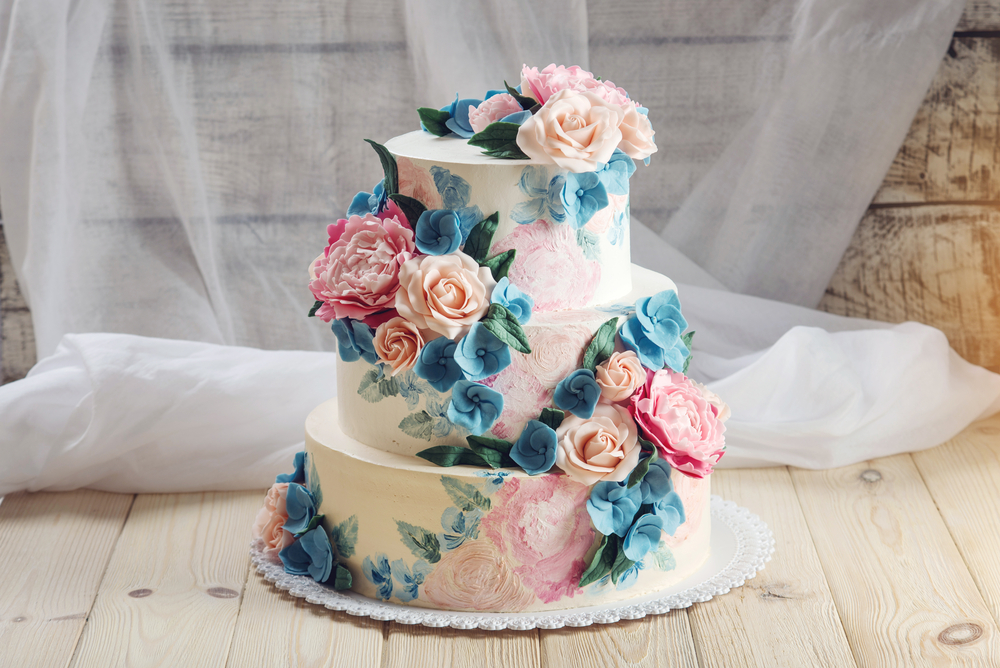 SPRING WEDDING DRESSES
Don't be surprised if the colour from wedding cakes extends to the dress code – colourful wedding dresses are making a big comeback this springtime.
Pops of colour will be provided with floral designs and especially on two-piece outfits mirroring the blooming wedding cake trend. Pastel shades too will be taken through from the dress to the cake. Pinks, blues, and coral pinks replacing traditional white for the bride and the shirts of the groom and groomsmen.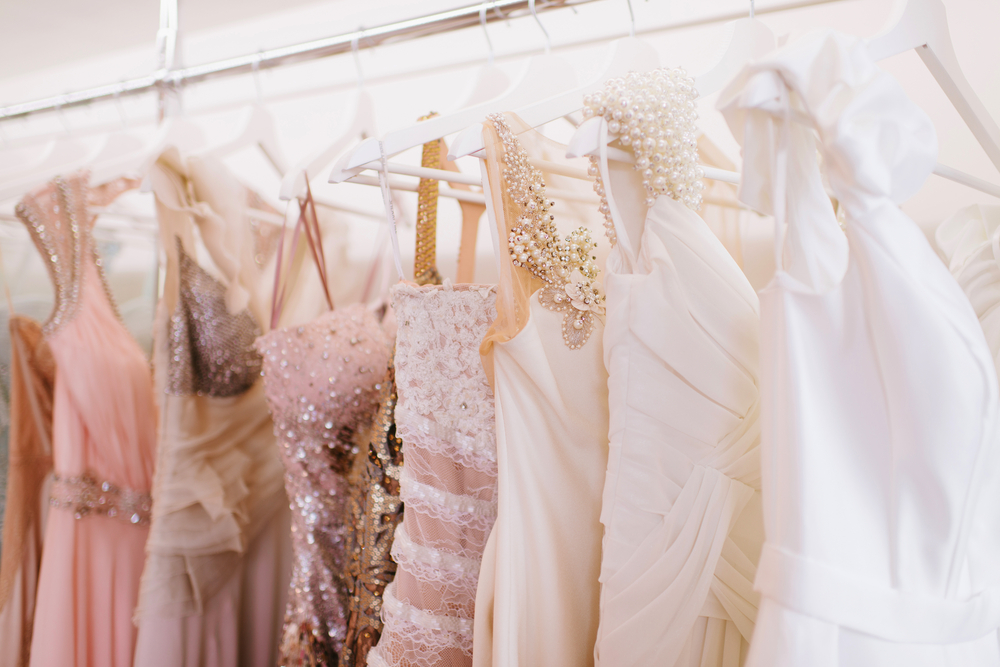 SPRING WEDDING DÉCOR
Go au naturel – wicker, rattan and natural fabrics are still huge in interiors right now and can create a gorgeous wedding décor.  With our top five spring wedding trends in mind, bring in natural rattan chairs to provide texture at the tables and don't forget the space above guests' heads. You can hang wicker lampshades from strings of festoon lights to create stunning feature lighting. Pair with crisp linens or something more sumptuous like velvet if you want to contrast natural texture with luxe appeal.
Looking for an unusual wedding backdrop? Try an oversized pampas grass and dried flower hoop to tie the entire look together.
Surprising colour – Did we mention that spring weddings are going to be colourful? Remember, where you bring in colour it doesn't always have to be through the obvious channels. Introduce colour to tables with crockery and vintage style glassware. Linens too can be swapped from traditional white to rainbow hues and on trend patterns. Why not paint traditional farmhouse chairs in your chosen palette.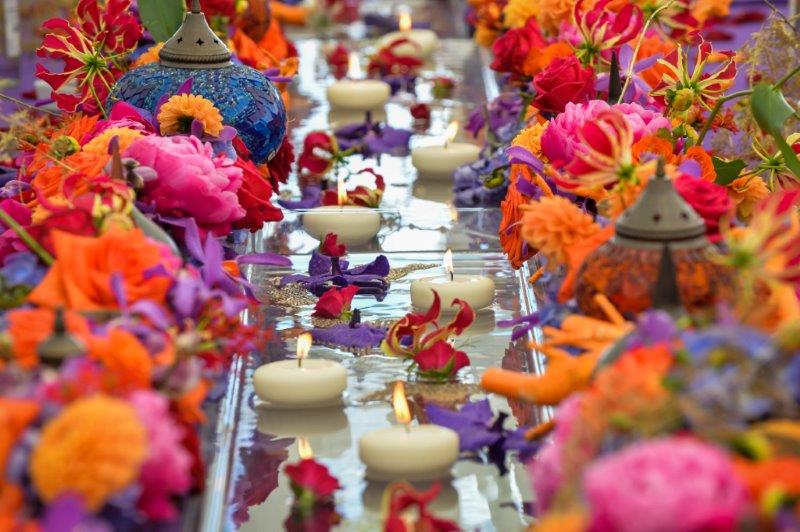 Upside down – Floral canopies are still our favourite ways to add drama to a table and when better than spring to dine under an abundance of bountiful blooms. Rather than wisteria and the more common hanging plants, which are still popular, we're starting to see groups of spring blooms arranged in inverted bouquets or singular stems.
Inside out – is still a huge trend with tents, tipis, awnings, shades, and canopies, providing shelter and a seamless link to the outdoors.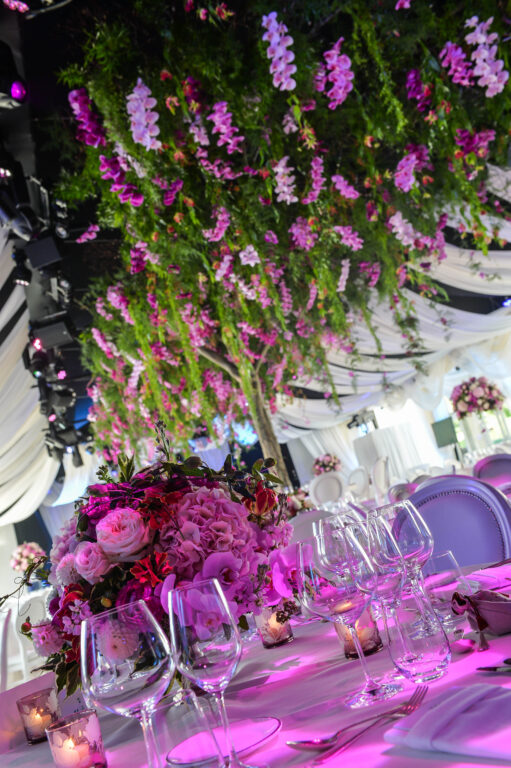 SPRING WEDDING CATERING
This one of our top five spring wedding trends is a bit fishy! Seafood is a brilliant spring menu choice for a spring wedding, start off with an oyster bar, BBQ seafood kebabs or a huge pot of paella for each table. Pan fried salmon with samphire is a lighter main course inspired by the seas for spring weddings.
Florals too can be taken through to the dining element – fresh, zingy salads decorated with edible flowers. Cocktails too can be upgraded with pretty petals and sprigs of fresh herbs.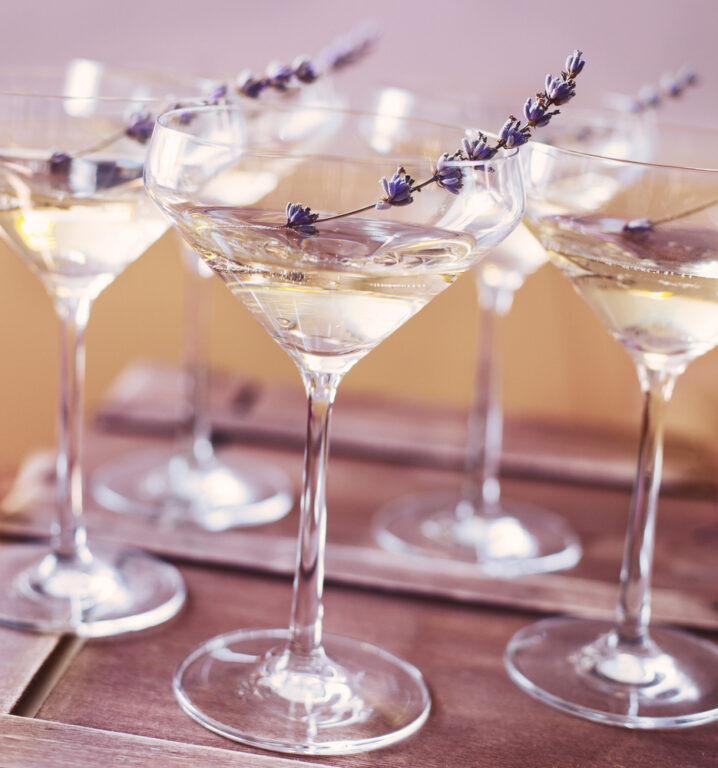 Festival weddings are another huge trend, spurred on by our outdoor celebrations during the pandemic and enduring as we've realised that outdoor parties can be the best kind of fun. For this you need food trucks, outdoor food stations with theatrical food preparation with live cocktail making mixologists. You need to think of the sights, smells, sounds and buzz that's created at a festival and emulate that at your venue.
SPRING WEDDING FAVOURS
Lat in our top five spring wedding trends, is favours. Spring favours should be cute, colourful, and reflective of the season.
We love anything miniature, and in our experience so do guests. A miniature cocktail in a jar. Individually wrapped fudge or chocolate imprinted with the date or their initials. Tiny jars of loose-leaf, herbal teas, mini jam or chutney jars and dinky olive oil Kilner bottles infused with herbs are super sweet and work well if you're guests are foodie types.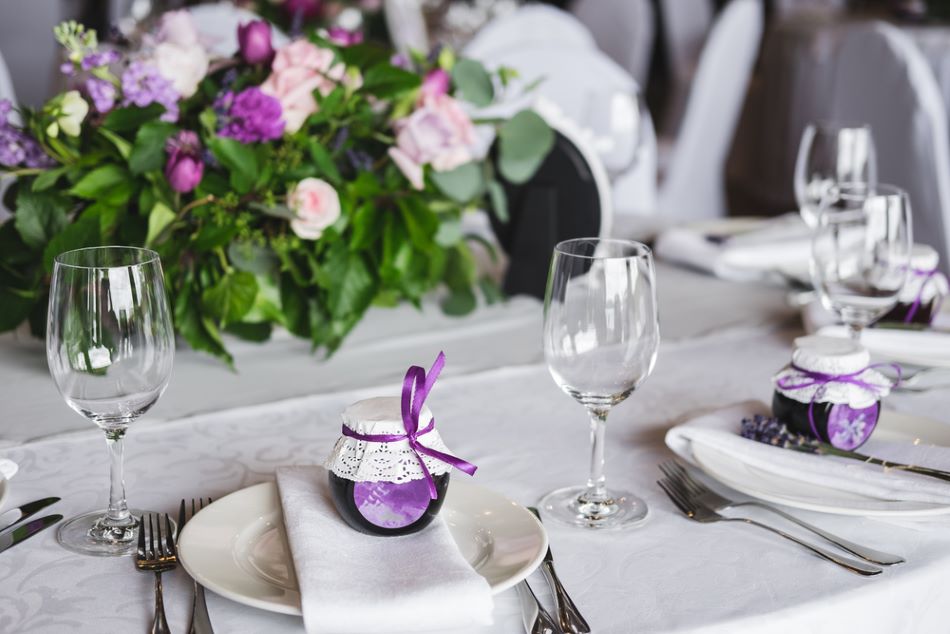 A luxury scented candle, with the same fragrance you've used on your big day, will allow guests to take a bit of your wedding home with them.  Or their favourite liqueur in a vintage bottle.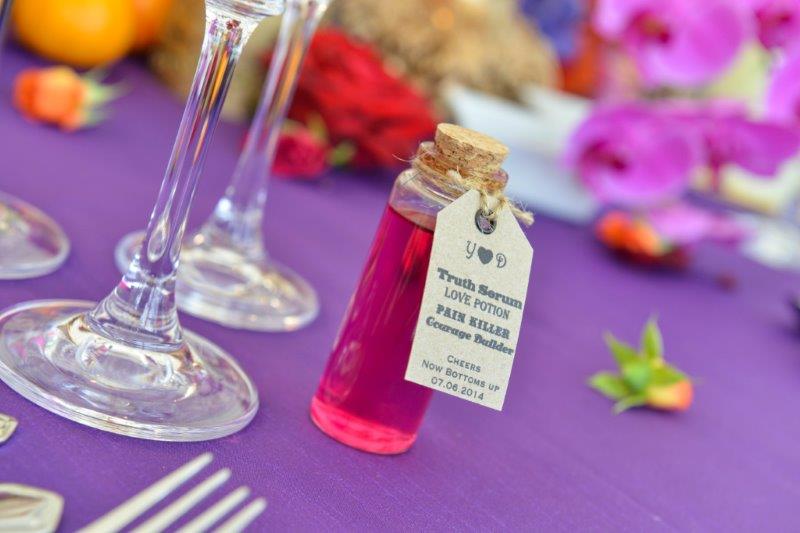 If you're environmentally conscious, why not give little personalised packets of seeds, miniature succulents or tiny potted plants. Another nod to the prevailing spring floral trend.
DID YOU KNOW…
It was once considered unlucky to marry in the spring months of March and May, although now they're among the most popular wedding dates.
LOOKING FOR FURTHER INSPIRATION ON FOOD AND DRINK AT YOUR SPRING WEDDING?
Try one of these refreshing cocktails: https://www.brides.com/spring-wedding-cocktails-5211901
Or these ideas for starters main course and desserts will have your mouth watering: https://www.wedding-spot.com/blog/spring-wedding-food-ideas
Thanks for sharing our top five Spring wedding trends.