The days are getting longer. The sun has been shining. Optimism and dreams of better days are certainly the air. And at TLC, the phone has been ringing off the hook. Wedding couples motivated by the recent UK Government announcement – their 'roadmap' out of lockdown – which allows ceremonies and receptions with 6 people from 8th or 29th March. Weddings are then due to restart with 15 people from 12th April and 30 people from 17th May.  So many people are now actively looking to reschedule their wedding day. There is a definite vision of weddings bathed in Spring sunshine, hazy pastel colourways and of course some beautiful blossoms to top it off.  And although weddings will be smaller in scale, until the summer, we firmly believe that they can still be beautifully and stylishly designed. With this in mind, we have shared our pick (of the bunch!) of the top flowers for Spring weddings in 2021. Beautiful flowers that can be incorporated into a wedding of any scale: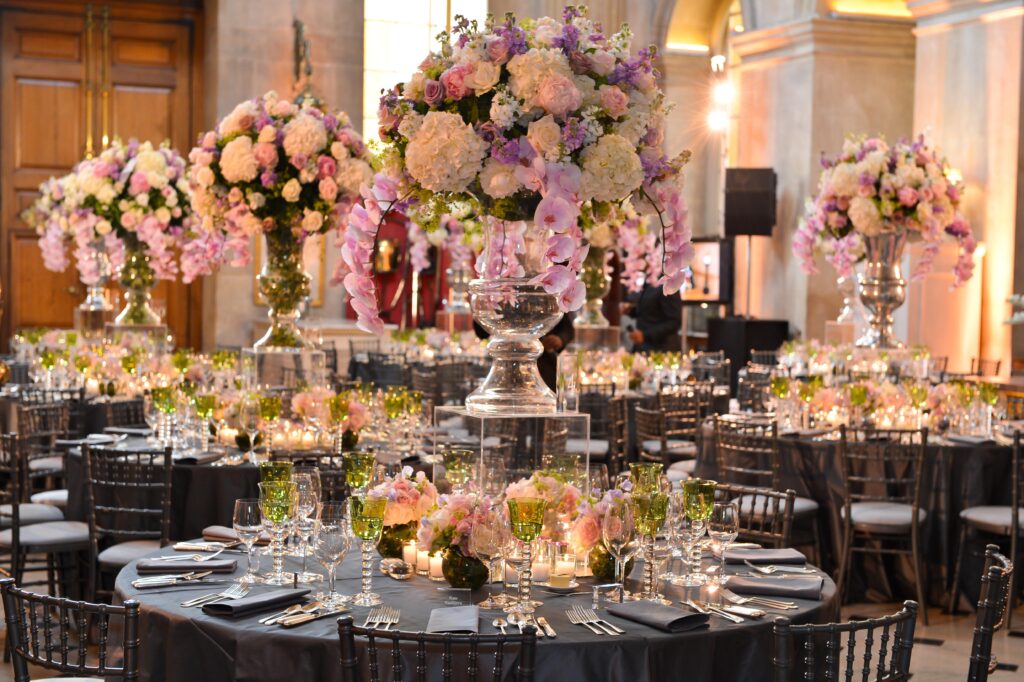 PEONY
Of all the flowers in season at this time of year the peony is a perennial brides' favourite due to its characteristic round, blousy blooms – the perfect way to set off a bridal bouquet and a must in our collection of top flowers for Spring weddings. Peonies hail from Japan originally and are said to bring romance, prosperity and good fortune, making them ideal for nuptials. There is a huge choice of colours, from bright red and fuchsia to delicate pastels.
They're not the cheapest of spring flowers, but that said, they do fill up a lot of space. Usually, four or five stems will be plenty, unless of course you really want to make a statement. A tip for using peonies is to mix them in with other less spherical flowers to stop the arrangement appearing too uniform. Roses and iris are classic combinations, but why not mix it up with some trailing fern and wildflowers for a whimsical take on tradition.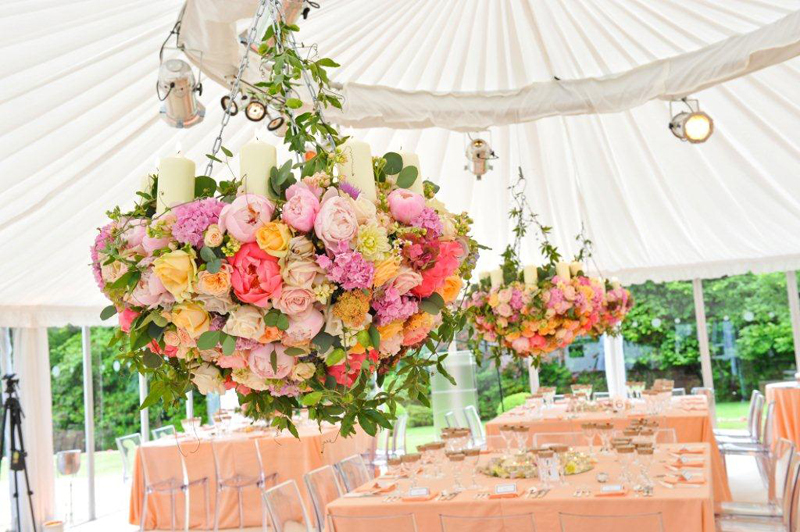 FREESIA
Typified by their delicate bell-shaped buds and divine fragrance, the freesia is another one of the most popular bridal flowers for spring. Filling a room with heavenly scented freesia is sure to delight all of the senses.
Originating from Africa, they're said to symbolise innocence, thoughtfulness and trust. For a wedding they traditionally held the same significance as the bride's white dress. A look we absolutely love is to incorporate long-stem freesia, hand-tied with Asparagus fern and Craspedia.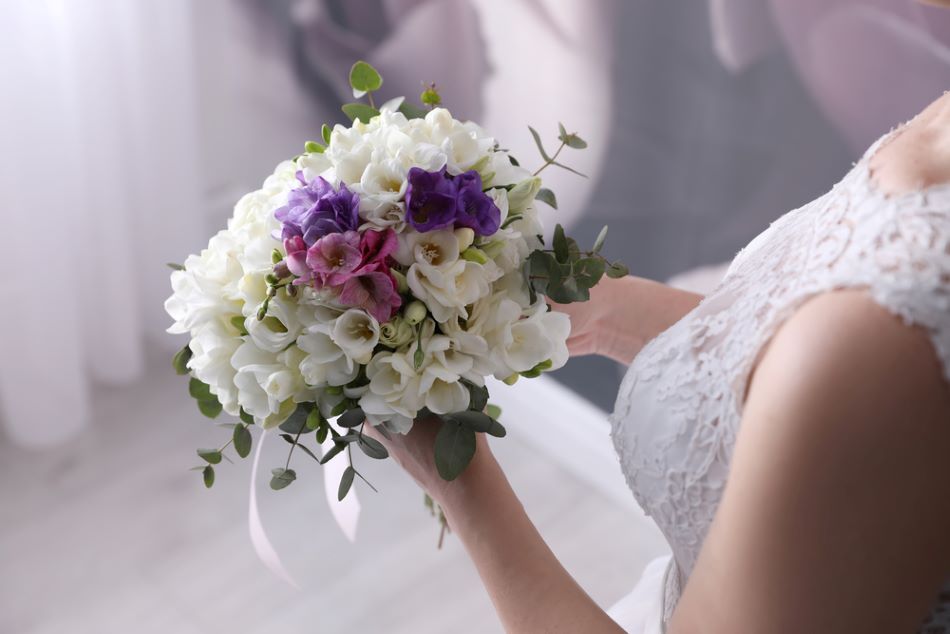 ANTIRRHINUM
A retro classic. What 1980s child doesn't remember squeezing the instantly recognisable Antirrhinum flower or snapdragon or to make it 'snap'. Aside from its entertainment value, the snapdragon can be used to create beautiful bohemian installations thanks to its long stem. This often presents a naturally formed ombre, tonal effect. One of our favourite ways to use them is to create height and a dramatic effect repeating tall slender vases filled with simple snap dragons right the down the centre of the table.
Once used as a lucky charm against dishonesty, snapdragons have come to symbolise truth and also strength thanks to their natural hardiness. The perfect accompaniment to take a lasting vow.

RANNUNCULUS
Often described as a meeting of the peony and the rose, yet without the hefty price tag, ranunculi are gaining popularity amongst the modern-day bride. Typified by their round shape and multi-layered petals, they are actually a descendent of the buttercup. In Victorian times, the rannunculus was a symbol of a person's being captivated by another's charms. Ranunculi look radiant when used alone as a statement accompanied by some simple foliage. Fancy something different? Try planted centrepieces that can be gifted or grown in the garden afterwards. An enduring reminder of your love for one another.
ANTHURIUM
A modern classic thanks to its large heart shaped petal and slightly waxy appearance.  The anthurium is a bold choice for a bridal bouquet and simply stunning. Choose from vibrant scarlet shades to classic white or pastel pink – even green for a lush, verdant effect. The anthurium carries the meaning of hospitality and happiness which they bring in abundance. We love these statement blooms for a tropical styled wedding.
STEPHANOTIS
If any flower were made for a spring wedding, then it has to be the stephanotis. It's meaning translates simply as 'marital happiness'. The stephanotis is characterised by delicate star-shaped white flowers which create a gorgeous bouquet for a formal wedding. We predict the stephanotis will return with gusto in 2021, as many couples opt for a return to tradition.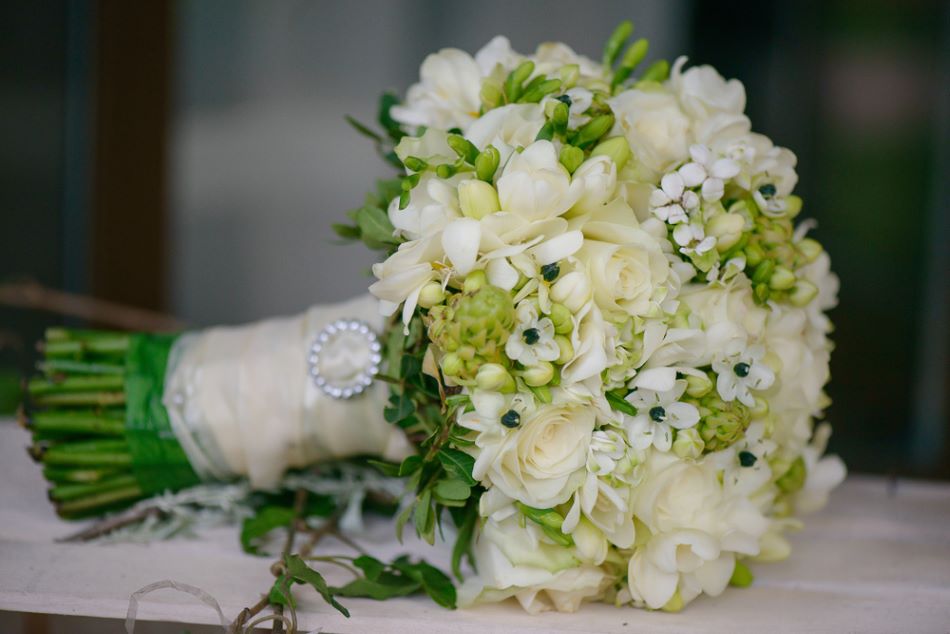 WISTERIA
Lastly, we couldn't include a guide to the top flowers for spring weddings without this late spring bloomer.  An absolute winner when used in a trailing floral canopy installation. Create a ceiling full of trailing wisteria and you instantly have the wow factor. It's thought to symbolise long life and immortality.  There is nothing better to use as the backdrop while you make your eternal commitment to one another.
DID YOU KNOW?
Brides often look to the royals for inspiration for their wedding flowers, but did you know that each and every royal bride leaves their bouquet at a special place after their wedding day? Or that since Queen Victoria started the tradition, every royal bouquet has contained a sprig of myrtle cut from the same bush?
And flowers are obviously an integral part of the royal wedding.  It's rumoured that William and Kate spent £1.1million on their floral arrangements alone.
Brush up on your royal wedding flower trivia here: https://www.housebeautiful.com/lifestyle/news/a9123/royal-wedding-bouquet-interesting-facts/
Getting married in the autumn, take a look at our Autumn Wedding Flower suggestions.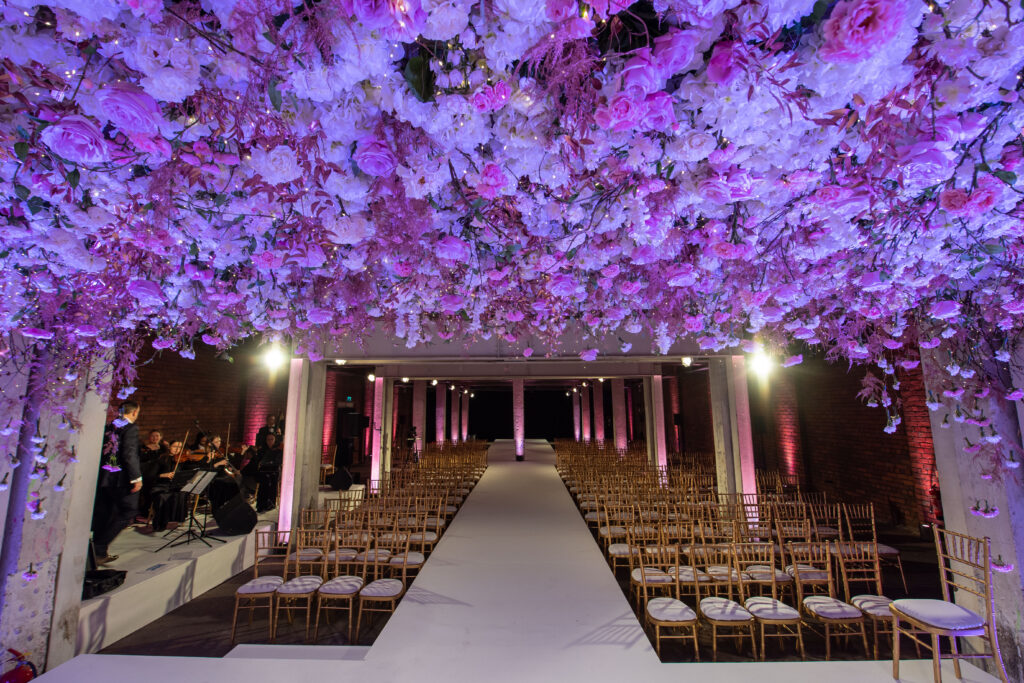 We'd love you to share our collection of the top flowers for spring weddings with couples planning their big day.