The rich, warm, vibrancy of autumn colours provide a creative influence for seasonal wedding choices. And when it comes to choosing flowers, the cooler weather opens even more possibilities with cut flowers lasting longer out of the summer heat. Here are some of our favourites. A collection of the Top 7 autumn weddings flowers, and the romantic stories and meanings behind these blooms:
Amaryllis
A flame of red petals, the Amaryllis is a flower of romantic legend. In Greek mythology Amaryllis was a love-struck young girl who fell in love with a shepherd, Alteo, who didn't return her affections. Desperate to win his heart, she sought advice from the oracle of Delphi on how she could win him over by giving him what he most desired – a unique and beautiful flower. Under the oracle's instruction she walked to the door of Alteo's cottage every night for 30 days where she pierced her heart with a golden arrow. On the final day Alteo opened the door. He saw a blossoming scarlet flower where Amaryllis's blood had fallen and her heart was healed.
Calla Lillies
These enchanting flowers are unusual in that the outer part of the flower, the spathe, is not a large petal but in fact is a modified leaf. This design makes them incredibly hardy plants. The various colours of the leaves, which can be white, pink, purple, yellow and even black. This gives a delicate and elegant appearance. Indeed, the fine, trumpet-like structure is so attractive the flowers were named after the Greek word for beautiful – calla. Their striking form make them a wonderful choice to add structure to any autumn display.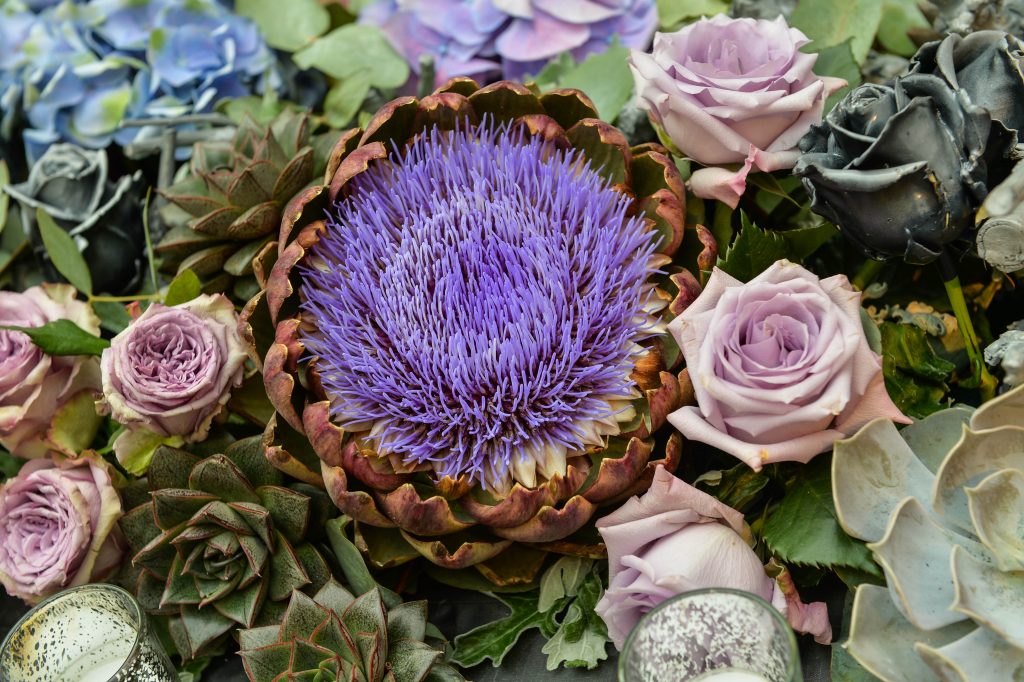 Leucospernum
If you are looking to inject a bright, splash of colour into your floral displays for autumn you can't beat the fabulous leucospernum. Known sometimes as the pin-cushion because of the cluster of tiny flowers that make up each stem.  The leucospernum can look like a bright explosion of mini-fireworks. If you look closely each flower head resembles a small beating heart.  Hence adding an extra spark of passion as a wedding choice!  Aesthetically, the multiple-strands in the head of each stem also add textural interest to any display.
Hypericum Berries
The hypericum, sometimes known as St. John's Wort, is a hardy and versatile plant with a variety of medicinal and decorative uses. For autumn floral displays its clusters of berries add a burst of colour which look fabulous in autumn bouquets. The berries come in a passionate flame red, and a variety of other colours, therefore making them an excellent choice for autumn across a wide range of tonal choices. Other colours include orange, pink, brown, purple and white. All of which work well with a warming, autumn wedding theme.
Hydrangea
A list of the Top 7 autumn weddings flowers isn't complete without Hydrangea. At this time of year, the thirsty hydrangea lasts longer in floral displays and its large-headed blooms are a fabulous choice for a statement piece. It's large headed blooms also come in a variety of warming tones and on-trend colours for the season, including rich burgundy, deep purple and dusky pink.

Related Topic: Top Summer Wedding Flowers
Rose
The ultimate floral symbol of romance. The rose is a delicate, fragrant and beautiful choice for weddings at any time of year. A versatile choice because of the many varieties, although in autumn the traditional romantic rich red is a passionate favourite. And it's not just bouquets and displays where roses are wonderful choices. Add an extra touch of romance. Sprinkle autumnal coloured rose petals alongside LED candles on tables and walkways.

Physalis
Sometimes known as the Chinese lantern, the bright orange physalis will brighten-up any display. The name comes from the Greek word Physalis which means, wrapper, because it looks like a delicate paper protection for the orange berry inside. Gorgeous