With over 30 years in the wedding and party planning business, our CEO Liz Taylor has seen it all when it comes to proposals. So, with leap year at the end of February, she shares her tips for any ladies (or gents) who may be thinking of popping the question with our top Leap Year Proposal Ideas.
"The leap year tradition dates back to the 1200s in Scotland where a woman had the right to propose for one day of the year. Thankfully we've come a long way since then. I'm of the opinion that a woman can and should be able to propose any day of the year, but there's also no harm in embracing tradition. A leap year does give any ladies out there thinking of 'taking the leap', a good excuse to go for it, so here are my best leap year proposal ideas for any ladies waiting to pop the question."
Share the moment
The party planner in me urges you to make a day of your proposal. Get your loved ones together for a day of food, drink and laughter. It doesn't have to be expensive. You can host it at home and head to your nearest deli to get a selection of delectable cakes and pastries. It's more fun if one or two of your guests are in on the secret and can film the big moment. If you have children together, why not get them involved by making a short film or wearing t-shirts that reveal the message.  We have filled houses with balloons, all printed with the proposal message. You could even place a note on the collar of one of your pets. Cheesy perhaps – but how could he could say no?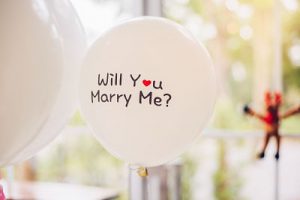 Just to two of you
At the other end of the scale of my Leap Year Proposal Ideas is something much smaller and intimate. If you'd prefer it to be a more private affair, then arrange a special day at home just the two of you. Cook his favourite meal (or cook together). If you're not talented in the kitchen then hire in a chef or get a take away to ease the pressure of cooking. Enjoy a lovely bottle of wine or craft beers if that's more their thing. Play music, watch films and just enjoy being in one another's company for the day. Then, when the credits roll on the movie – seize the moment and propose.
Capture it on camera
One of the best interpretations of this idea that I've seen is on a rollercoaster.  The bride to be was at the front and the people behind her in the carriage held up cards saying will you marry me as they passed the on-ride camera. She had no idea until she looked at the photos at the end of the ride. You could adapt this for any location, you just need a willing bunch of volunteers ready to photo bomb the big moment. If it's friends and family then get them to wear printed t-shirts under their coats and stand behind your betrothed-to-be, revealing them without him knowing.
Take your loved one to a local garden, park or an evening stroll at a favourite place – and reveal giant lit letters spelling out the magic words – will you marry me? Want to upscale this idea? Organise a flash mob to sing, dance and shimmy their way to your man's hand in marriage.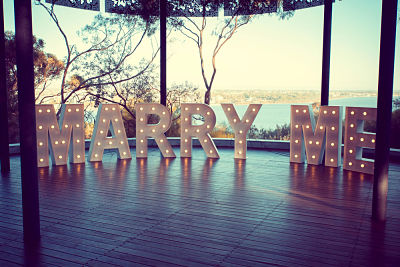 Say it with food
The do say the way to a man's heart is through his tummy and there are hundreds of ways you can hide a 'marry me' message in his favourite food. Bake a huge cake with and ice the words on the top. A plate of iced biscuits or cupcakes spelling out the proposal. Hide the message in a pizza box, with a heart shaped pizza of course. And remember, you can personalise everything from Nutella to Marmite, so simply add the words 'marry me' instead of his name.
We have had special menus created for the happy couple at a local restaurant.  All his favourite dishes served.  As the dessert menu is handed over to your loved one – a special message is printed on the inside.  Asking that all important question!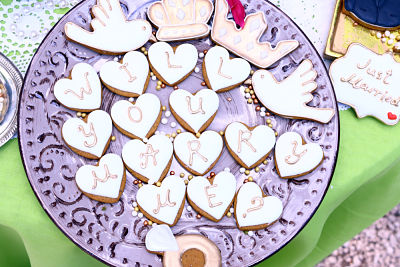 Make a day of it
If you know your partner well enough to propose you should have an idea of their favourite things to do. Whether they're a high-octane adrenaline junkie, a sci-fi fanatic or sports enthusiast- including an element of this in the proposal can make it fun and exciting. Why not make his dreams come true in more ways than one? Has your hubby-to-be always wanted to jump out of a plane, drive a formula one race car or play for a premier league football team? Organise a special day out then once it's over pop the question. How could he refuse?
Shout it loud
This is a great way to propose if you're feeling nervous as you don't actually have to say the words yourself. Get tickets to that gig he wants to go to or the big match and contact the organisers – many venues will help you either by an announcement over the tannoy or in the event programme if you plan ahead far enough.
If you don't have a place to go in mind, an announcement on the radio is another great idea. Or go for a meal and hire a sensational band or barbershop quartet to serenade your spouse!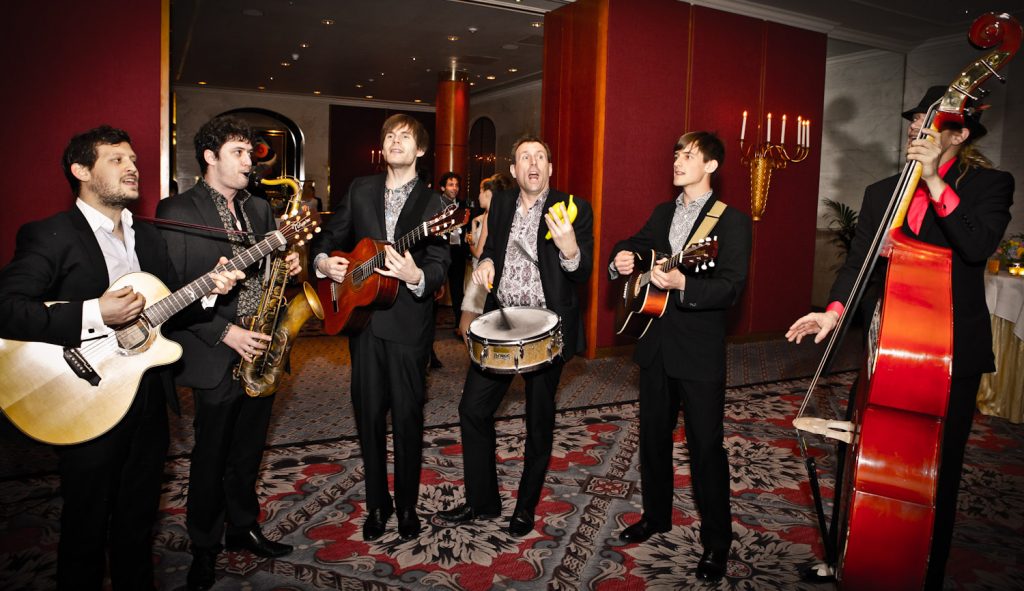 Thanks for sharing our guide.