How to Plan a Covid-safe Thanksgiving Party at Home
Parades. Parties. A feast of pumpkin pie and turkey with all the trimmings! It may traditionally be an all-American holiday, but with more and more celebrations making their way across the pond (baby showers, gender reveals and upscaled Halloween is to name a few) it's no wonder Thanksgiving is becoming the UK's next big thing. And let's face it, 2020 has been a year of challenges. Perhaps more important, a year when many have wanted to 'give thanks' in life. Our guide on how to plan a Covid-safe Thanksgiving party at home offers tips and advice on celebrating with safety and style in mind.
Research into the holiday by Waitrose suggested that as many as one in six Brits celebrate Thanksgiving in some way. The retailer also reported sales of turkey were up by 95% around this autumnal holiday in recent years.   As with every celebration, Thanksgiving 2020 might have to be a little different this year. But that's no excuse to skimp on ideas or fun!
What's it all About?
Firstly, when is it Thanksgiving? Celebrated on the fourth Thursday of November, Thanksgiving is a traditional harvest celebration dating back to the Pilgrims; a group of Dutch settlers who arrived in North America in the 1600s. Many people use this holiday to reflect on the good things in life, which makes it a great day to lift the spirits – a way to focus on the positive. Thanksgiving is about giving your presence at an event rather than giving presents. It is a time for family and friends to come together and give freely of their time with one another.
That may seem tricky right now but there are still ways to celebrate despite the pandemic. However, you choose to celebrate, make your Thanksgiving an inclusive one. Keep the gathering small enough to follow the guidelines around bubbles meeting, regional UK rules and staying within your households. That may mean it's just you and your immediate family and if so, so be it, embrace a day of quality time spent with one another.
All-American – All-day
Above all, Thanksgiving is a whole day celebration.  Start with gorgeous brunch – coffee, orange juice, bucks' fizz or mimosas. American pancakes are simple to make but look so good piled up in the middle of the table with plenty of toppings – fruit, bacon, eggs, chocolate, syrup, marshmallows. Today is not a day for dieting, pile them up high and let people serve themselves until they're full to bursting.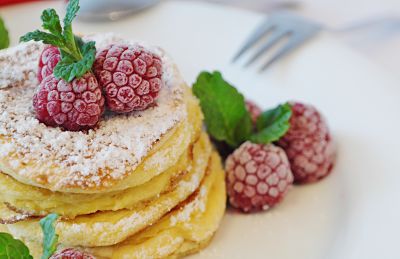 Then, keep going until dark!  In the US, it is a day to watch sports, play games, eat well and be present.  So, set up the large screen TV and American Football or a marathon of movies, and have plenty of popcorn at the ready!  Prepare a series of games for the family. Apple bobbing is a favourite with kids in the US.  If you are sharing the day with others, a family Zoom quiz or virtual treasure hunt around your home and garden keeps the kids entertained.  For the adults, there are lots of companies now offering virtual cocktail making sessions.  Choose some American favourites to blend; and sample!
Set up a baking station where the children can ice pumpkin shaped cookies. Or decorate that all-American favourite, doughnuts. Icing. Sprinkles. Liberal amounts of edible glitter. Unique edible creations.  Programme in a walk to balance the inevitable carb-fest!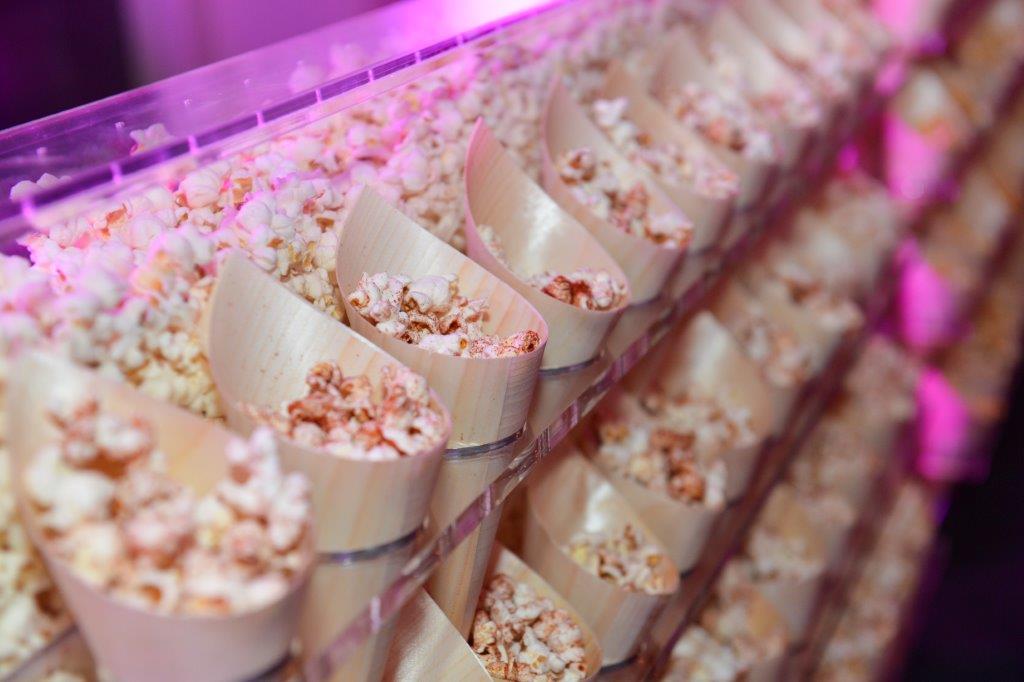 Go Big While You Stay Home
The second piece of advice when we look at how to plan a Covid-safe Thanksgiving party at home, is to remember in the US – bigger is always better! One idea is to hire or buy a popcorn maker to ensure you never run out of the sweet stuff.  You can also hire in big screens and projectors to create your own beautifully styled movie room or outdoor cinema with gazebo shelter, big beanbags, blankets and patio heaters; complete with stars and stripes bunting.
The annual Macy's parade is a highlight of Thanksgiving and could easily be recreated in a socially distant way if your neighbours would like to get involved. Dress up as crazy characters and parade down the street to bring joy to the whole neighbourhood.  If that's too much for your taste, screen the parade on TV at home.  Rent a 'Lazy-Boy' recliner chair and enjoy the show with a beer (chilled to Arctic temperatures of course)!
Thinking a little lower key? Burgers are another all-American staple so why not find your nearest gourmet burger restaurant and order some treats for home delivery. Or fire up the BBQ and create your own gourmet burgers. A topping station caters for every taste. You'll need bacon, cheese, chilli, salad and brioche buns for an authentic American experience. Some restaurants have started serving burgers in donuts – delicious, but not for the faint-hearted!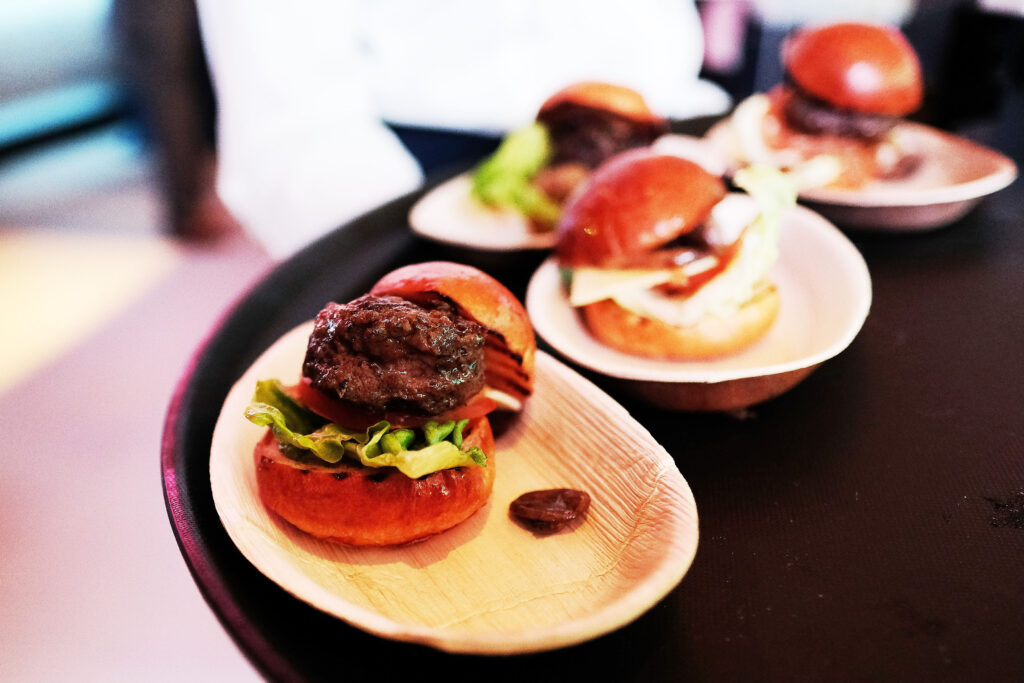 Keep it Personal
Importantly, in thinking about how to plan a Covid-Safe Thanksgiving party at home, it is crucial to remember that Thanksgiving is as much about the people you share it with as it is about what you do on the day. Obviously, it's a bit more difficult to see all of your family and friends this year so why not get creative. You could bake some mini pumpkin pies, gingerbreads, pumpkin cookies iced with a personal message or stars and stripes cup-cakes. Then where allowed, head off and deliver some joy.
Or prepare Thanksgiving boxes and donate to a local Food Bank or community group.  Arrange for a parcel of goodies to be sent to those that usually help others. Or create your own 'Thanksgiving at Home' hampers for family.  Pumpkin cookies. Beer. Potato chips (crisps to the UK readers). A Netflix gift card for movie watching. Popcorn. Stars and stripes bunting. Sparklers. Hot dog fixings. And a Zoom invite card to share the fun with you and your family or bubble.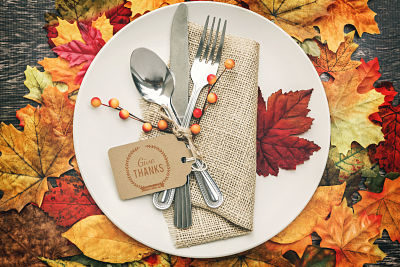 Warm and Cosy
Autumn colours are warm and welcoming so make sure that you use plenty of them to decorate the house. It doesn't need to cost a lot.  Out ideas on how to plan a Covid-safe Thanksgiving party at home is not all about spending a fortune. Filling a fruit bowl with red apples, peaches or red cherries always looks inviting and very stylish.  You could create table centres with pine cones, nuts, evergreens and late-season blooms like gerbera. Or line a rustic wooden table with an abundance of different coloured and sized pumpkins and candles.  Tie cutlery simply with string and add a tag or leaf as a place marker. For the children, add jars of autumnal coloured jelly beans. They will disappear in minutes!
The evenings draw in quickly at this time of year which means that you can create lots of atmosphere with lighting. Keep lighting low by using lots of candles in storm jars or miniature lanterns. If you are concerned about safety, battery operated tea-lights when placed in holders can provide a deceivingly warm glow.  Scented candles are ideal. Apple, cinnamon and pumpkin scents just bring the season to life.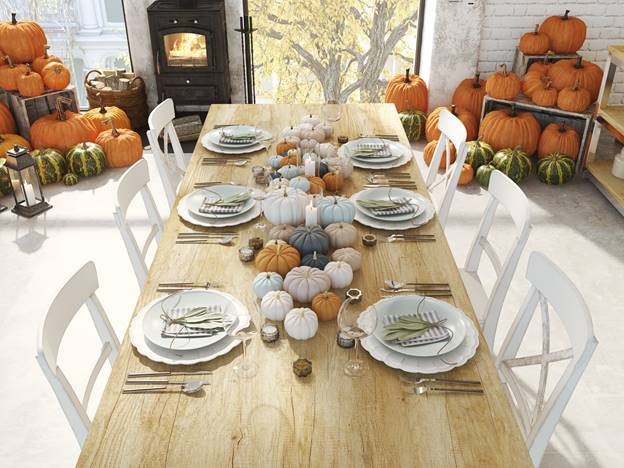 Embracing scent and safety is never more apparent than with amazing, seasonal scented soaps.  We love this one from Highland Soaps with brings orange and cinnamon together.  With increased hand washing, you may as well invest in something that is gentle and gorgeous on the skin.
Something that our clients are asking for more and more is for our team to come and dress their house for occasions. Without events and parties to attend, people are going all out on their at home celebrations. And what better than a professionally dressed home to take your celebrations up a notch.  Lighting. Décor. Music. Cocktails. Food.  Where our team is allowed, we prepare it all for you in your own home, following all the Covid-safe guidance. We'll then leave you to enjoy the fun!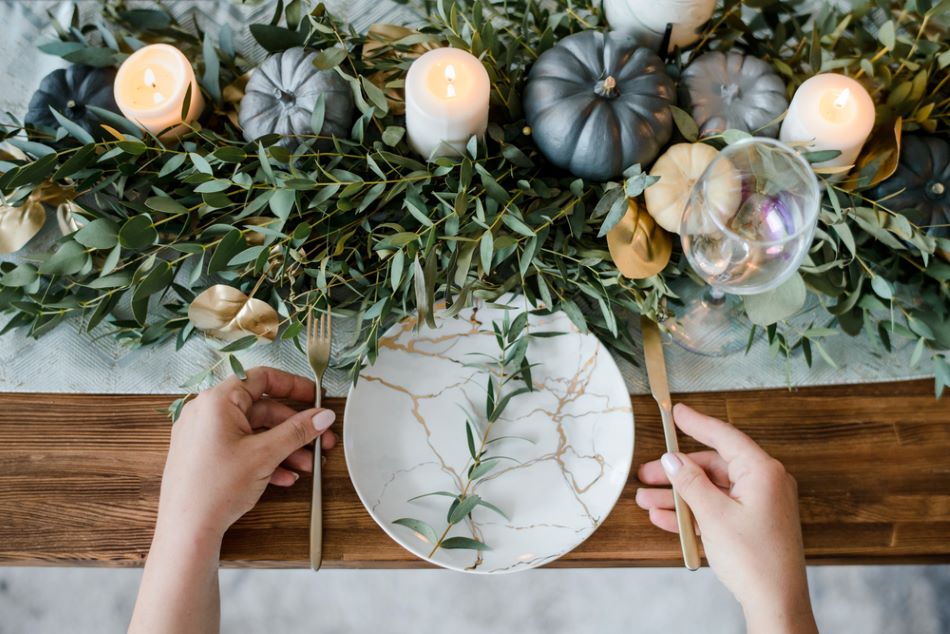 Turkey, Yams and Pumpkin Pie
If you think a Thanksgiving party dinner sounds like Christmas dinner without the pudding, you're not far wrong. A traditional Thanksgiving meal revolves around turkey, stuffing and vegetables. To make it more American, try including yams – a starchy root vegetable widely grown in the Caribbean. If you can't get hold of yams, sweet potatoes make a great alternative.  Green bean casserole is popular, along with cornbread, mashed potatoes and sprouts.  Good Housekeeping share some great ideas.
Pies are a favourite on the dessert menu at this time of year – cherry, apple but particularly pumpkin pie.  Try a miniature version of each as sampling plate.  Or prepare a display if individual cakes. Each a mouthful of divine flavours. Cheesecake. Carrot Cake. Pecan Pie.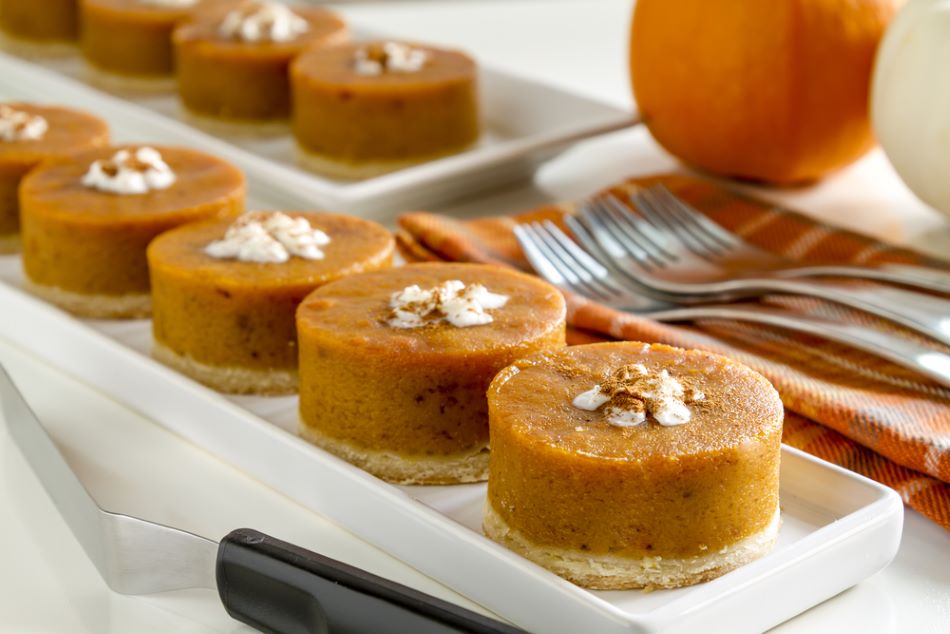 The drink of choice, beer of course! Although mulled cider is also popular or try a pumpkin pie martini!  Make sure the bottles of beer are well chilled and have an insulated bottle sleeve bespoke printed to mark the occasion. They are both practical but will double up as a gift.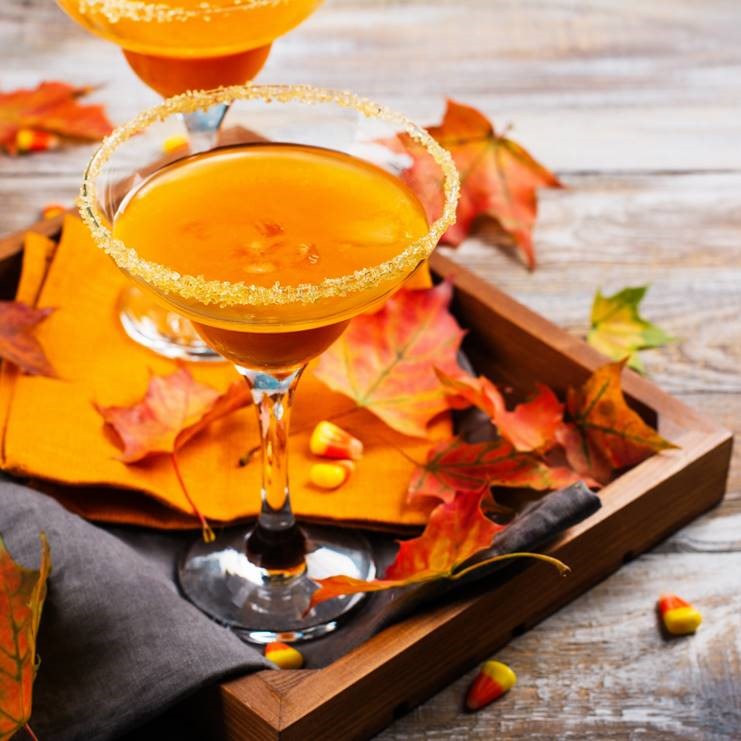 Don't Forget the Doggie Bag
Lastly in our thoughts on how to plan a Covid-safe Thanksgiving party at home, is the last thing to remember on the day. A traditional American dinner always includes doggy bags to share your left-overs with the guests and this year you might have a little more left than usual so why not cook for a friend who's isolating or an elderly neighbour. To make it look like a treat, delivering a bit of the Thanksgiving party joy, buy some take-out boxes, personalise with sticky name labels or have them bespoke printed, and wrap with ribbon when filled. We always think a stack of Pumpkin cake bars, wrapped and tied with ribbon also looks good.  Homemade?  Even better.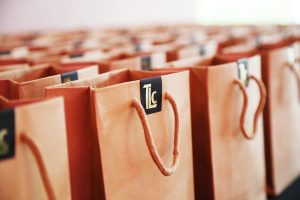 Important in any home celebration, is to follow the coronavirus guidance from Public Health England.  That doesn't mean that you cant have fun though. We hope our guidance on how to plan a Covid-safe Thanksgiving party at home offers you some ideas on bringing style and safety together.
ONE FOR THE ROAD
What would our advice on how to plan a Covid-safe Thanksgiving party at home be, if it didn't involve a cocktails. Thanksgiving cocktails are always a highlight of the day, and we love this selection including a divine and almost 'therapeutic' sounding Ginger Smash!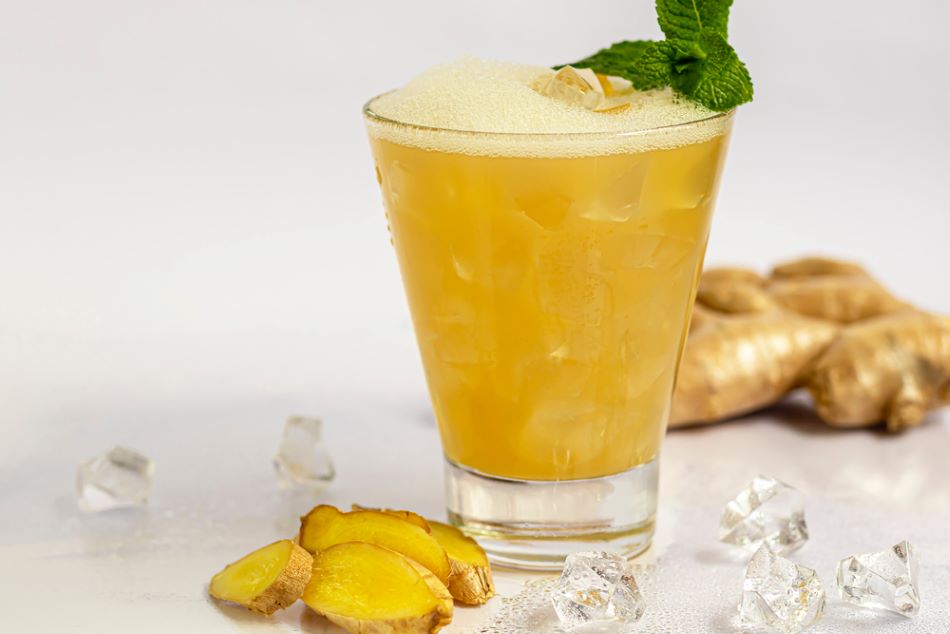 Share the thanks, by sharing the ideas!