England's top 5 stately homes for a party
Stately homes hold an unforgettable, eternal charm and appeal as wedding and party venues.  And England certainly has a wealth of incredible stately home venues that are perfect for big days, celebrations and gatherings of all kinds.  TLC works with some of the finest examples in the country, and so we have compiled our list of England's top 5 stately homes for a party:
Aynhoe Park
First of all, built in 1615 this Grade I listed country house is steeped in history and character. The wonderment of its setting, within 250 acres of Capability Brown designed grounds, has been played on in recent years by the eccentricities of its current owner, James Perkins, who bought the Jacobean home in 2006.
Perkins restored the house from a flat conversion into a grand country home once more. He has also filled it with a collection of art and curiosities. Behind every door is a sight to behold. From a polar bear in flying goggles to a pair of plaster caryatids – the furnishings are a playground for the imagination.
Other pieces also include a Dr Who Tardis, a giraffe balloon-lifted to the ceiling, a wall of vintage globes and an alligator waiter.
At the same time the 28-bedroom property retains many original features. This includes the grand main staircase designed by Baroque architect, Thomas Archer.
The property – including bedrooms, grounds, dining room and dance floor – is available for exclusive hire. It can cater for groups from 8 to 120. For details visit http://aynhoepark.co.uk/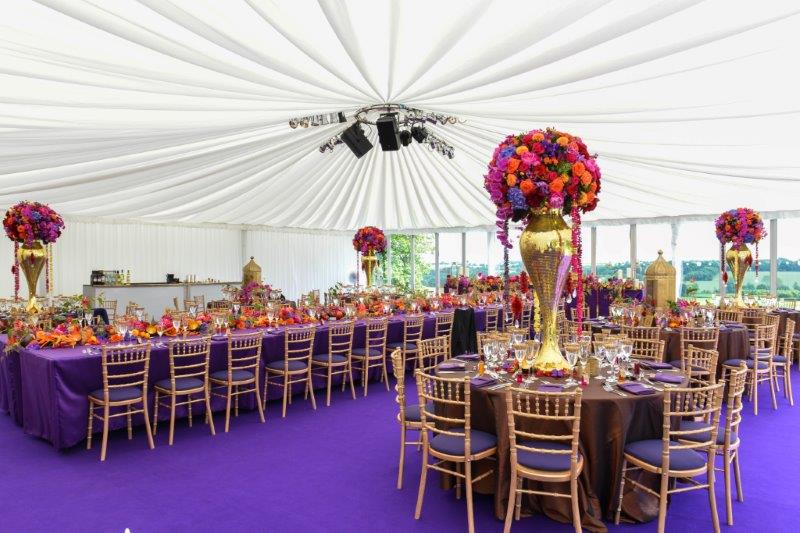 Blenheim
Blenheim Palace, 20 minutes from the centre of Oxford, is not simply another of England's grand country houses. It is a UNESCO World Heritage Site, recognised for its long and diverse history.
The word palace gives an indication of its grandeur. Its striking stonework is a masterpiece of Baroque architecture. It is surrounded by 90 acres of formal gardens.
Inside houses important collections of portraits, furniture, sculpture and tapestries. And its Long Library, available to hire as a dining venue, houses more than 10,000 antique books.  Many of great historic significance.
Home to the 12th Duke of Marlborough, the palace has been a family home since it was built in the early 18th century as a gift to John Churchill, 1st Duke of Marlborough. This was given by Queen Anne and a grateful nation in thanks for his victory at the Battle of Blenheim. It is also famous for being the birthplace of former British Prime Minister, Sir Winston Churchill.
The Great Hall, the Saloon, the Orangery and the Water Terraces are all also available for event hire. They cater for up to 500 guests.  The parkland can accommodate marquees for up to 2000 people. For details visit https://www.blenheimpalace.com/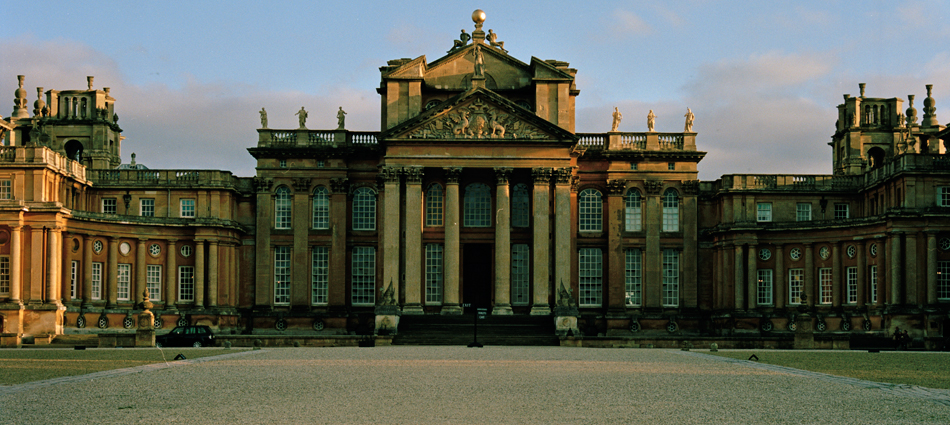 Burghley House
Number three on our list of England's top 5 stately homes for a party, is Burghley House. It is an impressive approach to Burghley House. Through the gates of Burghley Park, across another of Capability Brown's beautifully designed landscapes, to what is one of the largest and grandest houses of the first Elizabethan Age.
The main part of the house was built and mostly designed by William Cecil, Lord High Treasurer to Queen Elizabeth I, between 1555 and 1587. Its Great Hall, with a huge open Tudor fireplace and double hammer-beam ceiling can be hired for event for up to 160 as a drinks reception.
Or for a truly royal touch, private dining for up to 42 guests, seated at the same dining table on which Queen Victoria and Prince Albert dined during a visit in 1844.
The Orangery, a later addition to the house, was designed by Capability Brown in the 18th century. This is also available for hire. Overlooking a stunning rose garden, it provides an elegant setting for a seated dinner for up to 70 guests, or a reception of 160.For details visit: https://www.burghley.co.uk/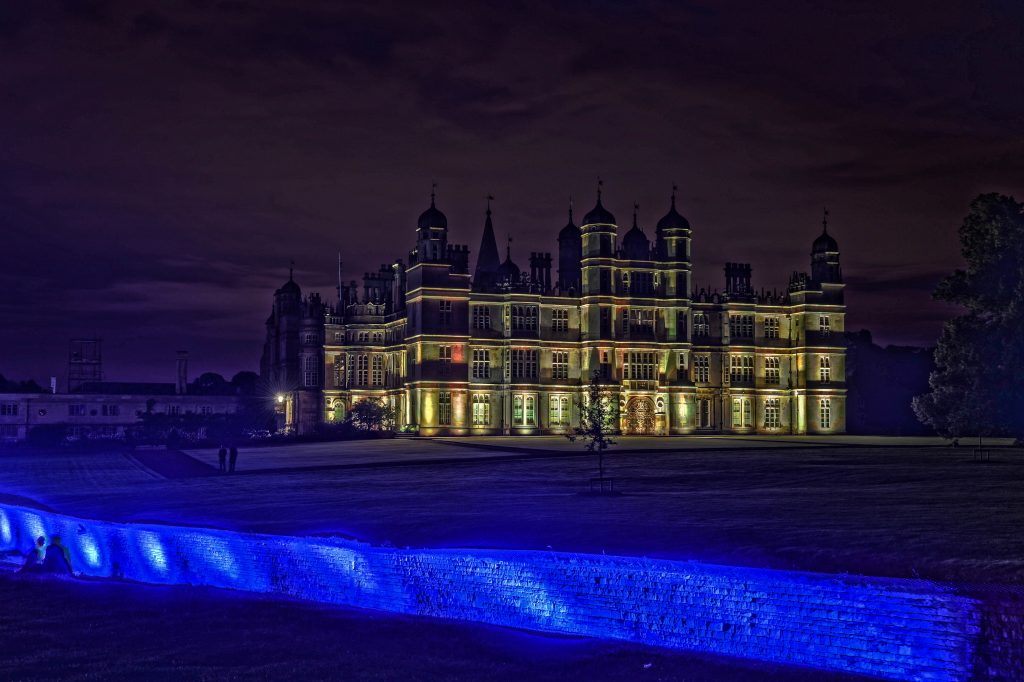 Related topic: Six Wellbeing Event Ideas
Chatsworth
This magnificent Tutor mansion is believed to have been Jane Austen's inspiration for Pemberley – home of Mr Darcy in Pride and Prejudice. And many who saw the film version of Austen's book, starring Keira Knightly and Matthew Macfadyen, may also recognise the grand staircase, ceiling of the Painted Hall and the Sculpture Gallery. These were used to create various scenes of Pemberley.
Chatsworth is home to the Duke and Duchess of Devonshire. It has been passed down through 16 generations of the Cavendish family, spanning five centuries. As well as its grand appearance it is also holds a wealth of fascinating history. For example, the Queen of Scots Apartments were given their name because it was in these rooms where Mary, Queen of Scots, was imprisoned at various times between 1569 and 1584.
The house today is famous for its art collection. This spans 4000 years from ancient Roman and Egyptian sculpture, and masterpieces by Rembrandt, Reynolds and Veronese, to work by outstanding modern artists, including Lucian Freud, Edmund de Waal and David Nash.
Selected rooms are available to hire for events catering for between 10 and 120 people.  The maximum is 180 people. These include the Carriage House restaurant; the Cavendish restaurant;
the Hartington room; the Burlington room, and the Racing rooms. For details visit: https://www.chatsworth.org/
Harewood House
And last on our selection of England's top 5 stately homes for a party, is another ancestral home. Harewood House is the seat of the Earl and Countess of Harewood, David and Diane Lascelles. This Georgian property in the heart of Yorkshire offers a beautiful setting for all manner of events from intimate dinner parties to grand celebrations for up to 500 guests. Also, the venue also caters for large scale outdoor events in the parkland, more than 100 acres designed by Capability Brown, with stunning views overlooking the lake.
The property is home to one of the country's finest art collections. There are also opportunities to dine in the Gallery among one of the best private Renaissance art collections. Other rooms available for hire include the grand State Dining Room and the Stewards Room.
Especially noteworthy, is the fact that Harewood is its nationally recognised conservation programme and rare bird garden. This is home to more than 40 species including Bali starlings, Zebra finches and Humboldt penguins. For details visit: https://harewood.org/ 
Finally, we hope our list of England's top 5 stately homes for a party helps you find a grand venue for your next event. If you need a little help to secure the best venues, call us…..