The Best Wedding Cake Trends
It's not a party without a cake.  With the country's appreciation of home baking even greater after lock-down, and couples keener than ever to celebrate in style, wedding cakes are set to take centre stage once restrictions are eased. The cutting of the cake is a real focal point and a grand, historic tradition of wedding parties. But more recently, wedding cakes are increasingly seen as a unique and creative design element in the big day. Consequently, we have seen a huge growth in talented cake designers and cake artists across the country.  The array of designs and depth of ideas is baffling. So, where to start? If you're planning a wedding and are in search of the ultimate wedding cake inspiration, here are our predictions for the top wedding cake trends for 2020/21.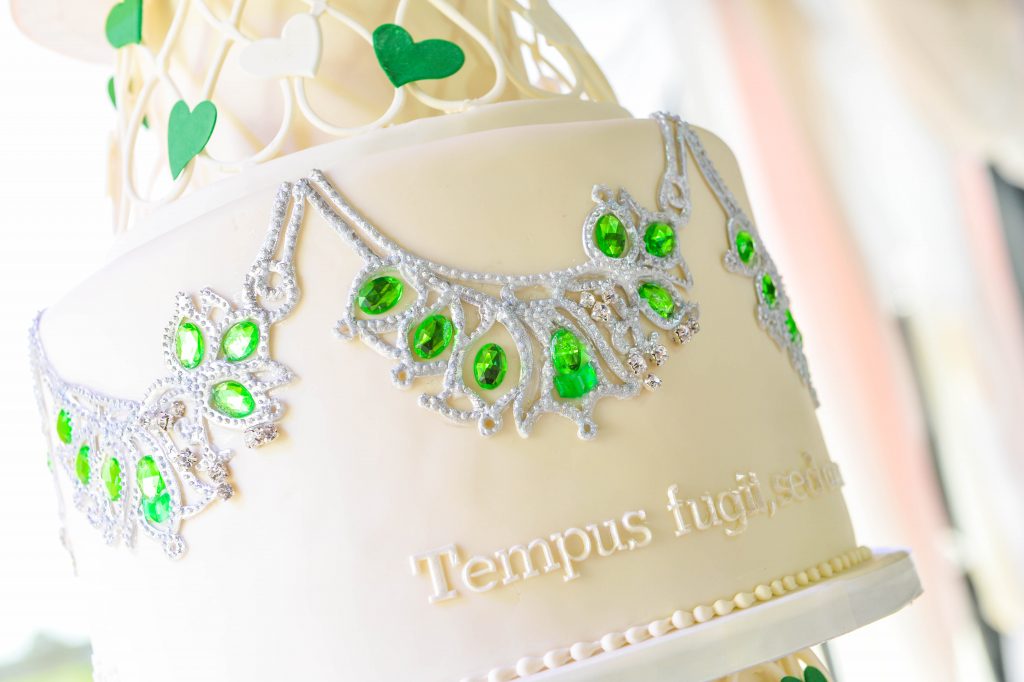 A cake for every table
Pre-Coronavirus, couples were already beginning to opt for a series of smaller cakes rather than one big one, but now, with social distancing to contend with, this trend is really taking off. Keeping your party separate, yet together, is easier when each table is self-contained with a cake for each table. Or for a more informal idea; a container of beautifully decorated wedding cake pops. Use a jug. Painted jar. Whatever is in keeping with your design. What's even more brilliant about this trend is that the cake becomes part of the table décor – the centre of the centre-piece. Opt for identical cakes or a series of cakes that follow a theme, an especially good choice if your tables are themed too.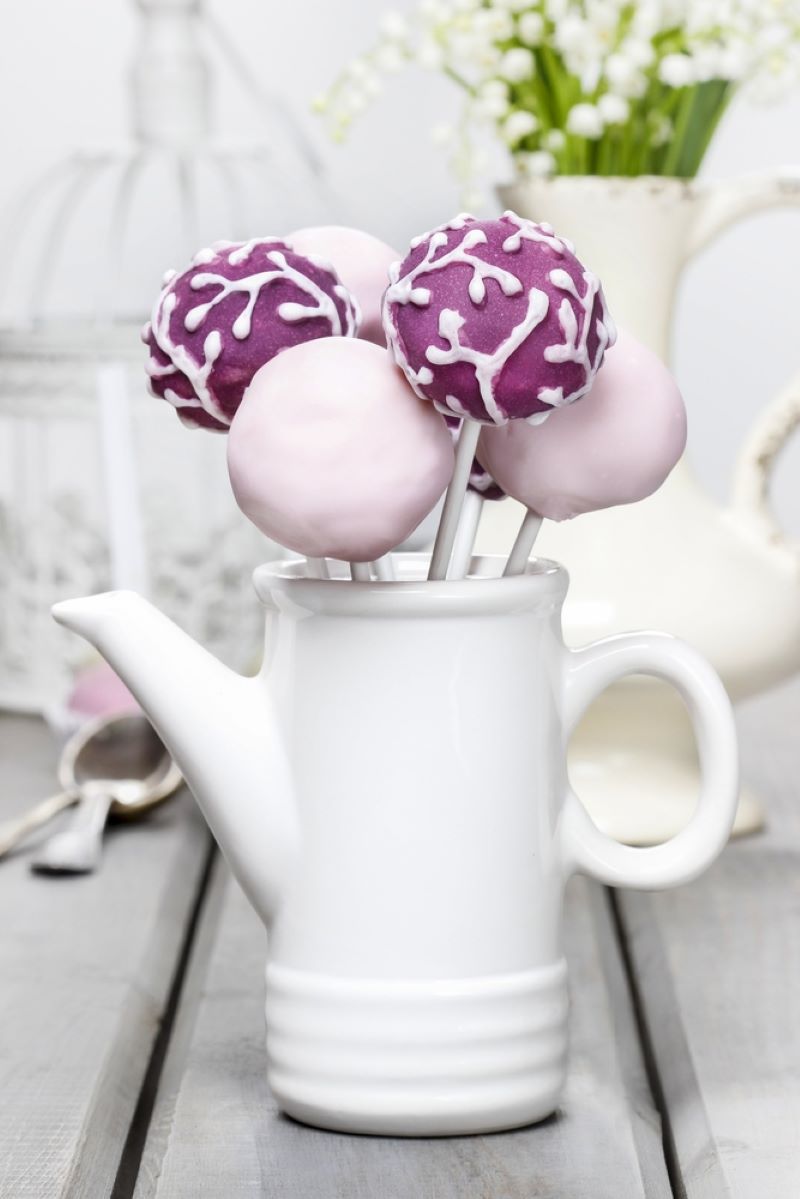 Cakes with a conscience
Secondly, we've all been given time to take stock during the Coronavirus pandemic. This has resulted in a shift towards appreciating and supporting one another. Looking after local traders and taking a 'locavore' approach to wedding cakes is becoming more popular because of this change in attitude. People have also become more eco-conscious, so are looking to suppliers that have strong sustainable, ethical and environmental credentials. Organic, fair trade ingredients are a must. Fully vegan cakes are also a big part of this trend.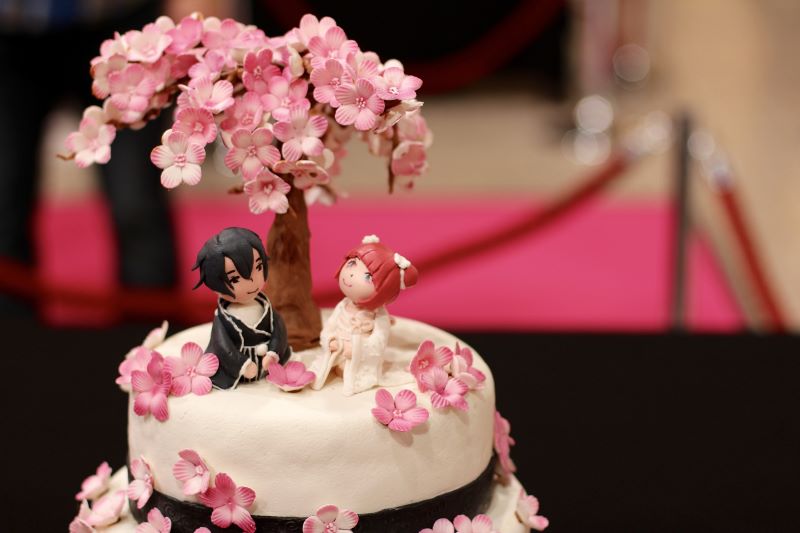 Pastel colours
Dreamy iridescent pastel hues, sweet shop candy shades or subdued and subtle pastels as a backdrop to winter whites. Pale and interesting are the go-to colourway for weddings in 2021. With wedding cakes, rather than simply decorating the cake in pastel flowers which is pretty enough, pastel icing or buttercream with a different shade on every tier can look extremely effective.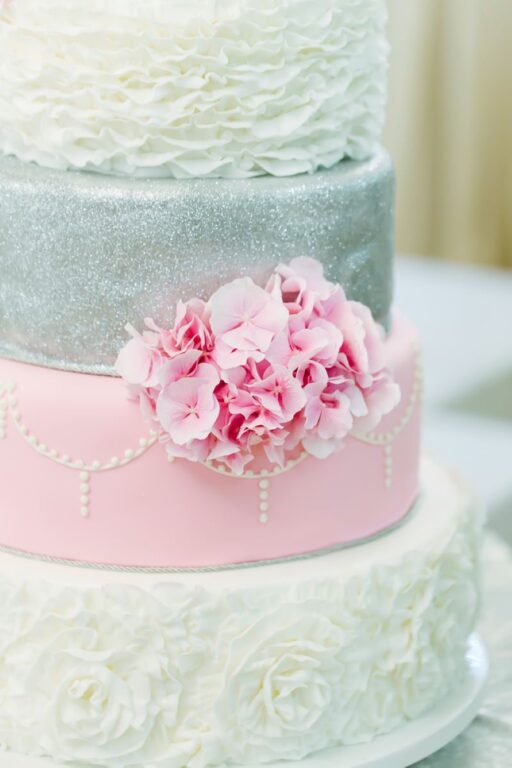 Marble and ombre effects can also look stunning in pastel shades. Finish with mini macaroons and sweet treats – simply irresistible.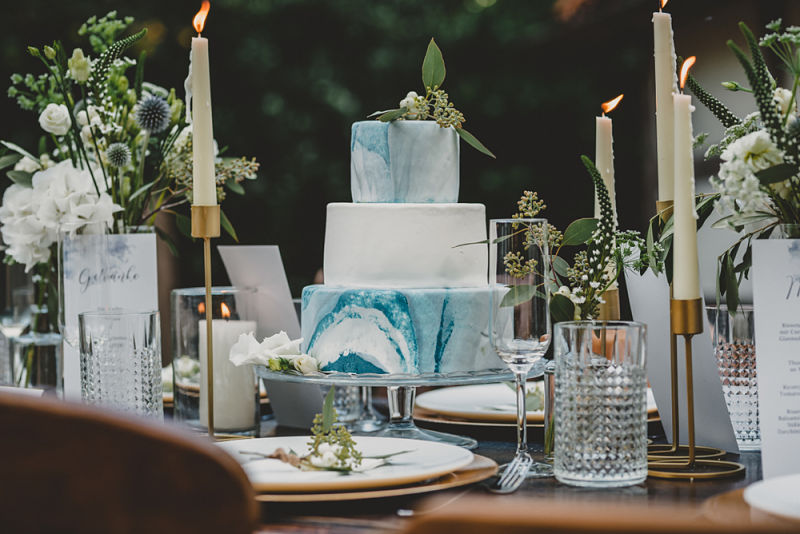 Old Hollywood glamour
We've all been cooped up inside for so long that any excuse to get dressed in our finest is a good one. Weddings will take a fully glamorous turn in 2021, with old Hollywood being a key theme. In cakes this translates into metallic gold colourways and dramatic black icing which channel the art deco era. With everything from fabulous feather adornments to gold geometric patterns really upping the sophistication stakes.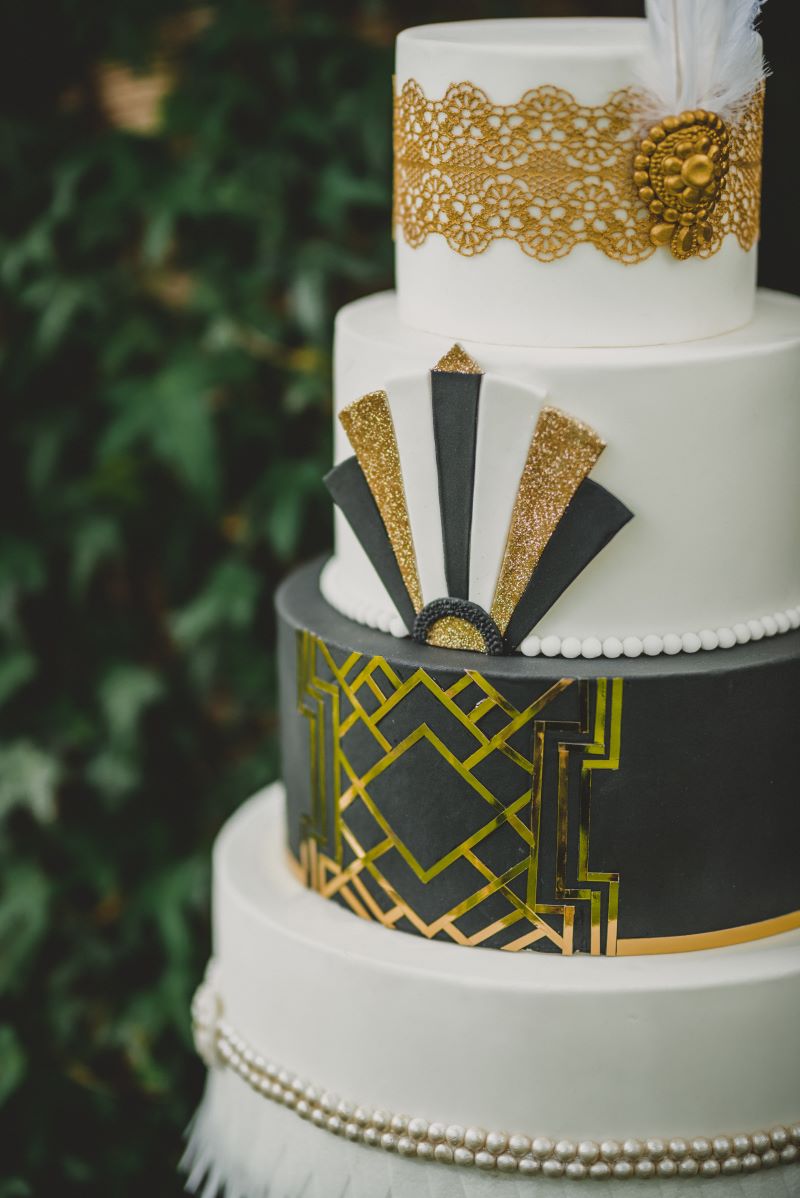 Hand painted wedding cakes
Make a masterpiece of your cake – and a must in our top wedding cake trends. An idea that was emerging trend towards the end of 2019. The artistry of cake making is often undervalued – until now that is, when the cake has become the canvas for a range of artistic output. Abstract brushstrokes, water-colours scenes, florals and foliage – choose any design that fits the theme of your day as long as it's hand-painted.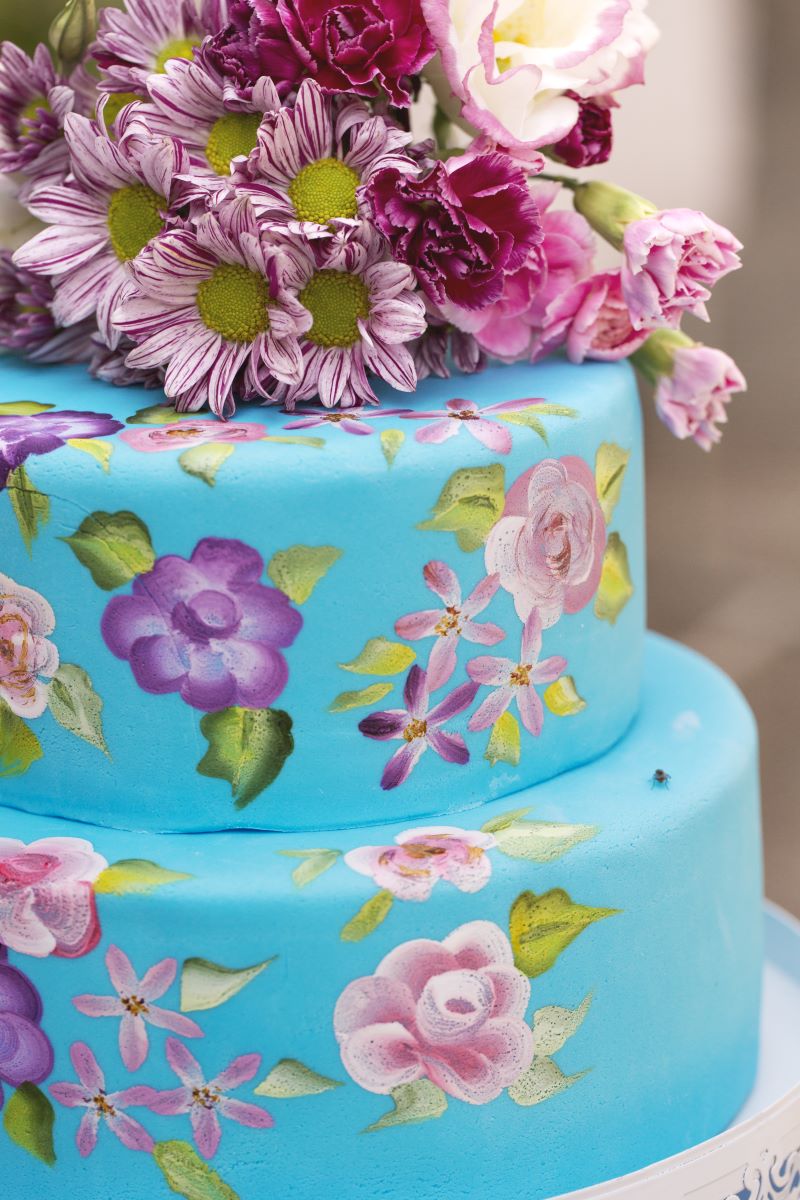 Pressed flower wedding cakes
Taking a tradition and turning it on its head, this trend sees delicate pressed flowers used to adorn the cake rather than a traditional floral topper. This style of cake has a very hand-crafted feel, channeling the creative hobbies many of us found ourselves pursuing during lock-down. It's a progression of the naked and butter cream wedding cakes that were popular throughout 2019 as the icing is visible behind the flowers. Ideal for those wanting a relaxed, romantic bohemian style wedding day.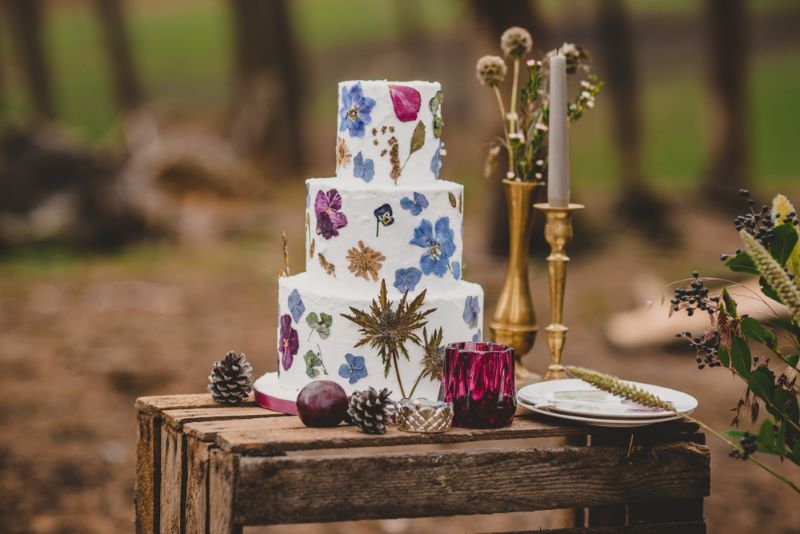 Cakes taking centre stage
Finally, in our top wedding cake trends. We place the cake in the spotlight. Whether it's suspended amid a hanging display. Atop a mountain of food on a grazing table. Or, as the backdrop to the top table. Our newly found appreciation of baking is allowing wedding cakes to become the centre-piece of room decor. And with 2021's go big or go home attitude, the wedding cake is likely to be a show-stopper worth of its elevated status.
Yes – that dress is a cake!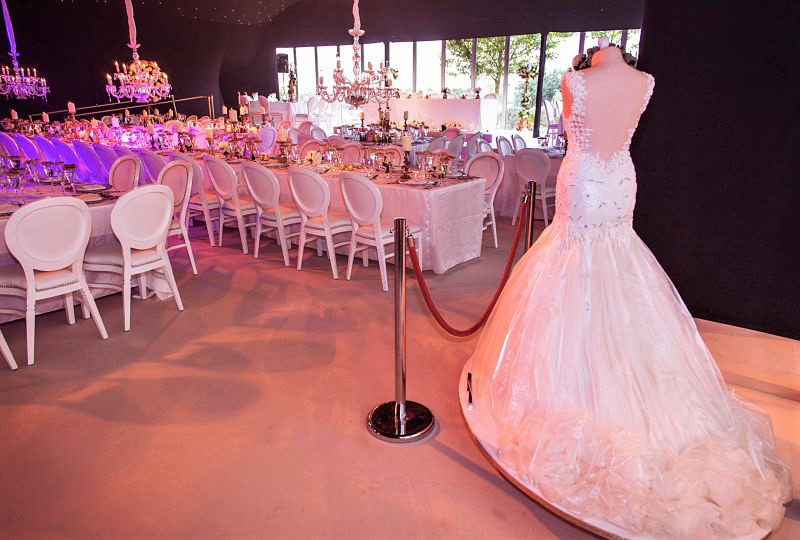 THE LAST BITE
The most expensive wedding cake ever made cost a jaw-dropping $30million and was adorned with diamonds, emeralds, rubies and sapphire. And wedding cakes haven't always been a tradition, the first wedding cakes in ancient Rome were actually loaves of bread and bridal pie was traditionally served up until the 19th century.
Find out more fun wedding cake facts here: https://www.theknot.com/content/weird-wedding-cake-facts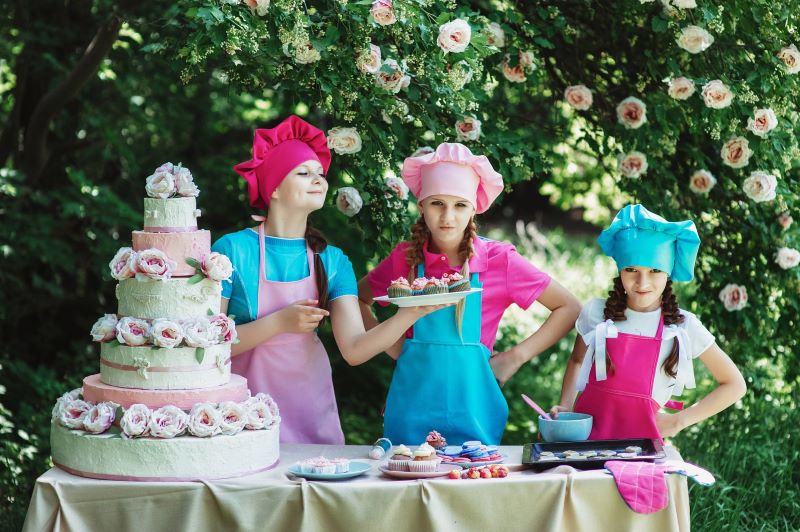 Share these sweet wedding tips here.