World's most spectacular Christmas trees
Galeries Lafayette, Paris
Here at TLC we like any excuse to go luxury shopping. And this year, artist Lorenzo Papace's breath-taking Arctic tree is reason enough to make a special trip to Paris's biggest department store, Galeries Lafayette. The 140-ft tree is made entirely of recycled paper and sits under the centre's magnificent Art Nouveau dome.  It's stunning and easily makes our list of the 'world's most spectacular Christmas trees'!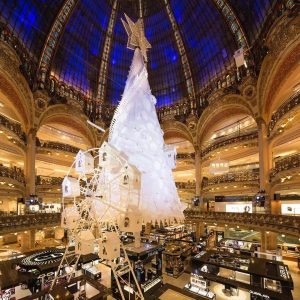 photo: Instagram/galerieslafayette
Claridges Hotel, Mayfair, London
Nearer to home, the Claridge's Christmas Tree in London has long been a festive landmark in the city. Previously decorated by designers including, John Galliano for Dior, Kally Ellis of McQueens and Domenico Dolce and Stefano Gabbana it has become one of the places to look for stylish trends in festive decor.
This year's tree designers, Sir Jonathan Ive, Apple's chief design officer, and his peer and colleague Marc Newson, have gone for an immersive, natural feel; creating a festive installation rather than a traditionally decorated tree.
A step through Claridge's revolving doors leads to a magical, snow-covered forest. The installation features four-metre high light boxes that glow with black and white photographic images of snow covered silver birch trees. Against this backdrop, rise cast models of Scots pine, layered with both natural and photographed silver birch and fir trees, reaching to a canopy of natural green pine.
Photo: Instagram/claridgeshotel
Universal Studios, Osaka, Japan
For number three on our list of '7 of the world's most spectacular Christmas trees' – we head to Japan. Last year this tree took home the Guinness World Record for "most illuminated tree," with 534,280 lights. This year it's even brighter boasting an incredible 550,000 lights! However, sadly this is the last year to see Osaka's famous Christmas tree. But while this may be its final appearance we are sure that Universal Studios will have something equally mesmerising planned for next year's celebrations and at TLC we can't wait to see what's in store.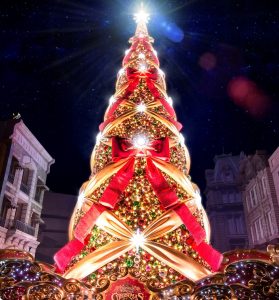 Photo: https://www.usj.co.jp/e/christmas2016/
Rockefeller Center Christmas Tree, New York Plaza, USA
Christmas just wouldn't be Christmas in New York without the Rockefeller Center Christmas Tree. First displayed in 1933, switching on its lights has now become a national event. The year the 94-foot Norway Spruce boasts 50,000 multi-coloured LED lights and sparkling star on top made up of 25,000 Swarovski crystals, weighing a massive 550 lbs.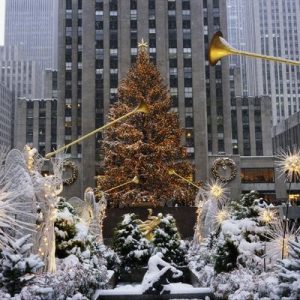 Mount Ingino Christmas Tree, Gubbio, Umbria, Italy
Although the previous trees look huge, to find the biggest Christmas tree in the world we need to visit Italy. This tree stretches the whole height of Mount Ingino, some 2,130-feet and is lights the village below with 3,000 multi-colored lights.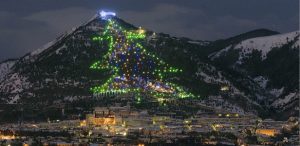 Photo: http://www.bellaumbria.net/en/gubbio-christmas-tree-the-biggest-christmas-tree-in-the-world/
Lego tree, Auckland, New Zealand
Anyone with youngsters in the family will know that there is only one toy on the list this Christmas – LEGO. It seems there are festive LEGO displays everywhere we look, but few can compete with the giant Christmas tree in Aotea Square, Auckland.
Standing an incredible 10 metres tall the tree, which is made up of more than half a million LEGO bricks, took more than 1,200 hours to build. It's star alone is made from 13,195 LEGO bricks and dazzles with 3,456 LED lights.
Fitting with its location the decoration has a distinctive Kiwi-theme including New Zealand
native birds the kiwi and pukeko, as well recognition of their sunnier winter with a surfing Santa.
A great addition to our list of the 'world's most spectacular Christmas trees'!!
Related Topic: Tips for Planning A Festive Brunch
Frauenfriedenskirche Zeppelinallee, Frankfurt, Germany
It wouldn't feel right to go around the world in search of Christmas trees and not stop in the country which introduced the tradition way back in the Middle Ages. Indeed, Germany is still home to many stunning designs but there is something both beautiful and luxurious about its singing tree.
For more than 30 years, the Singing Christmas Tree has entertained the Rhine-Main region bringing melody, spectacle and fun to the Advent celebrations. At 7-meters high, this human tree is quite the sight to see.
Today there are many community singing Christmas trees around the world and if you're looking for something special to entertain at your festive event a singing tree could provide that magical ingredient.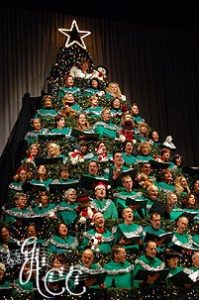 Photo: http://www.singingchristmastree.de/
Hope you have enjoyed our collection of the 'world's most spectacular Christmas trees'.  For more festive images, check out our galleries at www.tlc-ltd.co.uk