Popcorn, there's something about this curious snack.  It's loved by many – up to 90% of people according to one study. Perhaps it's the memories of trips to the cinema as a child that promote a sense of nostalgia. The fact it's really affordable and suitable for vegans. Or the fact that it's just so darn delicious whether buttered, salted, sweet or drizzled with caramel. Whatever the case, it's true that popcorn is so popular that it even has its own dedicated day of the year. Yes, January 19th has been declared National Popcorn Day, so here are some tasty ideas to celebrate national popcorn day – in TLC style!
POPCORN INSPIRED COCKTAILS
One of our favourite TLC parties took the fairground as an inspiration. Complete with a revolving carousel bar and vintage horses suspended above. And what to serve from such a centrepiece? Popcorn inspired cocktails of course, served in popcorn cartons. Fun and easy to create and the guests loved them.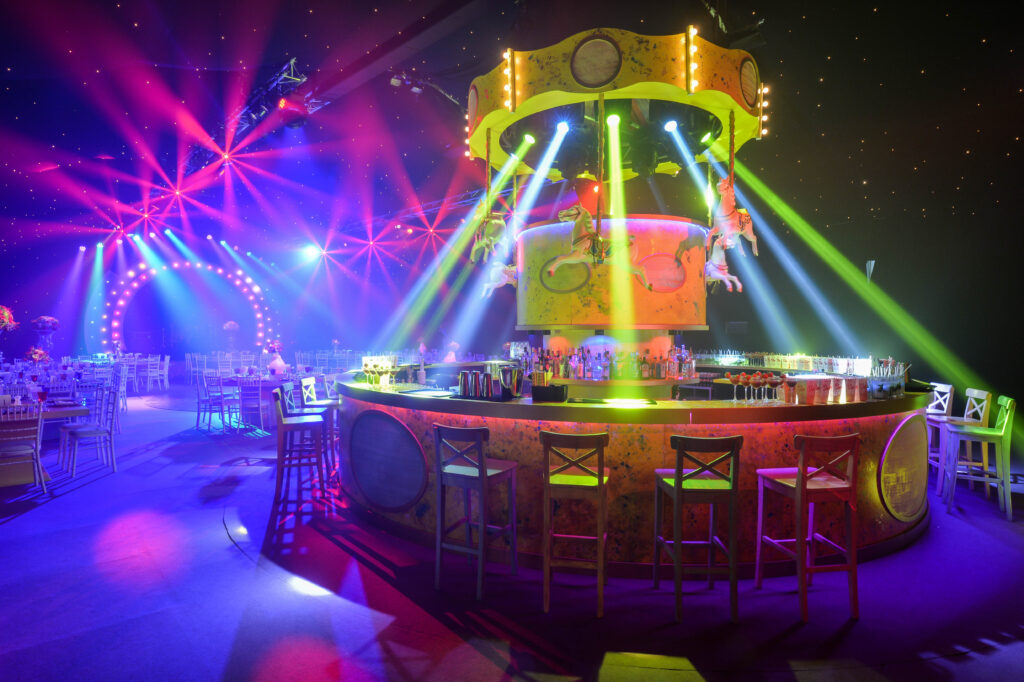 You don't have to search too far for cocktails infused with a popcorn theme. We love the miniature popcorn garnish and all-American feel of the Silverscreen cocktail from The Blind Pig in Soho, which combines popcorn-infused bourbon, cherry cola and bitters.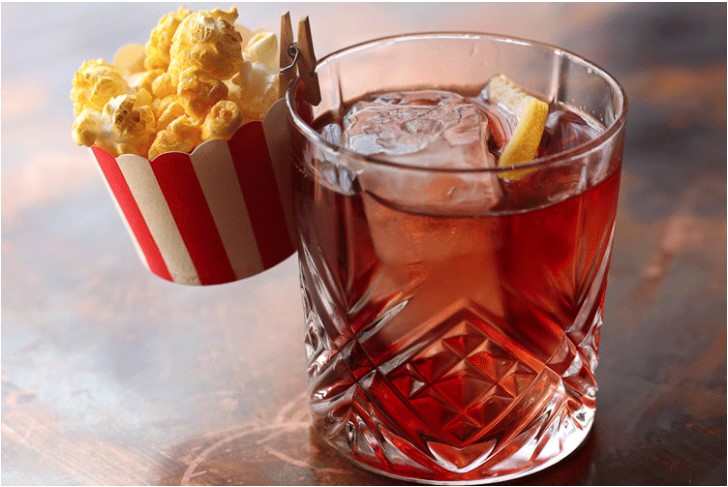 Photo Credit: Evening Standard
Alternatively, try a richer caramel-infused flavour with the Sweet Tears of Mine featuring Cacao and spiced rum, garnished with caramel popcorn.
And why not recreate the fun of the fairground at home with some garden games once the weather starts to get warmer. Try a coconut shy, hook a duck and croquet if you have the lawn for it.
SERVE YOURSELF
Guests love a self-serve station, it's one of our most popular ways to serve snacks at a party. And popcorn is ideally suited to be a 'feature food'. Try popcorn stations where you can flavour your hot popcorn. Create a popcorn bar with different flavourings for people to scoop, shake and sprinkle. Try traditional popcorn machines serving 'kettle corn' with paper bags or traditional cartons. You can add different colours to popcorn to create a rainbow of flavour to delight guests.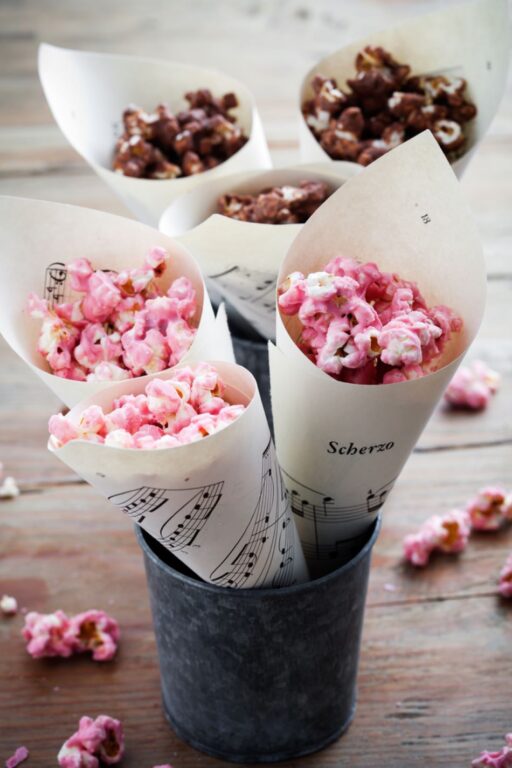 Or focus on the styling, incorporating a vintage trolley or rustic baskets. Our advice is to scour Pinterest for ideas and inspiration, where you'll find popcorn bars made from anything from vintage dressers to miniature Ferris wheels.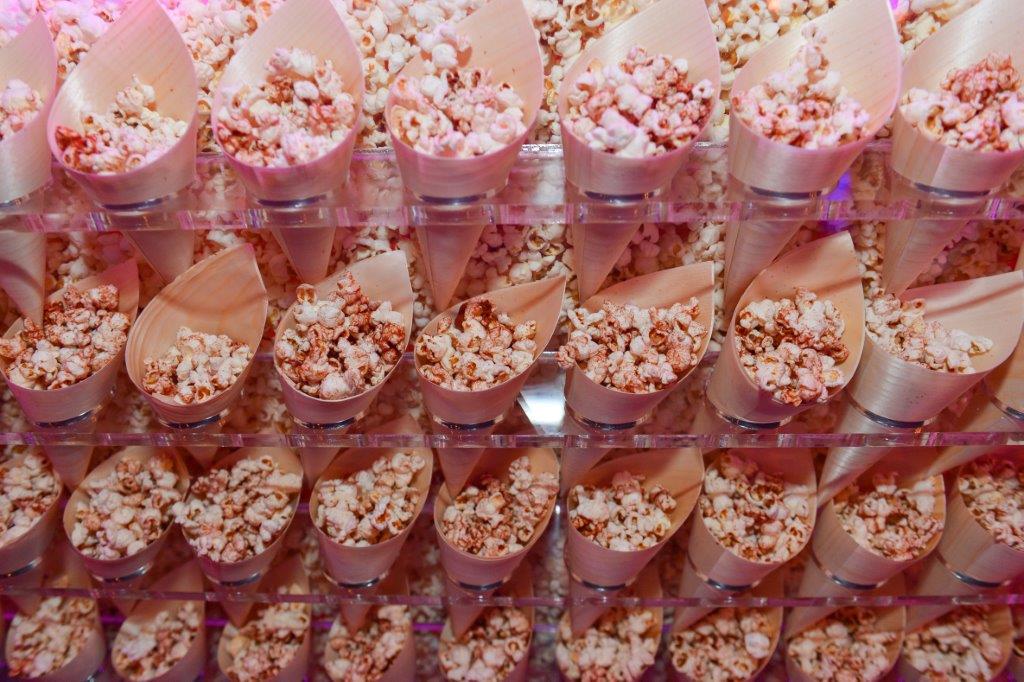 MOVIE NIGHT
One of the best ideas to celebrate national popcorn day is undoubtedly a trip to the movies. Whilst we may not be able to visit cinemas at the moment, that doesn't mean we can't enjoy a fully immersive cinema experience at home.
Do it properly by hiring in a big screen and projector with surround sound system if you can stretch to it – these elements will help to make the experience more special. Pick out some family favourites (recent hits or old classics the choice is yours) and have a movie marathon.
Dressing the room is all part of the fun. Create a retro cinema lightbox with the show times for the evening and gorgeous tickets for everyone, making them hand them in on the door – you could even get a vintage style ticket puncher for a fully authentic experience.
Deck out the lounge to be its comfiest and most inviting. Atmospheric lighting is how you'll create a cosy and welcoming space – so more fairy lights are a must. You'll want cushions, beanbags and blankets galore. You could even hire in the gorgeous tepee tents and have a sleepover for the kids.
For food and refreshments, it has to be freshly squeezed lemonade and of course popcorn – a popcorn maker and traditional boxes will really add to the experience.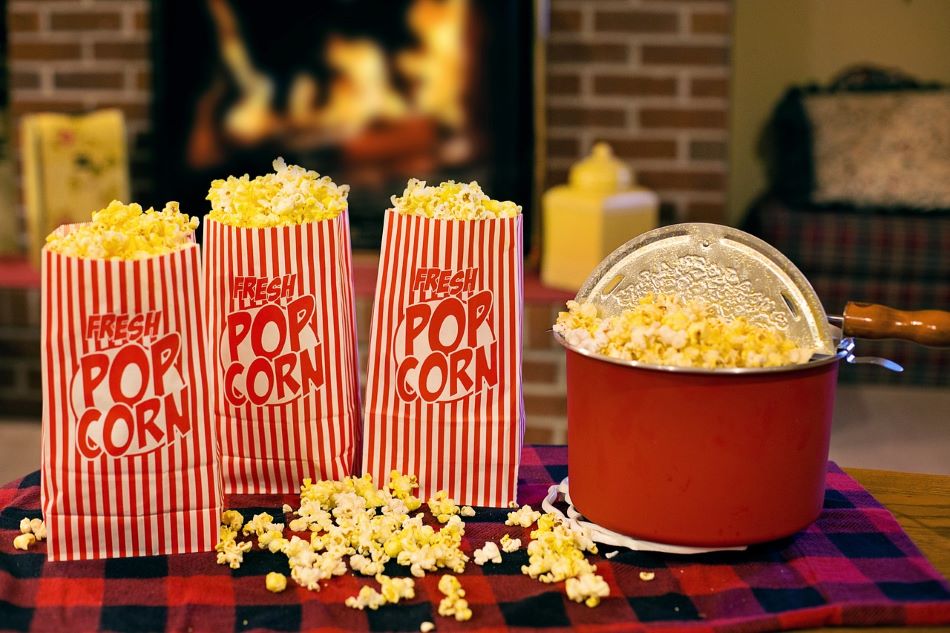 NAUGHTY BUT NICE
Looking for a way to make a delicious treat even more naughty but twice as nice, then try this delicious take on a tray bake. Simply mix, heat and pour the gooey, peanut butter caramel and chocolate mix over popcorn and either eat right away or chill for later. Delicious.
Our ideas to celebrate national popcorn day couldn't leave this one out. For a quick hit of early Burn's Night Whisky – try this whisky and salted caramel.  OMG! Definitely not for sharing.
Love your sweet treats? Try these ideas for indulging in chocolate! Popcorn and chocolate are a classic combination.
DID YOU KNOW?
Popcorn has been found in a cave in Utah that dates back to over 1000 years ago. The Aztecs also used popcorn to decorate their clothing and create ceremonial embellishments.
Last, but not least, what's the most decadent way to serve our favourite snack on it's special day?  Pair popcorn drizzled with white truffle oil with Champagne – it is truly a heavenly treat!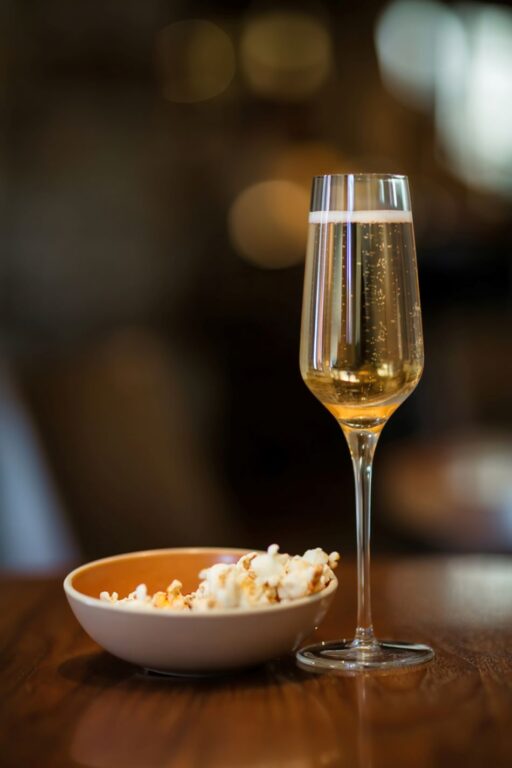 Thanks for sharing our ideas to celebrate National Popcorn Day!