TLC is in full royal party planning mode, putting the final touches to a host of celebrations for our clients to mark the Queen's Platinum Jubilee. The UK is in the mood to party and from huge royal-themed garden parties, to intimate 1950s cocktail soirees, we're organising events that celebrate Her Majesty with luxurious, inventive, and fun occasions.  And of course, our finest Jubilee party entertainment ideas are at the heart of them all!
Over the next few days we'll be sharing a series of blogs covering the best Jubilee party entertainment ideas, catering, and décor concepts, so that you can take a few tips from the professionals if you're planning your own festivities.
Here we explore Jubilee party entertainment. The pulse of the party and an area where we make it our mantra never to scrimp and save. You can keep everything else simple – for instance ask guests to all bring a baked contribution and just create a stylish afternoon tea. But, add in live entertainment and you have a real party!
Read on for our Jubilee party entertainment ideas…
GOING LIVE
Live music done well is something every guest will remember. It could be a continental party band. Tribute artist. Country music duo. Or the great British madness of a one-man-band. Anything goes, just ensure that they are good and will play throughout the party.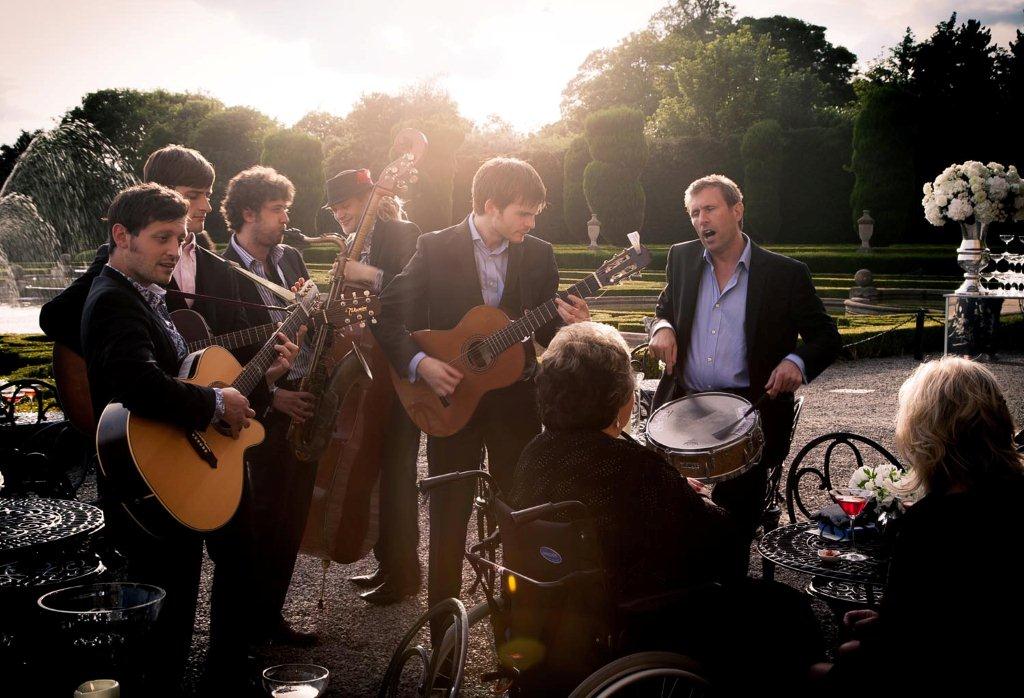 My choice would be to select music from the 50s – the decade that Queen Elizabeth took to the throne. The early fifties were dedicated to crooners like Sinatra and Tony Bennett but when Elvis hit the big-time in the middle of the decade, it was the turn of hip-shaking, toe-tapping rock, and roll. Either would make for fabulous Jubilee party entertainment.
If budgets are tight, then have your band play for a proportion of the day. You can have music from a playlist throughout and wait for the evening for a live band to get the party started. Or for a demure occasion have a jazz quartet play smooth jazz tunes throughout the afternoon and dinner. Or secure an entertainer such as Kitty and Nick's Jazz Tandem. Yes, they will cycle into your Jubilee picnic party and entertain with jazz classics. Less lively than a big band but bringing sophistication in abundance.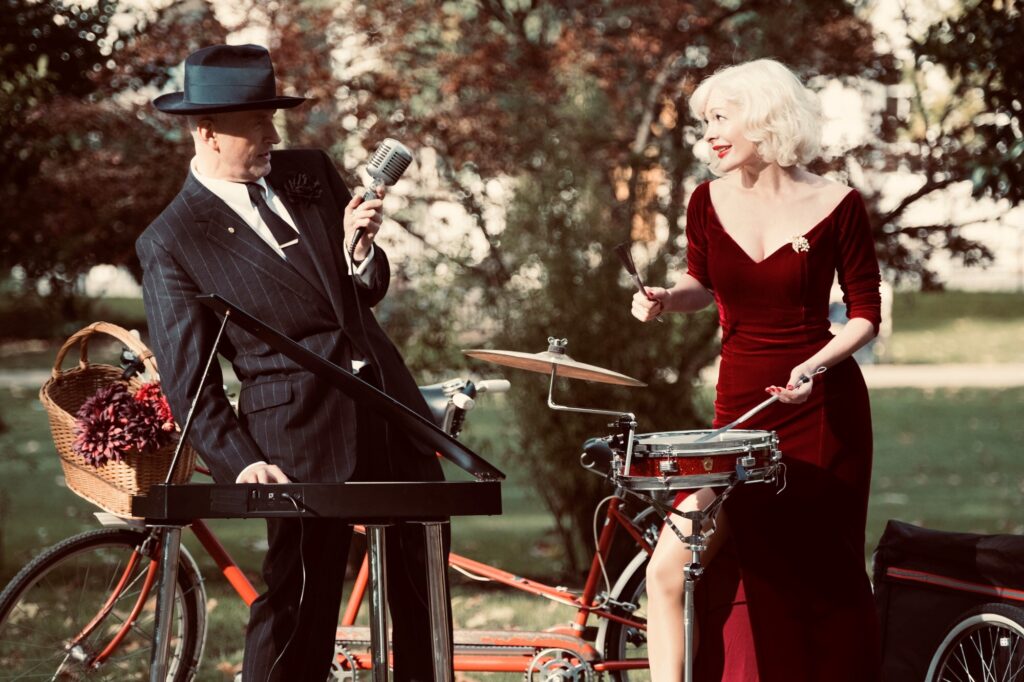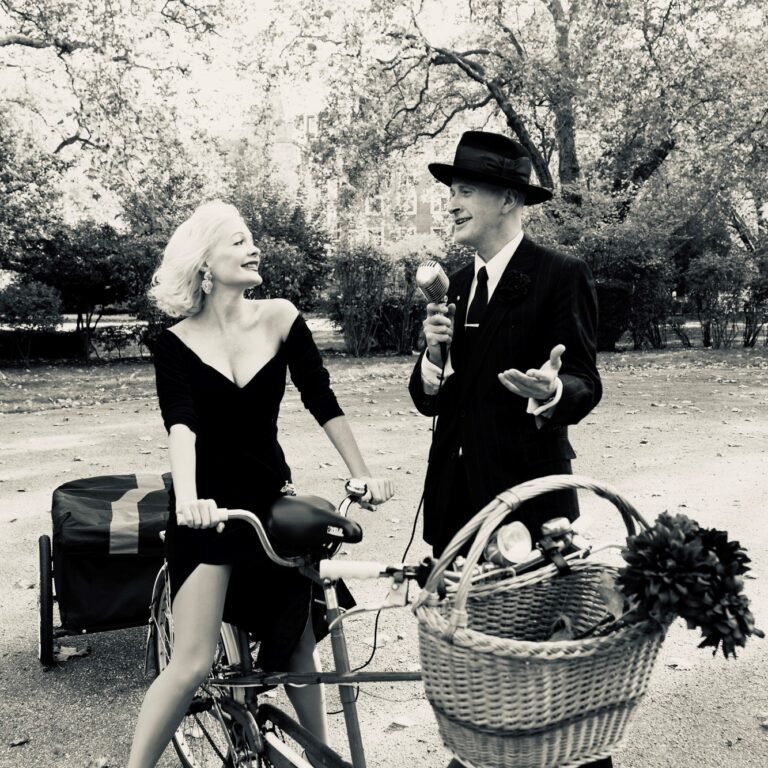 BIG SCREEN VISION
Don't forget there are lots of official celebrations happening to celebrate the Queen's Platinum Jubilee. To really tap into the sense of patriotism and togetherness these types of events encourage, be sure to show some of the key moments to your guests. It will help your party feel connected and a give a sense of royal occasion.
As with everything we do here at TLC, we wouldn't be content with showing it on normal TV.
Set up an old-fashioned cinema with heavy red velvet curtains that draw back to reveal the big screen. Cones of popcorn and ice creams served from usher trays at the interval. Coca cola in glass bottles. A pick and mix of penny chews and retro sweets. Create tickets for the showing and have an usher/usherette show guests to their seats. Make it a fully immersive experience.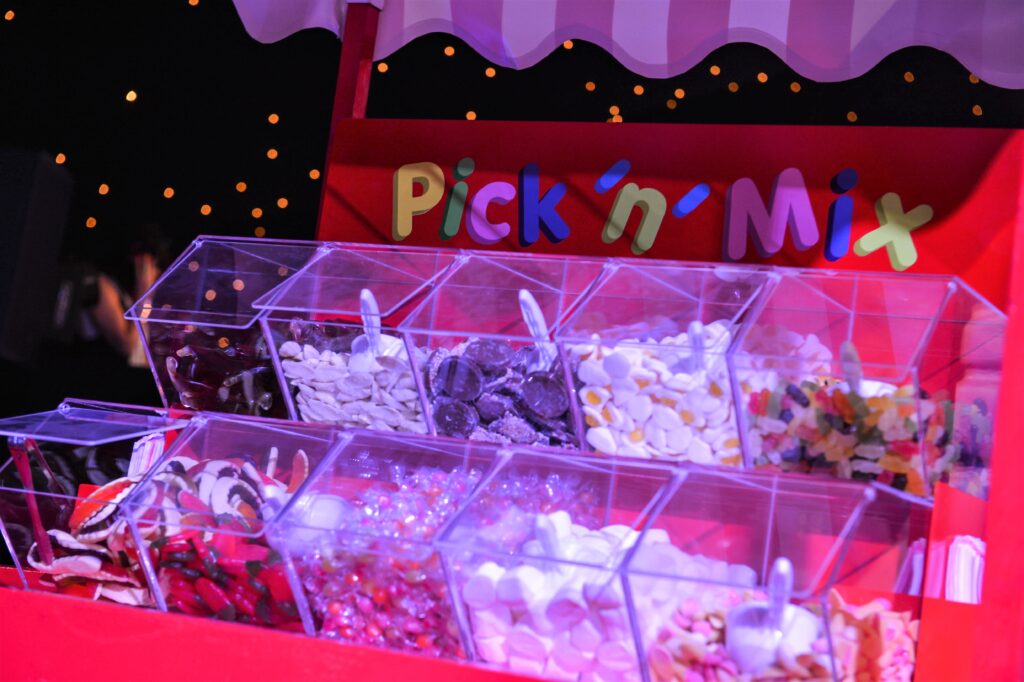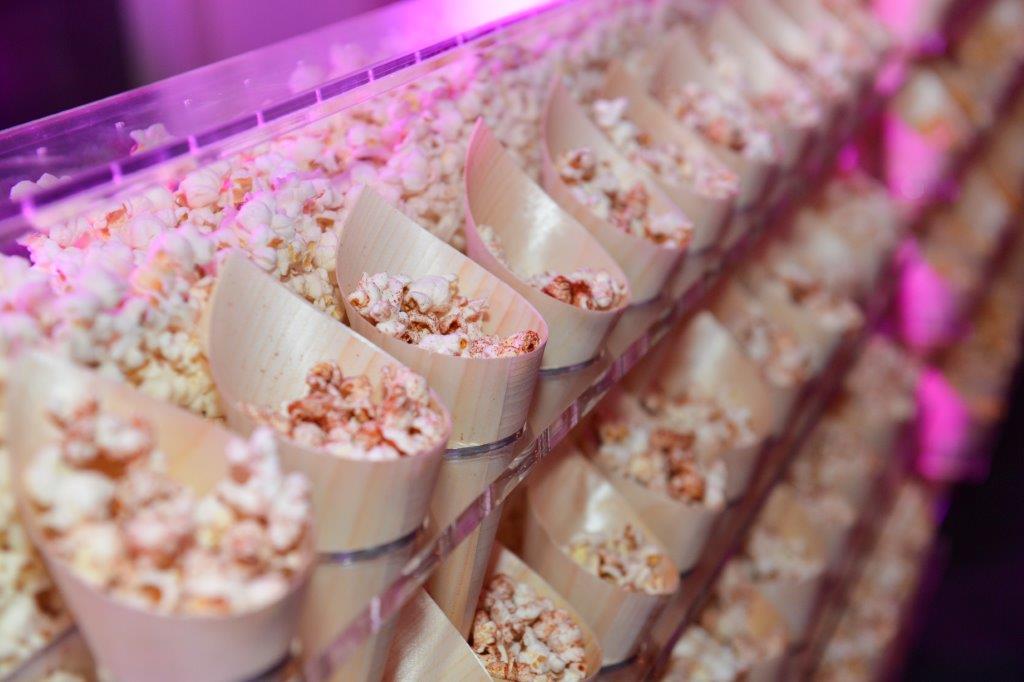 THE KIDS ZONE
If you have younger guests, then it pays to make provision for them otherwise you risk your party descending into chaos. A children's entertainer is a worthwhile investment and if they're good, will keep little ones captivated for hours.
You could create a kids' zone – giant garden games like chess, Jenga and connect four. Upgrade it to croquet for something a little more, high society. Or, if you really want to up-style this part of the party, create a vintage fairground with 'hook a duck' stalls, a coconut shy and traditional Punch and Judy show. Blowing the budget? Hire a real carousel as a centrepiece. Just don't expect it to be only the kids that take part in the fun.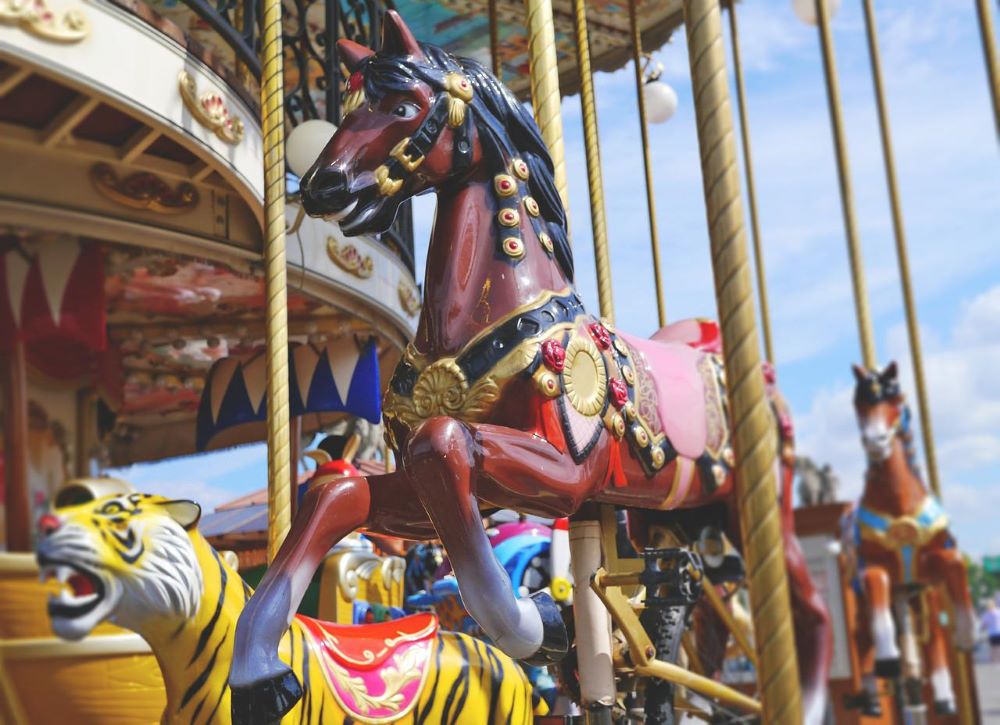 CULINARY ENTERTAINMENT
Parties should be full of show stopping moments that will stay with guests for ever. Hearing gasps of delight is what makes us realise we've done our job well.
And here's a secret. Food and drink can be part of the drama.
A flambé crepe stand where guests delight as chefs flip and flame their dessert. Pizza dough throwers – who spin and toss your pizza before cooking to order in a huge wood fired oven. Served hot and tasty.
Or bring in bar flair experts – not only upgrading what's on the drinks menu but delivering it with style and theatre. Bespoke cocktails created with flair.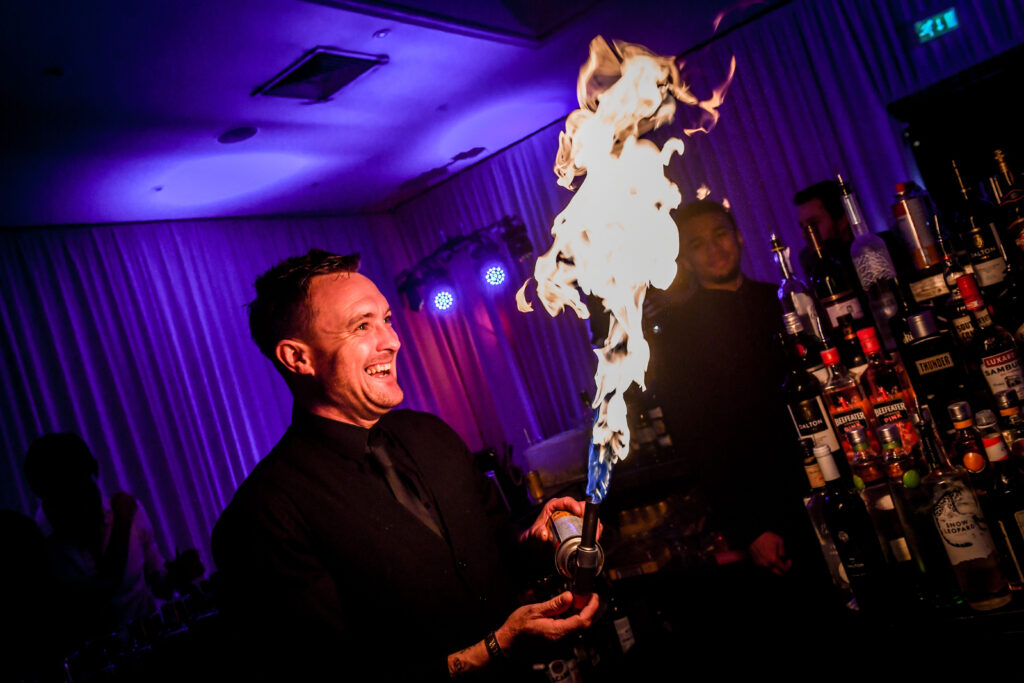 FURTHER READING
Hungry for more Jubilee party planning tips? Read our Jubilee Catering ideas blog.
Did you know?
At TLC we've organised our fair share of parties, but Queen Elizabeth could give us a run for our money. According to the official Royal family website, over 180 garden parties have been held at Buckingham Palace since 1952 and over 1.5 million people have attended a Garden Party during The Queen's reign.
Find out more facts here: https://www.royal.uk/70-facts-mark-queens-platinum-jubilee
Thanks for sharing our Jubilee Party Entertainment Ideas!