The countdown is on to the Queen's Platinum Jubilee. The biggest and most special party the UK has seen for many years. Professional and private event organisers up and down the country are busy hanging the bunting and putting the final touches to party plans.  Here at TLC, we have planned many royal inspired events, but never bowing to the obvious designs, we wanted to share just a few of our best Jubilee party décor ideas which include some retro inspirations.
Over a series of blogs in the run up to the Jubilee, TLC is here to offer ideas and tips, no matter how you plan to celebrate our Queen's 70th year on the throne. We're covering Jubilee party entertainment ideas, Jubilee catering ideas and in this blog, one of the most important ways to set the scene for your party – Jubilee party décor ideas.
ALL THAT GLITTERS
Host a platinum-themed party. Table décor can be round tables surrounded by platinum-coloured chairs or dressed in shimmering, vintage sequin tablecloths with silver chargers and vintage glassware. Be bold and lavish. Use oversized candelabras to create height in the centre of the tables or hang ornate crystal chandeliers overhead. An alternative, long flute vases filled with decorative twigs and delicate white flowers add a stylish, dramatic focal point.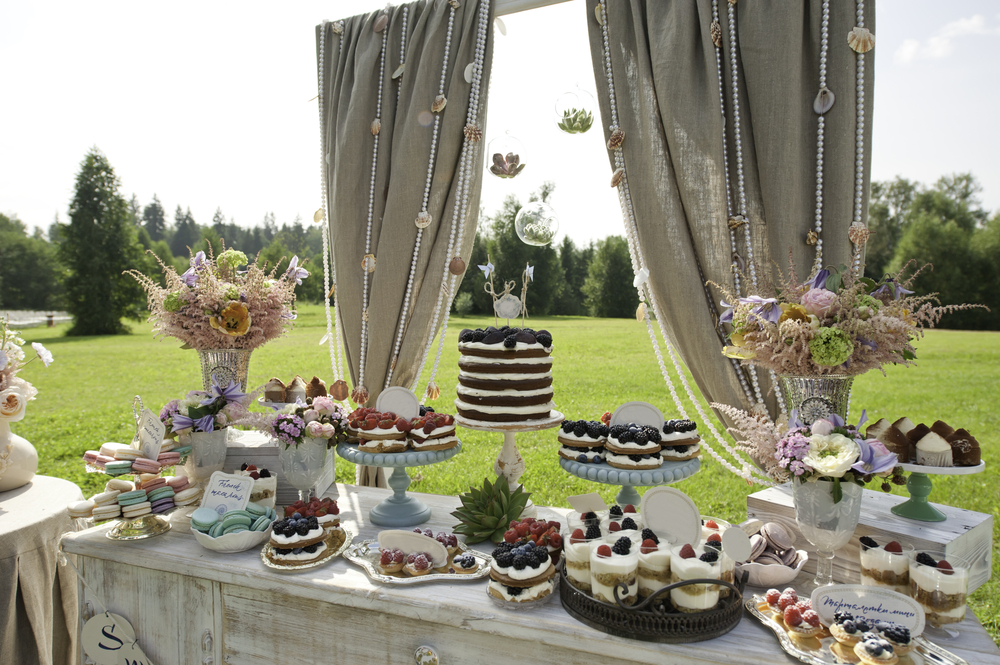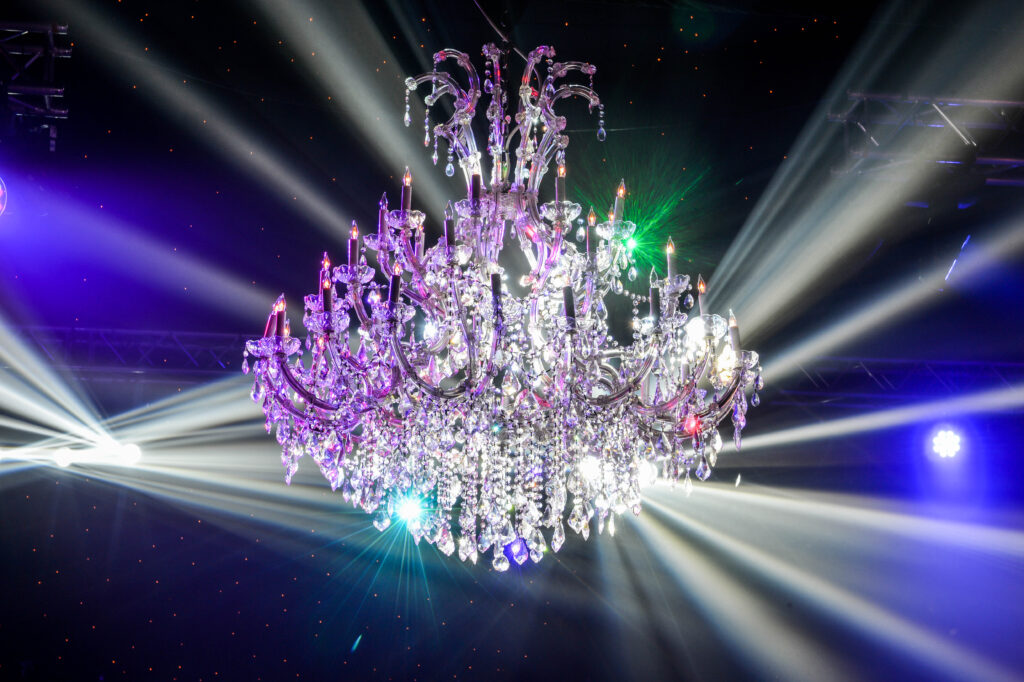 GO BACK IN TIME!
Instead of a Union Jack inspired party, think about when it all began; the 1950s then dress the venue accordingly. You could choose for one of two themes – a sophisticated cocktail soiree or fun 'rockabilly' party.
MADMEN GLAMOUR
For more intimate gatherings then a 1950s glamorous cocktail party is an extremely stylish way to celebrate. Set the tone with printed invitations in the style of the era then dress the room to perfection. Mid-century style velvet sofas, oak panelling and statement prints were key looks from the era. Seventy years ago, it was a stylish time indeed. Choose one or two key investment pieces to provide a focal point. A retro cocktail bar or exquisite 1950s style drinks cabinet will give you a place to serve refreshments while adding to the upmarket feel of the event.
RETRO ROCK N ROLL
Alternatively, injecting the fun element and attention to detail, set the stage by creating a 1950s diner.
Chequered flooring, metallic panelling, pastel pink and blue colours, cosy booths, red leather bar stools and neon signage can help to build the right aesthetic. Use vintage vinyl placemats and hang retro signs to decorate the walls. Need a focal point? Mount a pastel blue vintage fender guitar and have it displayed centre stage. Or hire a retro juke box with neon signage above.
If budget allows, hire vintage motors and park them up to flank a red carpet or driveway. As your guests arrive, wow factor achieved.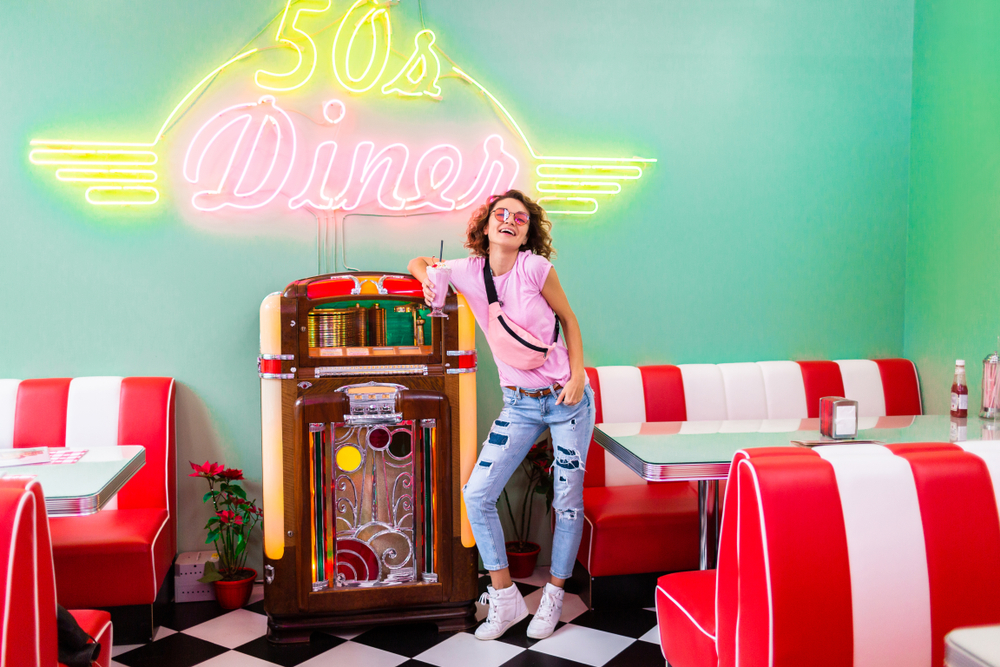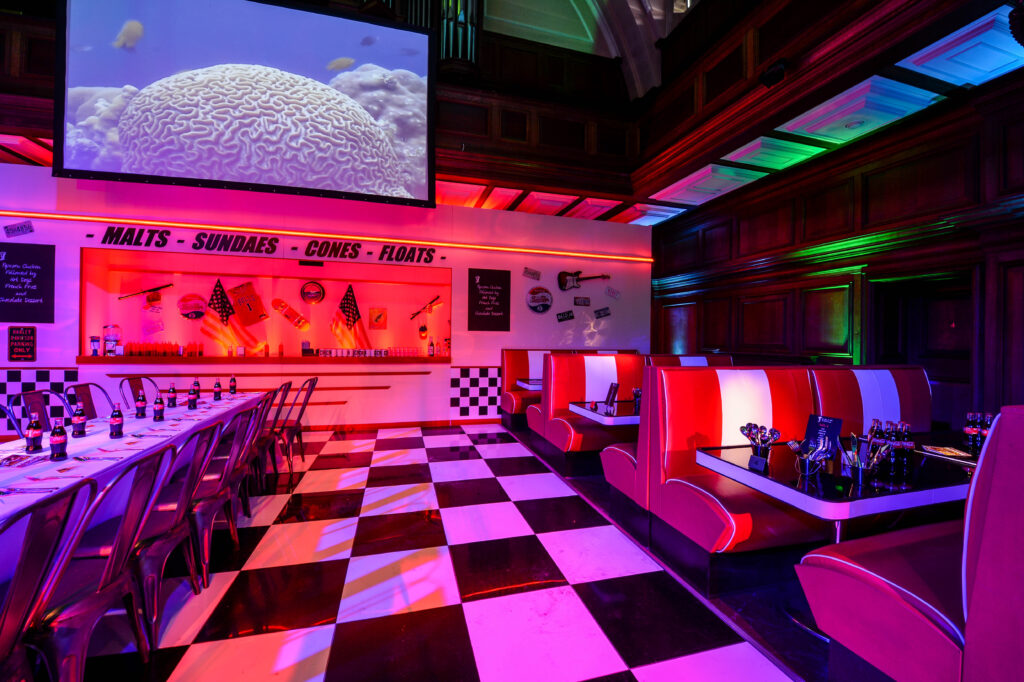 LIGHT IT UP
Think about evening lighting; particularly if you are planning an outdoor celebration. Creating a swathe of tiny overhead pea lights on a frame is a dynamic way to dress a dinner table. Add a wealth of different sized candles with florals to the table in everything from China cups and teapots to small bottles and jars. Use storm lanterns with candles (LED are safest) to line pavements and pathways. For bigger events, use a professional lighting company to add coloured garden and house lighting. It will really add to the atmosphere of the evening.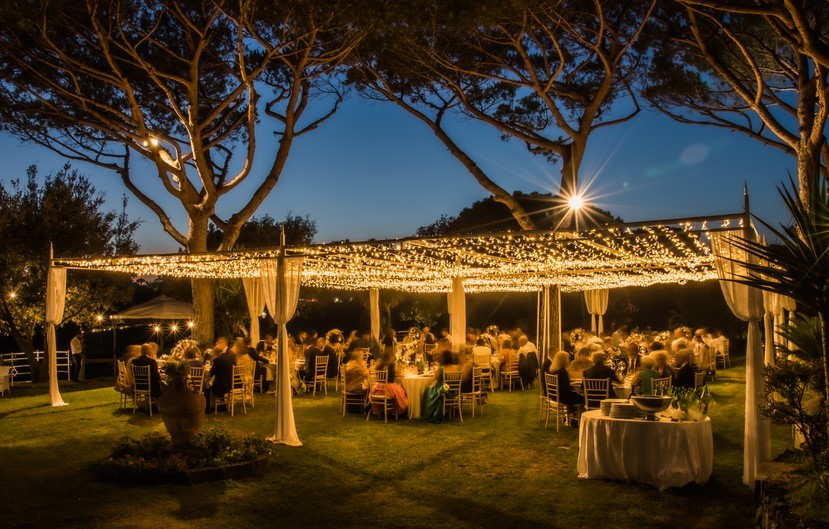 LET THE FOOD DO THE TALKING
Done well, catering should be more than just to feed your guests. It can be impactful. Dramatic. An element of the party to remember.
There's more than one way to do red, white, and blue.  So, if you have chosen this as your theme then one way to take it throughout the party is with the food.
Create beautiful towers of tiny but perfectly formed red, white, and blue macaroons. You could create jelly shots (boozy or otherwise) and lay them out in perfectly even layers of red, white, and blue jellies. Fruit skewers containing strawberries, blueberries, and marshmallows with a huge chocolate fountain for the children. Or the biggest trifle using the same fruits arranged in patriotic layers and piped in the style of the Union Jack. For the kids – create a slushy station, crushed ice with red and blue flavourings and a traditional pick and mix, with red, white, and blue sweets to fill cute paper bags with.
And to add a real sense of retro luxury, we would place a few Union Jack chairs and sofas in niches and cosy corners.  A place to sit, sip and dine.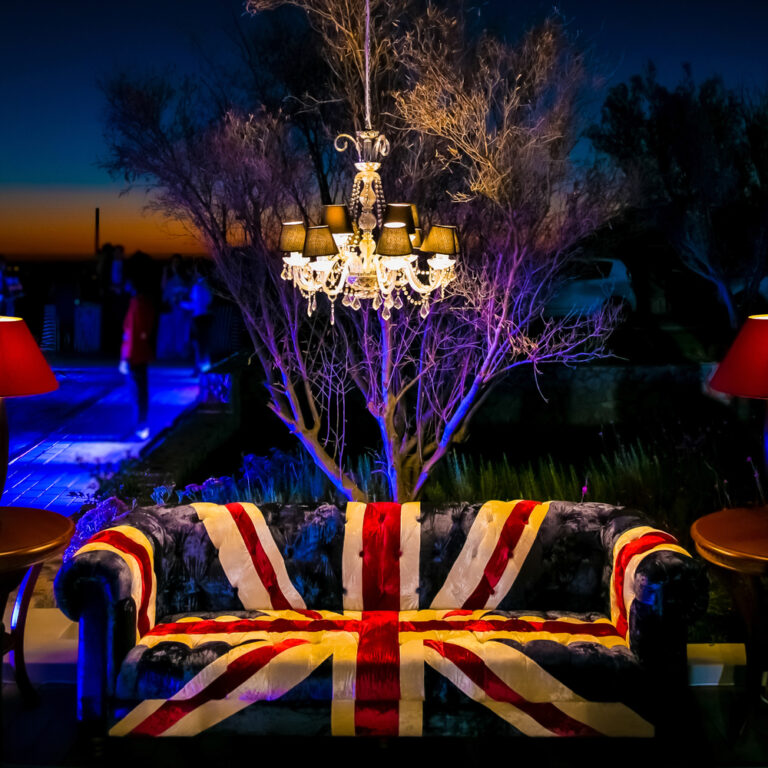 CHOOSE A COLOUR CODE
One way to keep things stylish within Jubilee party décor is to choose a colour theme and stick with it. luckily one thing our enduring monarch is known for, is her stylish use of colour. Her signature style is a coordinated dress and formal jacket in a vivacious colour, so choose one of these beautiful hues and take it through the entire party but use a graduated theme. In table décor you can arrange vases, candles and vintage glassware but take it from the very darkest shade right to the brightest hue.
Fuchsia pink, vivid coral, lime green, peacock blue. The queen has worn them all! Or choose a regal purple hue to set the royal tone!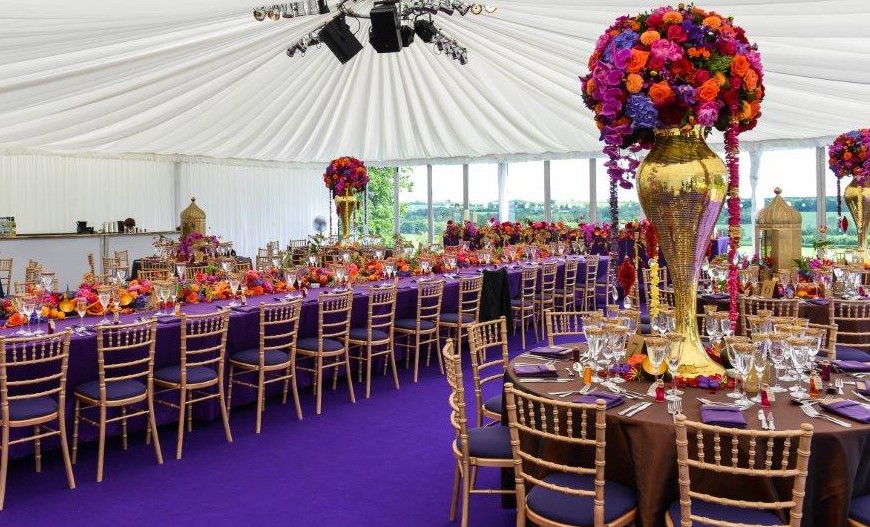 A ROOM WITH A VIEW
Upscaling your Jubilee party is about using décor to create an entire experience.
If our Jubilee party décor ideas have got you in the mood to party, then you can find out how to create a stylish old-fashioned cinema from which to view the official proceedings over on our blog about Jubilee party entertainment.
Thanks for sharing our Jubilee Party Décor Ideas