National Cognac Day on 4th June encourages people to have a laid-back day and enjoy one of the finest spirits available – cognac!  While gin and whiskey have had their moments recently, cognac has always endured, and more recently it has thrown off it's 'smoking room' image and stepped into the spotlight.  TLC's top cognac cocktails guide is your expert tutorial through the world of cognac. How to drink it. Where to use it. And some gorgeous cocktails and delicious cognac cooking recipes to whet the appetite! Enjoy!
WHAT IS COGNAC?
Sometimes referred to by the French as being made from l'eau de vie ("the water of life"), cognac is a protected type of brandy which must be made with grapes grown in a designated region in the South of France – Charente and Charente-Maritime.
A versatile drink that can be sipped neat, enjoyed on the rocks, or used as a base for some tantalising cocktails, Cognac is popular with celebs and connoisseurs alike. Rapper Drake is said to enjoy a Remy Martin 1738 and Jay-Z even has his own label – D'Ussé cognac.
Cognac is hugely popular stateside with the US accounting for over half of the world's exports.
HOW IS IT MADE?
Where and how cognac is made is strictly regulated – the highly acidic, low sugar ugni blanc grape is the most common grape used in the production of cognac. These are fermented to make wine before being distilled in copper pots to create the spirit. Oak barrels are then used to age the blend for a minimum of two years.
Courvoisier®, Hennessy, Martell and Rémy Martin are the most popular brands, but cognac is gaining momentum as the spirit of choice to rival gin and brandy, meaning there are many other brands and types that are worth a sip.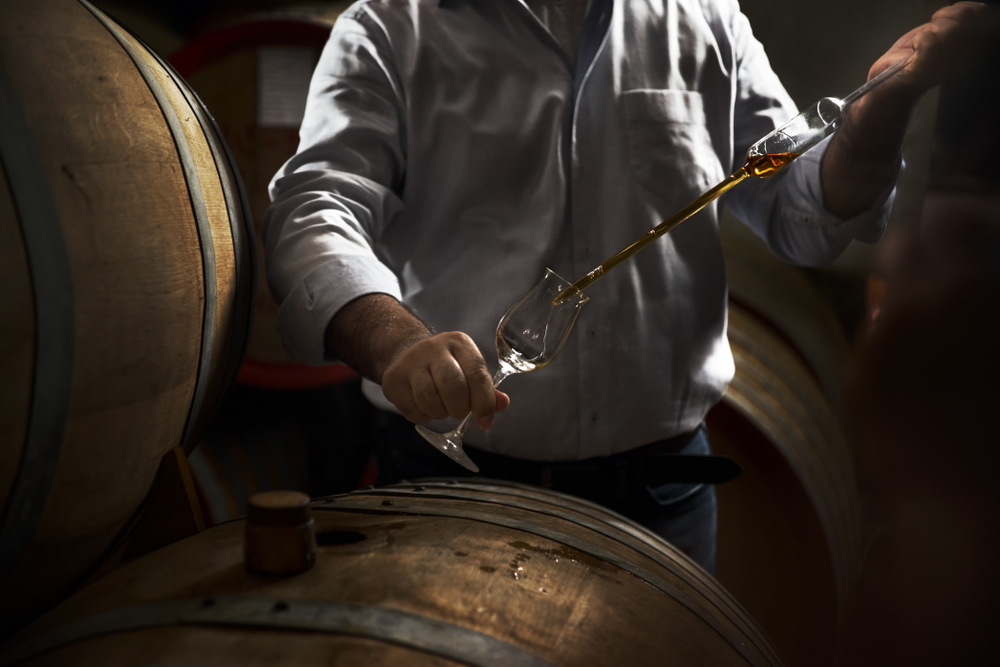 LUXURY COGNACS
Cognac is categorised into groups, depending on how long it is aged for (generally speaking the older it is the better/more expensive the spirit).
VS (very special) is aged for 2 years minimum, VSOP (Very Superior Old Pale) is aged for four years plus, XO (extra old) is aged for 10 years or more.
There are two additional classifications that cover cognacs that have seen more age than XO: XXO (extra extra old) for cognacs that have been aged for 14 years or longer, and Hors d'age is used for ultra-high-quality cognacs that fall beyond the age scale altogether.
A high-quality bottle of cognac can be an investment too. Arguably the best cognac available today is Remy Martin's Louis XIII (it's certainly the higher end of the market) with bottles retailing today in Selfridges for over £21K. per bottle.
You can buy it here https://www.selfridges.com/GB/en/cat/louis-xiii-the-jeroboam-3l_414-87024675-LOUISXIII3000ML/
And learn more about what makes it so special here: https://elitetraveler.com/features/tasting-experience-louis-xiii-cognac
The older the cognac in theory, the better the quality so reserve your XOs and above for sipping neat while anything below can be used for mixing.
Cocktail anybody…?
COGNAC COCKTAILS
At TLC, we love our cocktails, classic, original, bespoke, shaken and stirred. And the oaky tones of cognac make it a fantastic cocktail staple. TLC's top cognac cocktails guide are just some of our favourite cognac cocktail recipes to be made at home or sipped at your favourite cocktail bar.
The Sidecar
A cousin of the margherita, thought to be invented in Paris at the end of World War I, The Sidecar is a classic cocktail from the 'sour' family, meaning it is made up of a liquor, lemon, or lime juice (the sour element) and a sweetener. It is made with simple ingredients in three easy steps.
Sugar
Cognac
Triple Sec
Lemon juice
Lemon or orange twist to garnish
Ice
Rim the glass with sugar.
Add the ingredients and ice to a cocktail shaker and shake it together.
Strain into a glass and serve with a lemon twist or orange twist. Some people like to squeeze the orange twist into the drink, so the oils add a perfume.
Find more detailed instructions here: https://www.acouplecooks.com/classic-sidecar-cocktail/
And here's how to make a lemon or orange twist garnish: https://www.youtube.com/watch?v=m75hIGfBOPU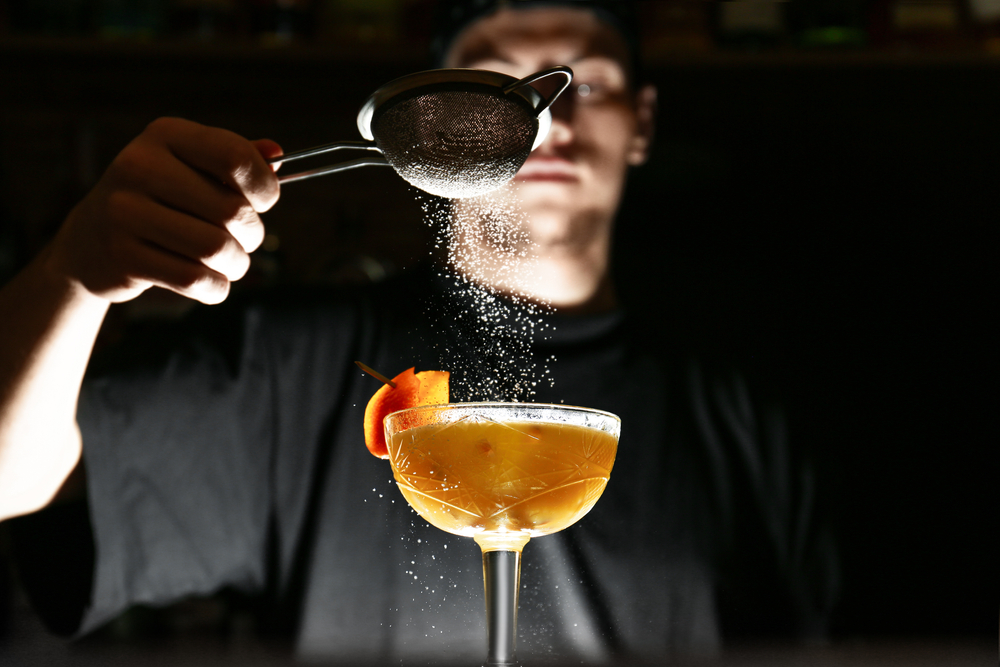 The Sazerac
A word of caution, this cocktail comes with a kick, but if you like your cocktails strong, dark, and mysterious, this is the one for you. Originating in 1800s New Orleans the Sazerac is still regarded as the official drink of Louisiana today.
Cognac
simple sugar syrup
Peychaud's bitters
Absinthe
bright lemon peel as a garnish.
Rinse a chilled Old-Fashioned glass with the absinthe, fill with crushed ice and set aside.
Add the cognac, simple syrup and bitters into a mixing glass with ice and stir until well-chilled.
Discard the ice and any excess absinthe from the prepared glass, and strain the drink into the glass.
Squeeze the lemon peel oils over the top of the drink, and garnish with the peel.
Find the full recipe here: https://www.liquor.com/recipes/the-original-sazerac/
Cashew Dreams
Created by cognac brand Martell, this sweet concoction introduces coconut cream, Kahlua, and cinnamon to create a low waste, deliciously creamy cognac cocktail.
Martell Blue Swift
Cashews
Coconut cream
Pinch of cinnamon
Dates
Kahlua
Soak 100g of cashews in hot water, strain them and place in a blender with 300ml of coconut cream, a pinch of cinnamon, fresh nutmeg, and few pitted dates. Blend until thick, creamy, and consistent.
Shake.
Pour into a coupe, filtering through the strainer.
Add some fresh nutmeg or cinnamon as a garnish.
Find the full recipe here: https://www.martell.com/en-uk/cocktails/cashew-dreams/
COOKING WITH COGNAC
Cognac can be used in cooking to upgrade sauces and makes a particularly good accompaniment to meat dishes. Steak, pork, and chicken can all benefit from a brandy boost. Cognac adds complexity to both sweet and savoury dishes. Here are just a few cognac recipes to tempt your tastebuds:
Steak au Poivre with Cognac Sauce
Soup up a classic steak accompaniment with the addition of a splash of cognac, it will add depth of flavour and is even better with an intense, exotic type of black pepper as suggested in this recipe by Fine Cooking: https://www.finecooking.com/recipe/steak-au-poivre-with-cognac-sauce
Cognac Shrimp with Beurre Blanc Sauce
Brandy and shellfish might not be your first thought for a pairing, unless you hail from France, but it should be. Find out how to elevate your next seafood dish with a dash of cognac, over at The Spruce Eats:
https://www.thespruceeats.com/cognac-shrimp-beurre-blanc-sauce-recipe-1375537
Cognac Brownies
Crepes are the obvious choice for a cognac dessert but what about adding a new dimension to chocolate brownies?
https://sweetandsavorymeals.com/cognac-brownies-with-homemade-caramel-sauce/
Cognac Coffee
Brandy is a popular after dinner drink, as is coffee, so it makes sense that combining the two can create an even more delightful after dinner digestif. This recipe from Martha Stewart adds cardamom into the mix to bring out the flavours of both.
https://www.marthastewart.com/1155114/coffee-cognac-and-cardamom
DID YOU KNOW?
In May 2020 a bottle of cognac sold for £118,000, making it the most expensive bottle of cognac sold to date at that time.  Dating back to 1762 it is one of only three bottles of the rare Gautier Cognac still in existence.
Read the full story here: https://www.bbc.co.uk/news/uk-52844323
MAKE THE TLC DIFFERENCE
Never one to follow the crowd. TLC always looks for a different way to serve our favourite dishes, drinks, and cocktails. This attention to detail and our unique ideas elevates our parties from ordinary to extraordinary.
Finally, our tip for serving cognac. Instead of serving it in a plain old glass, create a personalised hip flask for each guest with their name on it and serve a high-quality XO or a bespoke mixed cocktail in it. Fun, individualised, luxury. A lovely take home gift to remember the event.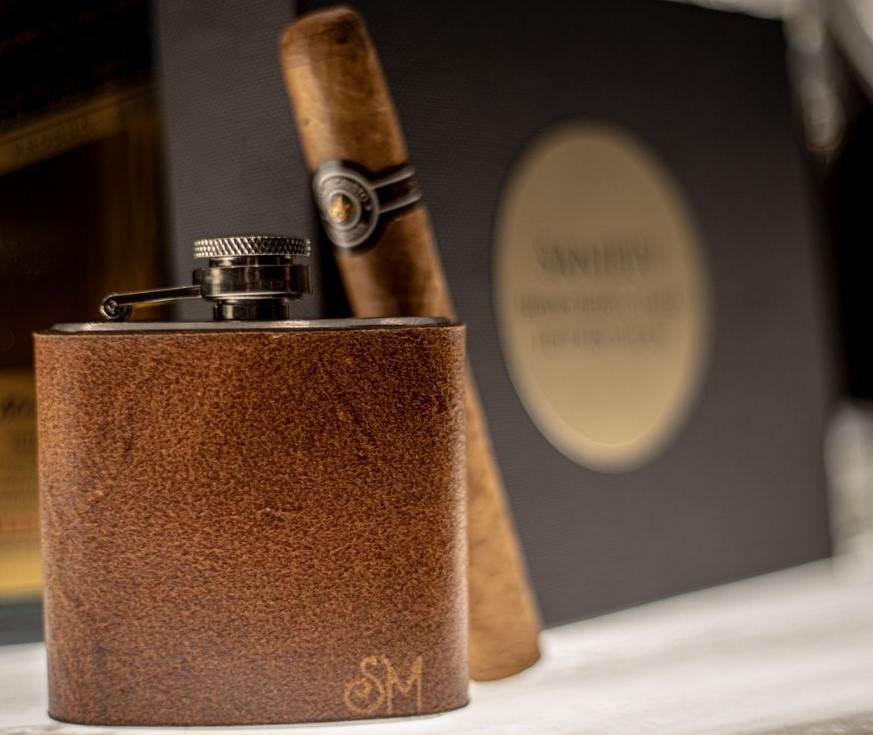 Thanks for sharing TLC's Top Cognac Cocktails