2020 Wedding Trends
January is an exciting time for wedding planners.  Not only is wedding season almost in full swing, but it's a perfect time of year to reflect on the wedding trends that will be coming in for the new year. Here, our CEO and expert wedding planner, Liz Taylor outlines her predictions for the 2020 Wedding Trends we'll see in the new decade.
Firstly in our 2020 Wedding Trends is the move towards global 'wellness'. Princess Eugene lead the charge for environmentally friendly weddings, when she went entirely plastic free for her big day. This may have been a few years ago now, but it marked a general trend for couples being kinder to the environment as they say 'I do'. It's showing no signs of slowing.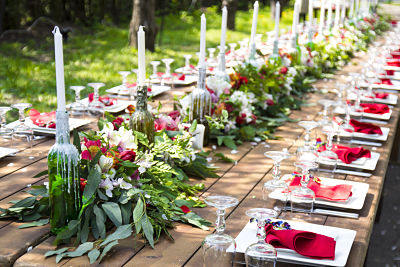 Environmental responsibility
Choosing local suppliers, foraging for flowers or using potted plants rather than cut floral arrangements which then double as wedding favours are just some of the ways you can have an eco-friendlier wedding.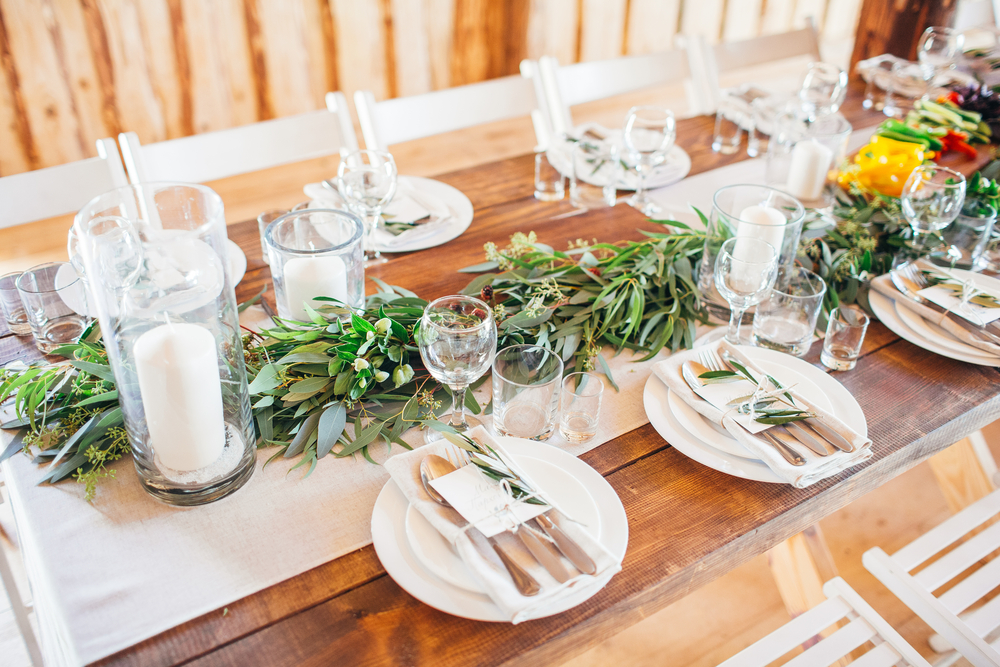 Many couples are shunning single use décor, confetti, even dresses for versions that have been, or can be, used again. Suit rental is nothing new within wedding planning. However, some brides are now renting bridesmaids and even wedding dresses or opting for preloved garments which are altered to suit. A knock-on effect of this is that bridesmaid and groomsmen are becoming more eclectic. They are often being viewed as a collection rather than all wearing matching with outfits and combining a range of colours and materials.
Within décor, the look is to be more stripped back and simple. Couples are moving away from white starched table linens and fine dining in favour of natural fabrics such as jute or hessian which has a real rustic appeal. At the other end of the scale and for a more luxurious look.  We've been asked to incorporate rich sumptuous fabrics like velvet on tables and then have these made into curtains, cushions and other soft furnishings afterwards. So, everything is reused or recycled in some way.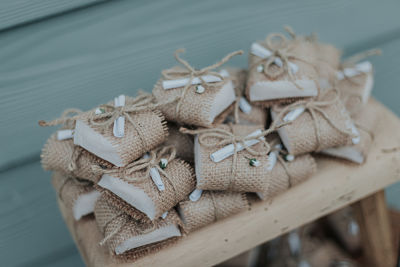 Thrift stores, online auction sites and car boot sales can be a treasure trove of vintage table wear.  From retro champagne glasses to candelabras there's a world of beautiful and affordable items to discover. Another idea is to save up gin or wine bottles (especially those that are particularly intricate) and use these for table names or even as part of a DIY ice sculpture centrepiece.
RELATED TOPIC: If you like our 2020 Wedding Trends, take a look at these Top Wedding Cake Ideas
Personalisation
At TLC we always look to include personal touches that tell the bride and groom's own unique story. Far more frequently couples are looking for new and original ways to represent their relationship.
There's a move away from mass produced, off the shelf in all elements of wedding planning.  Personalisation is becoming a huge trend. One emerging idea is the wedding canvas.  Commissioning an artist to capture the overall feel of the day within a bespoke art piece. Prints are then sent out afterwards as favours.
One interpretation of the personalisation trend that's really taking off this year is bespoke embroidery. Seen on anything from table cloths to wedding dresses, veils or trains to handkerchiefs and place settings. It may be initials or dates that feature. More frequently we're being asked to incorporate words from a poem or a special song, a place or a phrase used in a proposal – even lines from a TV show or film.
I really love this idea for table linens – it's a simple and surprisingly affordable way of creating a very high-end look!
Statement veils with personalised typography are hugely popular. This is thanks to Hayley Bieber who wowed the world with her Virgil Abloh dress and dramatic veil, which had the words 'Till Death Do Us Part' stitched into the hem.
Sociable dining and decor
Mirroring the trend that's emerging in many restaurants and dining experiences, we're seeing more and more couples opt for banquet tables for their room layout. It provides a much more sociable experience, encouraging guests to mingle, as well as the opportunity for spectacular table décor. Very often with this layout we'll create bountiful table centres abundant with fruit and seasonal produce. For food we'll go with huge sharing platters or tapas style dishes providing another opportunity that encourages conversation.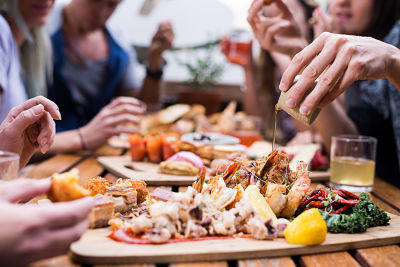 For this trend we'll often suggest suspended floral arrangements rather than table centres that provide a barrier to conversation. This is an emerging trend within itself.
Moving into the ceiling space is one of my favourite and most impactful ways to decorate a room. Huge floral installations can be clustered and cloudlike or an entire floral canopy.  It's just a matter of choosing the best seasonal flowers to create stunning effects.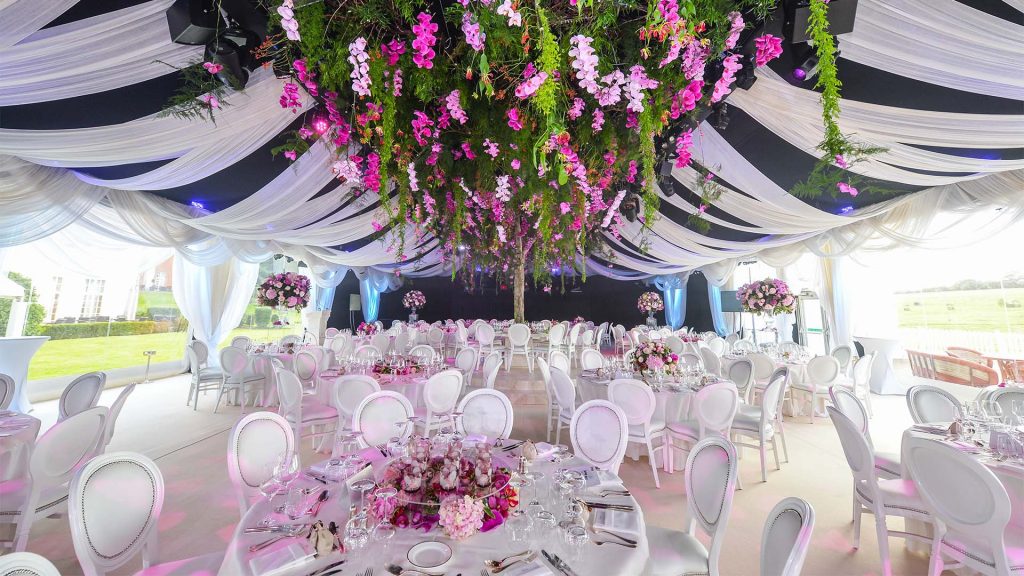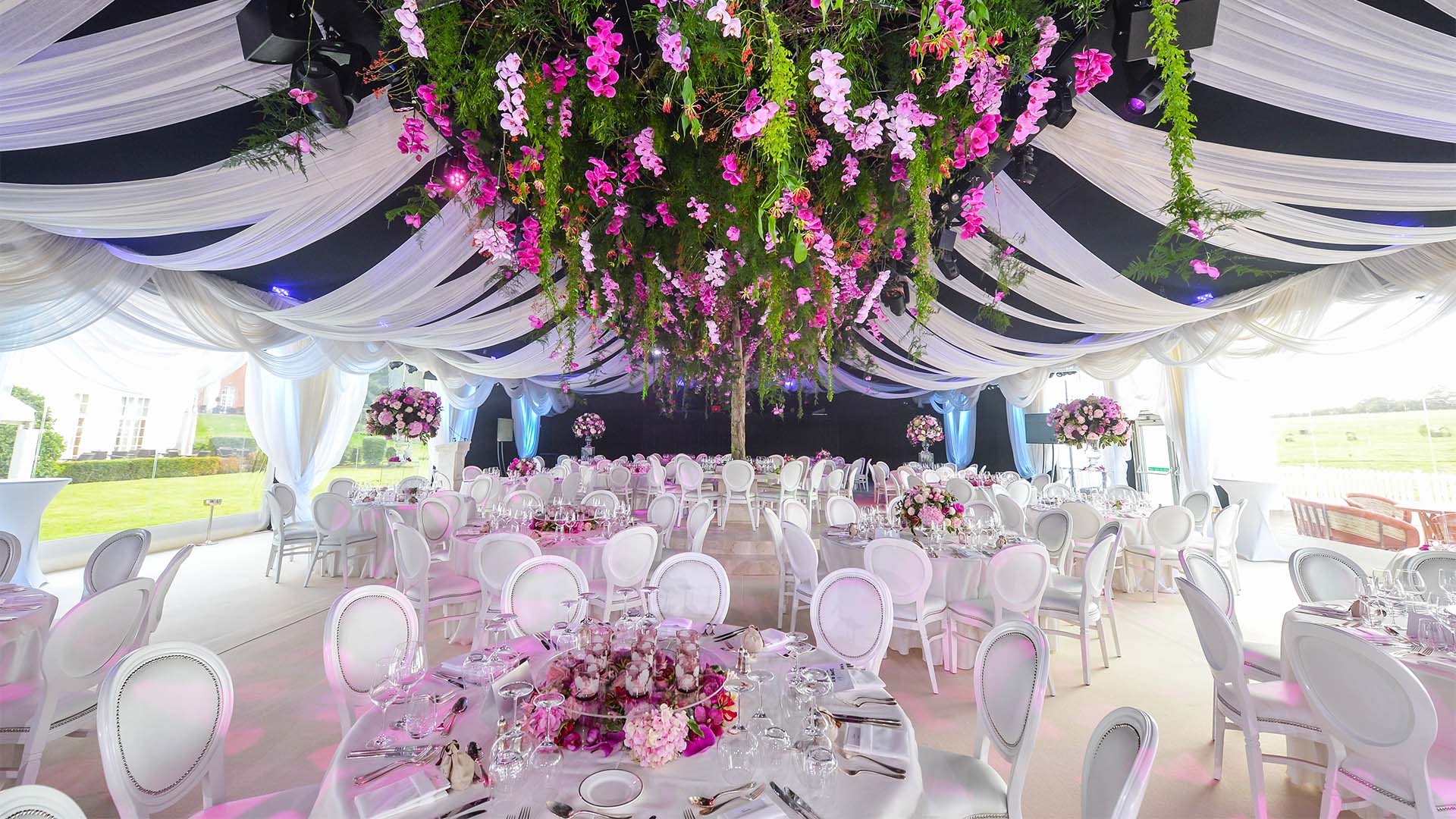 And for those lucky enough to have an outdoor space in which to dine, banquet style tables look even more fabulous especially when lit by candle light and fairy lights. Venues that form the perfect backdrop for banquet style wedding include castles, barn conversions and stately homes.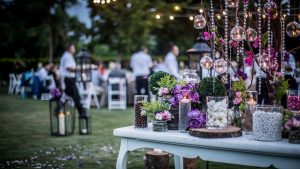 Cool Colour Trends
Lastly on our list of 2020 Wedding Trends is cool colour choices. Two colour schemes are fading in favour of an overall vibe – which again brings in that eclectic feel I mentioned previously. One of my favourite looks is choosing a single colour and then create an ombre effect. This sees planners taking the colour throughout the room from it's very lightest to darkest form. It's a classic look that's effortlessly chic.
The Pantone and Dulux colours of the year are always a huge influence on wedding colour choices. This year both of the trends experts have opted for colours at the cooler end of the spectrum. Tranquil Dawn from Dulux is a cool shade of sea green. Whereas Classic Blue from Pantone is said to be 'reminiscent of the sky at dusk'. It's rich and inviting with royal connotations so ideal for a wedd