A few years ago I had the good fortune to be invited to the Queen's garden party at Buckingham Palace, in recognition of the work I was doing with the North West Fundraising Committee for the Prince's Trust. It was a once in a life-time opportunity and, of course, I loved every minute of it.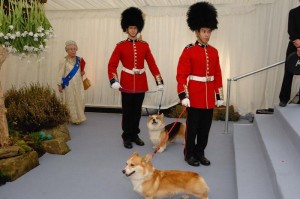 Each year the Queen hosts at least three garden parties at Buckingham Palace as well as one at the Palace of Holyroodhouse in Edinburgh. It is a tradition that goes back to the 1860s, when the then monarch, Queen Victoria began holding Royal 'breakfasts', held in the afternoon. The events were initiated to take the place of presentation parties attended by debutantes, but today are a way of rewarding and recognising public service and are attended by people from all walks of life.
It was a magical day, the only downside being that official photographers are the only people allowed to use cameras within the palace grounds. But, while I can't share any photos from the day, I came away with lots of wonderful memories and plenty of ideas.
So, how do you throw a garden party fit for a queen?
Be clear what guests should expect
Garden parties are among the most relaxed and informal of the events hosted by the Royal family. Saying that, a strict dress code still applies and women are asked to wear a hat or fascinator. For me, finding the perfect hat to go with my outfit was a huge challenge, so I was pleased to get plenty of notice for the invitation and it was very helpful in advance to know what to expect.
Do the final checks yourself
Depending on the size of your event you may need to employ staff to look after different aspects of the party. While you don't need to do everything yourself, you do need do the final checks before the event begins. I'm told that even the Queen personally checks everything before the gates of the Palace are opened to guests – she is a diligent hostess.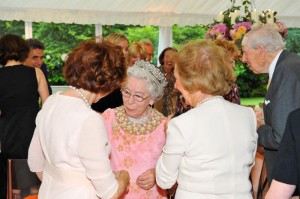 Make your guests feel welcome
No matter how many guests you are entertaining, it is important that they are welcomed, either by you or by a member of your family. The Queen invites about 8000 people to each party at Buckingham Palace. On entering the Palace and gardens all guests are greeted by staff. Her Majesty the Queen and The Duke of Edinburgh obviously cannot speak to each and every guest, but they do make sure that they are seen by as many people as possible and circulate through lanes led by the Yeoman of the Guard, Gentlemen at Arms and Gentlemen Ushers, so that all guests have an equal opportunity to speak to them. At the party they are also helped by other members of the Royal Family and I was delighted to meet HRH Prince Charles.
Keep buffet queues to a minimum
Catering for 8,000 guests is no small task, especially when you consider that at a typical royal garden party around 27,000 cups of tea, 20,000 sandwiches and 20,000 individual cakes are consumed. To ensure that the food is served in a timely manner the main marquee has a 400ft long buffet table sectioned off into a number of small food stations, all serving both sandwiches and cake. This way, what could easily be one long queue is split into several smaller queues which move very quickly.
Keep the facilities clean
Using portable lavatories is often the most unpleasant part of any outdoor event, so were the Royal lavatories any different? Organisers of big events will know that there has been a massive improvement in the quality of portable lavatories in recent years, and many, like those provided by the Queen, are fully flushable lavatories which mirror anything that you would find indoors. Whether your facilities are indoors or out, to keep with Royal standards make sure that they are kept clean, are well stocked with toilet paper, and that the washbasins have both hand wash and hand cream within easy reach, as well as a plentiful stock of paper or cloth hand towels.