Fans have been counting down the days to when everyone's favourite, raunchy period drama is back on screens. The highly anticipated second series of Bridgerton is now underway.  For those planning their big day, the Bridgerton wedding trend is quickly following suit.  Movies and TV series have long inspired wedding and party trends. And this series is no exception. A wedding style that's certain to impress, with a luxurious day full of Regency romance, decadent touches, and nods to romantic literature. The key for TLC as always is not to copy the show – but honour the style even in the smallest details. So, here's Bridgerton themed wedding ideas to help you to create your own unique big day:
THE BRIDGERTON SOUND
Firstly, music is hugely important at a wedding for setting the scene.  Putting people at ease or getting the party started. What many Bridgerton fans noted with joy about the first season's musical score was the inspired fusion of old and new. The soundtrack features a diverse collection of modern-day tracks reimagined with a Regency spin. Rihanna, Miley Cyrus, Nirvana, Harry Styles, Calvin Harris, Pink, and Madonna were all given the Bridgerton treatment. So why not follow suit with your Bridgerton themed wedding ideas, and hire a band to play classical covers of all your favourite modern songs.
DRESS THE PART
There's only one style of dress that will do for a Bridgerton themed wedding dress. The empire line was the style of the Regency era. A simple and flattering cut, it lends itself perfectly to a wedding gown. Especially for those brides who want to shy away from fuller princess-style dresses.
Something like this Markarian satin gown would provide the right silhouette and luxe material for a soon-to-be duchess, well it is Duchesse satin of course.
https://markarian-nyc.com/products/pre-order-yvetta-duchesse-satin-gown
For something a little more in-keeping with Daphne's style from the show, the delicate crystal detailing on this BHLDN gown is simply exquisite.
https://www.bhldn.com/products/marilyn-gown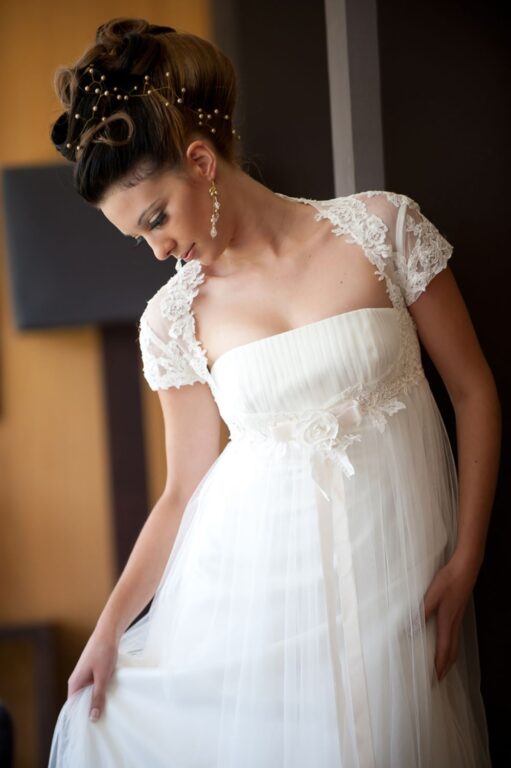 REGENCY RESIDENCES
Did you know, you can hire out locations that were used in the filming of the show for your wedding ceremony and reception? Certainly an authentic element to your Bridgerton themed wedding day.
Leigh Court in Bristol was used for some of the ballroom scenes. A 19th century Palladian Mansion set in 27 acres of manicured lawns and ancient woodland. Similarly, The Royal Crescent in Bath also featured heavily. What a completely stunning setting for a Regency era wedding day with rooms of all sizes and even a wedding garden set against the stunning Georgian architecture. Dorney Court, was the setting for Daphne and Lord Bridgerton's wedding night and Bridgerton House is Ranger's House in Greenwich.
If locations from the show are not within reach logistically then choosing a heritage wedding venue with Georgian architecture is the perfect style. Mottram Hall, Lyme Park and Tatton Hall would both be brilliant options for Cheshire wedding venues.
And if you want to recreate a Bridgerton wedding venue to your own taste, why not create a unique set which can be designed inside the venue of your dreams. TLC work with professional set designers to transform spaces into everything from Alice in Wonderland, and Back to the Future to Alpine Ski Lodges. Every detail authentically reproduced to create a memorable backdrop.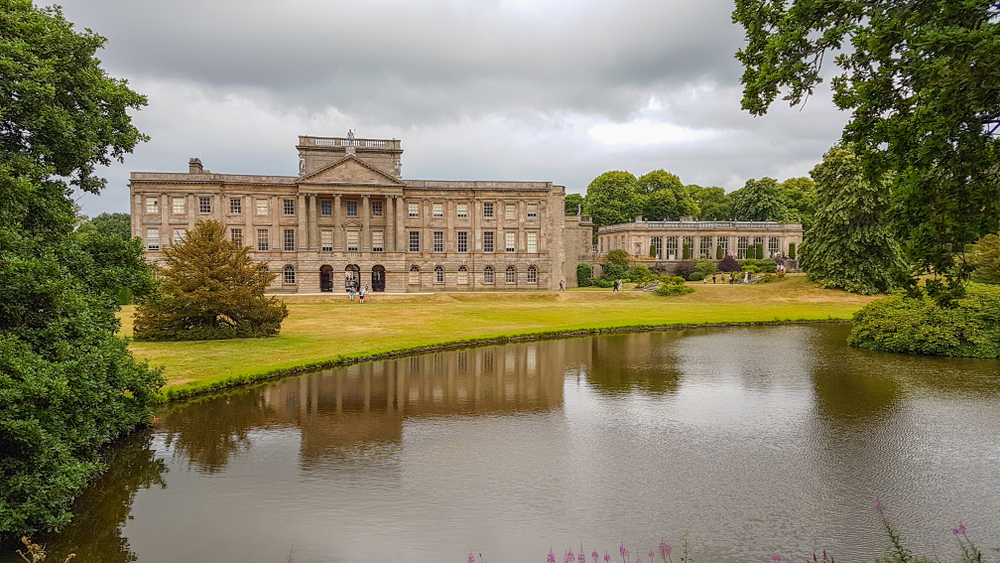 YOU ARE CORDIALLY INVITED
Wedding stationary with a romantic literature theme is the perfect way to invite your guests to your special day. You can include details such as gold leafing and deckled edging. Or add a custom crest created just for your day.
Wording is everything. For this type of design, you need elevated levels of formality. Hire a calligrapher for an authentic touch. Yes, guests should be 'cordially invited'.
Alternatively, if you're the creative type, why not write it in the style of Lady Whistledown's Society papers sharing all the 'gossip' on the day to come. Or for a more personal approach. Create your invitations in the style of the cover of your favourite romantic novel from the era.
TRUE-BLUE BRIDGERTON
Lastly, Regency-blue. So called as it was the dominant hue from the era. It's the perfect colour choice for your wedding, especially as we head into Spring Summer. If you're keen to try something blue for your wedding day why not include it in Bridesmaid dresses. Such as these beautiful button-down, empire-line gowns by Ghost:
https://www.ghost.co.uk/delphine-dress10-df46ca-k80?pk_cid=1&pk_keyword=5059814059907&pk_medium=multifeeds&pk_campaign=Google&pk_source=Google&pk_content=ClothingAccessoriesClothing&utm_source=Google&gclid=Cj0KCQjw0PWRBhDKARIsAPKHFGiPV8YSFok26AhXoEqYD9PF-sU27YkFCC4MFfubMysL9A3p9b9Uc8QaAgjYEALw_wcB
Blue floral displays can be created from seasonal blooms. Hydrangea, hyacinth, and forget-me-nots being some of the most popular. Take it outside and create stunning floral architecture as a backdrop for your ceremony. Or line the aisle with an abundance of blousy, blue, blooms.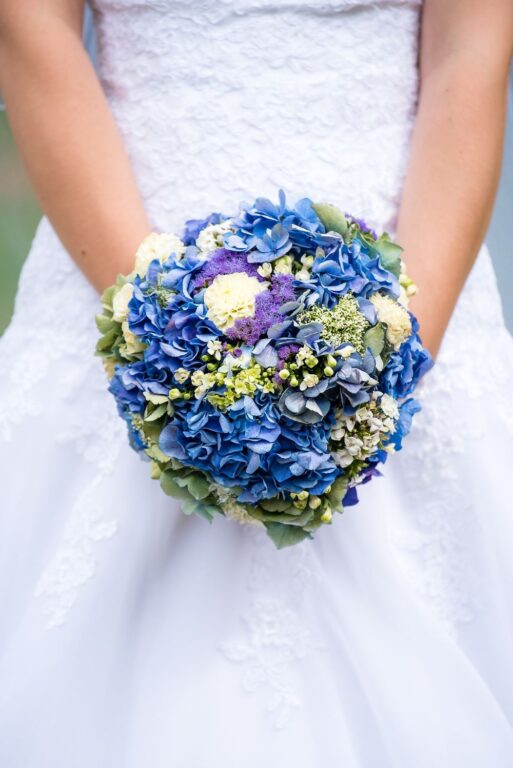 A cute blue touch. Bake some wedding favour cookie-pops baked in the style of Regency brooches and iced to perfection in your colour of choice.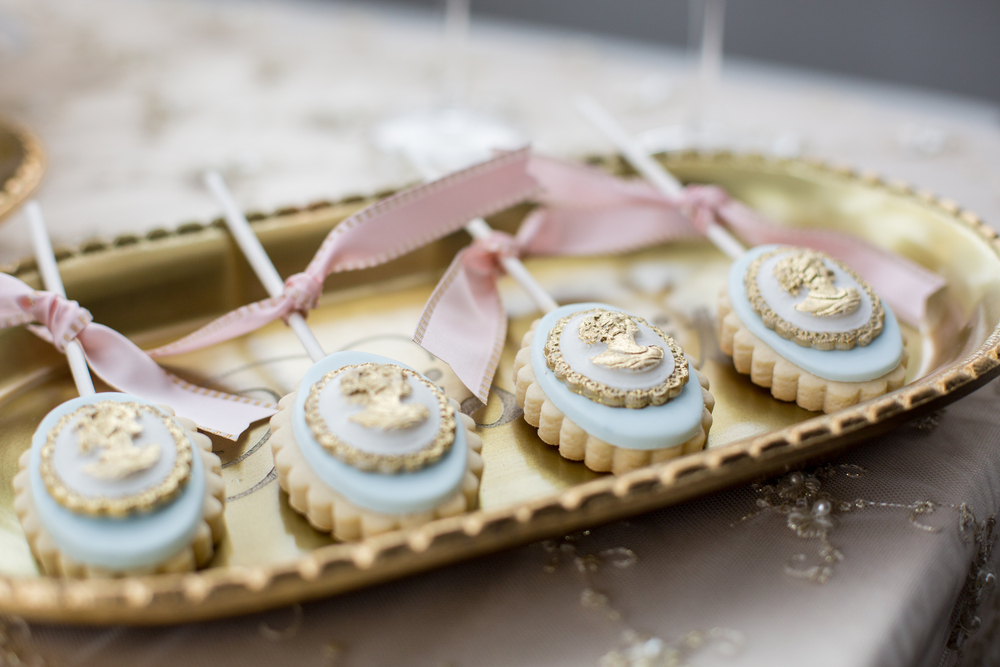 BLUE SKY THINKING
Regency Blue is remarkably similar to Bright Skies, the Dulux colour of the Year. Head over to our blog for some 'blue-sky thinking' wedding day inspiration.
https://www.tlc-ltd.co.uk/bring-bright-skies-thinking-wedding-day/

FURTHER READING
If you loved Bridgerton and want to broaden your literary horizons, then why not indulge in some of these classic novels from the Regency era. https://bookriot.com/best-regency-romance-novels/
And in January 1813, an advertisement appeared in The Morning Chronicle, a popular London newspaper. It announced the publication of Pride and Prejudice at a price of 18 shillings.  This Jane Austen classic is a must for Regency buffs!
Thanks for sharing our Bridgerton Themed Wedding Ideas!