PRESS RELEASE

April 30, 2015
CHANNEL 4 COMMISSIONS REMARKABLE TELEVISON TO PRODUCE A TX PILOT FEATURING PARTY PLANNER TO THE STARS, LIZ TAYLOR
THE 1 X 60 MINUTE DOCUMENTARY WILL BROADCAST ON CHANNEL 4 LATER THIS YEAR
Channel 4 has ordered Remarkable Television, part of Endemol Shine Group to produce a TX pilot about Manchester's premier party planner, Liz Taylor.
Viewers will be provided with a dazzling insight into what it takes to deliver the most lavish and exclusive Balls, Barmitzvahs and Birthday Bashes in the North West.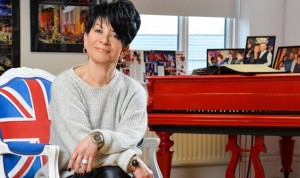 Liz has been working in the business for nearly 30 years and now runs one of the UK's most successful events management companies.  From her HQ in Manchester she plans celebrity weddings, exclusive balls, lavish parties and private events.
Liz starts 2015 with her busiest diary yet. Business is booming and the cameras will follow her as she juggles demanding clients and organises high profile events.
The world of party planning is one of exclusive property, ostentatious fashion, lavish food and exquisite flowers, all mixed up with high drama, tantrums and, occasionally tiaras.
From a massive fund raising charity ball to an exclusive dinner party hosted by a multi-millionaire, the money pit is bottomless, the stakes are high and the expectations are enormous.
When it comes to throwing a successful party, the devil is in the detail ……. everything must be perfect, and hell hath no fury like a party planner ignored! 
Liz expects only the best from her team of 'super suppliers' of chef, florist, lighting director and personal assistant.  These key figures are under huge pressure and ensure her parties go with a bang not a whimper
From food tasting and floor planning to booking entertainment for her clients, no job is too big or small for Liz and her team.
This TX pilot will be packed with high drama, inconceivable spending, lavish locations, high fashion, incredible food and flowers, multiple party reveals and jaw-dropping drama.
Channel 4's Head of Features Gill Wilson said: ""We're hugely excited to be allowed backstage and behind the scenes of the lavish world of ostentatious events and cannot wait to see all of the tears, tantrums, drama and demands that Liz Taylor and her team have to deal with."
Colette Foster, Managing Director at Remarkable Television adds: 'Liz is fun, feisty and a fearless businesswoman and the world of party planning takes us into a host of classic features territories – property, food, flowers and fashion.  Her larger than life personality and unflinching eye for detail is combined with multiple dazzling reveals and a programme packed with take out. We're hugely excited about this entertaining new format.'
The Liz Taylor pilot was commissioned by Channel 4 Head of Features Gill Wilson. The series will be executive produced by Oliver Wright at Remarkable Television, part of Endemol Shine Group.
About Endemol Shine UK
Endemol Shine UK is behind a diverse range of hits including Big Brother, Black Mirror, Broadchurch, Deal or No Deal, Grantchester, Masterchef, Mr. Bean, One Born Every Minute, Peaky Blinders, Pointless, Sunday Brunch, The Fall, The Island, The Million Pound Drop, Vicious, 8 out of 10 Cats and many more
Labels within the UK Group include Artists Studio, Brown Eyed Boy, Cave Bear Productions, DSP, Dragonfly, Fifty Fathoms, House of Tomorrow, Initial, Kudos, Lovely Day, Princess Productions, Remarkable Television, Shine North, Shine Soho, Shine TV, Tiger Aspect, Tigress and Zeppotron.
The company is part of Endemol Shine Group – the global global content creator, producer and distributor with creative operations in over 30 markets, with a portfolio of over 600 revenue generating formats across scripted and non-scripted genres; coupled with digital, gaming, and distribution operations.