Understanding the latest trends in wedding colours, styles, music, and the like, is the hallmark of an excellent wedding planner. At TLC, we not only understand the key trends – we set them! And for us, a sound prediction for influences on wedding design is the Pantone Colour of the Year. For which the trend forecasters this year have chosen a purple hue; named Very Peri. So, our team's ideas are at work to share stylish ways that you can incorporate Very Peri into your wedding day.
A FUSION SHADE
Rather than being selected from the existing colour range, Very Peri breaks the mould in being an entirely new colour for Pantone for the first time ever. It's a combination of two existing shades – periwinkle blue and energizing violet. As such, Very Peri embodies the creativity and innovation sparked throughout the pandemic and reflects the transformation many of have undergone over the past two years.
In line with this philosophy, it's lucky that creative ideas and thinking outside the box are our speciality here at TLC.  As such we have fabulous ideas and unique ways to incorporate Very Peri into your wedding day as a bold main colour, or as a touch of glamour.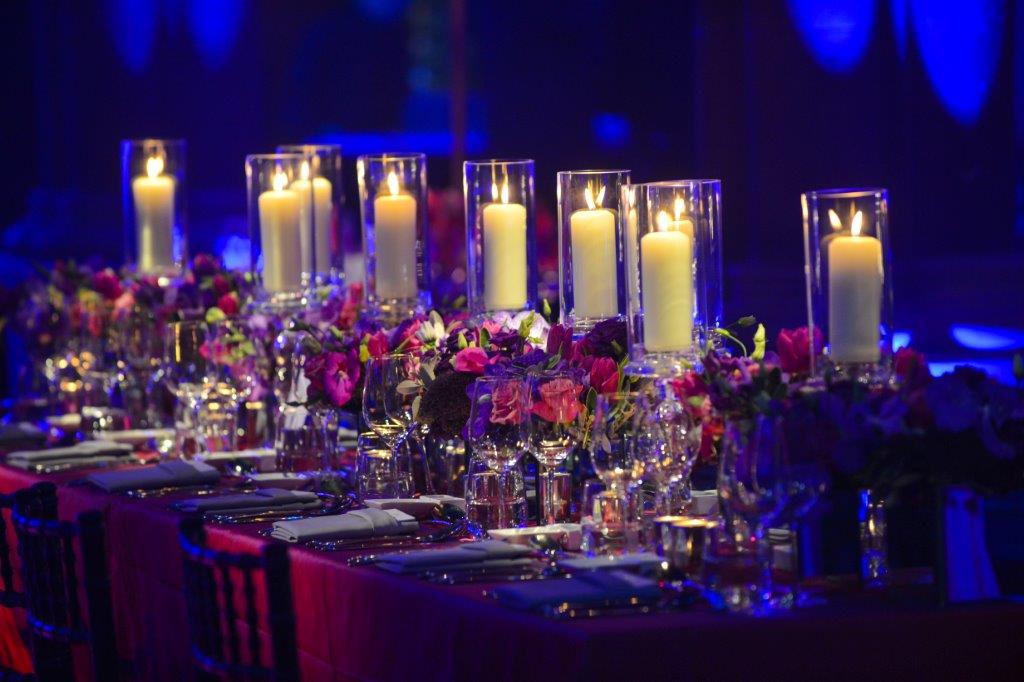 Very Peri is a dazzling shade. Not just because purple is traditionally a very romantic colour and therefore ideal for weddings. It has regal associations too, making it a great match for the year of the Queen's Jubilee. Being inclusive, it is neither a traditionally masculine nor feminine hue, so it can be worn easily by any one of the wedding parties. For bridesmaids, a collection of purple shades will look classically beautiful. Or introduce pattern for a fresh, spring look: PATTERN
For groomsmen, a purple cravat adds the perfect finishing touch. But why not go the whole hog with this purple evening suit from Paul Smith.
ADD A POP OF VERY PERI
As well as going all out, colour can be introduced into weddings in very subtle ways. A flash of colour. A pop of purple on the base your shoes for instance. So that, if at a church ceremony, the congregation gets to see your Very Peri shoe sole as you kneel.  An upturned colour. Use as a suit lining, the underside of a tablecloth, a stylish clutch. Delicate touches that provide a glimpse of Very Peri in a uniquely stylish way.
CHRISTIAN LOUBOUTIN shoes £595.00
Marbled Clutch, Farfetch, £3118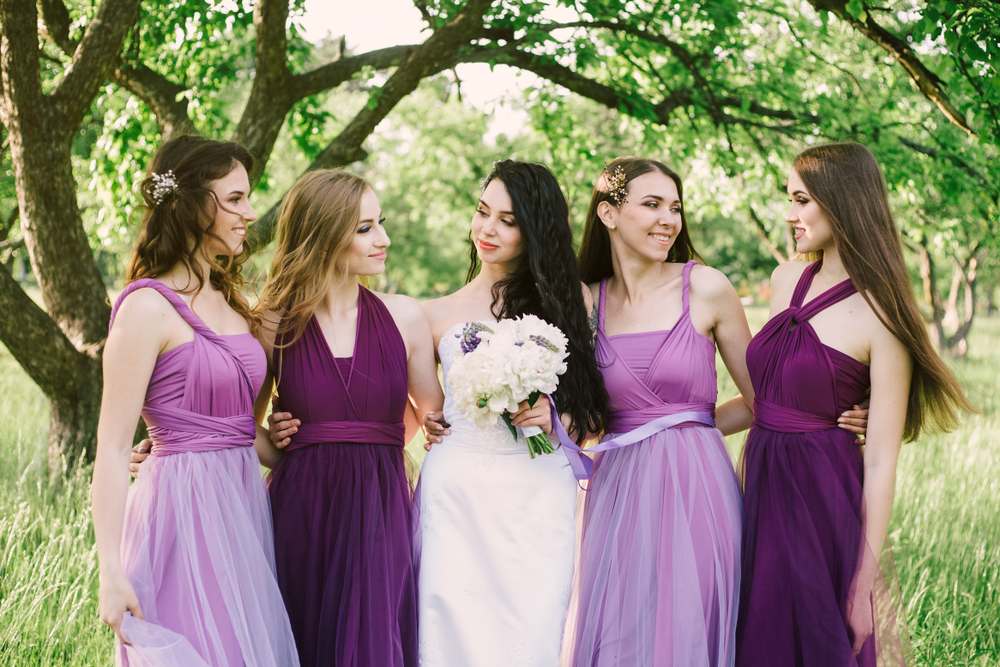 LAYER IT UP
Add a purple base. Then layer up Very Peri accents up over the top. It's a myth that you need to have white table linens. In fact, swapping them out for a coloured base creates an instant lift for any room. Another myth is that you need to contrast your accessories over the top. Layering up finishes and textures in the same tone is equally effective. Adding vintage glassware, tapered candles, glazed crockery, and a mix of materials all in the same hue is very chic. If you do want contrast, try an Ombre effect. Taking it from the very lightest and brightest, to the richest shade of the hue.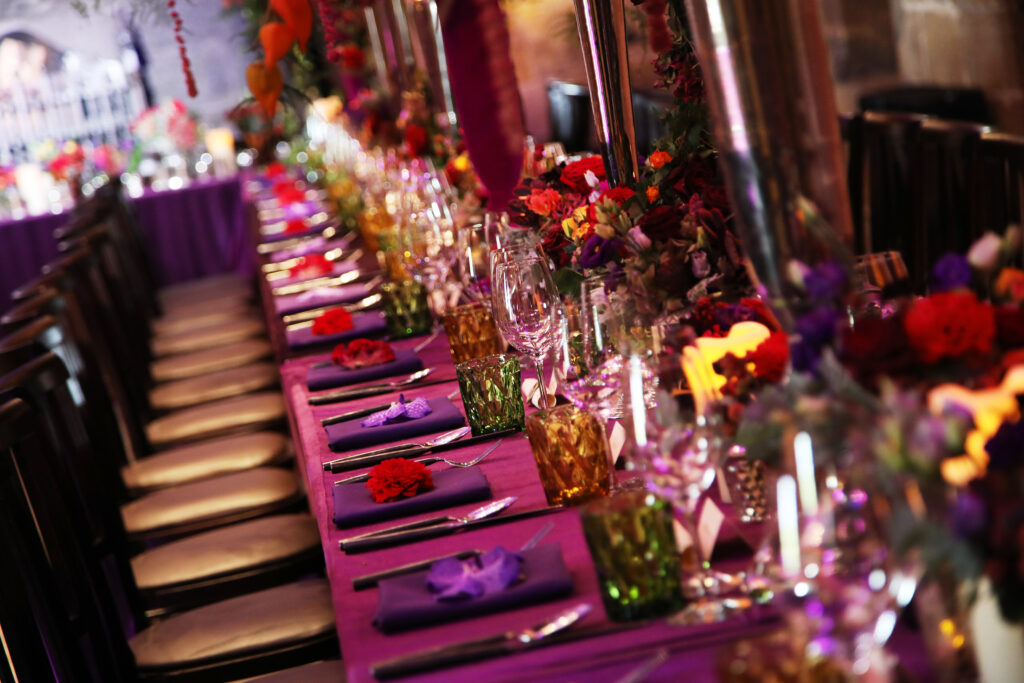 STYLE IT DARK, THEN LIGHT IT UP
People often underestimate lighting for a wedding day; or are unaware of its transformational properties. For truly dramatic lighting, you need a darkly decadent backdrop and purple is a brilliant hue for this base, providing just the right balance of warmth and energy. Purple spots, lasers, uplighters, wall washers and a host of other lighting effects can provide a breath-taking scene. If you want contrast, use yellow spotlights to cut through the purple haze.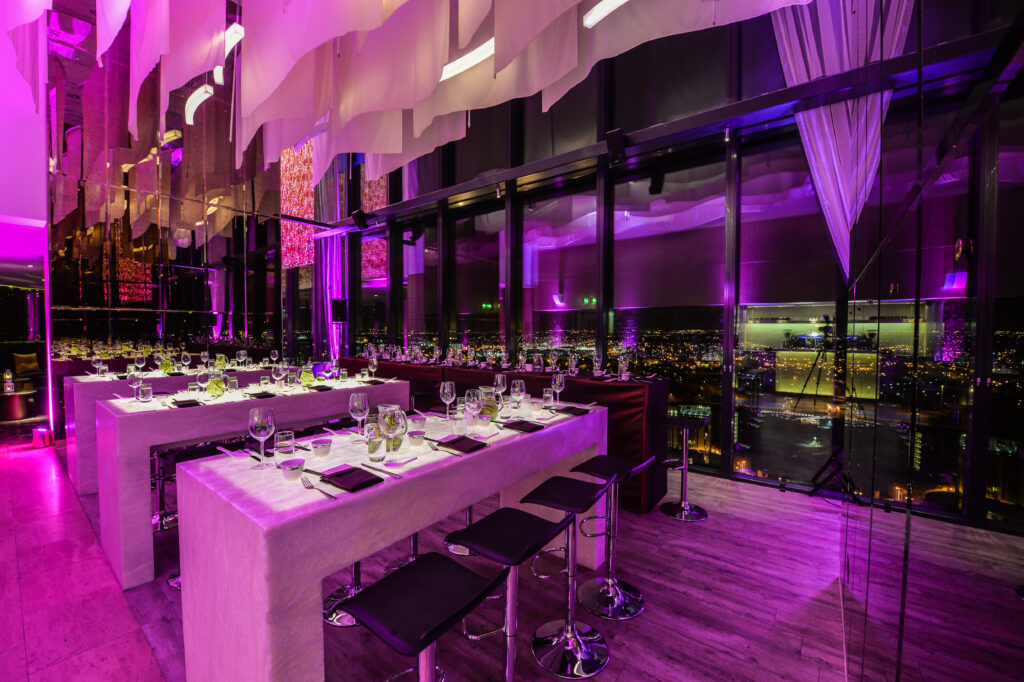 PAIR VERY PERI WITH ORANGE
You may think that orange and purple would appear garish, but just look at how wonderful this colour combination looks for table centres – either with bright blooms mixed or alternating imposing stand-alone column centres. It's an impactful colour scheme, but what's not to love about making an impact? Tonally, orange and Very Peri are on opposite sides of the scale. Incorporating colour theory, they are known as 'complementary colours' which means when bringing them together they appear more vivid. It's a bold statement for sure, but at TLC we live by the rule of go big or go home.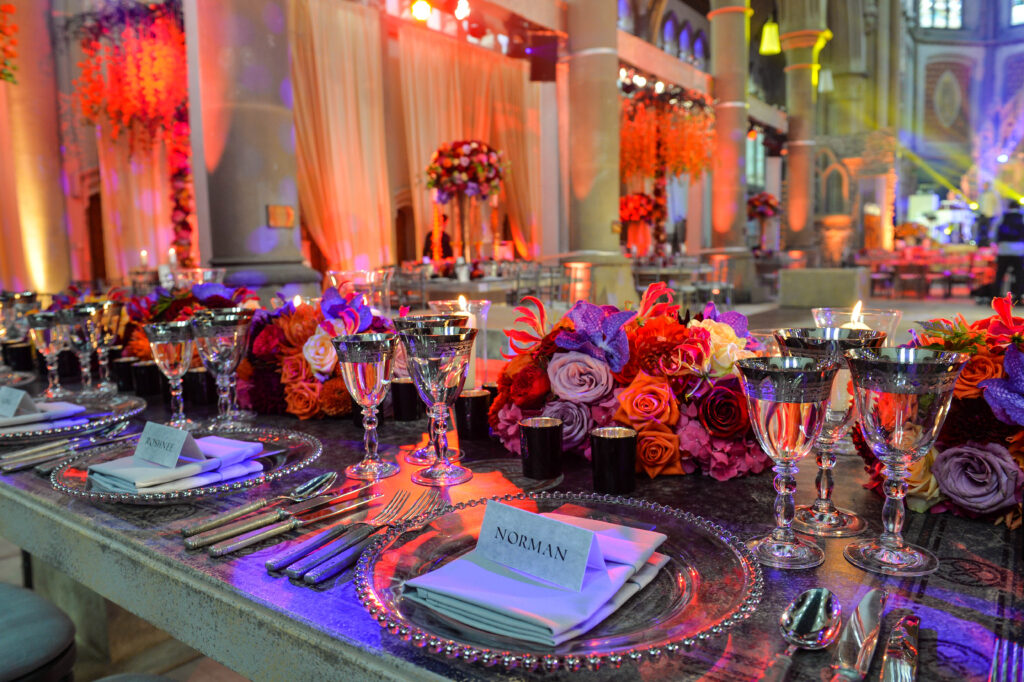 ADD IN MOOD LIGHTING
Deadly nightshade. A single vintage lampshade is enough to provide a hypnotic atmosphere and a touch of vintage glamour on these Very Peri themed tables. Alternatively dial up the romance with an array of column candles. For a softer look try swathes of material hung from the ceiling, then add Very Peri with up lighting effects.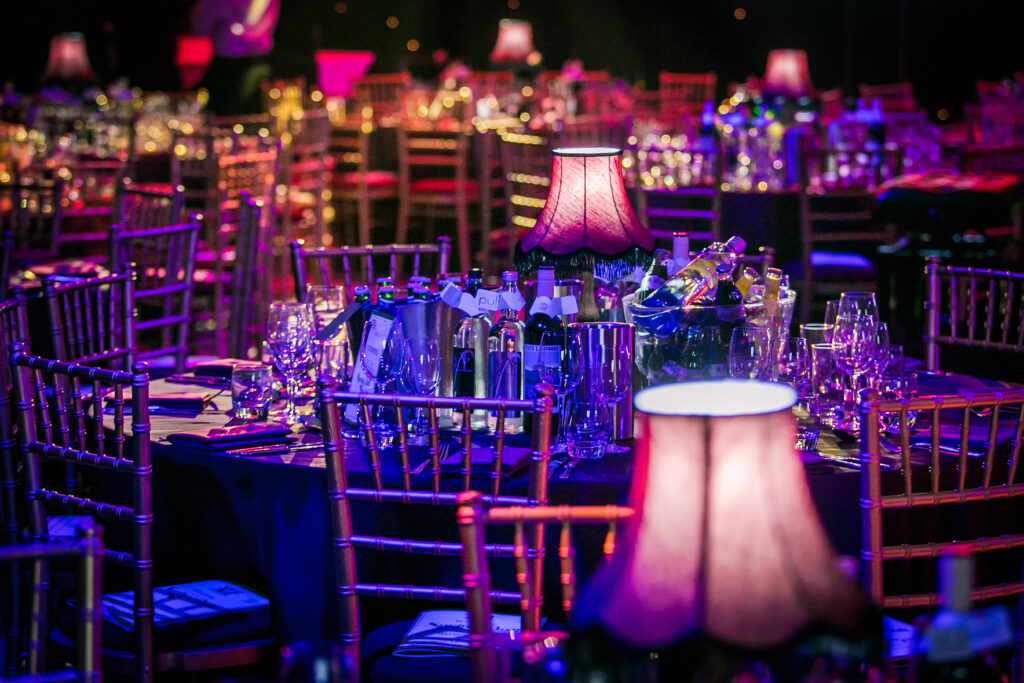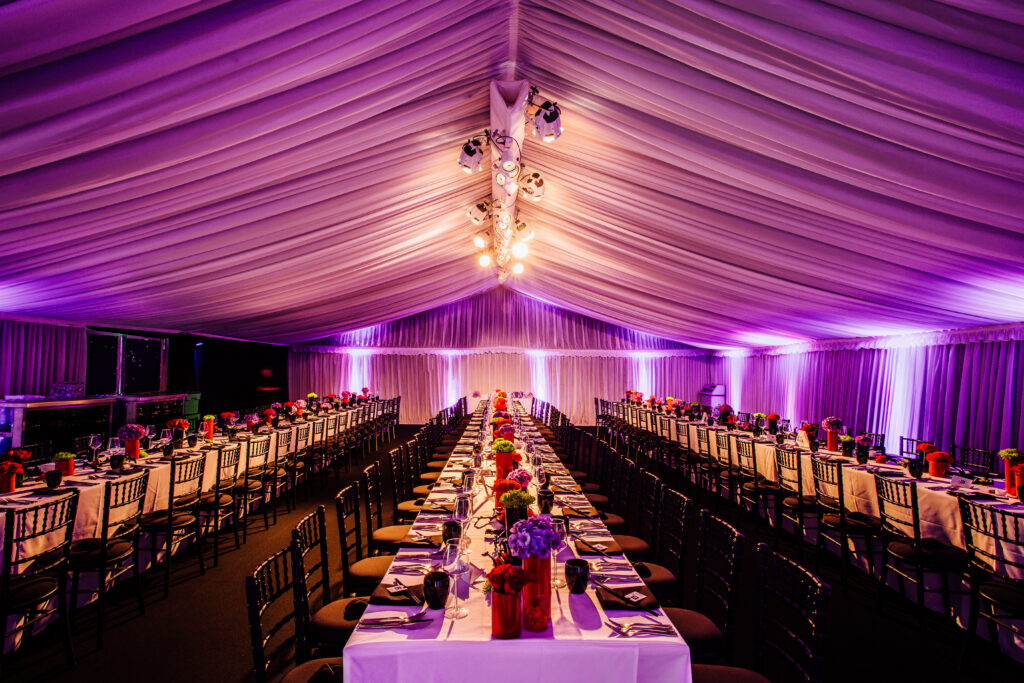 A TASTE OF VERY PERI
Another very tasteful way to incorporate Very Peri into your wedding day is with the food, such as by adding in tiny edible flowers to this fruity dish.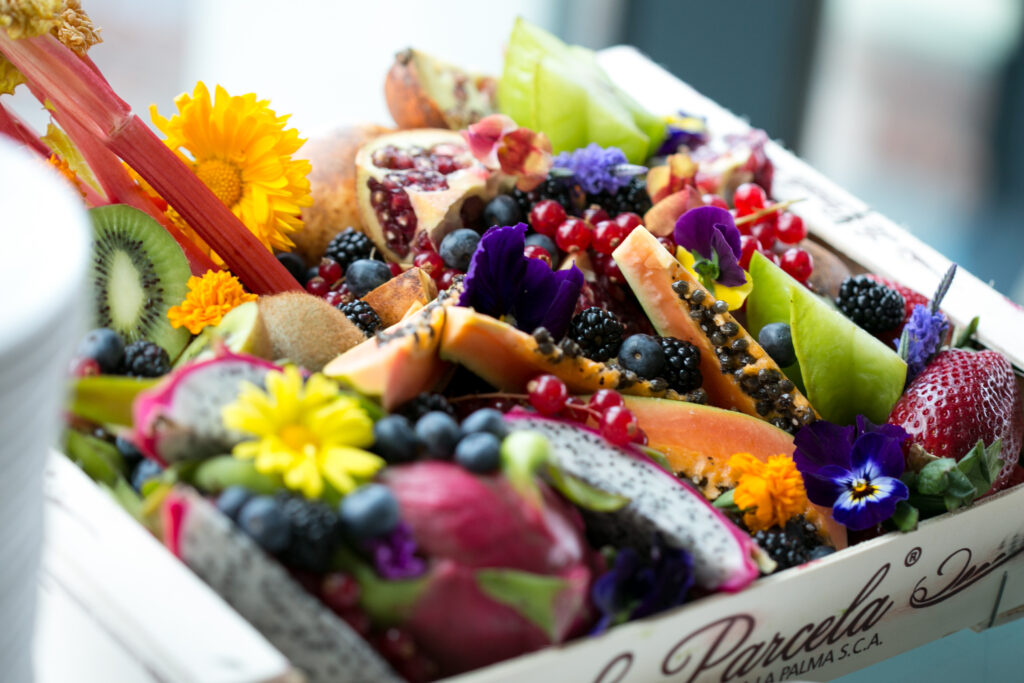 Give your cocktails a violet Very Peri twist with one of these tasty recipes https://insanelygoodrecipes.com/purple-cocktails/ Even better hire in a mixologist to wow the crowds and do the hard work for you.
From modern cakes incorporating geometric styling. To traditional tiered wedding cakes with alternating purple layers. Very Peri wedding cakes make a real statement too, just look at this gallery of inspiration and you can't go far wrong: https://www.satinice.com/gallery/purple-wedding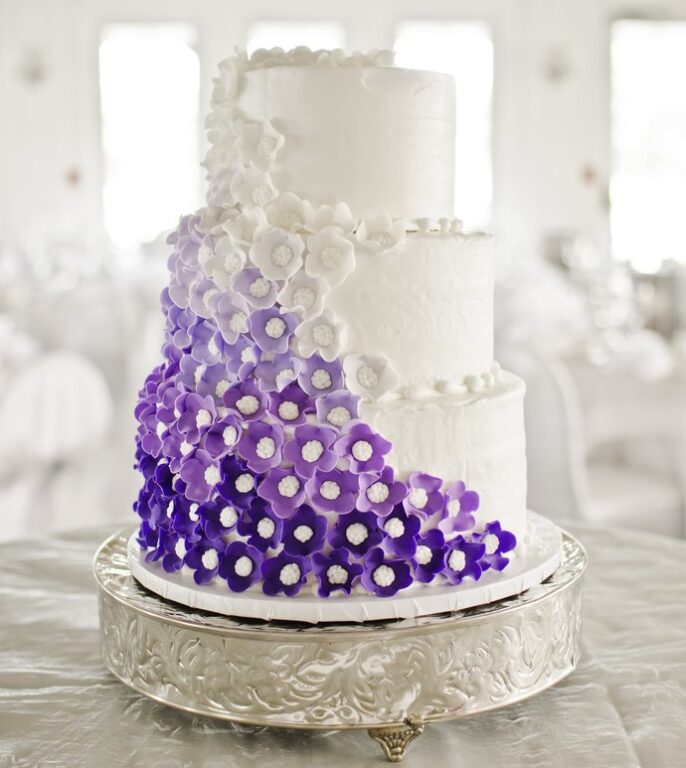 LET NATURE BE YOUR BACKDROP
Fields of lavender or heather can provide a stunning backdrop for your wedding pictures, so if you're lucky enough to find a venue nearby such flora in season, be sure to take advantage.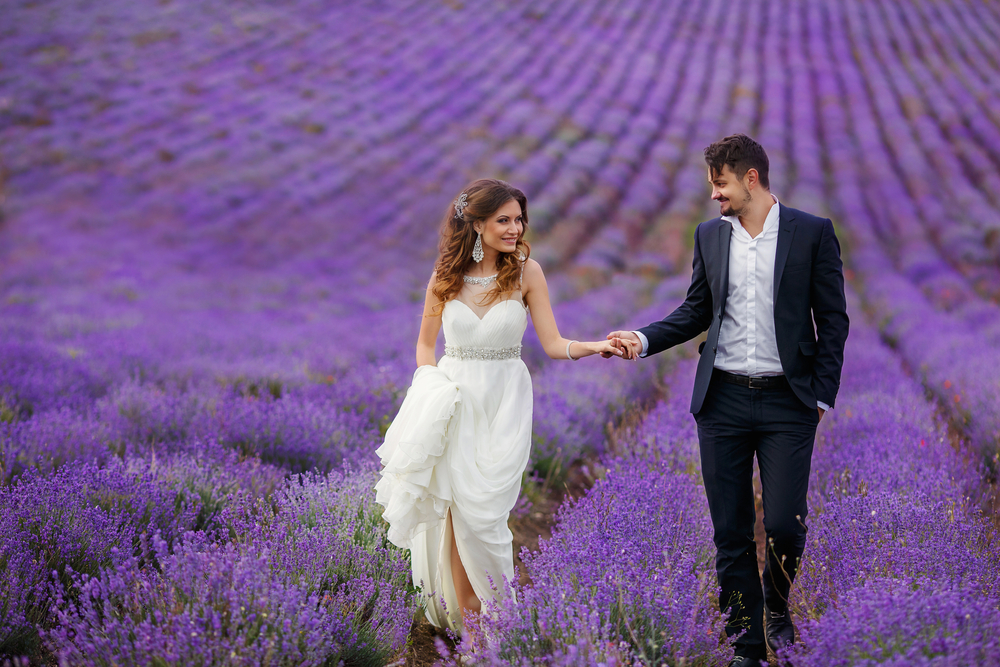 A FINAL SPLASH OF COLOUR
Other ways to incorporate Very Peri into your wedding day:
Try this truly dramatic wedding bouquet
Look at these beautiful flower girl dresses with full Very Peri skirts of tulle.
If you're no shrinking violet, then find more colour inspiration over on our blog:
https://www.tlc-ltd.co.uk/bring-bright-skies-thinking-wedding-day/
Share the love and ideas on how to incorporate Very Peri into your wedding day!