This week the nation will officially be celebrating, not just because we have an extra bank holiday, but because it is being used to mark 70 years of Queen Elizabeth II's reign. It's a milestone that will see her become the longest serving monarch in history. And with four days off in a row and fine weather predicted, it can mean only one thing…it's time to party! And with our Jubilee party catering ideas, you can make the party a true feast!
We've been sharing our thoughts and expertise on every element of planning a Jubilee celebration. How to dress your venue with our blog on Jubilee party décor ideas. To making it a party to remember with TLC's Jubilee entertainment ideas. Our attention now turns to the all-important food and drinks. Expert advice on how to cater for a large group at your Jubilee party, without losing the sense of fun, luxury, and Royal style.
Read on for our top Jubilee party catering ideas.
THE QUEEN ELIZABETH'S FAVOURITES
It only takes a quick Google to find a catalogue of the Queen's favourite dishes and refreshments so why not plan a more intimate party with close family and friends incorporating everything she loves. According to an interview in Hello! Magazine with her Majesty's former chef there are various delicacies you could add to your menu.
For starters, Gleneagles pate is a royal favourite. It features a trio of quality smoked fish – salmon, trout, and mackerel – expertly combined with cream cheese and a dash of lemon.
It is reported that The Queen is a fan of game – so for a sophisticated dinner party main course try venison with whiskey and mushroom sauce like this recipe from ITV:
https://www.itv.com/thismorning/articles/john-torodes-venison-fillet-with-mushroom-and-whisky-sauce
And for dessert? What about an individual miniature platter of the Queen's favourite cakes including lemon drizzle cake and chocolate cake?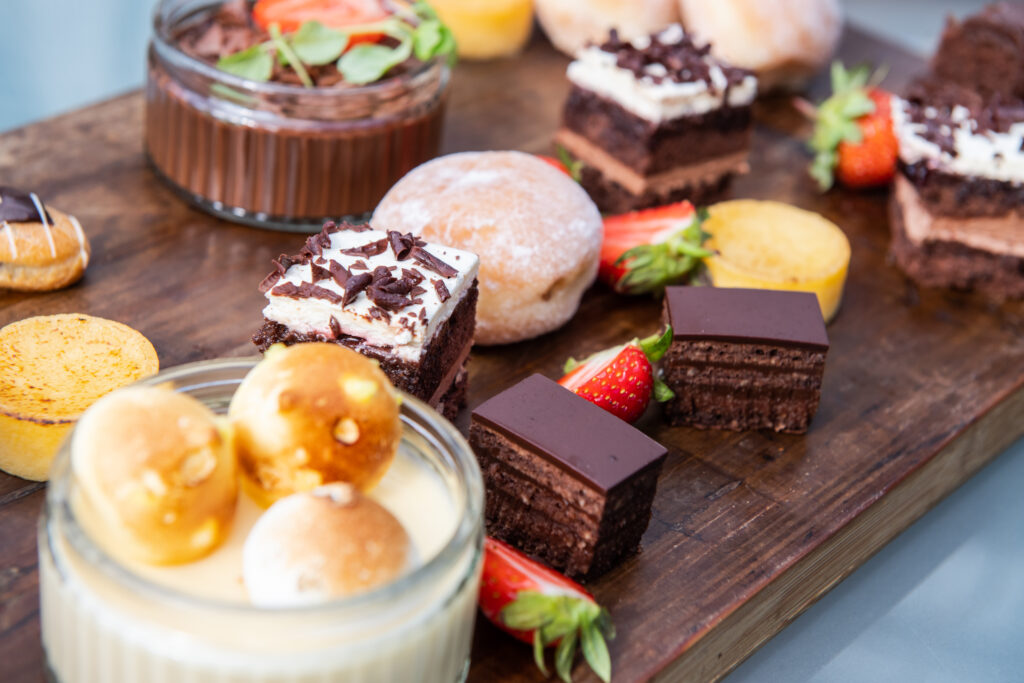 Or bring in her favourite tipple with some Dubonnet Jelly Shots or a Dubonnet sorbet served with classic lemon madeleines to celebrate the Queen's love of French cooking https://www.deliciousmagazine.co.uk/recipes/lemon-madeleines-with-gin-and-dubonnet-sorbet/
Keeping it simple with finest ingredients that the Queen would enjoy. Think Scottish raspberries for example. Add to miniature cheesecake or lemon posset pots to bring the flavour of summer to the dessert.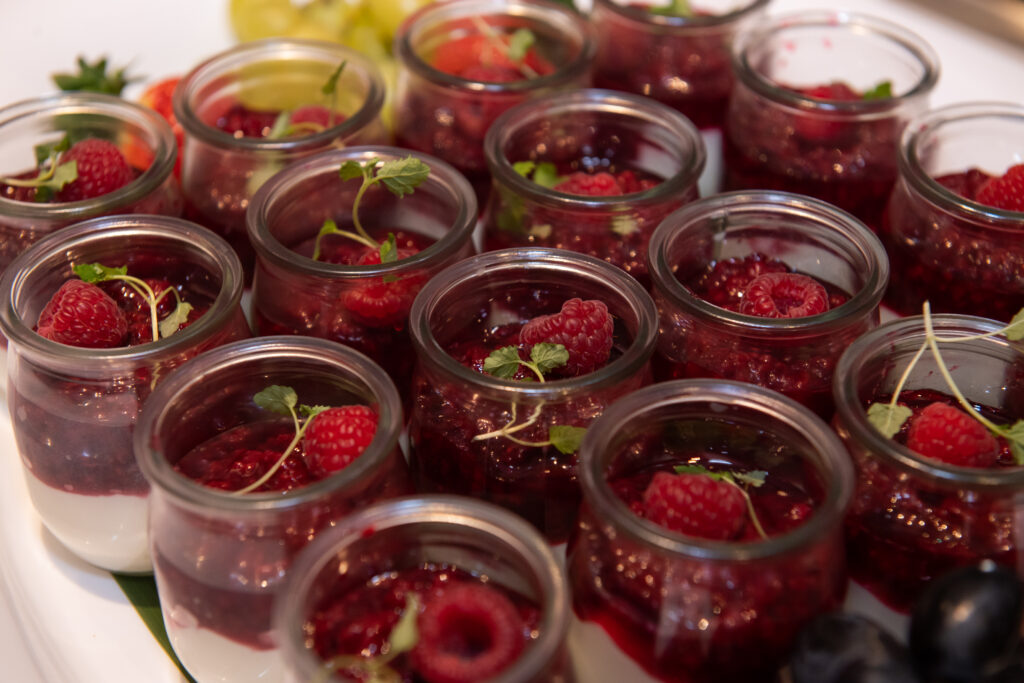 FROM STREET PARTY TO FOOD FESTIVAL
Catering could be street food stalls if you want that festival party feel. Informal, tasty and fun.  Wood-fired pizzas (meat, gluten free and vegan options of course) are a popular choice for group catering. Traditional fish and chips served in cones (ketchup of course). A BBQ of local meats and fish with an array of salads and breads. Or go for a smorgasbord selection of foods served around the Commonwealth nations for something more diverse, but meaningful.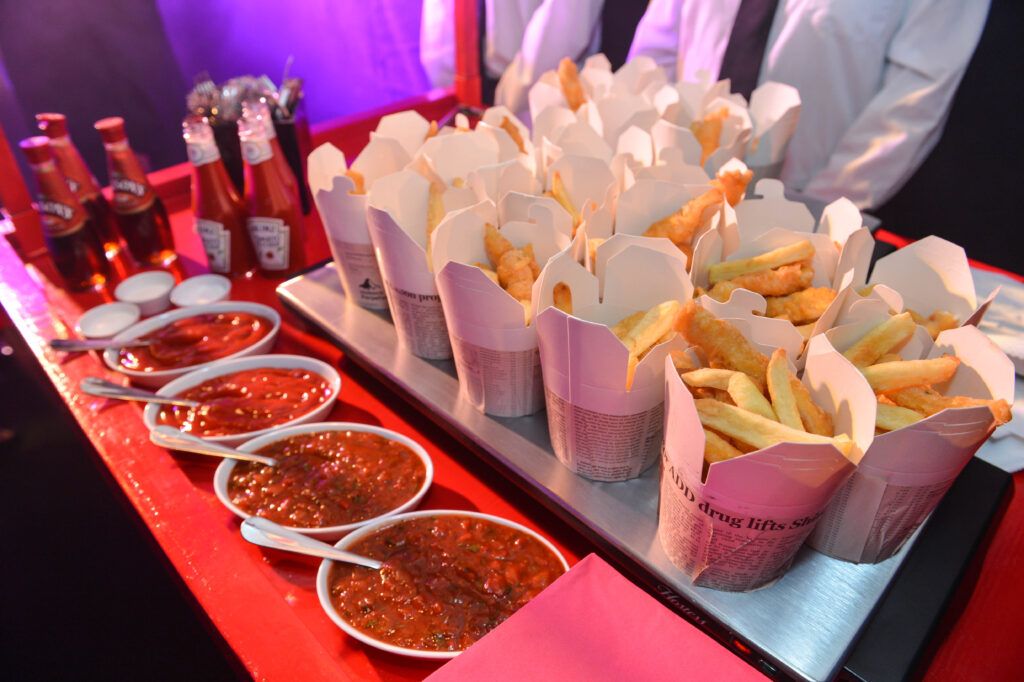 Provide sheltered dining in the form of a tipi tent, gazebo, or shaded area. It pays to be prepared in British summertime, so I would also have blankets or pashminas to hand for the evening.
GARDEN PARTY? PACK A POSH PICNIC
Planning a garden party reminiscent of those Her Majesty hosts? You can give each guest a luxury picnic hamper or bag, and their own personalised embroidered blanket to find a sunny spot. Include miniature bottles of bubbly for each and divine upmarket picnic treats such as artisan breads, individual patisserie, traditional pork pies, local cheese tartlets, and British cheeses. Don't forget the scones and cream!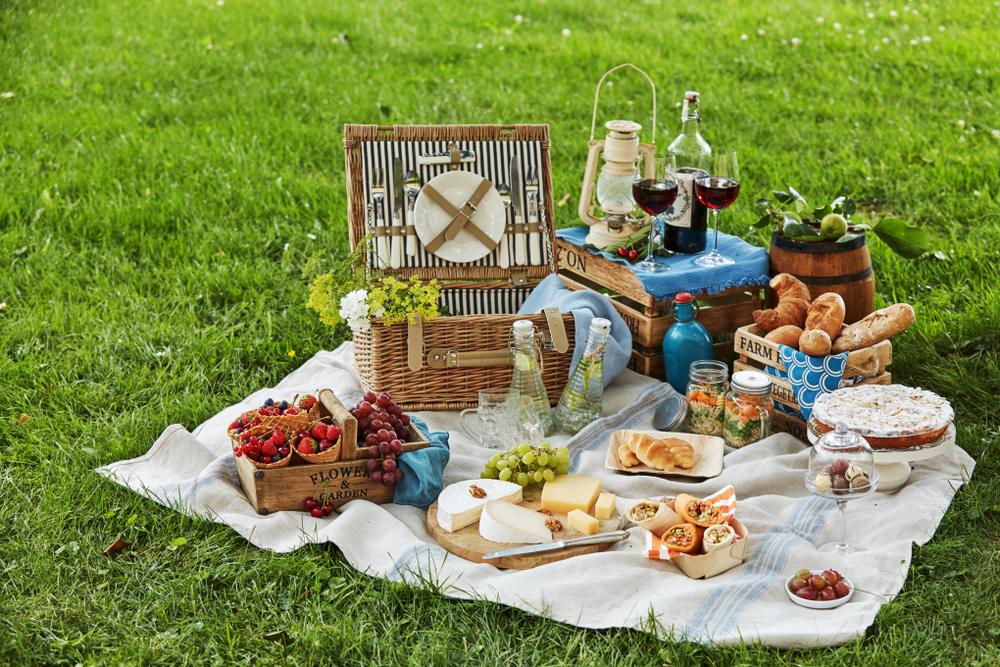 If you're planning an outdoor celebration, remember you're at the mercy of the Great British weather. It pays to have a plan b and plan c should the worst happen. There's nothing at all wrong with an indoor picnic. In fact it can be quite charming. Keep the same format, and if you have a garden room or conservatory be sure to utilise it.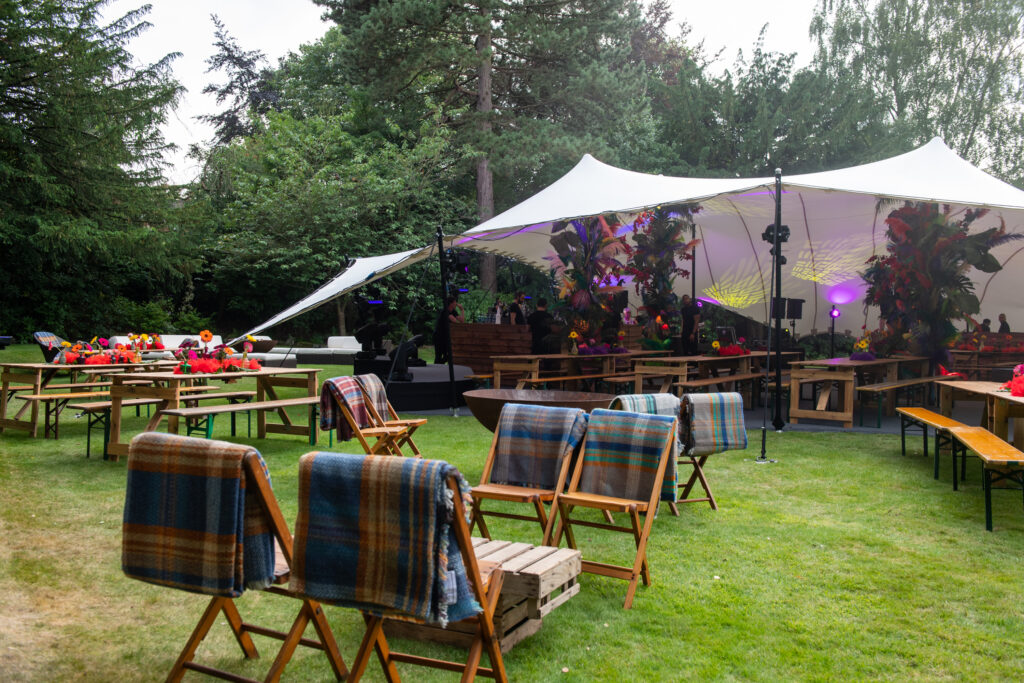 PAY ATTENTION TO THE DETAILS
Think about the smallest details. Creating a more luxury celebration is all about personalising and making elements individual. It could be as simple as serving a delicious traditional roast dinner. But instead of great serving dishes – give everyone their own wooden boards (engraved with their names) layered with sliced meat, potatoes, and Yorkshire pudds. Individual dishes of vegetables and miniature gravy jugs from which to serve themselves. Plus add an individual gift to the table that could double as a place marker. A miniature bottle of English wine. A platinum-coloured tie with the guests' initials embroidered. And whilst this is no place for a commemorative mug, a crystal Champagne glass engraved with the guest's name and Jubilee dates would fit the occasion.
COCKTAIL O'CLOCK?
We can't pass this opportunity without including one or two cocktails to accompany the delicious food.  But which to choose? Why not go back to when it all began seventy years ago in the 1950s. Serve up authentic drinks like the Singapore Sling, the Sidecar, the Mint Julep, whiskey sours and of course the Martini.
Go for something a little less obvious – try a Pink Squirrel. Deliciously sweet and tempting.
https://www.thespruceeats.com/pink-squirrel-cocktail-recipe-759770
Something more refreshing – the Tom Collins should hit the spot.
https://www.bbcgoodfood.com/recipes/tom-collins
And for the kids and teetotallers? Try the Roy Rogers which gets its name from the legendary Western star.
https://mindfulmocktail.com/roy-rogers-drink/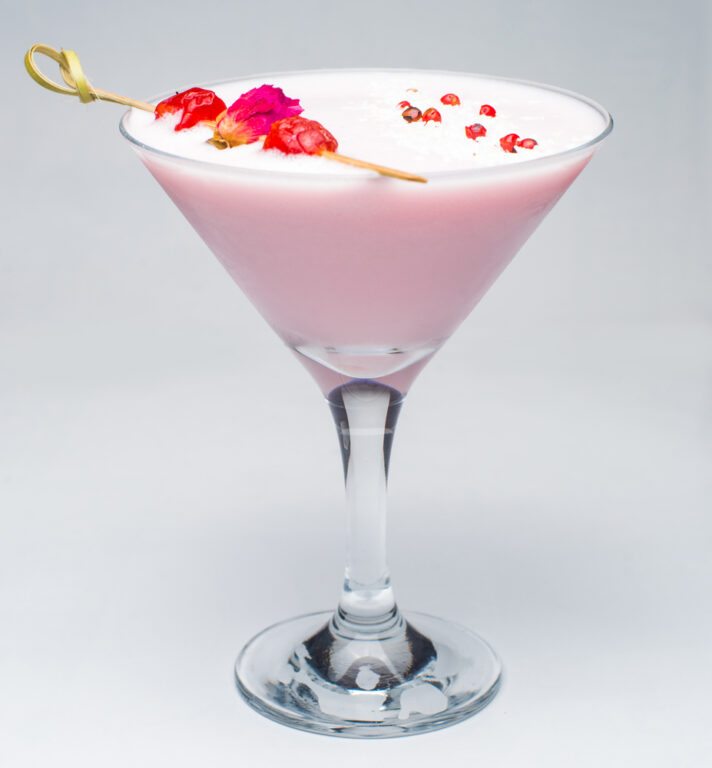 THEATRICAL DINING
What's on the menu can be as exciting to look at as any party décor.  Head over to our Jubilee party décor blog for tips on how to create a show stopping scene using just your dinner table. Jubilee Party Décor Ideas – TLC Limited – The Taylor Lynn Corporation (tlc-ltd.co.uk)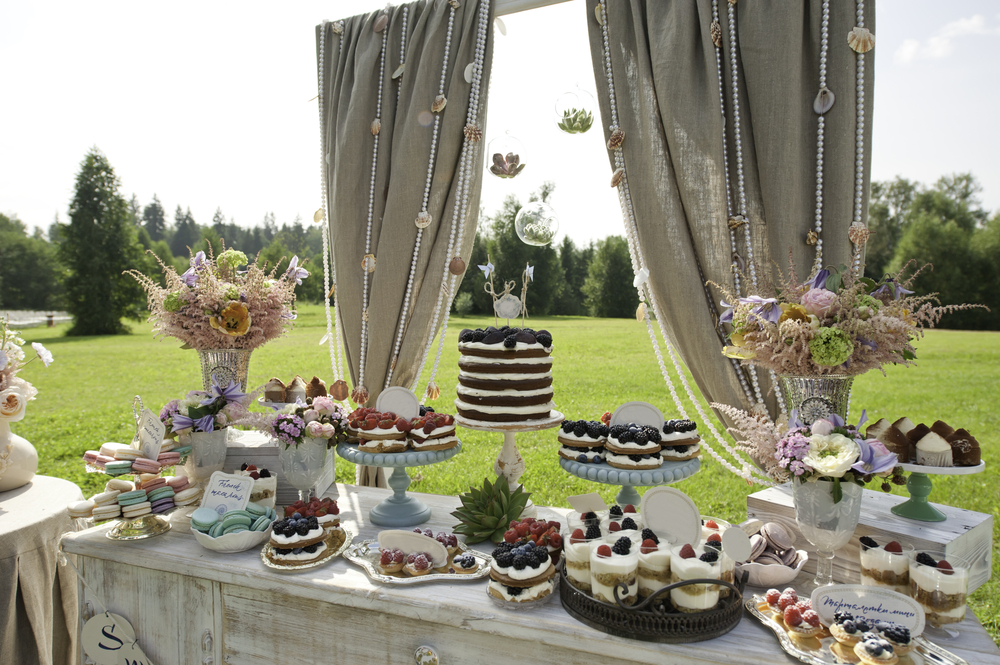 DID YOU KNOW?
While Coronation Chicken was the dish originally invented for Queen Elizabeth's Coronation, this year a new search for a dessert recipe to mark her 70th year on the throne was launched. The winning dish or, so called, Platinum Pudding was a lemon Swiss roll and amoretti trifle, which you can attempt to make following this recipe: https://www.bbc.co.uk/food/recipes/lemon_swiss_roll_and_42467
Thanks for sharing TLC's collection of Jubilee Party Catering Ideas!