North West PA of the Year Awards
TLC was a proud sponsor of the inaugural North West PA of the Year Awards, where the region's top PAs, EAs and EAs came together at an exclusive gala ceremony on Thursday 25th October at Manchester Cathedral to announce the winners of the North West PA of the Year Awards across 19 categories.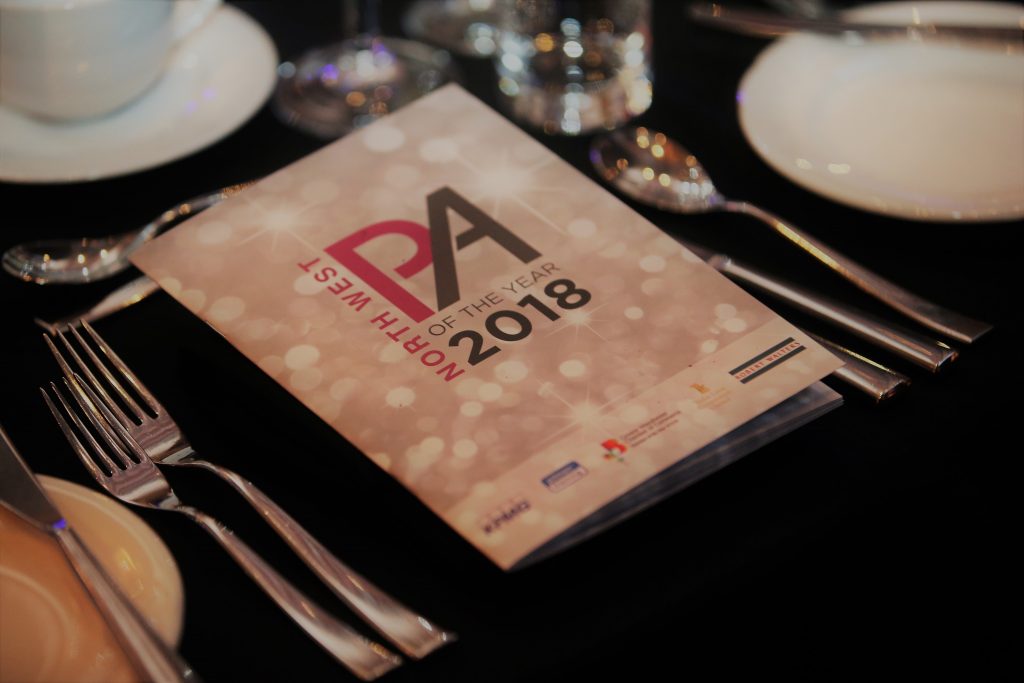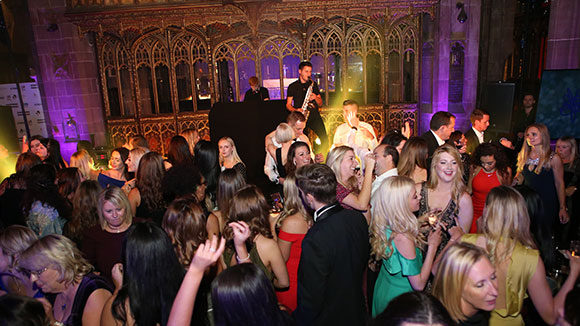 North West native Sally Lindsay hosted the evening, with outstanding entertainment coming from DJ Live and Sax.
THE 2018 NORTH WEST PA OF THE YEAR AWARDS WINNERS:
RISING STAR AWARD
Sponsored by Executive Committee Member – Pitman Training
LAWRENCE ADLUM
KPMG
Lawrence joined as an apprentice in October 2016 and immediately started to make an impact by virtue of his hard work, enthusiasm and passion to learn. Since passing his apprenticeship in November 2017, Lawrence has been successful in securing a promotion to Executive Secretary, supporting an allocation of five senior stakeholders within our busy Restructuring team. Outside of work, Lawrence is continuing his studies by undertaking an AAT course, which he hopes will help to further his career upon completion.
FINANCIAL SERVICES PA OF THE YEAR – UK FIRM
ALEXA MARTINEZ
St James' Place Wealth Management
Alexandra Maria Martinez, is an American born 31-year-old Events Coordinator for St. James's Place Wealth Management. She is multilingual, and her hobbies include singing and playing softball. Working as a Personal Assistant to the Head of Business of a FTSE 100 company has given her the opportunity she had always hoped for. Passionate and enthusiastic, her constant drive and personable nature have yet to delude her.
FINANCIAL SERVICES PA OF THE YEAR – INTERNATIONAL FIRM
ANGELA DUGGAN
Santander
Angela has spent all of her 38 years career in the financial services industry. Supporting Executives both independently and remotely, she has gained valuable experience working across various business areas. Her last role was spent in Marketing with responsibility for budget management and delivery of key hospitality events, sponsorship and media planning.
LEGAL PA OF THE YEAR – UK FIRM
LEAH TAYLOR
Clarke Wilmott LLP
Leah Taylor is a Family Law PA/Legal Assistant for Clarke Willmott. Leah has worked for her current manager for over three years and loves her role; previously Leah worked within various sectors during her career including legal, retail and asset management. Working part-time is a constant challenge but her proactive and motivated approach enables her to successfully carry out her role and also raise a young family.
LEGAL PA OF THE YEAR – INTERNATIONAL FIRM
KATIE HOMER
DWF
With over 16 years' experience in the legal sector, Katie currently supports several members of DWF's senior leadership team, including the CEO of Insurance Services, CEO of Managed Services and Head of Connected Services. Katie is also a member of the Pro-Manchester PA Committee and can regularly be found at PA networking events.
NOT-FOR-PROFIT PA OF THE YEAR – GREATER MANCHESTER
Sponsored by Brand Addition
ANGELA DOWNEY
Manchester Metropolitan University
In the profession for over 28 years, Angela has worked in Civil Service, KPMG and Manchester Met University where she was Executive Assistant to the Deputy Vice-Chancellor. She is highly organised and skilled in planning, project management and event delivery. Angela holds industry recognised qualifications and combines administration experience with EA qualities to deliver high level customer service in her new role at the Information Commissioner's Office.
NOT-FOR-PROFIT PA OF THE YEAR – MERSEYSIDE
Sponsored by Brand Addition
SANDRA WAINWRIGHT
Merseyside Fire Service
Sandra has been Executive Assistant to Merseyside's Chief Fire Officer since 1997 and has supported the Senior Team in Merseyside through the biggest period of change in its history. Sandra is fulfilled by knowing that what she does makes a real difference to the communities of Merseyside. When not firefighting at work she can often be found dragging her husband and two children around the great outdoors!
MEDIA PA OF THE YEAR
Sponsored by Media Partner – Manchester Evening News
SARAH MUENCH
Sky
Sarah is a highly dedicated PA of 7 years, striving for excellence in everything she does. Having a brilliant relationship with the MD she support, constantly seeking to make her life easier. Taking pride in her calm, reliable and organised approach, she works tirelessly to provide efficient and professional support. Sarah is also a passionate advocate of continuous development in order to remain at the top of her game.
PROPERTY PA OF THE YEAR
Sponsored by The Alchemist
ANDREA ROTHWELL
GVA
Andrea joined GVA in 2001 as PA to the Head of Agency and her role has since grown to overseeing several teams in the office, plus acting in a mentoring capacity to new secretarial staff. She has established herself as a key team member providing input on financial reporting, client liaison in addition to her core responsibilities. Andrea is the default reference point for numerous colleagues as a result of her proactive manner, organisational capacity and approachability.
MANUFACTURING & ENGINEERING PA OF THE YEAR
Sponsored by Executive Committee Member – Greater Manchester Chamber of Commerce
ROSIE THOMPSON
AstraZeneca
Rosie has 30 years' experience as a PA. For the last 20 years, she has worked in the Pharmaceutical Industry, where she has worked as a Senior PA, including 8 years as Team Leader in a Global Research department. Rosie is the founder of the Chester & North Wales PA Network and also enjoys coaching & mentoring PAs within and outside of her day to day role.
TECHNOLOGY & DIGITAL PA OF THE YEAR
Sponsored by Executive Committee Member – KPMG
DANIELLE JENNINGS
IRIS Software
Danielle is honoured to be shortlisted for this award alongside so many wonderful candidates. Her nomination reflects how much she care about the people she works for, taking pride in every task she does no matter how menial. The key to Danielle's success is understanding the importance of her employer's role but more importantly, the importance of her role in make their job as easy as possible.
VIRTUAL ASSISTANT OF THE YEAR – AGENCY
JOANNE HAWKINS
Executive VPA
Self-professed 'Straight Talking Northern Woman', Joanne is a passionate advocate for Entrepreneurs, Business Owners and VAs who just want to get on and do it. A typical left-brain worker with a right-brain personality, a background in all things 'process, systems and structure', she understands the need to surround herself with the right people and is always ready to brainstorm, challenge and get totally engrossed in businesses she works with.
VIRTUAL ASSISTANT OF THE YEAR – IN-HOUSE
GARETH ROBERTS-TIGHE
TalkTalk Business
Gareth is the Executive Assistant to Kristine Olson-Chapman, the MD of TalkTalk Business, Richard Thompson, Director of Partners and Ruth Kennedy – TTB's Carrier and SI Director. Gareth provides EA support remotely to Kristine and Ruth (he is based in TalkTalk's Manchester Office and Kristine and Ruth in London). Despite the distance they operate together seamlessly.
PRIVATE PA OF THE YEAR
Sponsored by GetChauffeured
LYDIA MCKAY
Pretty Little Thing
Lydia is a highly capable and experienced Executive Assistant working in both a private and business role. Her abilities and experience covers office management, exec office support, event management, research and reporting, project management, extensive diary management, and complex oversees travel. Her approach to her work goes beyond her job description, as she always looks for ways to improve efficiency and work to achieve goals in a very faced and unique work environment.
PA TEAM OF THE YEAR – UK FIRM
Sponsored by Executive Committee Member – Taylor Lynn Corporation
HALL BROWN FAMILY LAW
The Hall Brown Family Law PA Team have been brought together over the last two years by Joanne Wilson (Office Manager). The secretarial team mainly worked together previously at Pannone (Slater and Gordon), as did the accounts team and filing/archives manager and have also been joined recently by another experienced secretary and office assistant, making a team of nine.
PA TEAM OF THE YEAR – INTERNATIONAL FIRM
Sponsored by Taylor Lynn Corporation
CHIESI LTD
The Support Services team of 11 at Chiesi have a wealth of over 38 years of experience between them and support 8 Directors, 9 Departments and a Field Force of nearly 300. The inspiring team is built around commitment, integrity and getting results. Each team member plays an integral part in the success of the company, while ensuring they take personal accountability to uphold the Chiesi Values.
MANAGER OF THE YEAR
Sponsored by The Range
JOANNE WILSON
Hall Brown Family Law
Until 2016 Jo spent her whole career as a legal secretary/support team leader at Pannone/Slater and Gordon. She left after 28 years' to set up award-winning law firm, Hall Brown. She is the office manager, line manager to a team of nine and legal secretary and during that time the firm has grown from three people to 29 in two years. She is also undertaking her CIPD HR degree.
NORTH WEST PA OF THE YEAR AWARDS – BOARD LEVEL PA OF THE YEAR – GREATER MANCHESTER
Sponsored by Executive Committee Member – Robert Walters
HANNAH BATTY – WINNER
Whispering Smith Ltd
Hannah has worked as a PA for 5 years for a very successful couple in Manchester and Cheshire. Happy to tackle a new challenge, she now manages a team of people which has expanded from a solo role, allowing them to internally control many of the previously externally outsourced costly facilities. Her flexibility, versatility and communications skills have been recognised through her nomination.
TAMNSYN BELSHAW – HIGHLY COMMENDED
Manchester City Football Club
Tamsyn is a seasoned PA with over 10 years' experience working at Director level, across multiple sectors and industries. A friendly and approachable team player, with polished and professional demeaner, she has the ability to manage differing personalities and working styles. Growing up in Nottingham, she is now a fully adopted Mancunian after spending nearly six years in the Northern Powerhouse city.
NORTH WEST PA OF THE YEAR AWARDS – BOARD LEVEL PA OF THE YEAR – NORTH WEST
Sponsored by Executive Committee Member – Robert Walters
FARZANA KHAN
EG Group
Farzana Khan is the Executive Assistant to Directors, EG Group. Qualified in the field she brings to her role over 20 years PA experience. Previous responsibilities as PA/Office Manager includes managing: Administration & Events, HR, Finance and Project Co-ordination. Farzana supports the Board and Senior Executives to deliver both UK & International operations, inspiring many colleagues through her leadership.
Congratulations to all of the winners at the North West PA of the Year Awards. Already planning the next North West PA of the Year Awards for 2019!
For more details visit: https://www.tlc-ltd.co.uk/5th-annual-north-west-pa-year-awards-boosted-tlc/