Illicit speakeasies, the strongest home brewed alcohol, and parties to rival no other era. In the second of our series on planning 1920s parties and 1920s theme weddings, we feature the top 1920s inspired cocktails. We delve into the underground world of speakeasies and flappers.
Simple. Stylish. Strong. Drinks from this era had a few things in common. They were often heavy on spirit in all sense of the word. The first drink to be served at the famed American Bar at The Savoy Hotel, the hottest place to be seen at that time, was reportedly a Montgomery. That's a Martini with a '15-to-one gin-to-vermouth ratio'. Not for the faint hearted!  And the bar got its name from the type of American drinks it served too – cocktails.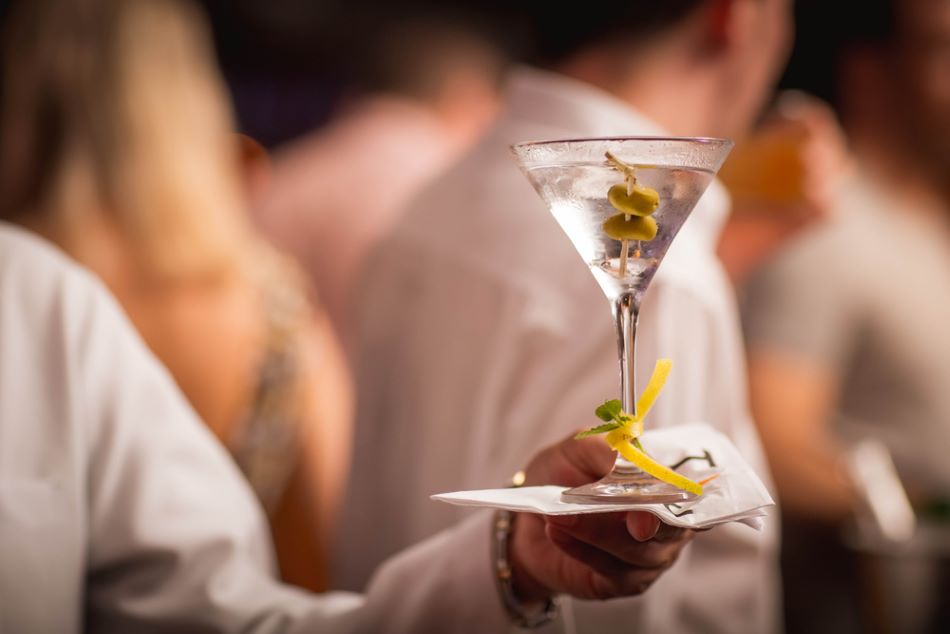 Cocktails actually emerged as a way of covering up the taste of the 'bad booze' of the era with sweet mixers and club soda. Remember, the twenties were also around the time of prohibition in America. When alcohol was banned, it drove the liquor trade underground. Cue the appearance of illicit speakeasy bars and maximum strength bootleg gin and whiskey to fuel the parties. No wonder the twenties were roaring!
Here are some of our top 1920s inspired cocktails to get your party started:
THE COLLECTION
The Hanky Panky
Created by the first female bar tender at The Savoy Hotel, our collection of top 1920s inspired cocktails had to include this. The Hanky Panky is a take on the traditional martini. It's as naughty as its name!  Three simple ingredients, all alcoholic, combine to create a heady masterpiece of mixology. Just don't drink too many or you may not remember much thereafter.
What's in it? The Hanky Panky features dry gin, Fernet Branca amaro and sweet vermouth.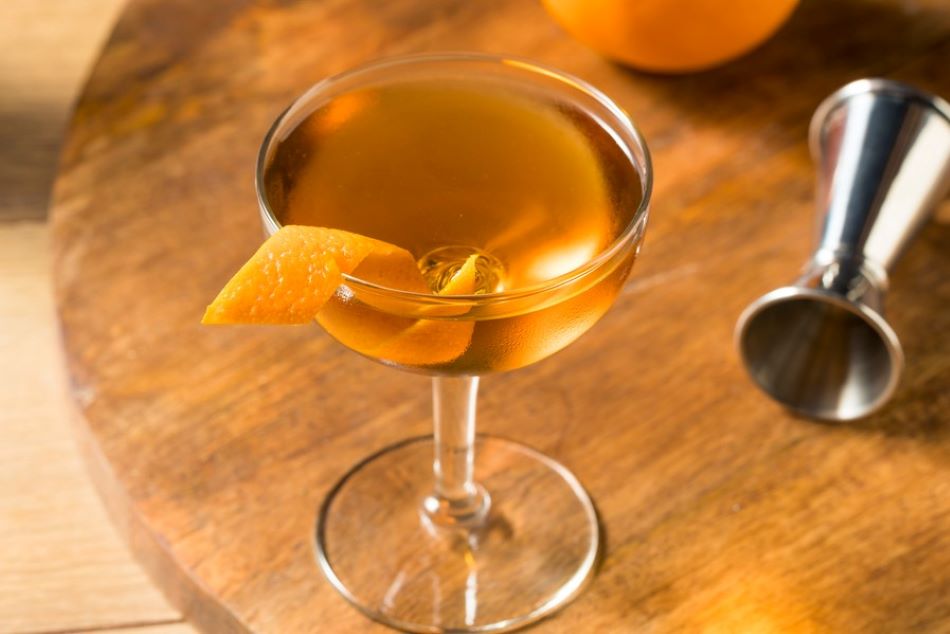 Old Fashioned
The classic always springs to mind when you think of the prohibition era. It's a drink that's meant to be enjoyed over a long time. With this in mind, some mixologists say the mark of a good Old Fashioned is when the bar tender pours it over fresh ice so that you can sip your drink for as long as possible. If they use the ice from the shaker – it's a sign they don't know their stuff.
What's in it: Whiskey, angostura bitters, a sugar cube, a twist of lemon.
Try it yourself: https://www.liquor.com/recipes/bourbon-old-fashioned/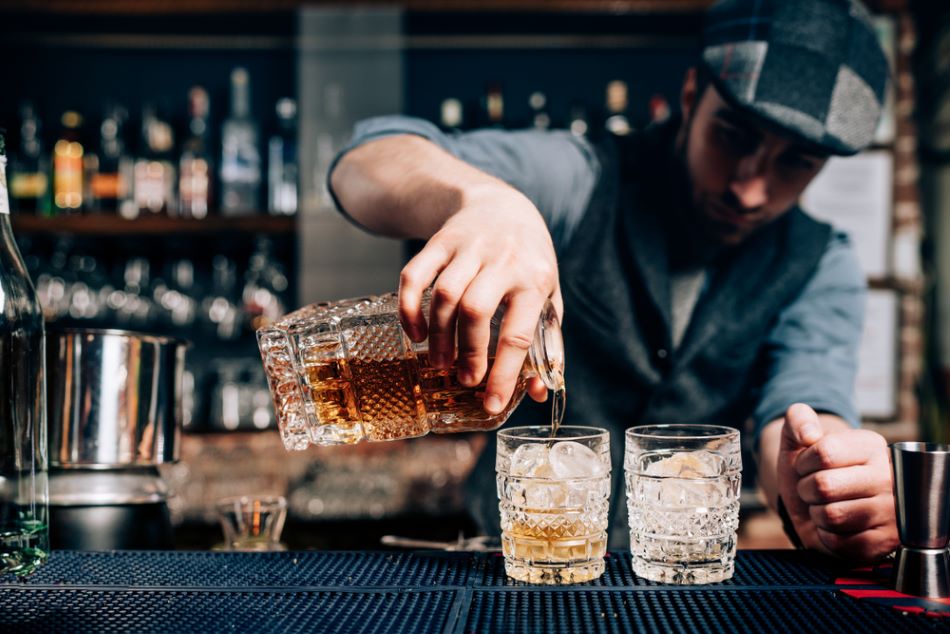 Gin Rickey
Simple, refreshing but a tiny bit unpalatable if you don't include a glug of sugar syrup that wouldn't have been included in the original recipe.
What's in it: Gin, half a lime, and club soda.
Try it yourself: https://www.diffordsguide.com/cocktails/recipe/1676/gin-rickey
French 75
Ernest Hemmingway's favourite. There's some debate as to when this champagne cocktail first made its debut, some say it's a prohibition baby, others argue it harks back to the Victorian's. Either way it was certainly a prohibition hero and what's not to love in this heady mix?
What's in it: gin, syrup, lemon and champagne.
Try it for yourself: https://www.bbcgoodfood.com/recipes/french-75-cocktail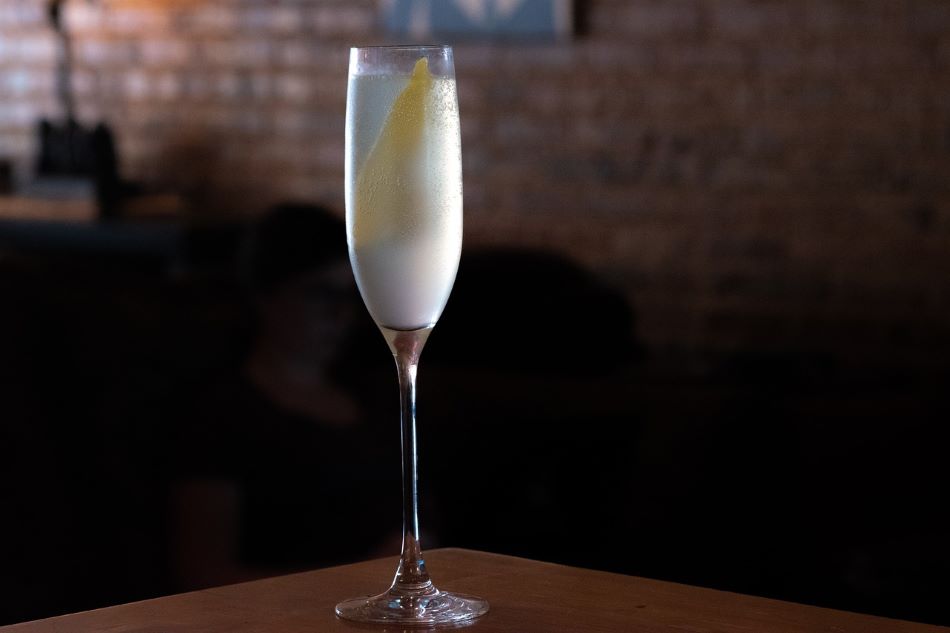 Side Car
Cognac, orange liqueur and lemon juice with a sugar rim for a sweet distinction from all that sour – the Side Car is one of the true classics of the age.
What's in it: Cognac, orange liqueur, lemon juice, simple syrup and lime juice.
Try it yourself: https://www.esquire.com/food-drink/drinks/recipes/a3774/sidecar-drink-recipe/
Chicago Fizz
The fizz style of cocktail is defined by three ingredients, a spirit, carbonated water and a sour/acidic juice (very often lemon or lime) According to The Spruce Eats "Fizzes were everywhere during Prohibition because they often include heavy ingredients and a good deal of soda. One of those recipes is the Chicago fizz, a mix of. It's a very fine drink worthy of a revival." This one includes an egg white which, although not everyone's cup of tea, adds a rich mouthfeel to the drink and can create a head of froth if so desired.
What's in it: Dark rum, ruby port, egg white, lemon, and club soda.
Try it yourself: https://www.thespruceeats.com/classic-chicago-fizz-recipe-760508
SERVING WITH STYLE
Serving up top 1920s inspired cocktails is as much about the presentation as it is about the content. For starters you'll need a gilded drinks trolley if you're partying at home. Fill it up with everything you need from spirits and mixers to cocktail shakers and vintage glassware. Champagne saucers are the era's definitive cocktail glass.  But any vintage glassware will look brilliant, we especially like coloured glass to really make a statement.
TAKE IT UNDERGROUND
If you're planning a 1920s wedding or larger party then the only way to do it is to include a hidden speakeasy somewhere at the venue.  This is by far best place to blend and serve top 1920s inspired cocktails with all the atmosphere of the era.
It'll need to be big enough for that underground atmosphere but small enough so you don't lose half of your party over to the' dark side'. A concealed entrance is a must as well. Faux Barber shops, chemists (for an apothecary feel), laundrettes or a grocery store would all suffice. Ideally the speakeasy should have stairs leading down to a sub-level.  But if that's not possible, you just need a separate room off the main setting and a little pinch of imagination.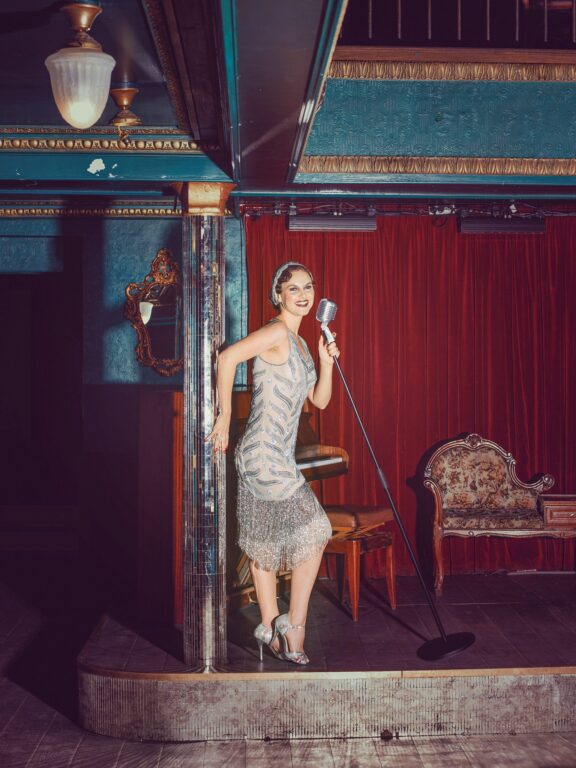 ENJOY THE ILLICIT 1920S VIBE TODAY
The twenties are not just a hit within events. There are hidden speakeasies in most of  the UK and Ireland's major cities, so why not take a walk on the wild side and try one for yourself.
Behind Closed Doors, Manchester
Hidden below ground in the popular Norther Quarter, Manchester's raunchiest cocktail bar channels the illicit speakeasy vibe with a very naughty edge. https://bcdnq.com/
The Blind Pig, Dublin
Cheekily named after the police who were reported to have 'turned a blind eye'.  This underground bar has grown to one of Dublin's finest cocktail destinations. https://theblindpig.ie/
Bryant and Mack, Edinburgh
Finally, intimate is the word to describe Edinburgh's premier speakeasy. That and sensational if you're referring to the cocktails. Bryant and Mack was officially recognised by Tales of the Cocktail, the bar tending industry's biggest seminar, within months of opening. High praise indeed. Bryant & Mack Private Detectives – The Edinburgh speakeasy bar that will solve the case of your night out in town (attadrink.com)
Looking for the perfect 1920s inspired venue for your event….check this blog out!

Share the cocktails!