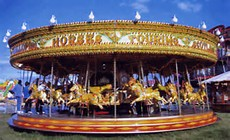 My memories of parties as a kid are eating jelly and ice-cream, playing pass the parcel and blowing the candles out on my cake. But, as any parent will tell you, the stakes for children's parties are getting higher every year. I've known parents to fly in their child's favourite pop star as the party entertainment, or have a temporary ice rink built for their child to whiz around on for an hour or so with school friends. Of course, this is not your average children's party, but even the average party these days is not a simple affair, costing at least £135 according to a survey by parenting website, Netmums, with one-in-six parents admitting to splashing out a whopping £300. A summer birthday throws up so many opportunities to cut back on the expense while maximising on the fun. Nature makes a fantastic backdrop for any party, but for children it has the added advantage of giving them the freedom to run and play without adult hands stretching out at every turn to protect them from bumping into doors, furniture or worse. The great outdoors is also unbeatable when it comes to enjoying all those messy games and activities children love. Here are a few of my favourites:
1. Wet and wild In warm weather children can have hours of fun on inflatable water slides. Team this with other water games. Water balloons are always popular and can be used for many different games in the sun. An easy one is to get children in pairs and ask them to throw the water balloon to each other, the pair whose balloon bursts last wins. Intermittent garden sprinklers can give a similar effect to dodging city fountains and are a safe way for children to get splash happy. Just make sure that you ask parents to bring a change of clothes and that you have plenty of fresh towels for the children to dry off before going home.
2. Bubbles of fun Young children love bubbles, especially outdoors when they can chase them or watch them float higher and higher out of sight. Human-sized bubbles are a great novelty for little ones. You can buy machines that will create a balloon around your child while they stand in the middle of it. For a do-it-yourself version, a small round paddling pool filled with bubble mixture and a hula-hoop will create the same effect.
3. Join the bug trail Treasure hunts, like Easter Egg hunts, are always popular with little ones. For a twist on this try a bug hunt – don't worry, it's with plastic bugs. Hide the bugs around the garden and give each child a little plastic jar to catch them in. You can have fun afterwards guessing what kind of insects they are, and as an added incentive you can say that any bugs they find are theirs to keep.
4. Get crafty One bonus of being outside is that children can make as much mess as they like and it doesn't matter. You can hire a long table and fill it with craft materials, or set up a large canvas for each child to paint. Children love these activities because not only do they get to be creative and have fun, they also have something to take home to show their parents. 
5. Fun of the fair Fairground games such as a coconut shy are always popular and are easier than you think to set up. You can buy coconut shy balls and poles and can use a background covering, such as a tarpaulin sheet, to absorb the impact of the balls. If you want to go with a funfair theme, there are companies now that will hire small scale traditional fairground games, such as hook a duck, that can be played for simply for fun or for prizes.  If the budget and you garden space allows, you can hire full size fairground rides – dodgems or a traditional carousel are always popular!