Festival Inspired Party
The forecast looks brighter. A mini heatwave is on the horizon. But as we fast approach the summer festival season, things will look and sound a little different this year.  Music lovers won't be treated to the usual buzz around the iconic Glastonbury Festival.  Wellies and beers will have to be kept for socially distanced festival parties in gardens across the country.  An I-pod list of 'banging' tunes can still be the soundtrack to our summer, but there is no doubt we will all miss the incredible artists, from all genres, who come together to play on those legendary stages. So, if you're getting ready to create your own festival inspired party, details of this brilliant event, shared by one of the event's planners Lauren Worsley (now Business Development Director), will provide all the inspiration that you need.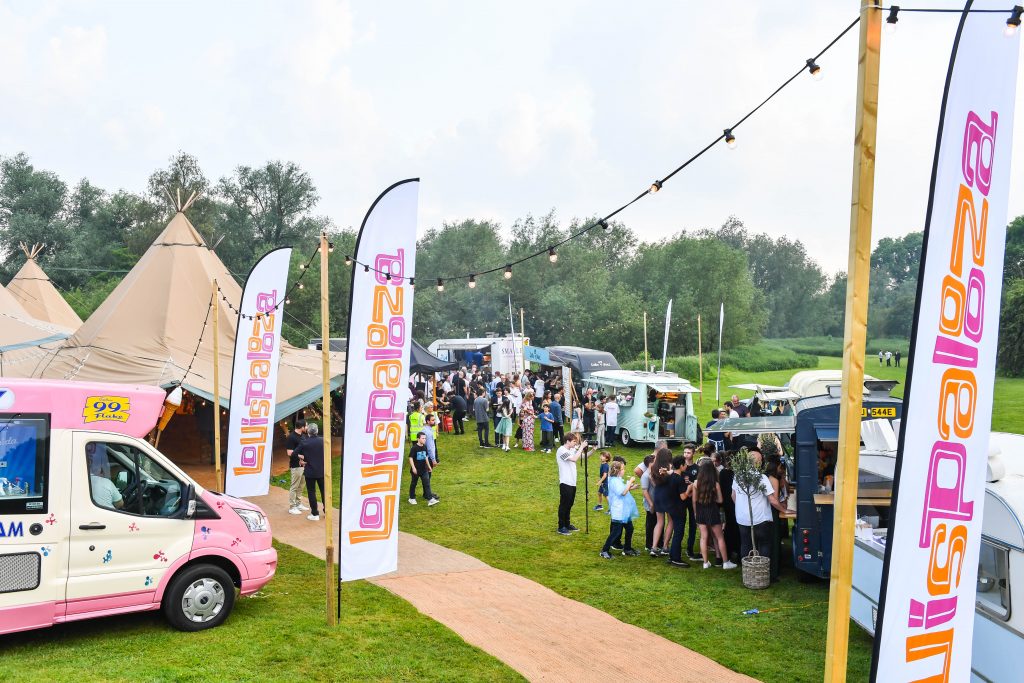 What Was the Aim of the Event?
To create a festival inspired party in a tipi! A sensational party, influenced by the rock festivals of Europe, and produced for one very lucky young man.
When Was the Party?
May
Where was it held?
Private land in St. Albans, with five giant tipis as venues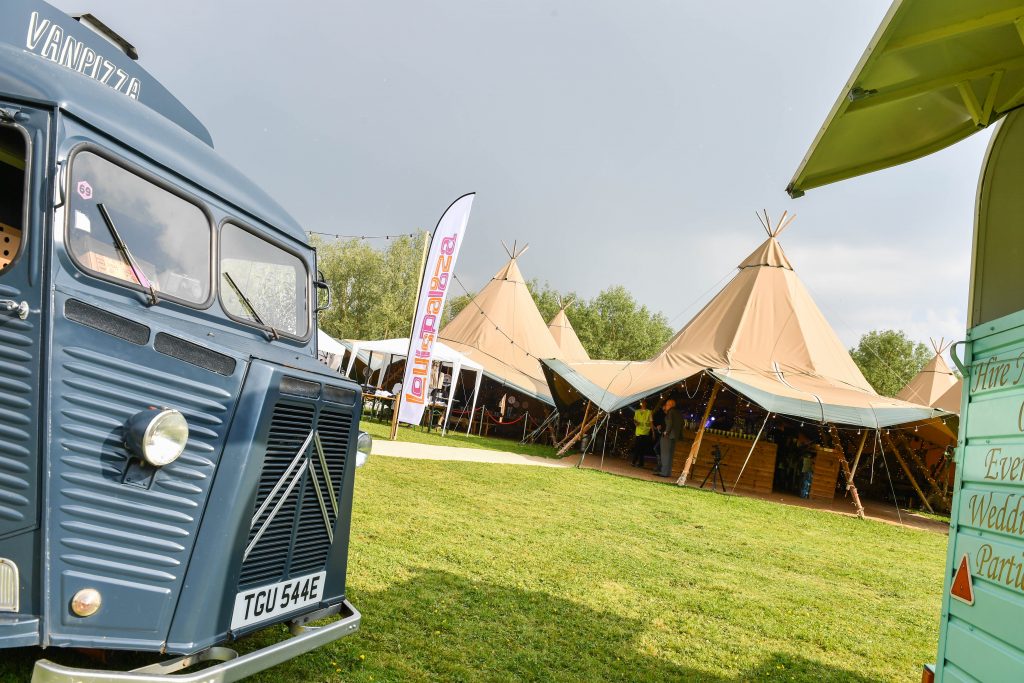 Who Attended?
The event has 210 guests, including 90 children.  Guests traveled primarily from London and Manchester, but some from other parts of the UK too.  A festival inspired party is a bit unusual, and so the RSVPs came back thick and fast!
Was this Solely a TLC Event or Did You Work With An In-House Event Team?
This event was pure TLC in concept and in production.  We brought together a team of suppliers to work with us, but the event was developed and delivered by the TLC team.
Had You Worked With this Client Before?
This festival inspired party was a very special Bar mitzvah.  We had worked with the family before, and this occasion was in celebration of their second son's 'coming of age'.  Having a relationship with the family already is a bonus, but also an inspiration to create a Bar mitvah bigger, and better, than previous events with the family.  We love a challenge!
The Concept
Taking the legendary Lollapallooza festival, and blending a bit of Glastonbury, was the foundation of our concept.  We wanted to create the informality of a festival gathering, with incredible music and a real buzz in the atmosphere.
Tributes to The Best
Entertainment should be at the heart of any festival inspired party. We showcased the best tribute acts in the country, who honoured the Red Hot Chilli Peppers, Queen and Oasis. The bar mitzvah boy was also a musician, and so we organised it so that he could join each act for one song and play as part of the band.  Keeping the music going all day was key to keeping that festival feel, so there was also a DJ and beat-boxer who performed between band sets.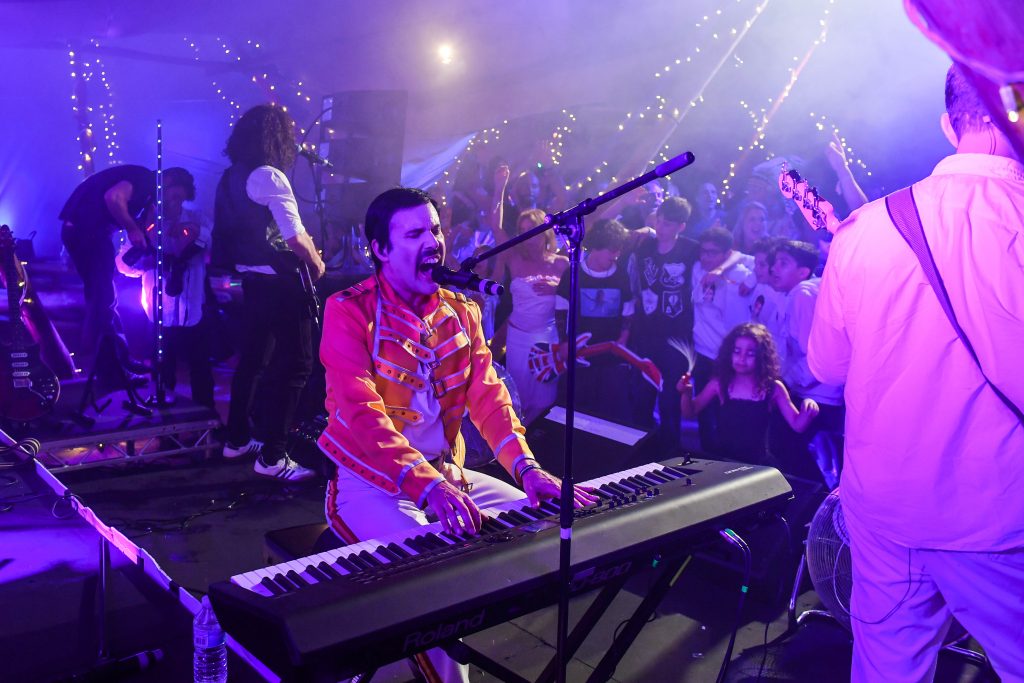 There were lots of other activities around the tipi which appealed to people of all ages which included a merchandise stall, tattoo artist, face painters, glitter artists and a bespoke camper van photo booth.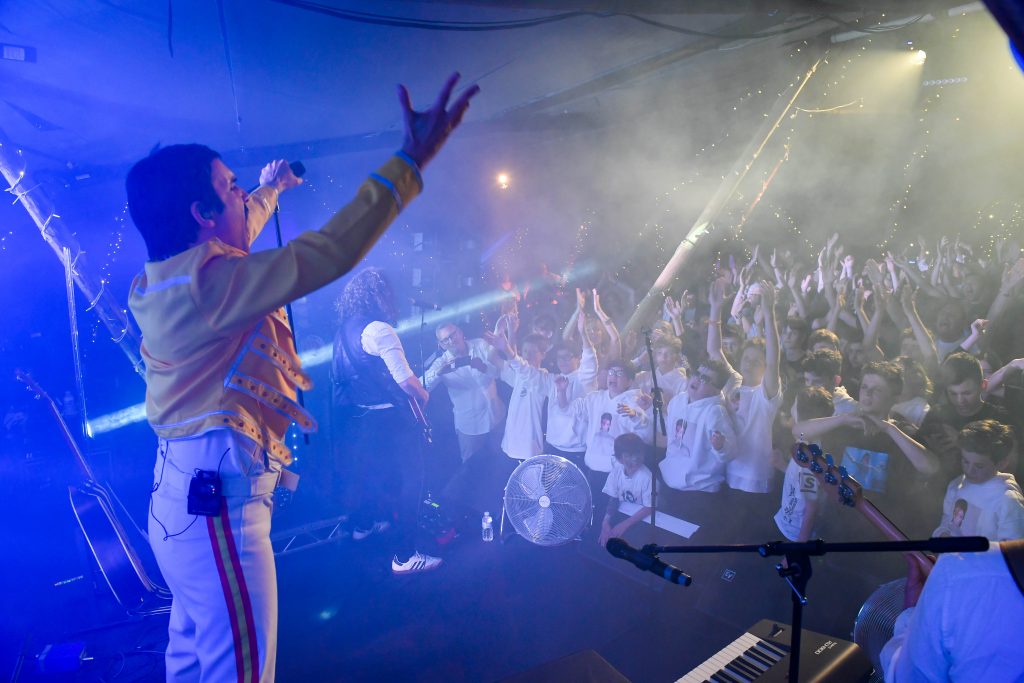 Food Heaven
The food was festival inspired! It was served from a choice of catering vans positioned at the front of the main tipi.  Vans included pizza, fish and chips and poke, whilst there was a live cooking station serving stir fry!  Desserts included choices of ice cream, waffles and crepes.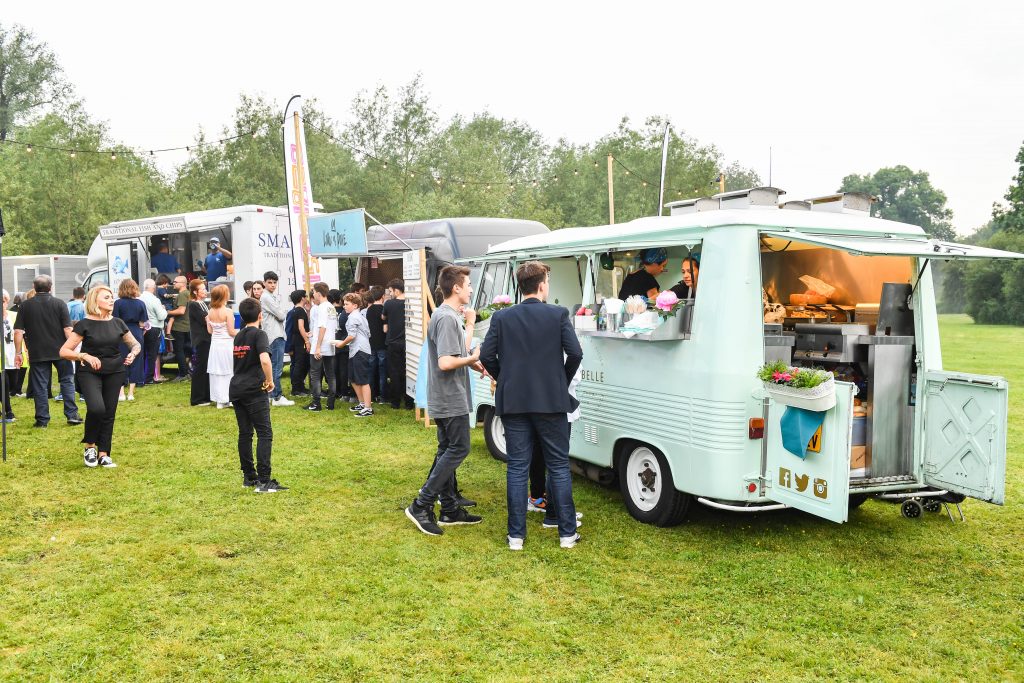 Festival Fever
On arrival guests had to queue through crowd barriers to gain entry. the innovative table plan was a hand stamp with their table number on as they checked through "security". Together with a wrist band this identified their table.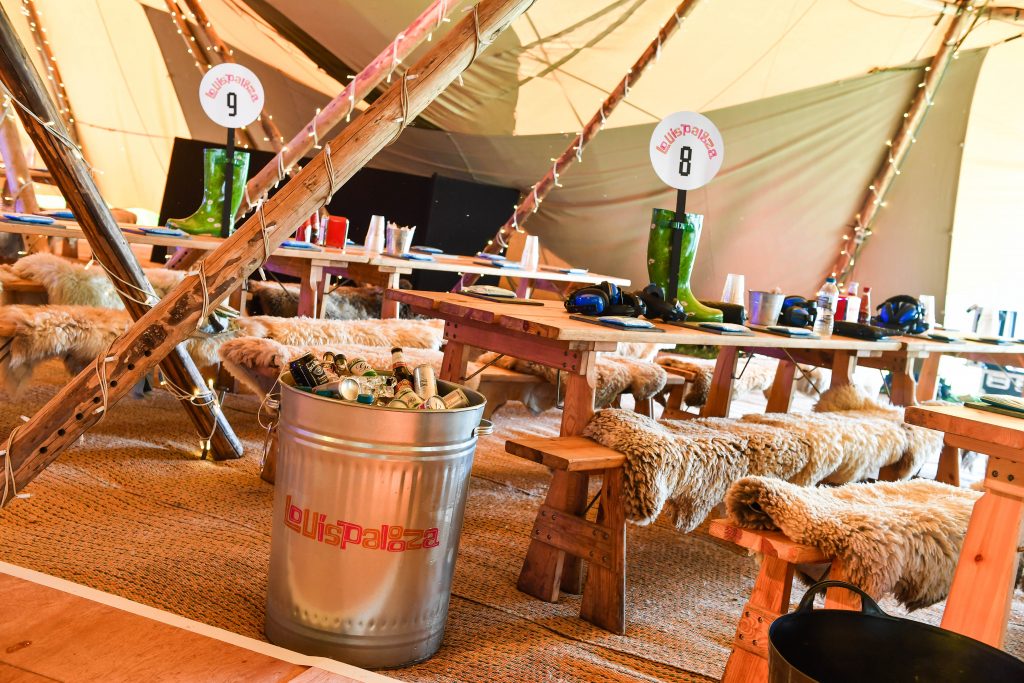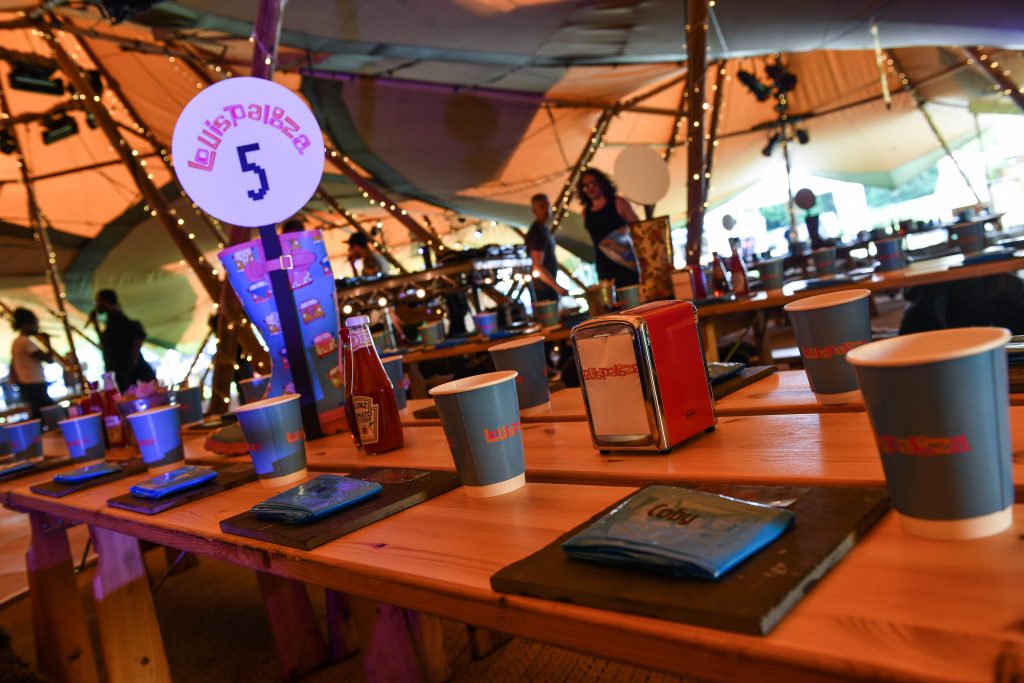 Inside the tipi the detail was insane! Plastic cups, branded with the festival logo, were used to serve drinks in.  The seating was a combination of wooden tables and benches with large "wellies" in the centre with the table number painted on. Each guest had a poncho with their name on, which did double duty as their place setting.  Branded paper napkins were placed in retro holders down the centre of the tables.  Large dustbins were filled with ice, and bottles of beers and wines were added for adult's tables. For the kid's tables, we included cans and bottles of soft drinks.  Keeping to a 'make-shift', rustic feel, we had a large square central bar made from pallets which guests could go to and order additional drinks. All bar staff in branded yellow security waistcoats with the event logo on the back.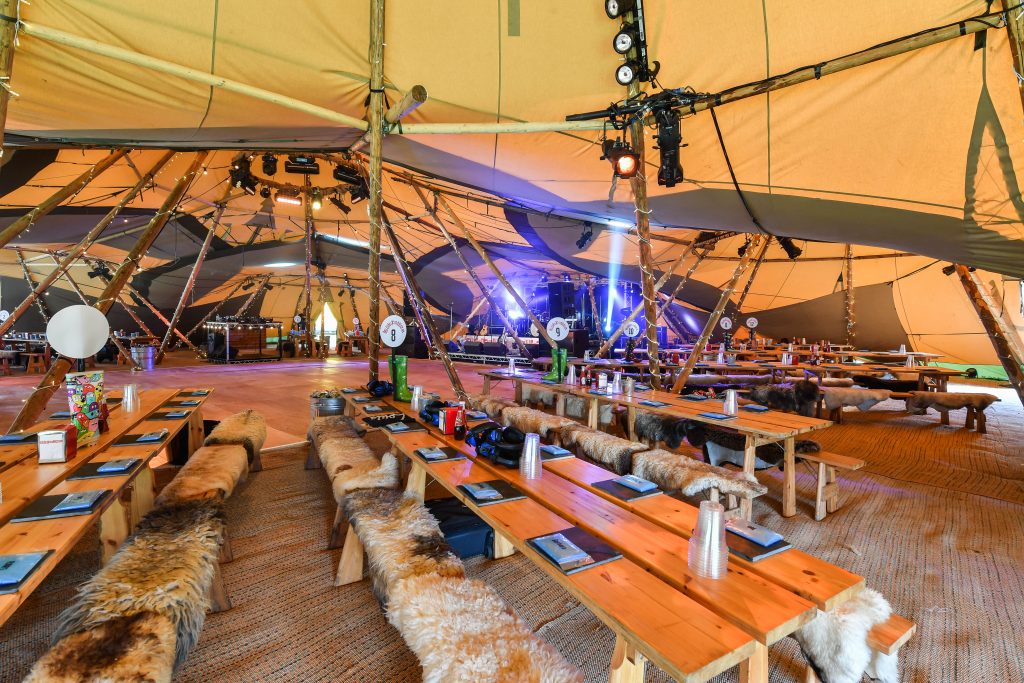 The Challenges 
The private land used for the event was at the end of a long lane, which made getting all equipment a little difficult with vehicle restrictions. Where there is a will, there is a way!
When an event is booked at a venue, we get logistical support from their in-house team.  This is not the case when using private land.  For outdoor events, we also primarily use marquees which come with toilets and the water supply enabled.  But with this site, and using tipis instead, there were a lot more logistics for TLC to arrange. This included the 150m hose pipe to get water to the event site!
Lesson to learn …. it was underestimated just the amount of space required with the large about of acts all requiring back of house space to change and wait for their set.  We set additional gazebos at the back of the tipis for their use, but it's something I wouldn't overlook again. So much happens behind the scenes!
This was a 3-day event in all; quite a challenge.  On the Friday night we arranged a dinner at one location.  Following synagogue on the Saturday, we planned celebrations at the family home, and then on Sunday the festival event.  Splitting yourself into three pieces to set up the different elements of the weekend isn't an easy task, but with good communication and an amazing team around you can manage anything.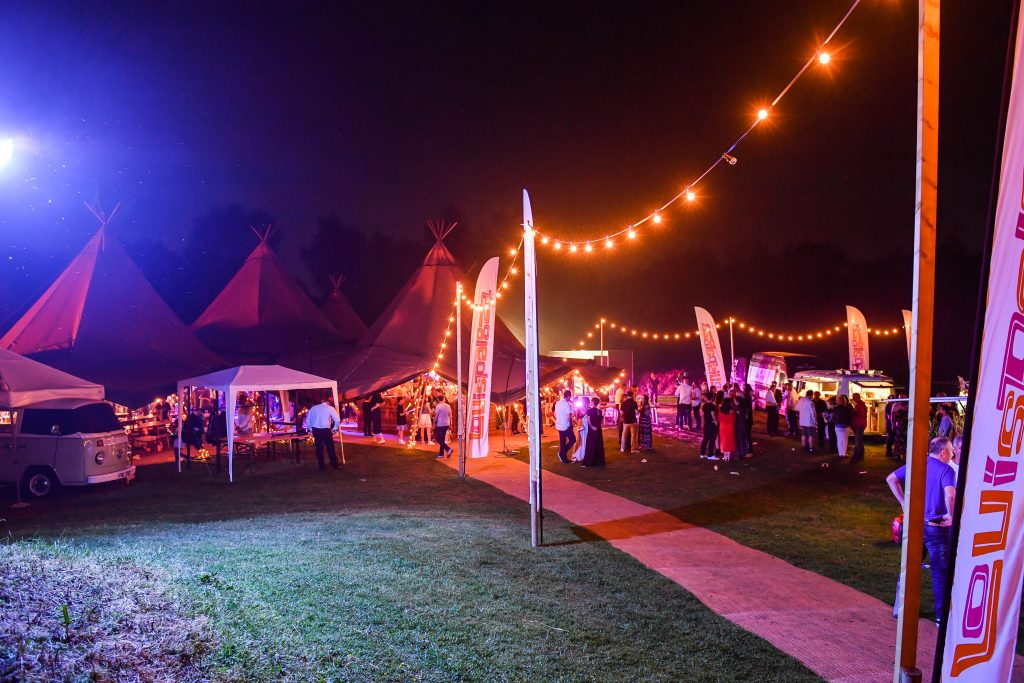 Your Personal Highlights
Showcalling. With all the bands, their requirements and different equipment this could have been chaotic, but it worked seamlessly and was packed with the festival vibe!
Would You Change Anything?
The weather! Or at least when the bad weather joins us. We had ponchos ready for the guests once they had been into the tipi, but instead it came just as they arrived!
A large amount of the event was also outdoors, and we really needed the weather to stay on our side.  But, its England, and it doesn't always work like that. It did brighter up later on, just in time for the food service. A collective sigh of relief could be heard!

THE AFTER PARTY
If our festival inspired party ideas have whet your appetite for planning an outdoor event, check out inspiration guide to CREATING PERFECT OUTDOOR PARTIES and a selection of divine ideas for OUTDOOR PARTY COCKTAILS  
Lastly, we loved these ideas from IDEAL HOME. Some design and style gems that are just perfect for planning an at home festival!