Outdoor Party Cocktail Ideas
**UPDATED JUNE 2019**
Summer parties often involve a move outdoors.  The British weather is nothing if not unpredictable though.  At TLC, we love planning an outside party but always have one eye on the weather conditions. A Plan B is essential.  If you do have to re-group to an inside venue, bring the outdoors inside.  Take inspiration from the surrounding landscape, and create your own summer garden in a marquee or event space.  A large part of that, will be giving people a taste of summer too.  With the five Outdoor Party Cocktail Ideas, you can capture a little of the 'long hot summer' feeling in a glass:

Vodka-Thyme Lemonade
Firstly, and as the saying goes, all good things come to those who wait. And for those of you willing to invest a little time in preparation, this refreshing long-drink, created by world-famous chef, Jean-Georges Vongerichten is well worth it. The time-consuming part is making the lemon-thyme syrup. Mixing the ingredients over a saucepan takes only ten minutes. To bring out the best flavours though, the syrup is best left to stand overnight or at least two hours. Once made, however, it will stay fresh for up to five days. Shake with ice and vodka, before serving in a highball glass, topped with soda. Garnish with a fresh thyme sprig for a sensational, seasonal treat. Visit foodandwine.com for details.
RELATED CONTENT: Top Summer Cocktails
Deep Pleasure
For rum lovers, the rich, deep and luxurious flavour of Dictador is a pleasure to be savoured. Produced in the beautiful UNESCO World Heritage Site of Cartagena, Colombia, the rum has a romantic origin.  The company has created a drink book to spark ideas for how to enjoy its luxury brand. Our favourite is Deep Pleasure. A delicious combination of Dictador, Luxardo Maraschino liqueur and fresh pineapple chunks.  Consequently, it makes a rich and fruity choice for a Spring/Summer evening. You should download this and other recipes from www.dictador.com.
Cucumber –Honeydew Freeze
Third on our list of Outdoor Party Cocktail Ideas, is a cool one. When the temperatures soar (we hope), nothing satisfies like a frozen cocktail. Striking for its lime-green colour, this icy delight combines the cooling flavours of cucumber, melon and lemon and spices it up with a splash of gin. Blended with honey and ice it is sweetly refreshing.  Serve in a wine class, lightly coated with sweet fennel salt and a wedge of lime. Or in our case, decant into lovely copper cups for a more rustic feel. See foodandwine.com for the recipe.
White Nun
From frozen delights to comforting warmers, when it comes to British Spring/Summer time we need to be prepared for any weather. Across the Atlantic, bar tender, Isaac Shumway from Tosca Café in San Francisco has come up with the perfect solution to heat up a damp and drizzly evening. His hot version of a White Russian swaps the traditional vodka base for brandy, mixing with coffee liqueur, coffee syrup and cream. Top with frothed milk. Delicious! See Saveur.com for details.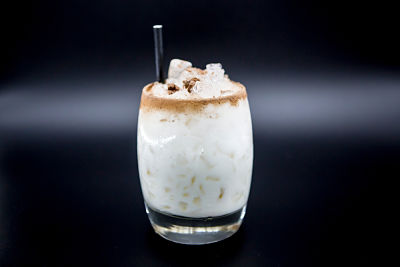 Orange and Cranberry Spritz

Finally, often we spend so long crafting our show-stopping mixes that as a result, our alcohol-free guests are left with few interesting choices on the drinks menu. Thankfully celebrity chef, James Martin has stepped in to save the day for all those resigned to an evening of orange juice or water. His orange and cranberry spritz is a long, cooling option that takes only five minutes to prepare. A quick mix of orange juice, cranberry juice and sparkling elderflower, serves up a sophisticated fruity fizz. See BBC Good Food for details.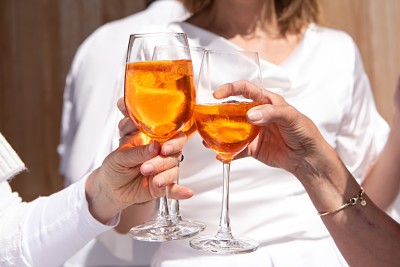 If you love our five outdoor party cocktail ideas, also take a look at this for Gin-spiration on our top Gin based cocktails!