Manchester's Five Most Exclusive Private Dining Rooms
Manchester has been transformed in the last ten years, with a wealth of fine places to dine and 'celebrity' chefs in residence.  Not every corporate event you plan requires the scale of a Victoria Warehouse or the historic grandeur of The Midland Hotel though.  Importantly, some are designed specifically to be more intimate in scale.  An exclusive Chairman's dinner, client cultivation evening or a way of thanking staff or suppliers.  Smaller perhaps, but still demanding that every detail is catered for and that a little fun and excitement is on your menu.  Whatever and whenever your occasion, our list of Manchester's five most exclusive private dining rooms is a great place to start your planning.
The Lowry Hotel
Whether you're a corporate event organiser in Manchester or organising an exclusive gathering for family and friends, this versatile space caters for all tastes. Benefiting from both a central city location and a relaxed river view, The Lowry Hotel is a popular choice for a wide range of luxury events. Its private dining area, you can entertain 24 guests and if you book this space, it also includes private access to The Library, as well as access to the top end of The Terrace for pre- or post-event drinks.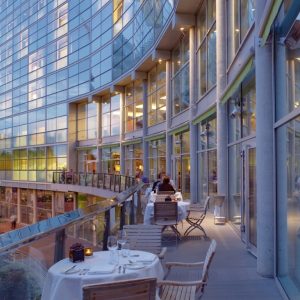 The Baronial Dining Room, Chethams
If you're looking to add cultural elegance to your gathering, look no further than the Baronial Dining Room at Chethams.  It is one of the best-preserved examples of a 15th century hall. Chetham's medieval buildings were built in 1421 as a college for the priests of St Mary's Parish Church, now Manchester Cathedral.  It now houses the Chetham's School of Music and Chetham's library – the oldest public library in the English-speaking world. You can dine up to 48 guests in The Baronial Hall, which also has its own kitchen. T he Dining Room is now opened into a striking space, with views through leaded windows towards the contrasting New School Building.  It provides an ideal setting for meetings, dining, or breakouts from larger events. Smaller rooms in the medieval building are also available.
The Albert Square Chop House
History and hearty British fare are a winning mix in the Albert Square Chop House. Importantly, it's located right at the heart of the city centre in the corner of Albert Square.  This 19th century building, Manchester's Memorial Hall, pre-dates Manchester Town Hall.  It is one of the finest examples of Venetian Gothic Revival architecture in the country. The private dining room, The Thomas Worthington Boardroom, is located on the first floor. In addition, it caters for up to 18 guests and has private access, lift facilities, exclusive bar, sommelier and butler service.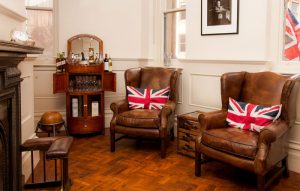 Related Topic: Best Corporate Venues in Manchester
Artisan Restaurant & Bar
If you're looking for a modern, urban feel that still gives a sense of Manchester's industrial heritage, think Artisan Restaurant & Bar.  Located in the city's buzzing Spinningfields area, it offers a choice of private dining experiences. Its spacious 12,000 square foot interior, on The Avenue North, includes three private dining spaces. The grandest of these is The Gallery, which seats up to 36 and adjoins the neon lounge area via bridge walkway. The Drawing Room, is slightly smaller, where you can seat up to 30, but is a popular choice in the summer as it offers both indoor and outdoor café-style seating. You to play your own music through the PA systems in the rooms. The Studio is the smallest of the spaces, and offers an intimate space where you can host 26 guests behind glass screen doors.  Therefore – lots of interesting options here!
James Martin Manchester
Celebrity Chef, James Martin won Manchester a place in the top Sunday Times Top 100 Restaurants in Britain for 2015-16.  His focus on local produce on his seasonally changing à la carte menu and an onsite 'meat market' – a huge walk-in fridge displaying the different cuts of local meat maturing, before being cut and served, were a winning combination. Located just off Deansgate, in the Great Northern Warehouse, this 170-seat restaurant takes up the mezzanine level of Manchester235 Casino.  Your event can benefit from the venue's 6am drink licence. For large parties the full restaurant is available for hire.  In addition, if you are looking for a more intimate gathering you can book the chef's table for up to 10 guests.  Sectioned off from the rest of the diners with the option to create a bespoke menu which will be served by chef, Doug Crampton and head sommelier.
It was a challenge to stick to a list of Manchester's five most exclusive private dining rooms.  In reality, there are many more gorgeous, quirky and unusual dining rooms on offer.  Hence I could easily have written a list of Manchester's ten most exclusive private dining rooms….but that is for a sequel!!!
Finally, it is always key to the success of any event that the right venue is chosen.  Consider the audience, accessibility and service – as with any larger event.  Boutique in scale does not mean less in standards!