How to put the wow factor into an event – Confex North
TLC's founder and MD, Liz Taylor, was delighted to be asked to host a fabulous cocktail reception and presentation at Confex North.  Transforming the Luxury Pavilion at Victoria Warehouse into a presentation looking at 'how to put the wow factor into an event'. Followed by drinks – with a little added TLC style!  Here's a snapshot of Liz's presentation, and a few secret ingredients to adding those crucial elements that takes your event from average, to stunning.
It's that million-dollar question. And sometimes quite literally. How to put the wow factor into an event? With the ever-growing necessity to invest in recognition and motivation, with clients accepting the value of why events are the advertising of today it is essential that your event is bespoke – it has the wow factor to stand alone.   Everyone has their own perception of the wow factor …. Today I would like to share mine. It may not be gospel and you may not agree, but it has served TLC well over the last twenty-five years!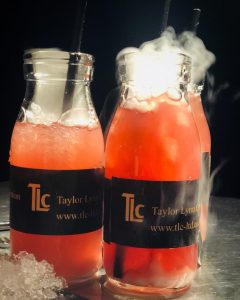 So, how to put the wow factor into an event. There are three vital ingredients that contribute, and here they are:
Imagination
It is never how much you spend but how you spend it. Its allowing someone to think out of the box and take a concept and create magic. So, when I was asked some years back to create a circus theme for a twenty first birthday, I ditched the predictable red and yellow and designed a revolving vintage carousel. With a skilled design team, I poured over Victorian carousel images, and in a modern touch we built the turntable into the floor of a marquee. Guests slowly circled around the carousel picking up their goldfish in a plastic bag filled with vodka and tonic, and a popcorn cocktail served in a popcorn carton.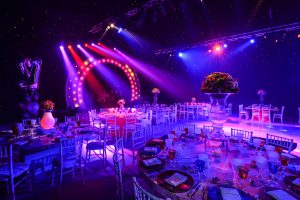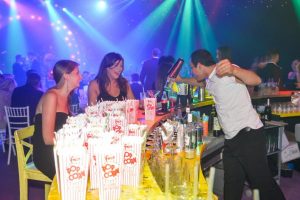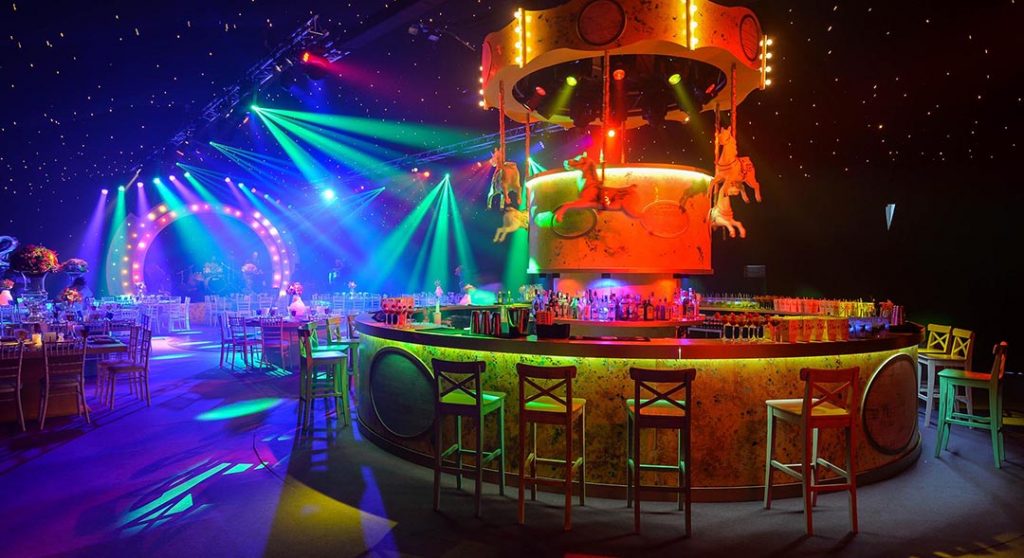 Individuality
Individual interpretation … The clients favourite show was 'Wicked', so we were tasked with bringing it to life off the stage. My most inspiring moments are honestly on my treadmill every morning … with my desert island discs on full blast music takes me into a most creative corner where I find the impossible. A 10-foot witch greeted guests – and I mean greeted them. A custom-built animated statue guided them into a Wicked inspired set – and then at the appropriate time, the entire wall dropped and there was the yellow brick road. The detail in the room and on the tables was insane with Perspex tables resting on large red shoes. The entertainment … Diana Ross. Now that's wow.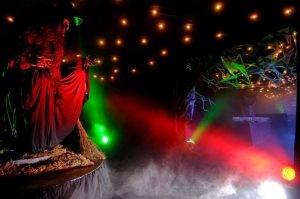 The moment least expected
Is the greatest wow factor of the event. A wall drops on a drum roll. Pyrotechnics burst into the room to announce employee of the year. A ceiling drops hundreds of hidden petals when they say I do. The key to this is to choreograph the visual feast accordingly. So, you will know where the guests will be looking, and it's the perfect time to capture the moment. There's no point in a surprise where they can't absorb the magic!
Some moments just happen. They evolve and I'd like to take all the credit, but by having an experienced producer throughout the event last minute decisions can change the entire direction of the night. When a CEO makes an impromptu announcement and you jump on an appropriate piece of music. When Ole Gunnar Solskjaer is escorted into an MUFC Christmas party as the new manager with one moment's notice, the band strikes up the glories. I often have certain tables at events reinforced, so that artists can jump on the tables and perform during dinner – a lesson learned when I hadn't had them reinforced and they jumped on them anyway!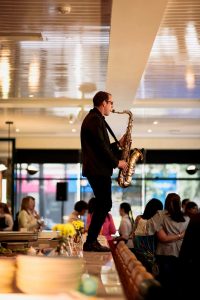 Imagination, individuality and least expected …..
Key messages to consider in every event. Whether you are the producer or whether you work with an events team – two heads are always better than one.
All well and good you might say. These sound like unlimited budgets … but my mantra .. It's never how much you spend but how you spend it.  You have £500 to throw into a reception – don't invest it in an inexperienced and underrated musical act. Invest it in a ten foot vase filled with an abundance of flower heads that takes the breath away. Or a bar full of cocktails, served in a milk bottle that oozes dry ice and sustainable branded straws!
RELATED TOPIC: Planning the Perfect Awards Event
How do we at TLC deliver the imaginative, individual, least expected moments ……..
The infrastructure at TLC is simple. We are a team of 5 and we are surrounded by a loyal band of suppliers who have supported my journey for thirty years. This enables the team to play on individual strengths. My bag is the wow … my background is creative. From the age of four years I studied music and played the piano to grade 8 and GCSE level at 16. Then after A levels, I pursued a career in fashion retail until the age of 29. It was then that I fell into the industry.  Creating the wow is my strength. I have the most ridiculously bonkers Pisces inspired ideas, that I can make happen. I believe that this sets TLC apart from the competition.
If you went to invest in something special, you would look for advice from an expert – someone who could support you in your vision. Whether it be a product or something intangible, perhaps for your home. I have endeavoured over the years to provide that support to a discerning corporate and private client portfolio – pushing the boundaries and delivering the impossible. And that's what makes it and us wow ……
So, to summarise …. how to put the wow factor into an event.  Imaginative. Individual. The moment least expected … they are the three to remember!