World Music Day is celebrated annually and venues all over the world take music out onto the streets, to create a unique party vibe that we love. Music is at the heart of many TLC events – we are passionate about it. Whilst listening to music at our events is undoubtedly an incredible experience, music can also dictate the tempo of the party. Setting the mood. Creating the atmosphere. Bringing the dance floor to life!  Alongside the quality of your band, the specific music played is key in achieving this. There are some songs that have that something extra. Spanning generations. Uniting audiences. Songs that not only stand out over the others, but also stand the test of time. Therefore, to celebrate World Music Day our senior events producer, Jess Randall, has chosen her top five most popular party songs. These are the TLC soundtrack to any fabulous event.
ANYTHING BY NIALL RODGERS
OK so it's cheating in a way, but this artist is just so good we couldn't possibly select one favourite for our top five most popular party songs. Any song by Niall Rodgers and Chic is the perfect mix of rhythm, catchiness and that indescribable something extra. This man knows how to create an irresistible beat. Good Times. Everybody Dance. I Want Your Love. You can hear it in the titles that this these are going to be uplifting, joyous songs but when that rhythm leaves the bass guitar you just can't resist dancing along.
He's a genius that also produced songs that you might not have previously attributed to him. Madonna's Like a Virgin, Daft Punk Get Lucky, We Are Family by Sister Sledge. All of which feature his signature bassline – catchy and playable and most importantly, songs that you just can't help but dance to.
HEY JUDE, THE BEATLES (SWAN BAND RENDITION)
This song was inspired by the divorce of John and Cynthia Lennon and 'Jude' in the song is thought to refer to their son Julian. It's a classic that brings everybody together, old and young. What's so interesting about this song is how it builds and builds. It starts out slowly but as you reach the crescendo (or as we like to say: the nah-nah-nah-nahs) it always has everyone singing. I particularly love the Swan Band's rendition of this song. It injects their unique sound and energy into this much-loved classic.
SWEET CAROLINE, NEIL DIAMOND
Diamond wrote the hit 'Sweet Caroline' for his second wife Marcia Murphey in 1969. However, he needed a three-syllable name to fit the melody ("Sweet Marcia" didn't work) and settled on the name Caroline after seeing a picture of John F Kennedy's daughter Caroline in a US magazine. Released in the UK in 1971, it reached number eight in the charts, selling more than 1.2 million copies.
It has since become a dance-floor staple and an unlikely sports anthem, adopted by fans of the England football team and the Boston Red Sox. This year the song became a hit once again, as Britain's were asked by BBC Radio 2 to sing the song at street parties and celebrations for the Queen's Platinum Jubilee.
One thing is for sure, it is a song that not only gets the party crowd dancing – people can't help but sing along too!  Here's a TLC Sunday afternoon family party in Cheshire to prove my point….
WE FOUND LOVE, RHIANNA AND CALVIN HARRIS
If your party has more of a dance music feel to it, then anything involving Calvin Harris is usually a winner and this song is particularly good to get everyone jumping. Again, it's that old recipe, it builds and builds before the beat drops in, and people just can't resist dancing along. This song is particularly good to bring into your set list later in the evening if you feel the energy at your event has started to dip.
MR BRIGHTSIDE, THE KILLERS
An anthem in the true sense of the word and a worthy number five hit on our collection of the top five most popular party songs. A song about an all-consuming jealousy might not be your first choice for a party dance floor filler if you've never heard it before. But my oh my, this is a song that time and again will bring the guests flooding to the dance floor. From the moment it begins with that instantly recognisable guitar riff, it's like an invisible magnet for party goers immediately drawing them to the dance floor. Full tempo and high energy all the way through. The whole room explodes into song and your party is well and truly started. We use this as a final song on lots of occasions. People love to finish on a high.
THE SCIENCE OF A DANCE FLOOR FILLER
So how did these songs make our list of the top five most popular party songs, when others didn't? Of course, music is subjective and what works for one person doesn't always make another want to dance. However, one study has actually worked out a scientific formula on how to create a dance floor filler so if all else fails, go with the science. Read more about the formula for a dance floor filler here: https://www.money.co.uk/guides/wedding-music
CREATING THE PERFECT DANCE FLOOR
Finally, a dance floor is never JUST a space to bop. At TLC, it is a dramatic statement that adds a WOW moment to the décor. Coloured. Chequered. Glittering. Or interactive with led lights built in, a dance floor is the perfect space upon which to make a statement. Here's just a few to whet your appetite!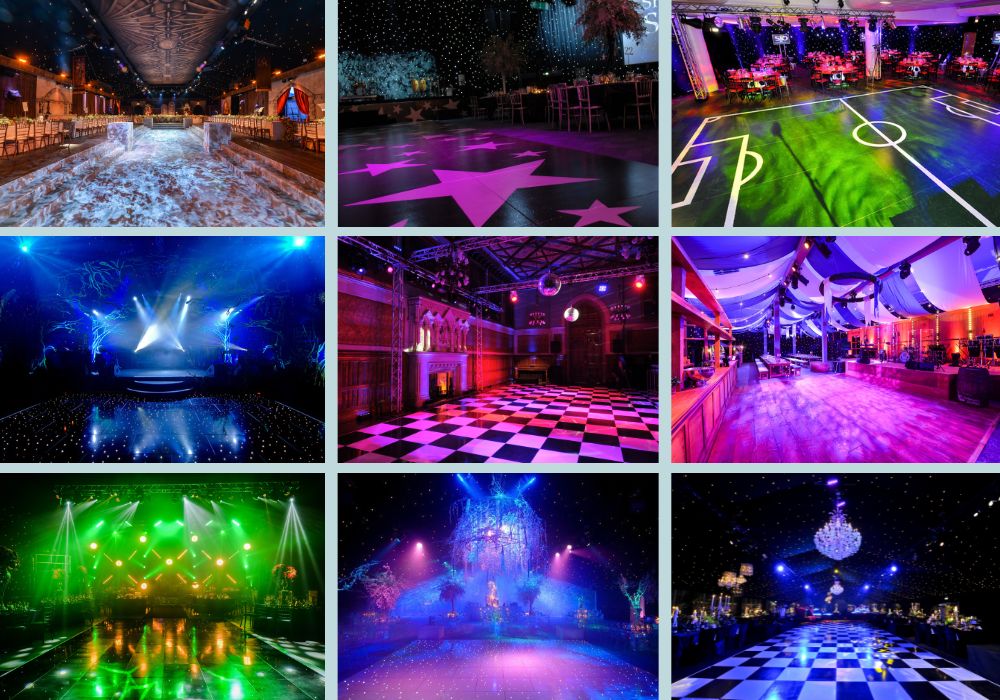 Thanks for sharing TLC's Top Five Most Popular Party Songs!