How to Create a Brave Ground Colour Palette
Dulux's colour of the year for 2021 has been revealed: Brave Ground . A warm and grounding neutral shade. It's been gaining lots of attention on social media!  We shared our Brave Ground colour palette wedding ideas with a leading wedding magazine this month.  Here's taste of what to expect.

Liz's thoughts …..
County Wedding Magazines caught up with Liz Taylor of the Taylor Lynn Corporation (TLC), a wedding and event management company that has been organising exclusive weddings and celebrity big days for more than 25 years, to find out her ideas for incorporating Brave Ground into your wedding day.
"Love it or hate it Dulux's colour of the year is here to stay" begins Liz. "Although I'm not usually a lover of neutrals – we have been seeing more and more mocha browns and chocolate colour palettes making their way into weddings in recent years, replacing the greys that have been so dominant as a base colour. From that perspective it's right on trend and not nearly as surprising as those on social media are making out."
A shade for all seasons…
"The beauty of neutral tones is that they can be utilised all year round. As we head into Autumn, warm earthy tones are ideal for an autumn wedding where they can be used to portray a certain rustic charm. A seasonal bouquet with berries and golden foliage is both surprising and uber stylish when teamed with a vintage lace dress and intricate beading. For table centres use Brave Ground with grasses, dried flowers, vintage glassware and aged metallics to mix up the textures and create a 2021 take on the 1920s.
   
Brave Ground from head to toe…
"Brave Ground is a very elegant colour for Bridesmaid dresses. Where it exudes sophistication and vintage appeal.  For a bride in search of an alternative to traditional white, you cannot go wrong with a warm neutral. Again delicate detailing such as beading, and embroidery will work especially well.
"And for the gentlemen. It may be true that brown suits are an iconic cornerstone of 1970s apparel. But with the likes of David Beckham and Ryan Gosling recently sporting tailored suits in chocolate shades, it's clear they're no longer banished to gather dust in the back of your dad's wardrobe."

Finally, you can try more Brave Ground colour palette wedding ideas by reading the rest of Liz's article
EXCLUSIVE TOUCHES
Not in the magazine article, is this piece of extra advice from Liz.
"Incorporate colour into different aspects of the wedding. And sometimes the subtle references are the sweetest. Towers of Brave Ground coloured macaroons will be popular with guests of all ages. A beautiful focal point to a dessert table. Blend shades of coffee, chocolate and cream for an autumnal inspired feast.  If there ever was a moment to indulge – this is it!"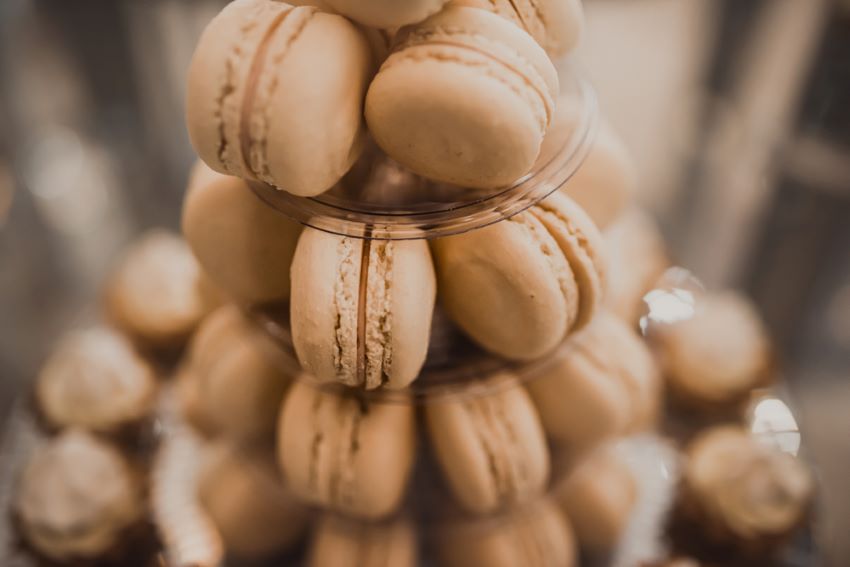 If you liked our ideas, we'd love you to share them!