Five unique wedding favour ideas
Wedding favours provide the perfect opportunity to show your guests how much you appreciate their part in your big day. With our five unique wedding favour ideas you won't be short of inspiration.
The tradition of giving a gift (bomboniera) to guests on special occasions dates back hundreds of years. Almonds became the gift of choice, because sugar was at that time an expensive luxury.  In the Middle Ages, the European aristocracy and upper classes would give guests five sugared almonds to represent health, wealth, fertility, happiness and longevity. Today, the choice of wedding favours is much more diverse. However the sentiments are the same. And what better way to show your gratitude than with a personalised gift to recognise the contribution each guest has made to your life as a couple and will continue to do in the future.

Here are five unique wedding favours ideas to get you started:
Rustic charm
Place name settings offer the perfect opportunity to integrate personalised unique wedding favours into your day. This will help to streamline your table décor and keeping it clutter free.
Depending on the style and theme of your wedding there are lots of different handmade place-settings to choose from in a variety of materials. For a rural theme we love these hand-sanded wooden coasters from Esty. These can be individually laser-engraved with a guest's name. Other ideas include a small potted bay tree, wrapped with a hessian bow and individual tag. Individual vintage tin cups with embossed names and filled with treats. Or miniature jars of homemade preserves or local honey.

Warm the heart
If you want your guests to remember your big day with warmth, nothing warms inside and out like a steaming mug of hot chocolate. At the end of the evening, you can either pour out a hot beverage in a personally engraved cuppa. Or else add a sachet of hot chocolate with a small pouch of marshmallows and hand-made cookies for them to enjoy when they get home. There are lots of different types of mugs to choose from. Or, for a truly elegant feel go for a tall hot-chocolate glass engraved with a special, message personalised to present a unique wedding favour to each guest.
For the adults, why not choose their favourite liqueur presented in individual antique medicine bottles. They are popular!  Or offer guests a liqueur from a table side mixologist instead of a favour.  A lovely treat and not many refusals!!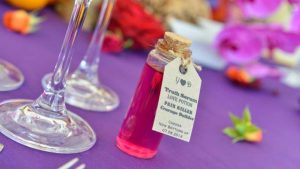 Festive cheer
Third on our list of five unique wedding favour ideas is perfect for Christmas. Winter weddings are magical for many reasons. When it comes to unique wedding favours, use this to your advantage by giving guests gifts they can reuse year after year. For this, any kind of Christmas decoration works well. For personalisation you will need space for engraving, therefore baubles or snow-globes are perfect. These stunning wedding favours will mean that your day is remembered with fondness for years to come.
You could also choose festive spiced gingerbread, iced with names. Or bars of luxury chocolate with a bespoke wedding day wrapper. And for the bigger budgets, individual wrapped gifts that act as place marker and wedding favour.

Related Topic: If our five unique wedding favours ideas are not enough, here's some more: More Wedding Favour Ideas
Sweet smell of romance
Don't forget the importance of fragrance in helping to create atmosphere. Many companies are now offering brides personalised scents for their big day. For a truly luxurious gift, you can capture those memories in a scent and share with guests as scented candles held in beautifully engraved jars.
Jo Malone offers an engraving and monogramming service to allows you to personalise your gifts. For summer the company has some wonderfully evocative fragrances as English Pear & Freesia or Orange Blossom. As well as personalised scents for unique wedding favours.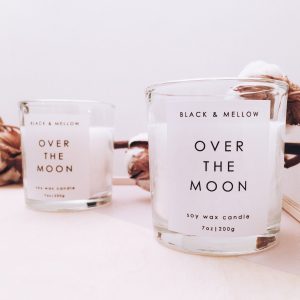 Bee-ing kind
While many associate St Valentine with our public day of love, fewer know he is also the patron saint of beekeepers. Personalised wildflower seed-packets help spread the beauty of your love beyond your wedding day. As well as protecting our environment and benefiting future generations. These favours will encourage guests to plant seeds which help bees and other pollinating insects.
Needless to say, ideas are endless when it comes to creating wedding favours. Tie the gift into the design of your big day. Keep it simple and stylish – and you won't go wrong.
And don't forget the kids. Colouring packs, personalised rubber ducks, individual boxes of Lego and a jar of coloured smarties.  All make ideal wedding favours.