Top Tips for Planning Multicultural Weddings
Any wedding, regardless of faith or culture, is a uniquely special occasion.  Our CEO, Liz Taylor, has spent the last 35 years organising big days for a wide variety of couples including celebrities, sports personalities and music icons.  And, for incredible couples with a wealth of different backgrounds, religions and cultures.  Here, Liz shares advice and her insiders' tips for planning multicultural weddings with style.
Social Setting
We are mindful that, as we write this blog, wedding sizes across the UK are restricted and social distancing rules still apply.  But take inspiration for your wedding day, and we hope that it can be a 'grand affair' in the future.
Liz says: "Fusing different cultures into one incredible wedding day, is a fabulous challenge.  For me, understanding the couple's personalities and tastes is the foundation of the event design.  But there are some general rules that all multicultural or cross-cultural weddings should follow."
Perfect Planning
Firstly on our tips for planning multicultural weddings, a word of caution. Planning a wedding day can be a stressful day for anyone, let alone on the mass scale of Asian and Jewish weddings. Organising a multi-faith wedding can be particularly difficult due to the difference in rituals, ceremonies, food and many other aspects.
Communication
It is important to communicate openly with both sides of the family to avoid any conflicting expectations for this special day.  By communicating with both sides of the family, couples are often inspired to weave elements of family traditions into their day. It gives the wedding a personal twist. This will also allow both sides of the family to feel involved in the planning of the wedding. Whilst embracing the couple's own vision.  My role is to ensure that both couple's cultures are represented equally. After all, a multi-faith wedding is the start of their life together incorporating many different traditions along the way.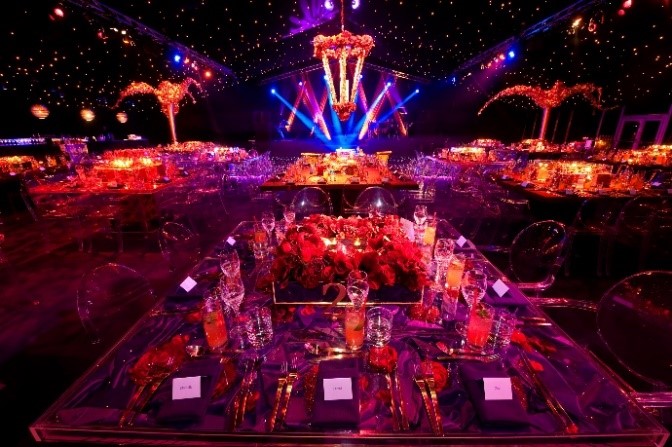 Whether you are a Christian, Hindu, Jewish or another faith, you should establish who will officiate the wedding ceremony. Most officiants are open-minded to multicultural weddings. That said, I encourage all couples to check. It's also crucial before you book your venue, that you check for cultural and religious holy days. Most religions have times when weddings cannot be held.
When it comes to planning your Asian wedding venue, Liz says, you need to remember capacity to allow excess:
"I learnt with an Asian wedding 27 years ago, that when an Asian family tell you they have invited 500 guests, allow for an additional 25%! And that includes furniture, table centres, food and beverage.  It is something that I insist upon now. I am rarely met with any objections because, as a culture, they are so hospitable that some guests rock up en famille!"
Dreamy Décor
Eye catching décor is essential to any Asian, Jewish or any multicultural wedding, regardless of budget. The decorations and theme will set the tone for the wedding. It is the first thing that guests will see whether that be in the reception, ceremony or evening area. Colours are bold and bright within the Asian community, but less so with other religions.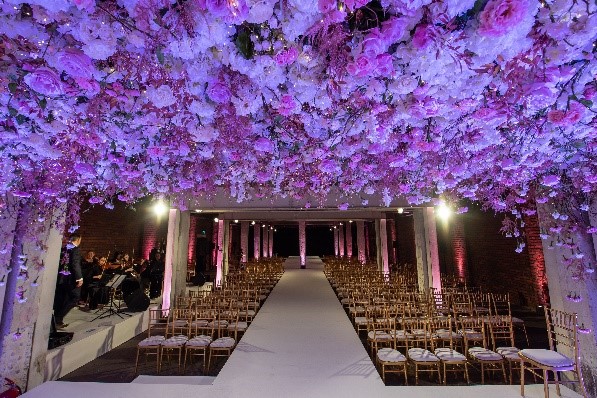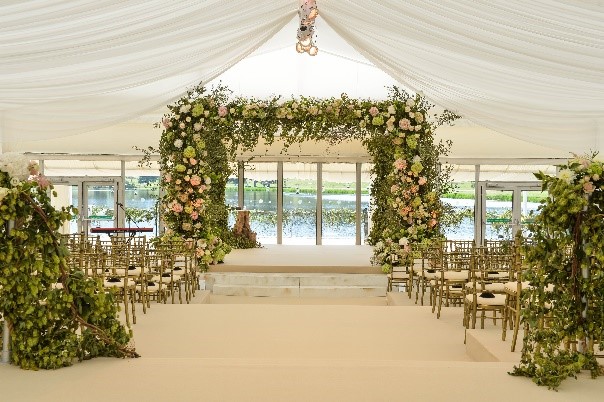 Asian weddings reflect the culture and embrace the textures and colours synonymous with their country. Wonderful infusions of a mixture of shades!
Most décor is flower based. A unique colour scheme is chosen, and this sets the atmosphere for the day. Flower based décor adds a certain charm and elegance to the event as well as being the symbol of love and beauty.
Décor for the Chuppah and Mandap (the structure the bride and groom get married under) is also a key aspect of the ceremony.  I suggest emphasising the focus on the roof of the structure rather than the legs. This is so that guests can see the bride and groom getting married from all angles of the room. Take time to plan and personalise the Chuppah or Mandap.  Try and incorporate ideas that reflect the couple as this symbolises the home that they will build together, as well as celebrating their spirituality.
Fabulous Feasts
Tips for planning multicultural weddings wouldn't be complete without a look at food. At Asian weddings the food served is the centre-piece of the entire day. From the canapes upon arrival, to the evening menu and of course the three-course wedding breakfast. Therefore, the day is broken up by food, highlighting the need for a great selection. Cultural dishes are perfect as it resonates with most guests who share the same culture yet is still so exciting for those from different cultural backgrounds. Asian food is extremely diverse, ranging from the creamy and delicious dishes to the spicy dishes, with a focus on a range of gorgeous vegetarian options. This helps with dietary requirements on the day and is always to be considered when choosing the menu.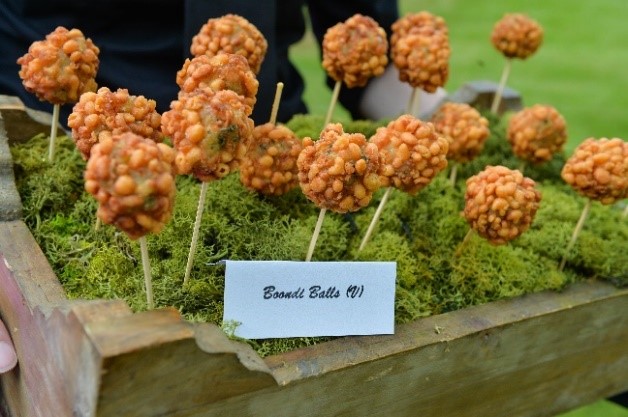 Worth remembering that some cultures ban alcohol. However, the guests are often a mix of people from the wider community, so we make everything available on request.  We also like to give the same creative flair to non-alcoholic cocktails as the alcohol charged versions.  Theatrical presentation is the key.  Served with a little flair!

Remembering Rituals
Planning your ceremony is one of the most important aspects of planning a cultural wedding. From the rituals of the bride and groom's arrivals, to the ring giving and glass smashing. Ensure that you allow enough time for all the ceremonies and rituals to take place, so that the main event can get underway on time and run efficiently from the start.
There are so many traditions and prayers involved, so don't feel like you have to do them all. Choose which are most relevant and make the most sense to the couple and to their wedding. Importantly, please remember that not all the guests will speak the same language, therefore it is becoming increasingly more important to engage in a priest of Imam who is multi-lingual and is able to involve everybody during the ceremony.  The couple have invited these guests to the wedding as they are considered special and important to the day, therefore it is important that they are engaged throughout.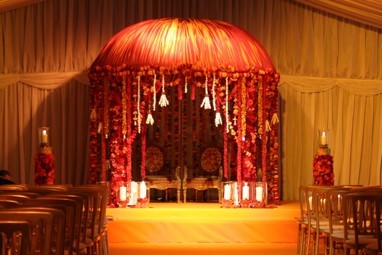 Energetic Entertainment
Finally, in our tips for planning multicultural weddings is entertainment and music. They are hugely important at both Jewish and Asian weddings.  These elements are such a priority for the big day. This is due to the strong traditions of the music within both cultures. Such as the Israeli dancing at a Jewish wedding. The music brings everyone together of all ages. It creates a sense of belonging from the young children, to the older grandparents. Everybody is involved and having fun celebrating the bride and groom and these dances really symbolise the group identity. Traditional dancers in vibrant costumes can add a spectacular visual element to the day.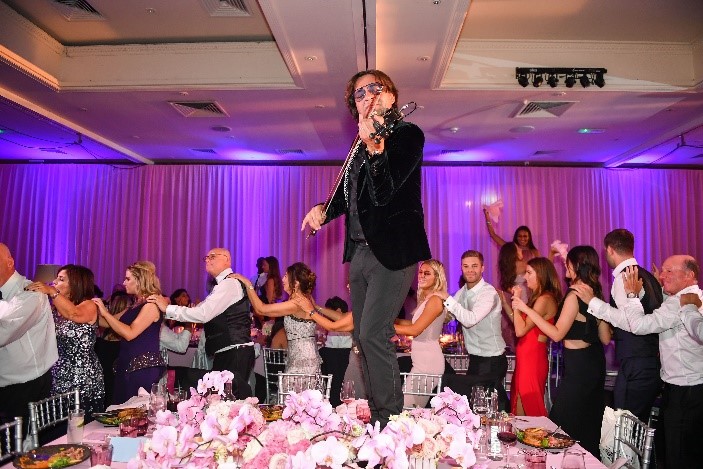 A cross cultural wedding can be a great way to introduce unfamiliar guests to your own unique background.  So, whether your wedding is a small intimate occasion or a large production, choosing your entertainment for the day is your chance to inject your creativity and personality into the proceedings.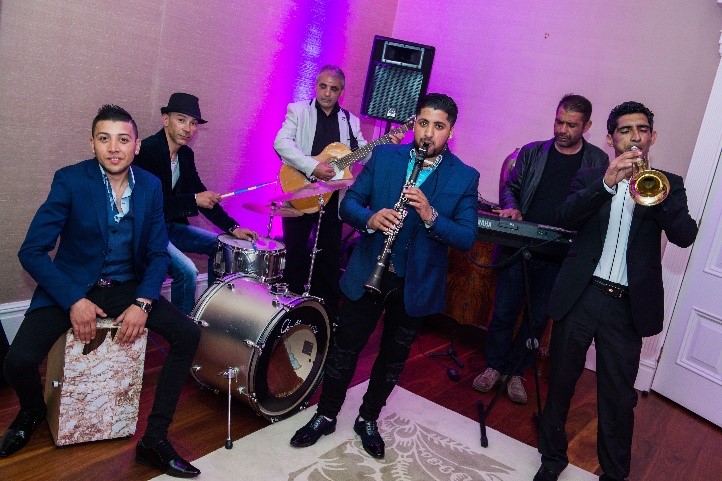 THE EVENING DOO
If you have enjoyed our tips for planning multicultural weddings, you might want to look at this article by Brides Magazine on Wedding Traditions from Around the World.
And if you want the wedding to be a dry affair – in alcohol terms and not fun – check these out for delicious drinks inspiration and our blog on alcohol free wedding tips.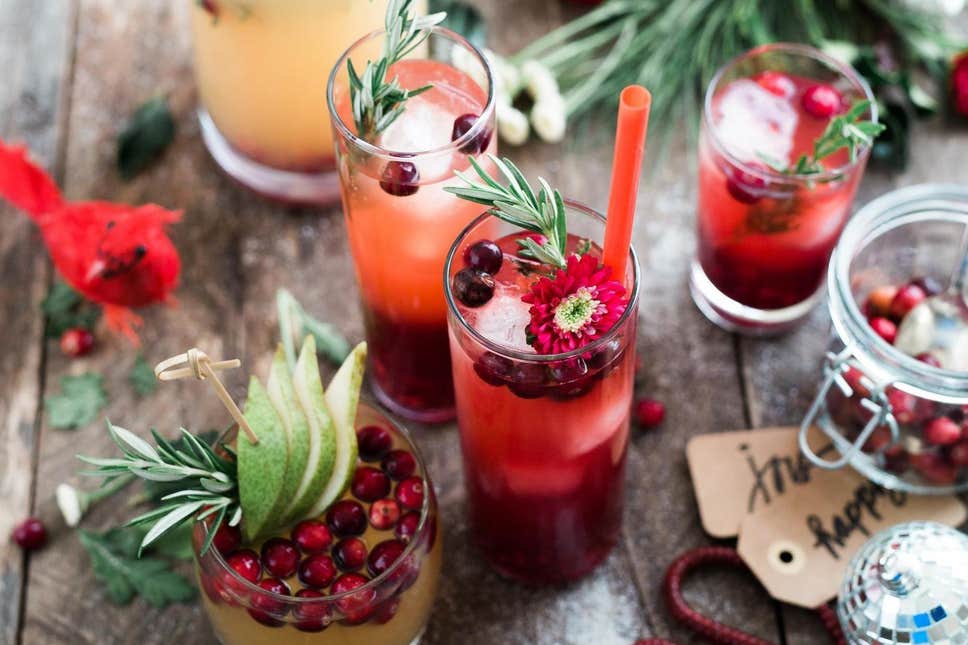 If you found the tips helpful – share with friends.